Mary Emma (Ogle) Newingham
(1870-1942)
Mary Emma (Ogle) Newingham was born on June 18, 1870 in Pennsville (Morgan Station), Fayette County, PA the daughter of William D. and Sarah (Minerd) Ogle. Her mother's name also has been given as "Elizabeth Martin" so this all needs to be sorted out.
On Feb. 4, 1895, at the age of 24, Mary Emma married James E. Newingham (1863-1943), the son of Henry S. and Rose Ann (Byerly) Newingham of Pleasant Unity, Westmoreland County, PA. They were former residents of Allegheny, now known as the north side of Pittsburgh, Allegheny County, PA.
The Newinghams resided in Scottdale, Westmoreland County, PA, and had four children -- Frank Ellsworth Newingham, Ralph Henry Newingham, Nellie B. Newingham, and one unknown child who died in infancy sometime before 1910. They also took a fatherless niece into their home, Laura Mae Shively.
They all belonged to the German Reformed Church.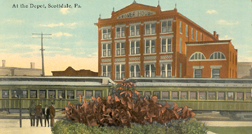 Seen here, the railroad depot in Scottdale, with the Kromer House hotel in the background.
James' grandfather David Newingham was sheriff of Westmoreland County in the 1840s, and so James would have grown up in a family and home which placed a high value on public and civic service. James and his son Frank are profiled in a chapter in the 1918 book, Old and New Westmoreland, edited by Capt. Fenwick Y. Hedley, and published in New York by the American Historical Society, Inc. His entry states that at the age of 15, James:
... began learning the harness-maker's trade, becoming an expert workman and continuing that trade as his sole occupation for eight years. He then spent two years in Latrobe [PA] with the hardware and grocery firm of I.D. Pores & Company, later moved to Scottdale [PA] where in 1887, in partnership with his father, he bought out the livery business conducted by William Herbert. About four years later the father withdrew and James E. continued the business alone. He built up a prosperous livery and sales business, and at one time shipped many horses to Eastern markets. He also became proprietor of the Newingham meat market, and one of the substantial business men of Scottdale, where he is yet in business. He is a man of genuine public spirit and aids in all movements for civic betterment.
When the federal census was enumerated in 1900, the family lived in Scottdale Borough, where James worked as a "livery keeper." On April 21, 1904, the Daily Independent newspaper of Monessen, PA reported a "war" between James and Samuel W. Webb, a "well known barber." The issue of the feud centered on Webb's desire, and James' objection, to the display of advertising posters promoting Walter L. Main's World Exposition Circus and another smaller show which were scheduled to appear in Scottdale on April 30. After Webb assaulted James in a passageway next to the barbershop, James sued in Common Pleas Court of Westmoreland County. The outcome of the case is not known.
Tragedy struck the family in September 1904 when Mary Emma's brother in law, Charles Halfhill, was killed in a coal mine accident in Moyer near Connellsville, Fayette County. Compounding the heartache was that the deceased's wife had just given birth a few days earlier to a daughter, Laura Belle Halfhill. While Laura Belle remained in her widowed mother's home until her adolescent years, she eventually was taken in by the Newinghams.
The federal census of 1920 shows 15-year-old Laura Belle under their roof, and she took on the Newingham last name as her own.
In 1928, James offered his eight-room house for sale at 177 Market Street. It featured a "bath, heater, electric," with the price listed as $5,800. Apparently the sale did not go through, as daughter Nellie is known to have lived there in 1942.
When the 1930 federal census enumeration was made, Mary and James, son Frank and daughter Nellie, and niece Laura Belle Halfhill resided together in a home on Scottdale's Market Street. James' occupation was listed as butcher in a butcher shop, while 25-year-old son Frank was an automobile salesman and 20-year-old daughter Nellie a saleslady for a retail wallpaper business.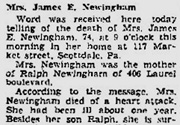 Said the Connellsville Daily Courier, James "was a well-known resident of [Scottdale], having conducted a livery stable for many years, until he was forced to retire on account of the popularity of the automobile."
They resided in the early 1940s at 117 Market Street in Scottdale.
Sadly, Mary was afflicted for for years with chronic bronchitis. On Jan. 3, 1941, she was felled by a cerebral hemorrhage which caused immediate death at the age of 70. She had suffered a heart attack, and had been ill for about a year. She is thought to rest for eternity in the Scottdale Cemetery, but this needs to be confirmed. Her obituary was published in a newspaper in New Castle, Lawrence County, PA, where her son Ralph made his home, and also in the Daily Courier.
James survived his wife by a little more than a year. He passed away at home at the age of 79 on April 8, 1943, "after a two-year illness," reported the Daily Courier. Burial was in the Scottdale Cemetery, following a funeral led by Rev. John C. Stoner of the United Brethren Church. A report by a physician said that death was due to exhaustion and a cerebral hemorrhage.
~ Son Frank Ellsworth Newingham ~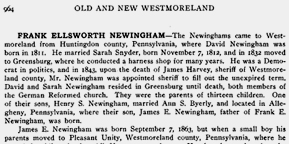 Old and New Westmoreland book featuring James Newingham and son Frank
Son Frank Ellsworth Newingham (1894-1952) was born in 1894.
He married Alma (Darrell) Culleton (1919- ? ). He was born in Scottdale and graduated from Peterson Business College in 1914. Circa 1918, he was employed as manager of the Weimer Motor Company of Scottdale and also later at the Hetzel-Young Motor Company of Scottdale. Frank served during World War I with the American Expeditionary Force in Europe and was a sergeant in the Medical Department, Hospital Base No. 61. Frank's photograph, and a short synopsis of his military career, later were published in the book, Westmoreland Towns in the World War.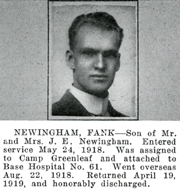 In 1942, when he registered for the military draft, Frank lived near Scottdale, on the "Star Route." Other sources place their home at Cross Roads, near Scottdale.
The Newinghams were involved in an automobile accident in October 1945 at Pennsville, and made news when they sued the other driver for damages. At the court hearing, Alma was wheeled into the courtroom in a wheelchair. Said the Uniontown Morning Herald, she "testified in her own behalf but became so hysterical on cross examination that the court was forced to declare a recess to permit removal of the woman to an adjacent room where she shortly regained her composure." The court awarded $5,000 to Alma and more than $1,200 to Frank. In 1949, the couple again made news when they attempted to adopt a year-and-a-half old boy, Lawrence Shipley, son of unmarried Blanche Shipley of White, Fayette County. The Newinghams alleged that the mother had demanded $500 payment at gunpoint in return for obtaining custody of the child, but later rescinded the deal when she was offered double the money from someone else. In turn, the mother denied that she had required payment, and countered that the Newinghams had denied her visitation rights. In a legal case heard before Judge S. John Morrow of Fayette County, on Feb. 17, 1949, he denied the mother's request for custody of the boy. The story was headline news in the Connellsville Daily Courier.
While the fate of Lawrence is unknown, the Newinghams are known to have had a son, James Newingham, and a stepson, Charles Z. Culleton.
Frank passed away at home at the age of 57 on Feb. 1, 1952. Following a funeral at the Brooks Funeral Home in Connellsville, led by Rev. Meade M. Snyder of the Evangelical United Brethren Church, burial was held at Oak Lawn Cemetery in Uniontown.
~ Son Ralph Henry Newingham ~
Son Ralph Henry Newingham (1897-1956) married Minnie Brahs (1897- ? ) in about 1918. They had had one known son, Larry Newingham. When Ralph registered for the military draft in World War I, he was employed as an automobile mechanic at Scottdale Auto Company.
Circa 1930, Ralph and Minnie resided in New Castle, Lawrence County, PA, where he was employed as a foreman in a motor garage, and Minnie worked as a clerk in an art store. Residing in their home that year were boarders Martha D. Smith and Genevieve Houston, who were teachers in the local public schools.
When Ralph registered for the World War II draft, he and Minnie lived at 418 Laurel Boulevard in New Castle, and he worked as a salesman for Chambers Motor Company. They were members of the First Christian Church in New Castle, and he belonged to the Mahoning Lodge of the Masons.
Ralph died on Christmas Eve 1956, at the age of 59. Burial was in the Graceland Cemetery in New Castle. Minnie survived her husband, but her final fate is not yet known. Circa 1968, son Larry and his wife resided in Memphis, TN, at 3373 Gaywinds Avenue, and had one daughter, born that year.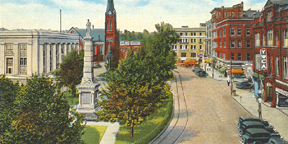 New Castle's public square, 1930s
~ Son Nellie (Newingham) Gusdanovic ~
Daughter Nellie Newingham (1900- ? ) was born in 1900.
She married late in life to (?) Gusdanovic.
Nellie resided at home with her widowed father for many years, and may have been divorced from an earlier husband. When the federal census was taken in 1930, when she was age 30, she lived with her father and brother Frank, and was not married at the time. She was not married circa 1942 when her brother Frank named her in his World War II draft registration card. That year, she lived on 117 Market Street in Scottdale.
She was mentioned in the Connellsville Daily Courier obituary of her brother Frank in 1952, at was named as "Mrs. Nellie Gusdanovic ... of Scottdale."
Nothing more is known.
Copyright © 2006-2009, 2011, 2013 Mark A. Miner