Minnie May (Ogle) Halfhill
(1879-1915)
Minnie May (Ogle) Halfhill was born in November 1879 in Fayette County the daughter of William D. and Sarah (Minerd) Ogle. Tragically, Minnie lost her father, brother and husband in coal, coke and steel accidents over the years.
At the age of 21, Minnie resided in Moyer near Connellsville. On Nov. 22, 1899, she married 31-year-old widower Charles H. Halfhill (1868-1904), also of Moyer, and the son of John and Sarah J. Halfhill. Justice of the peace William H. Miller performed the nuptials at Uniontown.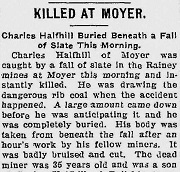 Connellsville Daily Courier,
Sept. 21, 1904
Charles had lost his first wife (Euphemia Boyd) to death just six months earlier, on May 30, 1899, and he brought three children to the marriage to our Minnie -- Goldie Hice, Everett Quincy Halfhill Sr. and Ina Doppelheuer.
When the federal census was taken in 1900, Charles and Minnie and the three eldest children resided together in a home they owned in Bullskin Township, where Charles was a laborer at a local brickyard.
The Halfhills went on to have three children of their own -- John Halfhill, Hobart Halfhill and Laura Belle Shively.
By 1904, the 35-year-old Charles had secured work as a laborer at the W.J. Rainey mine at Moyer near Connellsville, and his sixth child Laura Belle had just been born. But heartache shook the young family in the morning of Sept. 21, 1904, when Charles was killed in a fall of slate in the mine. Reported the Connellsville Daily Courier:
He was drawing the dangerous rib coal when the accident happened. A large amount came down before he was anticipating it and he was completely buried. His body was taken from beneath the fall after an hour's work by fellow miners. It was badly bruised and cut... Besides his widow the following children survive him: Goldie, Ebbert, Inie, John and Hobart There is also an infant a few days old.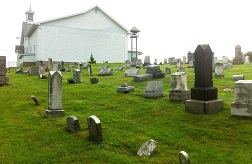 Old Halfhill graves at Mt. Olive Cemetery
The funeral was held in the Halfhill home, with Rev. Myers preaching the service. Burial followed in the Mt. Olive Cemetery in Bullskin Township. A search has been made for Charles' grave in the cemetery, and while several clusters of Halfhill graves have been found, none of the markers is his.
Minnie relocated her family to a rented home on Ninth Street in Pitcairn, Allegheny County, PA, a bustling industrial town where her brothers Edward and Albert and half brother George Ewing Ingles Ogle lived at the time. She obtained work there as a laundress to generate income. She and her children are listed together in the federal census of 1910, though their last names are mis-written as "Hatfield."
In her later years, Minnie suffered from an enlarged thyroid gland which caused an uncomfortable goiter. She underwent surgery at Pittsburgh's Presbyterian Hospital, but tragically went into shock, and died at the age of 36, on Sept. 3, 1915. Her remains were placed into eternal rest at Pitcairn. Her brother Edward was the informant for her official Pennsylvania certificate of death.
~ Stepdaughter Goldie (Halfhill) Hice ~
Stepdaughter Goldie Halfhill (1892- ? ) was born in July 1892. She was but 12 years old at the time of her father's death.
She was taken into the home in Coolspring near Uniontown of her maternal grandparents, John D. and Euphemia Boyd, where she was raised to adulthood. Charles Tunning was named as her legal guardian. She is shown in the Boyd household at the age of 17 in 1910, when the federal census was enumerated.
At age 18, she married 22-year-old coal miner John R. Hice (1888- ? ), of Lemont Furnace, near Uniontown. He was the son of George and Maggie Hice. Upon completing their marriage license application, the couple asked that the news not be published in the local newspaper. Rev. J.T. Eastburn performed the nuptials in Uniontown on June 14, 1911.
~ Stepson Everett Quincy Halfhill Sr. ~
Stepson Everett Quincy Halfhill Sr. (1894- ? ) was born on July 8, 1894 near Connellsville. As a young man, he was tall and of medium build, with blue eyes and light-colored hair.
He moved to Jeannette, Westmoreland County, PA, where he lived on Arlington Avenue. They also lived for a time in Turtle Creek. Everett secured employment as a steel mill worker with Westinghouse Electric Company in Trafford.
During World War I, he registered for the military draft in June 1917, and declared that he had a wife and one child as dependents. He also disclosed that he had already undertaken military training as a private in Battery C during a three-month term in Portsmouth, VA.
Everett married Hazel Murray ( ? - ? ) when he was 21 and she 22. They had 10 known children, among them Donald E. Halfhill, Howard Halfhill, Lois Halfhill, Jean Halfhill, Everett Quincy Halfhill Jr., Margie Halfhill, Barbara Halfhill, Robert Halfhill, Edward "Ed" Halfhill and Wayne Halfhill.
The federal census of 1930 shows that the family had migrated to Beaver County, PA, where they were living in North Sewickley Township. That year, Everett was employed as a machinist in a local sheet metal company. Everett's half-brother Hobert Halfhill also moved his family to Beaver County sometime after 1930.
By 1943, Everett and Hazel are believed to have relocated to Philadelphia, with the married sons Howard and Donald and their families remaining in Beaver County.
Son Donald E. Halfhill (1916-2002) was born on Nov. 8, 1916 in Turtle Creek. He married Margaret Gossard (1917-1981), daughter of Charles and Nellie (Dunn) Gossard of New Brighton. They had one son, Donald F. Halfhill. The family resided at 925 Roosevelt Street in Conway, Beaver County. The Beaver County Times once reported that Donald worked as a sheet metal laborer with Local 12 and enjoyed operating ham radios as well as membership in the New Brighton Eagles and New Castle Masons. He also attended St. John Lutheran Church of Freedom. Margaret passed away at age 63 in the Medical Center of Beaver County on June 4, 1981. She was laid to rest in Sylvania Hills Memorial Park. As a widower, Donald relocated to Edenburg, PA, where his son made a home. He died in Jameson Memorial Hospital in New Castle, Lawrence County, PA at the age of 85 on June 27, 2002. His remains were returned to Beaver County to join his wife in eternal rest in Sylvania Hills Memorial Park. An obituary was published in the Beaver County Times.
Son Everett Q. Halfhill, Jr. (1925-1993) was born on July 8, 1925. He was married and believed to have had two daughters, Vicki Halfhill and Jean Halfhill. He died on June 5, 1993, and is buried in Florida National Cemetery in Bushnell, Sumter County, FL. [Find-A-Grave]
~ Stepdaughter Ina (Halfhill) Doppelheuer ~
Stepdaughter Ina A. Halfhill (1897- ? ) was born in March 1897. She was seven years of age when her father was killed, and she was taken into the home of and adopted by her uncle and aunt, Joseph and Margaret (McManus) Halfhill, of Fairview Avenue and later 222 Trump Avenue in Connellsville.
When she was age 12, in 1910, and living in the uncle's home, the federal census taker recorded her name as "I.A. Halfhill."
Under the name "Ida Pearl Halfhill," Ina married coal miner Emory Lee Doppelheuer (1896- ? ), son of Henry F. and Christina ( Brickman) Doppelheuer, on April 29, 1915. Emory was born in Clarksburg, Harrison County, WV, but resided in Connellsville at the time of marriage. Rev. Ellis B. Burgess conducted the ceremony in East Connellsville..
They lived in Poplar Grove, Fayette County.
At the age of 21, on Oct. 29, 1918, suffering in the grip of pneumonia, and after just a few years of marriage, Ina died at home. Burial was in Hill Grove Cemetery. A brief obituary was published in the Daily Courier, noting the names of her parents and adoptive uncle.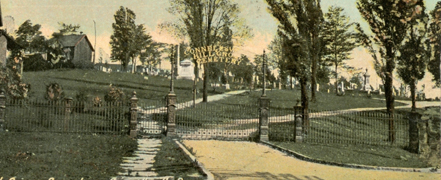 Connellsville's Hill Grove Cemetery
~ Son John "Jack" Halfhill ~
Son John "Jack" Halfhill (1901- ? ) was born in 1901.
He was deceased by January 1985, when he was mentioned in the Beaver County Times obituary of his brother Hobert. Nothing more is known.
~ Son Hobart "Hobert" B. Halfhill ~
Son Hobart (or "Hobert") B. Halfhill (1902-1985) was born on July 31, 1902 in Connellsville.
He married Kathleen Rogers (1911-2005) in about 1929, when he was age 26 and she 17. She was a native of Winchester, VA.
They had six known children -- Norman W. Halfhill, Richard A. Halfhill, Charles B. Halfhill, Hobert Halfhill Jr., Robert J. Halfhill and Nancy L. Forrest.
When the federal census was taken in 1930, the young family made its home in Patton Township, Allegheny County, PA. Hobert's occupation was as a laborer in a steel works. Living just a few doors away were Hobert's uncle and aunt, Edward and Carrie Ogle.
Hobert eventually settled in Rochester, Beaver County, PA. Several of the children of his half-brother Everett Quincy Halfhill also migrated to Beaver County.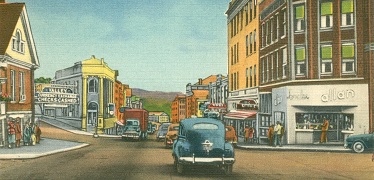 Rochester intersection, Brighton Avenue and West Washington Street
He spent 33 years in the employ of St. Joe Minerals Company in nearby Potter Township. They were members of the Zion United Methodist Church of Rochester, and of the Big Knob Grange.
Hobert and Kathleen spent their final years together residing in the McNitt Apartments in New Brighton, Beaver County. During his final extended illness, he was treated in the Beaver Valley Geriatric Center. He died in the center on Jan. 12, 1985, at the age of 83. He was laid to rest in Sylvania Hills Memorial Park, following a funeral led by Rev. Dr. F. Robert James. An obituary in the Beaver County Times noted that he was survived by 15 grandchildren and two great-grandchildren.
Kathleen outlived her husband by two decades. She died in Providence Health Center in Beaver Falls on May 24, 2005 at the age of 94. Rev. Harry Sherry officiated at her funeral, followed by interment with her husband.
Son Norman W. Halfhill married Evelyn (?) and lived in Fairfield, CA.
Son Richard A. Halfhill ( ? - ? ) wed Nancy Marie Squires (1933-2013), daughter of William M. Squires of Center Township, Beaver County, on March 17, 1953. Her bridal portrait and a lengthy article about their wedding were published in the Beaver County Times. At the time of marriage, Richard was a member of the U.S. Army serving in Asia during the Korean War, and earlier had worked at St. Joe Lead in Potter Township. Nancy was employed with Bell Telephone Company in Rochester. Later, she served as a teacher's aide in several Beaver County Schools, including the districts of Aliquippa, Center Township and Beaver Falls. They made their home in Aliquippa, Beaver County, and were members of the North Branch Presbyterian Church of Center Township. Their two sons were Richard A. Halfhill Jr. and Timothy Arthur Halfhill. By 2003, they had moved to Slippery Rock, PA. At the age of 79, Nancy passed away at Autumn Grove in Harrisville, PA on April 8, 2013. In an obituary, the Butler Eagle reported that she "enjoyed knitting, playing cards, travel and fellowship with friends at the camp."

St. Joe Lead Smelting Division near Monaca, PA. From a painting by Howard Fogg for the Pittsburgh & Lake Erie Railroad Co., of the New York Central System.
Son Charles B. Halfhill (1935-2002) was born on Aug. 3, 1935. He resided in New Brighton and Rochester. Circa 1977, he was an officer of the Rochester Post No. 128 of the Veterans of Foreign Wars. He died on June 4, 2002, at the age of 66.
Son Robert J. Halfhill made his residence in Beaver and Darlington, Beaver County.
Son Hobert Halfhill Jr. wed Chris (?) and lived in Saugus and Santa Clarita, CA.
Daughter Nancy L. Halfhill (1941-2003) was born on Aug. 22, 1941 in Rochester. She married David Forrest and lived in New Sewickley Township near New Brighton. They had three children -- Tammy Romjaniak, Lori August and David Forrest II. Active in the local community, Nancy served as secretary for New Sewickley Township and belonged to the New Sewickley Kiwanis Club. Circa 1972-1980, they were officers of the Beaver Valley Vagabonds Chapter of the National Campers and Hikers Association. She passed away at the age of 61 on June 26, 2003, in Villa St. Joseph in Baden. Burial was in Sylvania Hills Memorial Park, following a funeral led by Rev. Debra Rogosky.
~ Daughter Laura Belle (Halfhill-Newingham) Shively ~
Daughter Laura Belle Halfhill (1904-1997) was born on Sept. 2, 1904, just a few days before her father was killed at the Moyer mine near Connellsville. Thus she would only have known about her father through stories her mother, elder siblings and relatives would have told.
Laura Belle moved with her widowed mother to Pitcairn, Allegheny County, PA, where they lived together in 1910.
By 1920, however, the 15-year-old Laura Belle had been placed in the home of her aunt and uncle, Mary Emma and James E. Newingham, in Scottdale, Westmoreland County, PA. She took on the Newinghams' last name as her own.
At the age of 19, on July 18, 1923, Laura Belle "Newingham" married 19-year-old John Leighty Shively Jr. (1904- ? ), the son of John L. and Nevada (Hodge) Shively Sr. The wedding took place in Westmoreland County.
They had four sons -- James C. Shively, William R. Shively, John "Jack" Shively and David H. Shively.
When the federal census was taken in 1930, the family lived in Scottdale, where John was employed as an automobile salesman. Circa 1933, they lived in Somerset, Somerset County, PA.
The Shivelys separated at some point in time, after 1933. Circa 1943-1952, Laura lived in Scottdale. In June 1953, when John's mother died, the newspaper obituary listed John's whereabouts as "unknown." She kept herself busy and was elected as assistant librarian among the officers of the Adelphi Class of the First Evangelical United Brethren Church in 1968.
She died on Sept. 29, 1997, at the age of 93.
Son James C. Shively (1924-2003) was born on April 29, 1924 in Scottdale. At the age of 21, he wed Constance I. King on Aug. 8, 1945, in the parsonage of the Methodist Church of Oakland, MD. At the time, he was a corporal in the US Army during World War II, and on furlough from the military. She was a former beautician at Kay's Beauty Shoppe in Scottdale. In August 1947, he re-enlisted for three years, choosing Europe as his destination. Said the Courier, "He has a total of three years and eight months in the Army, his last tenure being with the 71st Infantry, 44th Division." By 1949, the Shivelys had divorced. James married again, on Feb. 28, 1949, to Esther Dorothy "Billie" Calhoun. They were wed in the Presbyterian Church of Bedford, Bedford County, PA. Reported the Courier, "After the ceremony, the couple motored to New York and New Jersey, stopping at Fort Dix where the bridegroom had been stationed prior to gong to Japan... Sergeant Shively is stationed at Tokyo, Japan, and will leave April 7 for his base. The bride, who is employed as an operator for the Bell Telephone Company, will join her husband in Japan." The Shivelys had two children, James W. Shively and Judy A. Shively. James also served in the Army during the Korean War. By 1973, they had moved to Bethel Park, Allegheny County, PA. That year, James was pictured in the Courier after receiving the Department of Army Certificate of Award for outstanding performance as the staff personnel assistant of the 99th Army Reserve Command, ARCOM. In covering the story, the Courier said that James "serves as one of the top officers of the 99th ARCOM, both in his military and civilian capacity... [He] entered the military in 1942 and has served as staff personnel assistant for the past five years." In all, James served for 32 years in the military, retiring in 1975 as chief warrant officer 4. The family lived in St. Petersburg, FL and then relocated to Sun City, AZ. After his wife Esther died, James married again, to Cynthia. James died at the age of 78 in Sun City on March 14, 2003.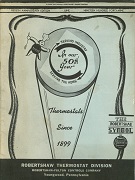 Robertshaw 50th
anniversary booklet
Son David H. Shively (1933-2011) was born on July 8, 1933 in Somerset, Somerset County, PA. On Feb. 15, 1957, he eloped with Margie Weaver to Winchester, Frederick County, VA, where they were united in marriage in the Evangelical United Brethren Church. She was employed at the time with R.E. Uptegraff Manufacturing Company in Scottdale. They had three children -- Rev. David H. Shively, Jon Randall "Randy" Shively and Becci Cerk. He was a veteran of two years in the Army. Early in his career, he worked for a Fruehauf plant near Uniontown and Rack Engineering in Connellsville. As with many cousins in the extended Minerd-Minard-Miner-Minor clan, David was employed with Robertshaw Controls' machine department in New Stanton, and spent 15 years with the company. They made their residence in Scottdale in 1962, where David served as deacon, board chairman and van driver. By 1977, the Shivelys had relocated to Orlando, FL, but they returned to Scottdale in later years. David passed away at the age of 78, in Excela Health Frick Hospital in Mt. Pleasant, on Oct. 22, 2011. Burial was in Green Ridge Memorial Park. His son David, along with Rev. Robert Chambers, conducted the funeral service.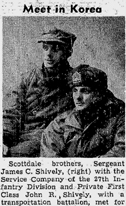 Sons James and John
Son William R. Shively ( ? - ? ) married Lois Shedlock. They had three children -- William Joseph Shively, Daniel Ray Shively and Cathy Ann Shively. Circa 1962, they made their home in Connellsville.
Son John "Jack" Shively ( ? - ? ) married (?) Stoner. In 1969, they moved from Scottdale to Orlando, FL. Their son Bruce Shively made headlines in the Courier in 1970 when he received honors with Little League Baseball in Orlando.
Sons James and John (seen here together) served in the U.S. Army during the Korean War, James with the Service Company of the 27th Infantry Division, and John with a transportation battalion. In early 1951, they made news in Korea when they met for the first time in two years, in the town of Taegu. In a front page article in the Connellsville Courier, in which they are pictured, the story said:
[James] is now serving with the famed Wolfhead Regiment, which was then in Suwon, Korea. It is one of the first United States units to enter the Korean War from Japan. [John] is one of the many reserves called to active duty as a result of the action in Korea. He returned to service on September 30, 1950, and arrive in Korea on December 24 of that year. The transportation battalion is sponsored by the Reading Railroad of Reading, and is stationed at Sindong, Korea ... one of the main links supplying equipment to all front line troops.
Copyright © 2011-2013, 2016 Mark A. Miner
Halfhill obituary courtesy of Ancestry.com