George L.P. Overfield
(1857-1921)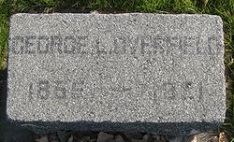 George L.P. Overfield was born in November 1857 (or 1855) in either Barbour or Preston County, VA (later WV), the son of John Edgar and Sarah (Hanshaw) Overfield.
As an unmarried man in about 1877, when he was 20 years of age, George migrated westward to Montana to find his life's adventure and make his own way. Among George's places of residence over more than four decades in the Great West were Kansas; Fort Macleod, Canada; and Fort Benton, Montana.
Yet he apparently returned home for periods of time. This is evidenced by the fact that the federal census of 1880 shows him in West Virginia, in his parents' household in Reedsville in the Valley District of Preston County. The census-taker recorded that his occupation was "tramping" which suggests that George came and went with regularity. But he did not stay in the east for long.
Said a newspaper, he came to Montana "to manage the firm of Raleigh & Clark in Helena," a dry goods emporium. After proving his abilities there, he "later engaged in the dry goods business in Townsend, Bozeman and Great Falls until he entered the cattle business and located at Benton being for many years one of the leading stockmen of Northern Montana."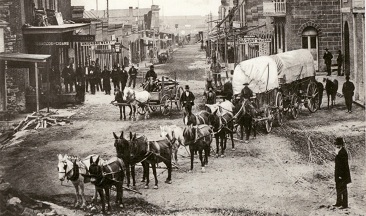 Helena's main street in 1870, about the time George arrived. Signs are visible for the Belmont Saloon and Union Brewery as well as for tobaccos, cigars and beer
At some point in time, likely in the 1880s, George was employed by the Baker Company, which carried U.S. mail into Canada using riders and wagons. He worked at the company store in Fort Macleod in the Canadian province of Alberta, and at Fort Benton, MT Among his duties was distributing federal "annuity" payments to Indians.

In 1890, George made his home in Fort Macleod, a town that had been founded just 16 years before and that grew thanks to expansion of farming and development of the railroad. In September of 1890, he traveled back east to see his parents in West Virginia, with the news covered in the gossip columns of the Preston County Journal.
By 1899, he had returned to Montana, and made his residence in Great Falls. That year, he was a member of the Montana Stock Growers' Association and was listed in its annual brand book and directory.
Later, by 1900, the census shows that he had moved again within Montana to Fort Benton, a town along the west bank of the Missouri River and the county seat of Chouteau County. There, he continued his work as a stockman and lived near Dahlberg's large boarding house.
In about 1901, at the age of 44, George married 28-year-old Alice Marie Dailey (1873-1950), a native of Liverpool, England. She was 16 years younger than her husband, and was the daughter of Francis and Honora Dailey.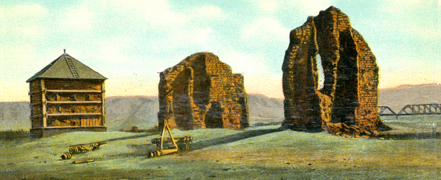 Local landmark that George and Alice would have known well -- the ruins of old Fort Benton, Montana, a onetime fur trading center dating to the 1840s.
They had three children, of whom two are known -- Alice Rhodes and David Basham Overfield. The other died in childhood during the 1900s. Daughter Alice was born in Fort Benton in 1905 and son David in Kansas in 1906.
George's cattle marks in the 1903 brand book of the Montana State Growers' Association
Circa 1908-1920, when the federal censuses were taken, the Overfields lived on Baker Street in Fort Benton. George was active in the community, and served as a director of the Benton State Bank, incorporated on July 5, 1910, and secretary-manager of the Benton Electric Light Company. He also was a member of the Benson lodge of the Masons, and was considered a "master mason" in a 1901 directory. He is mentioned in connection with the Masons in the book History of Montana, 1739-1885 (Chicago: Warner, Beers & Company, 1885).
At the death of his uncle Dr. Guy Hanshaw in 1908, George was entitled to receive 1/48 of the estate, which included lucrative oil and gas wells. He received an immediate payout from the estate of $38.54 in 1909. At intervals over the years, through 1942, he and his heirs received royalty payments from the oil and gas wells. The high point was in 1918, when he was paid $16.36. In total, he received $171.74 in inheritance.
George was employed in 1910 as a stockman on a ranch, but in 1920 had no occupation and may have been retired or infirm. They lived next to the St. Clare Hospital, also known locally as the County Poor House.
In 1913, George was mentioned in the book A History of Montana, by Helen Fitzgerald Sanders (Lewis Publishing Co.).

Sadly, an era ended when George died at home on June 21, 1921. He was age 64. The Associated Press distributed a story headlined "Pioneer Dead" which was published in the Anaconda (MT) Standard and perhaps other newspapers. It said he "was a native of Virginia, and came to Montana 44 years ago..." The article also erroneously exaggerated his age by 10 years, saying he was 74. [Find-a-Grave]
Alice survived her husband by 29 years. She first moved to Southern California and in 1930 lived as a widow with her married sister and brother in law Mary and August Auget in Anaheim, Los Angeles County.
She then migrated to Arizona, and lived with her daughter at 1506 West Main Street in Clarksdale, Yavapai County. She died in Phelps Dodge Hospital in Jerome, Yavapai County at the age of 80 years, 11 months on May 5, 1950. Cause of death was hypertension. She was placed into eternal rest in St. Francis Cemetery in Phoenix.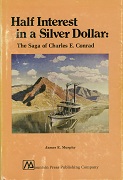 Half Interest in a Silver Dollar book
Many years after his death, both in 1983, George's name was published in two books printed that year -- Half Interest in a Silver Dollar: The Saga of Charles E. Conrad, by James Emmett Murphy, and The Piegan Storyteller, by the James Willard Schultz Society. The Half Interest book quotes George extensively about his work distributing funds and goods to Indians.
~ Daughter Alice (Overfield) Rhodes ~
Daughter Alice Overfield (1905- ? ) was born in 1905 in Fort Benton.
As an adult, she was employed as a public school teacher in Clarkdale, Yavapai County, AZ as shown in the federal census of 1930. That year, she roomed with other teachers in a house on First Street South.
In the early 1930s, Alice married Edward A. Rhodes (1900- ? ), a native of Anderson, IN. They had one known daughter born in 1933, Barbara Lee Rhodes.
At the time of the daughter's birth, the family lived at 832 North 3rd Avenue in Phoenix, Maricopa County, with Edward having worked as a chemist for Standard Oil for seven years past, since 1926.

David B. Overfield
~ Son Lt. Cdr. David "Basham" Overfield ~
Son Lt. Cdr. David Basham "Bash" Overfield (1906-1950) was born on May 8, 1906 in Kansas, but grew up in Fort Benton in a world filled with agricultural and land-based pursuits.
He was age 15 when his father died, and went on to another type of life entirely, as a distinguished naval air flying career as a lieutenant commander during World War II.
On July 10, 1923, right after he graduated from high school, David was admitted to the U.S. Naval Academy in Annapolis, MD, at the age of 17. He was a member of the Class of 1927, and is pictured in the Naval Academy yearbook, Lucky Bag. His yearbook entry said that:
As a favorite pastime, writing and receiving letters probably holds first place; he doesn't consider a day complete unless he has written two or more, and received at least that many. More or less of a savoir himself, Bash would never refuse to help another fellow out when he couldn't see through a prob. Always ready to lend a hand in anything that is being done, and with a smile, too, he makes friends wherever he goes, and is the kind one wants for a shipmate. We predict a happy and successful career in the Fleet for you, Bash, and send you off with our heartiest wishes for just that.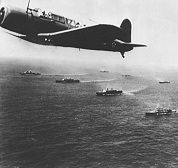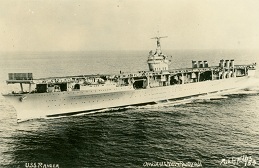 Left: a scout plane from the USS Ranger on a patrol to protect a convoy from enemy submarines. Right: the USS Ranger aircraft carrier from which David flew.
He married Shirley Lake (1911-2003). They had one known son, Robert Anthony Overfield (1937-2005), born in California. When David was away in military service in 1940, Shirley and their son moved back to her hometown area, Takoma Park, a suburb of Washington, DC.
During World War II, in November 1942, David flew air missions from the USS Ranger aircraft carrier during the invasion of North Africa, under the command of Rear Admiral Ernest D. McWhorter and Capt. C.T. Durgin.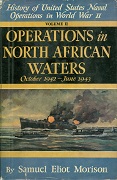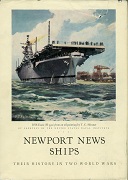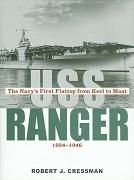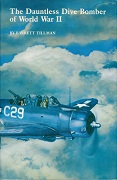 World War II books in which David is mentioned
He is cited by name in Volume 2 of Samuel Eliot Morison's classic work, History of United States Naval Operations in World War II: Operations in North African Waters (1962). (A distant cousin, Ensign Robert Edwin Minerd, is mentioned by name in Volume 10 of Morison's series, entitled The Atlantic Battle Won.)
In recognition of his pioneering naval air maneuvers from an aircraft carrier, David also is mentioned on several pages of the book USS Ranger: The Navy's First Flattop from Keel to Mast, authored by Robert Cressman in 2003. The 1954 book Newport News Ships: Their History in Two World Wars, published by The Mariners Museum of Newport News, VA, mentions David in connection "Operation Torch," the code name for the Allies' invasion of Africa during the war.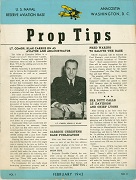 Anacostia newsletter
During the conflict, David also was commander of the Anacostia Naval Reserve Base in the District of Columbia, and is mentioned in editions of the base newsletter, Prop Tips.
He retired from military service with the rank of lieutenant commander.
David died in San Diego on Dec. 14, 1950, at the age of 44. He was laid to rest in Fort Rosecrans National Cemetery in San Diego County.
Shirley outlived her husband by more than half a century.
She spent her final years in Houston, TX, where she passed away in 2003, at age 92. Her remains were sent to Virginia for burial in Princess Anne Memorial Park in Virginia Beach.
Grandson Robert Anthony Overfield (1937-2005) was born on June 21, 1937 in California. As a boy, with his father away in military service, he and his mother resided in Takoma Park, MD, a suburb of Washington, DC. He joined the US Army and during the Vietnam War, he served as a first lieutenant. He resided for a time in Virginia. He died in Seabrook, TX on March 18, 2005 and is buried in Fort Rosecrans National Cemetery in San Diego.
Other Books Mentioning Lt. Cdr. David Basham Overfield:
The Dauntless Dive Bomber of World War Two, by Barrett Tillman (Naval Institute Press, 1976)
Newport News Ships: Their History in Two World Wars, by Howard James Balison (Mariners Museum, 1954)
Copyright © 2004, 2009-2010, 2012-2013 Mark A. Miner
George Overfield obituary courtesy of GenealogyBank.com. George Overfield grave marker photo courtesy of Judy VanFleet. USS Ranger scout plane image courtesy of the American Memory Project of the Library of Congress (LC-USE6-D-008870).