Sarah (Hanshaw) Overfield
(1833-1891)

Sarah Frances (Hanshaw) Overfield was born on June 2, 1833 or 1835 either in Barbour County or Preston County, WV, the daughter of Hiram B. and Catherine (Miner) Hanshaw.
Little is known about her adult life, other than a few tidbits found on her paper trail.
In the early 1850s, Sarah married farmer John Edgar Overfield (1831-1899).
Together, the couple produced a brood of these eight known children -- Charles C. Overfield, James "William" Overfield, Mary E. Overfield, George L. Overfield, John F. Overfield, Charlotte "Lottie" Born, Lillian M. Patton and Marian Percy Menear. Sadly, son Charles C. died in infancy of "whooping cough," at the age of six months, in April 1865 in Preston County.

Preston County Journal, 1899
The Overfields resided in the mid 1850s in nearby Barbour County, WV. When the federal census was taken in 1860, John and Sarah and their four children in Evansville, Preston County, WV. That year, the census shows that John had no occupation.
By 1870, the family had relocated to nearby Pruntytown, near Grafton, Taylor County, WV. In Grafton, two of Sarah's brothers were prominent storekeepers and dabbled in politics. The 1870 census shows that John labored as a machinist that year, and that son James William was a stonecutter.
During the 1870s, the family relocated again, to near Reedsville in the Valley District of Preston County. The census of 1880 shows the Overfields as farmers. They lived next to the family of German-born Jacob Born, and the two families intermarried frequently over the years.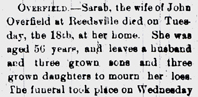 Preston County Journal, 1891
John "had a wide circle of friends and acquaintances in this county," said the Preston County Journal.
Sarah died at the age of 56 at her home on Aug. 18, 1891. The Journal said the funeral "was largely attended. Mrs. Overfield possessed many friends and her death was greatly lamented by all who knew her. The exact cause of the illness which caused her death is not known. Several friends and relatives from Kingwood attended the funeral." She was laid to rest in the Reedsville Cemetery.
He passed away in mid-December 1899, and "was quite old," the Journal said in an obituary. His age was 71.
Today, a modern-looking granite memorial marks their final resting place, and was photographed in June 2006.
Copyright © 2003-2004, 2009, 2021 Mark A. Miner