Marion Percy
(Overfield) Menear
(1874-1932)

Oak Grove Cemetery
Marion Percy (Overfield) Menear was born on Jan. 19, 1874 in Reedsville, Preston County, WV, the daughter of John Edgar and Sarah (Hanshaw) Overfield. She is believed to have been named for a favorite aunt, Marian (Percy) Henshaw.
Marion was joined in the bonds of holy wedlock with Ephraim "Clarence" Menear (1870-1942), the son of William Calvin and Rebecca (Stone) Maneer of Preston County, WV. The wedding took place on July 3, 1895, when she was age 21 and he was 25.
The Menears bore three daughters -- Helen Elsie Mansberry, Alice Rebecca Maloy and Virginia Dalton -- plus an unknown child who died in infancy in the late 1890s.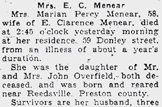 Morgantown Dominion News
The federal census enumeration of 1900 shows the young family making its home on Chestnut Street in Morgantown, Monongalia County, WV. There, his occupation was listed as "drayman" -- driver of a low-slung, flatbed wagon making deliveries.
At the death of her uncle Dr. Guy Hanshaw in 1908, Marion was entitled to a 1/48 share of the estate, which included lucrative oil and gas wells. She received an immediate payout from the estate of $38.54 in 1909. At intervals over the years, through 1942, she received royalty payments from the wells. The high point was in 1918, when she received $16.36. In total, she received $171.74 in inheritance.
In 1910, the Menear home was on McLain Street, with Clarence continuing his hauling duties as a drayman. Marion's sister Lillie M. Overfield, unmarried and age 48, lived under their roof that year.
During the decade of the 1910s, they moved again to Donley Street in Morgantown. The census of 1920 shows Clarence laboring as a drayman, while 20-year-old daughter Helen was employed as a binder in a publishing company, and 19-year-old daughter Alice was a telephone operator.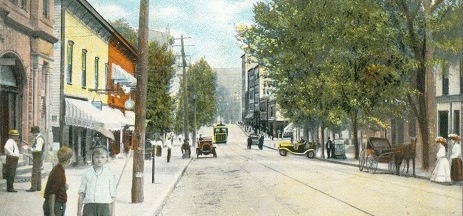 Morgantown's busy High Street
Morgantown Dominion News
Circa 1932, they resided at 59 Donley Street in Morgantown. Clarence worked as a transfer operator, otherwise known as a trolley car conductor, in the busy city that was home to West Virginia University. The Morgantown Dominion News said he "was well known here, having been engaged in the transfer and drayage business for about 35 years." Marian was a housewife.
At age 56, in 1930, Marion began to suffer from cancer of the uterus. She died after a two-year illness on the Fourth of July 1932. Following funeral services in their home, she was laid to rest at the peaceful Oak Grove Cemetery in Morgantown. Rev. Frank L. Shaffer officiated. The grave today is easily found at the corner of the cemetery located at the intersection of Dorsey Avenue and Barickman Street.
Clarence outlived Marion by a decade, residing at their home on University Avenue.
He died just 17 days after his 72nd birthday, at Monongahela General Hospital in Morgantown, on Oct. 28, 1942. He was buried beside his wife at Oak Grove. The informant on his death certificate was Icie B. Brown, relationship unknown.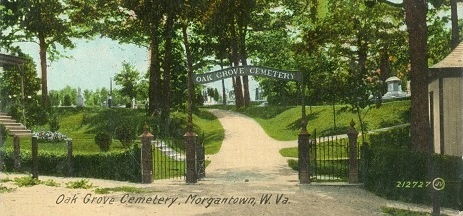 Peaceful Oak Grove Cemetery, the Menears' final resting place
~ Daughter Helen Elsie (Menear) Mansberry ~
Daughter Helen Elsie Menear (1900-1981) was born on May 18, 1899 in Monongalia County, WV.
Obituary, 1981
She married Harry Mansberry ( ? - ? ).
The couple did not reproduce.
They were members of the Spruce Street United Methodist Church.
Circa 1942-1981, they lived in Morgantown, and their address in the early 1980s was 256 Wildwood Street.
Helen died at the age of 82 in Morgan Manor on April 19, 1981.
~ Daughter Alice Rebecca (Menear) Maloy ~
Daughter Alice Rebecca Menear (1901-1972) was born in 1900.
At the age of 21, Alice married 22-year-old barber Leonidas "Edwin" Maloy (1899-1964), the son of Selby and Catharine (Stritenberger) Maloy. He was a native of Pike County, OH but resided in Morgantown at the time of marriage. The ceremony was held on Nov. 7, 1921, by the hand of Rev. W.E. Lowther of the Methodist Episcopal Church in Morgantown.
They were in Morgantown in 1932, but a decade later, during World War II, they lived in Washington, DC. The pair apparently returned to Morgantown at some point, residing at 724 Southern Avenue.
Edwin passed away on April 9, 1964.
Alice outlived him by eight years. She died at the age of 71, at St. Vincent Pallotti Hospital in Morgantown, on Feb. 14, 1972. She was laid to rest in the Beverly Hills Memorial Gardens.
~ Daughter Virginia (Menear) Dalton ~
Daughter Virginia Menear (1909- ? ) was born in about 1909.
She married (?) Dalton. They had one known son, Robert "Bobby" Dalton, and resided in the Morgantown area for many years.
In 1959, Virginia lived at R.F.D. 5, Morgantown, and in a note to her second cousin, Frank W. Hanshaw Jr., she wrote: "I have quite an accurate list of [family] names and history at least enough to be interesting."
Son Robert "Bobby" Dalton lived at Cobun's Creek Road in Morgantown. He was named as the sole surviving nephew in the Morgantown Dominion-Post obituary of his aunt, Helen Elsie Mansberry, when published in April 1981.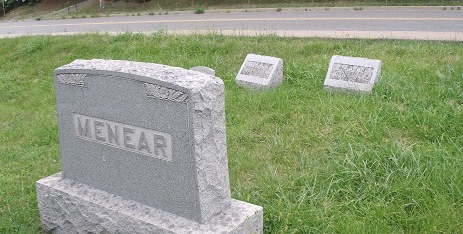 The Menear grave plot at Oak Grove in Morgantown, along Dorsey Avenue
Copyright © 2004, 2006, 2010, 2012, 2021 Mark A. Miner