George W.H. Pring
(1864-1912)
George Washington Henderson Pring was born on Feb. 28, 1864 in Cedar Creek Township, near Fort Wayne, Allen County, IN, the son of John and Caroline (Minerd) Pring.
In February 1898, when George was age 34, he married 18-year-old Iona E. Duly (or "Duley") (1881- ? ), the daughter of Solomon Duly. They were 17 years apart in age. News of their marriage license application was published in the Fort Wayne News.
The Prings had one son, George Arlington "Arlie" Pring.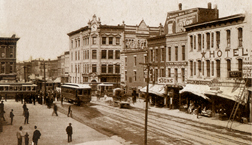 Transfer Corner in downtown Fort Wayne
The newlyweds' first home was on Walton Avenue in Fort Wayne. When the federal census was taken in 1900, George and Iona made there home there, with George's 38-year-old, unmarried brother Elbridge boarding in the household. That year, George was employed as a shop carpenter."
They later resided at 1520 East Creighton Avenue. George was a member of the Harmony Lodge, Odd Fellows and Ben-Hur Court. They enjoyed visiting their family, and in August 1909, said the Fort Wayne Journal Gazette, traveled to Huntertown/ Robinson's Chapel for Sunday dinner with Iona's parents.
The 1910 census shows George, Iona and Arlie living on East Creighton in Fort Wayne, with George working as a house carpenter.
According to the Fort Wayne Journal-Gazette, George "took employment in the Perfection Biscuit company and advanced to the position of foreman. [In March 1912] he took a position as fireman at the Old National bank and was employed in that capacity until the time of his death."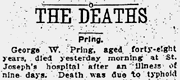 Obituary, 1912
Tragedy struck the family in late July 1912, when at the age of 48, George caught a fatal case of typhoid pneumonia. Sadly, he was unable to overcome the infirmity. He passed away just nine days later, at St. Joseph's Hospital in Fort Wayne, on Aug. 6, 1912. His obituary was printed in a local newspaper. Son Arlie thus was left fatherless at the age of five.
The 1920 census shows 39-year-old widow "Lorin" and 13-year-old son Arlie living on Washington Street in Fort Wayne. She had no occupation, but took in boarders for income. Also living under the Pring roof that year were railroader Albert Nusshart and seamstress Metta Jackson, both in their 20s.
Iona's final fate is not known.
~ Son George Arlington "Arlie" Pring ~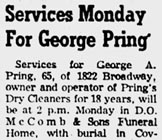 Fort Wayne Journal Gazette
Son George Arlington "Arlie" Pring (1907-1972) was born in 1907.
He married Gladys M. ( ? - ? ). They had no children, and resided at 1822 Broadway in Fort Wayne.
Said the Fort Wayne Journal Gazette, Arlie was "owner and operator of Pring's Dry Cleaners for 18 years" in Fort Wayne. He then "was chief deputy of the Fort Wayne Board of Works for eight years before retiring in 1971." He was a member and former elder of North Highlands Presbyterian Church and a member of the Summit City Lodge of the Masons and the Mizpah Shrine Temple.
He passed away at the age of 65, at St. Joseph's Hospital, n May 19, 1972. Burial was in Covington Memorial Gardens.
~ More ~
Donald L. Kear, a distant nephew of John Pring's, has an extensive collection of information on this family on his "Kear Family Site." He also has published his findings in The John Cears Kear Family (1984).
Copyright © 2002, 2004, 2009, 2020 Mark A. Miner