Elbridge Gary Pring
(1862-1943)

Elbridge Pring
Elbridge Gary Pring was born on April (or May) 24, 1862 in Cedar Creek Twp., Allen County, IN, the son of John and Caroline (Minerd) Pring.
Elbridge was married twice, but had no children to either marriage. When the federal census was enumerated in 1900, he was age 38 and single and made his home with his brother and sister in law, George W. and Iona Pring in Fort Wayne. Elbridge worked that year as proprietor of a feed barn.
His first wife was Mary C. Cummings (1867-1917), the daughter of Anna Cummings, and a resident of Fort Wayne since 1892. They were married in 1906. A newspaper reported this about their wedding:
[They] were married at the Cathedral rectory last evening by the Rev. P.F. Roche. The wedding was pretty but quiet, only immediate relatives being present. The bridesmaid was Miss Anna Conners; and Mr. Frank Cummings, a brother of the bride, attended the groom. The bride was attired in a blue cloth traveling costume, and Miss Conners wore a steel gray gown with hat to match. After the ceremony Mr. and Mrs. Pring left on a wedding trip, and will be at home to friends after May 15. They will reside at the corner of Jefferson and Francis Streets.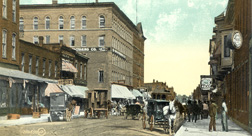 Fort Wayne's Harrison Street
By 1910, they had moved into a house on Wells Street. Boarding in their home that year were Mary's widowed mother Anna Cummings and single brother Frank Cummings (age 41). Elbridge's occupation was listed as "carpenter - for contractor."
During the decade of the 1910s, they later purchased a residence at 444 Fairmount Place in Fort Wayne, in which they stayed for the rest of their lives. Mary was a member of the Precious Blood Catholic Church, while Elbridge belonged to the South Wayne United Brethren Church in Fort Wayne.
The Prings enjoyed visiting relatives, as evidenced by many family snapshots as well as news coverage over the years. In August 1909, they had Sunday dinner with sister and brother in law Martha and William Hursh in Huntertown, along with niece Adrien (Pring) Kimes and her husband Merton, and Cleo and Lela Butz. In August 1911, the Fort Wayne Journal Gazette, in its "Robinson Chapel News," said that Elbridge, Mary and Anna traveled to Huntertown for Sunday dinner at the home of their niece, Mabel Moudy, joined by Elbridge's sister Martha Hursh.
Said the Fort Wayne Journal-Gazette, Elbridge "was employed as a machinist at the Horton Manufacturing Company for 23 years until his retirement" in 1940.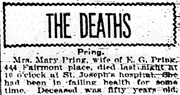 Fort Wayne Journal Gazette
Sadly, Mary passed away at age 50 on Jan. 5, 1917, at St. Joseph's Hospital in Fort Wayne. The Fort Wayne Journal Gazette said she "had been in failing health for some time."
Elbridge and his widowed mother in law agreed to keep sharing their residence on Fairmount. They are listed together in the 1920 census of Fort Wayne. His occupation was listed as "service (?) machine operator - washing machine factory."
Later, Elbridge married Mary Alda (Elson) Brown (1868-1939), who was five years younger than her husband. She brought three children to the marriage -- Grace Ginter, Paul Brown and Lawrence Brown.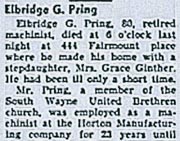 Fort Wayne Journal Gazette
The Prings are listed in the 1930 census of Fort Wayne, with Elbridge marked as working as a machine operator at a washing machine factory.
Sadly, wife Mary died in July 1939, at the age of 71.
As he entered his final years, Elbridge remained in the family home along with his married step-daughter Grace Ginther. He passed away at the age of 80 on Jan. 4, 1943. The Journal Gazette said that at his death, he was survived by 15 grandchildren and 15 great-grandchildren.
Much research on Elbridge and his Pring siblings has been done over the years by Betty McClanahan and Sandra Ammerman-Paser.
Donald L. Kear, a distant nephew of John Pring's, has an extensive collection of information on this family on his "Kear Family Site." He also has published his findings in The John Cears Kear Family (1984).
Copyright © 2002, 2004-2005, 2009, 2020 Mark A. Miner