Bertha (Ream) Conn
(1897-1954)


Bertha and Donald Conn
Bertha Blanche (Ream) Conn was born on June 1, 1897 in Lower Turkeyfoot Township, Confluence, Somerset County, PA. She was the second of 16 children born to Joseph and Sarah Ellen (Harbaugh) Ream.
Bertha and her sisters worked very hard as young girls growing up. The girls performed many duties to run the household for themselves and the growing family of her parents. In those days much was required of the children in the family.
Bertha's brothers worked in the timber with their father and ran the farm. Bertha and her sisters and their mother worked very hard washing clothes on the board, scrubbing wood floors, tending the garden, canning, milking the cows, gathering eggs, baking bread everyday and preparing the meals for the family.Bertha and her sister Ethel were the first two of of the children to marry.
On the day after Christmas 1922, the 25-year-old Bertha eloped to marry 17-year-old Donald Wilbert Conn (1905-1991) son of Harvey Leslie and Ida Mae (Metzler) Conn of Draketown of the family of Sarah "Sally" (Younkin) Weimer King. The couple traveled to Cumberland, MD, where they took their vows. Upon their return home, reported the Meyersdale Republican, "The folks at Draketown gathered together and gave them an old-fashioned serenading." Bertha was eight years older than her groom.
The Conns resided at the original Ream family farm. Her parents had relocated to another farm several miles away on the Jersey Hollow Road, outside of Confluence, PA.
Bertha and Donald went on to produce three children -- Richard Donald Conn, Ruby Geneva King and Dorothy Jean Younkin Butch.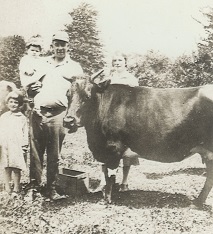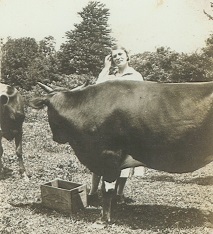 The Conns with prized livestock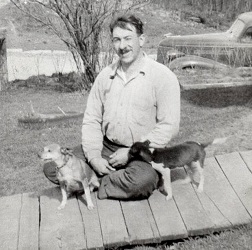 Donald Conn with favorite puppies
In August 1924, when she was age 29, Bertha and her parents were among a crowd of 82 who attended the annual Minerd-Miner Reunion held at Lincoln's grove, near the Western Maryland Railroad Station in Confluence, Somerset County. In an article about the reunion, the Meyersdale Republican reported: "A very successful and pleasant reunion of the Minard family was held ... A fine picnic dinner was partaken of at 12:30 p.m., after L.L. Mountain invoked a blessing." Bertha was mentioned by name in the article.
When the federal census was enumerated in 1930, the Conns resided in Lower Turkeyfoot Township, with their three children ages 6 and under, and Donald earning a living as a sawmill laborer.
By 1940, when the census again was taken in Lower Turkeyfoot, Donald was working as a coal mine laborer.
They enjoyed entertaining visits from Bertha's older sister and brother in law, Ethel Irene and Elliot Harbaugh, who lived in Clarksville, Washington County, PA. Some of these gatherings were reported in the gossip columns of the Somerset Daily American.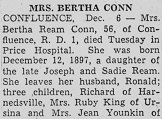 News obituary, 1954
Bertha suffered for two decades with hypertension, and for about 18 years with a large cyst on her left ovary. In 1954, the cyst became infected and began to abscess and, combined with peritonitis, was deadly. She passed away on Nov. 30, 1954 at the age of 57 years. Burial was in the Jersey Baptist Church, with Rev. Harry Cadamore officiating.
Donald married again to a widow Sara (Younkin) Suder of the family of Ross and Emma (Rush) Younkin. In November 1959, they traveled to Akron, Ohio to attend the funeral of Sara's brother in law, Lewis McAllister. Later that month, they spent Thanksgiving Day as the dinner guest of Mr. and Mrs. Jack Suder of Harnedsville.
Sara apparently earned income as a personal care nurse and in December 1959 was providing care for Katherine Walker Woods.
They are believed to have relocated to Clifton Heights in the 1960s.
He died on Jan. 30, 1991. Bertha and Donald are buried at the Jersey Cemetery, Confluence.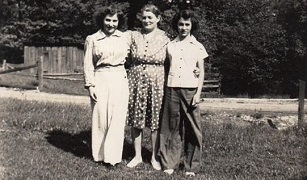 Bertha with daughters Ruby and Dorothy (right)
~ Daughter Dorothy Jean (Conn) Younkin Butch ~
Daughter Dorothy Jean Conn (1930- 2022) was born on Feb. 18, 1930 in Confluence.
About the time of her 18th birthday, on Feb. 16 or 23, 1948, she married a distant cousin, 20-year-old William Richard "Bill" Younkin (1928- ? ), son of Frank Glen "Kooze" and Hazel Annie (Tressler) Younkin of Kingwood and grandson of William Lincoln and Margaret (Nicola) Younkin. The ceremony took place in Cumberland, Allegany County, MD, at the Methodist Church. Attendants were Mr. and Mrs. Walter Kreger of Kingwood. At the time, Richard was employed by Royal Electric Company.
The couple produced twin daughters -- Marlene Kaye Pletcher and Charlene Raye Eller.
They dwelled in Somerset but often spent weekends visiting Dorothy's parents in Confluence.
The Younkins' marriage dissolved in divorce. Richard went on to marry again, to Eugenia Hill ( ? - ? ), and they produced two more offspring. See the William Lincoln Younkin biography for more.
Later, in 1975, Dorothy married Robert Butch (1931-1997), son of Paul and Anna Catherine (Budash) Butch of Stoystown. They made their home in Salisbury and Bakersville, Somerset County. Robert enjoyed fishing and hunting and was a member of the Laurel Ridge Sportsmen's Club.
Robert died at the age of 65 at home in Bakersville on Feb. 24, 1997. John Lebo officiated at the funeral service followed by interment in the Bakersville Cemetery. An obituary was printed in the Somerset Daily American.
Dorothy outlived her second spouse by nearly a quarter of a century, with her final years spent in Salisbury. Death swept her away into eternity at age 91 on Jan. 21, 2022. Her remains were interred in Bakersville Cemetery. An obituary gave the count of her survivors as eight grandchildren, 21 great-grandchildren and eight great-great grandchildren.
Daughter Marlene Kaye Younkin (1948-living) was born on July 17, 1948 in Somerset, a twin with her sister Charlene Raye Eller. She was wedded to Frank Arthur Pletcher Jr. (Sept. 14, 1946-2019), son of Frank A. and Joanna (Gary) Pletcher, with the ceremony taking place in Tucson, AZ. Their five children were Shawn Lee Pletcher, Dawn Dee Elson, Frank Arthur Pletcher III, April Jo Winegardner and Holly Ann Faidley. In 1997, their home was in Rockwood, Somerset County. Frank was a veteran of the Vietnam War, serving as a Seabee with the U.S. Navy for four years. A handyman with many skills, Frank earned a living over the years as a subcontractor in the construction of houses and worked later as a maintenance technician. He liked to fish and hunt and was a member of the Veterans of Foreign Wars of Somerset, the American Legion of Rockwood, the Jenner Rod and Gun club and the Somerset County Honor Guard. As his health failed, he was admitted to Conemaugh Memorial Hospital in Johnstown, Cambria County, and died there at the age of 73 on Sept. 25, 2019.
Grandson

Shawn Lee Pletcher

married Rachel.
Granddaughter Dawn Dee Pletcher wedded Mark Elson

.
Grandson Frank Arthur Pletcher III

was united in matrimony with Michelle.
Granddaughter April Jo Pletcher was joined in wedlock with William Winegardner.
Granddaughter Holly Ann Pletcher married Robert "Bobby" Faidley
Daughter Charlene Raye Younkin (1948-2020) was born on July 17, 1948 in Somerset, a twin with her sister Marlene Kaye Pletcher. At the age of 21, on Aug. 9, 1969, she was united in marriage with 19-year-old Gerald Bernard Eller (1950- ? ), son of Gerald William and Margaret Mary (Schramka) Eller of Gray, Somerset County. Their three children were Jody William Eller, Jamie Lynn Eller and Julie Ann Tunstall. They resided in Friedens, Somerset County in 1997 and in Somerset in 2020. Over the years, Charlene was a member of the Ladies Auxiliary of the Laurel Ridge Sportsman's Club. Sadly, she died at the age of 71 on June 23, 2020. Chaplain Fred Weber officiated at the funeral service, with the remains lowered into eternal rest in Jenners Crossroads Cemetery.
Grandson

Jody William Eller

was a companion of Kimberly "Kim" Paquette. They lived in Boswell, Somerset County in 2020.
Grandson Jamie Lynn Eller

wedded Jessica. They have resided in Stoystown, Somerset County.
Granddaughter Julie Ann Eller was joined in marriage with Mark Tunstall

Sr. They have made a home in Rockwood, Somerset County. Their children are Mark Tunstall Jr., Matthew Tunstall and Luke Tunstall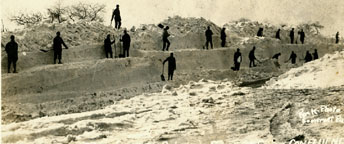 A common wintry sight -- men clearing a heavy snowfall on the road from Confluence to Somerset, circa 1936.
~ Son Richard Donald Conn ~
Son Richard Donald Conn (1924-2011) was born on March 12, 1924 in Confluence.
He married Betty Jane Reeves (1923-2016), daughter of Henry and Leeta (Pope) Reeves of Lower Turkeyfoot Township. They remained wed for 68 years.
The Conns had no children, but gave special love and attention over the years to their niece Barbara Bowers and nephew Clifford King. Residing in Harnedsville, they enjoyed visits from Richard's sister and brother in law Dorothy Jean and William Younkin and family of Confluence.
Betty Jane was employed for some time at the Kurtz Store in Confluence.
Richard died at the age of 87, on Aug. 15, 2011, at In Touch Hospice House of Journey's Rest in Somerset. He was laid to rest in Somerset County Memorial Park.
Betty Jane survived her husband by several years. She passed away at Meyersdale Medical Center at the age of 92 on Jan. 13, 2016, with an obituary printed in the Somerset Daily American.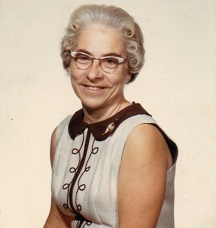 Ruby King
~ Daughter Ruby (Conn) King ~
Daughter Ruby G. (Conn) King (1926-2005) was born on Nov. 19, 1926 in Confluence.
She was wedded to Blair Eugene King (1923-1973), son of John W. and Hattie Lou (Saylor) King, and grandson of Harrison Grant and Elmira Susan (Help) King.
During World War II, Blair served with the 325th Glider Infantry as part of the 82nd Airborne Division, and took part in the D-Day invasion of France in June 1944.
Blair was employed by the Pennsylvania Department of Transportation. They were members of the United Community Church of God, and Ruby was active with the Rex Critchfield American Legion and Auxiliary in Ursina.
Their two children were Barbara Bowers and Clifford King.
Heartache shook the family when Blair died an untimely death at the age of 50 on Nov. 26, 1973. Burial was in the IOOF Cemetery in Kingwood, with Rev. Dennis Dawson preaching the funeral sermon.
Ruby survived him by more than three decades, remaining in her home in Ursina, Somerset County.
She is said to have never thrown away anything she considered of value. Among these were historical treasures -- the original paper applications of Civil War veterans seeking to join the Ross Rush Post of the Grand Army of the Republic in Ursina. Many years later, her daughter donated these priceless documents to the Mt. Union Church Camp #502, Sons of Union Veterans of the Civil War, to be on permanent loan to the Historical and Genealogical Society of Somerset County.

Above: some of the Civil War veterans in Ursina whose records Ruby preserved. Below: Somerset Daily American article about her daughter Barbara's donation of the soldier records.


Ruby, mid-1990s
In about 1996, she and her daughter Barbara went out of their way on a Sunday morning to meet the founder of this website at a Younkin Reunion event at the Jersey Baptist Church.
She died in Katie Miller's Personal Care Home in Confluence at the age of 78 on June 23, 2005. An obituary in the Daily American said she was survived by three grandchildren and three great-grandchildren. Burial was in the Kingwood Odd Fellows Cemetery, with Rev. Dean Hay officiating.
Blair and Ruby are mentioned and pictured on several pages of the book Reflections: Ursina 1787-1994, as is their daughter Barbara. One of the images, on page 12, shows Ruby and Blair posed at a cement block factory.
Daughter Barbara King married Anthony Bowers and lived in Ursina. Anthony was employed as a park ranger. They had two children -- Jason Bowers and Jared Bowers.
Son Clifford Eugene King has been twice-married. His first spouse was a distant cousin, Donna Lee Romesburg ( ? - ? ), daughter of Edward M. and JoAnn "Nan" (Maust) Romesburg of the family of Benjamin F. and Harriet (Younkin) Romesburg. They dwelled in Ursina, bore two sons and eventually divorced. See the Romesburg biography for more.
Copyright © 2001, 2011, 2016-2017, 2020, 2022 Doris (Sands) Hawker and Mark A. Miner