Home

Harriet (Younkin)
Romesburg Turney
(1864-1945)


Hattie and Benjamin
Harriet (Younkin) Romesburg Turney was born on Dec. 5, 1864 near Kingwood, Somerset County, PA, the daughter of Eli and Mary Ann (Rose) Younkin. Her first husband was one of many of our family killed in the coal industry workplace.
As a girl, Harriet and her parents traveled west to Illinois for "a few years," possibly for the sake of her mother's health. Her mother, who was homesick, did not get well, and passed away. She was buried at Franklin Grove, Lee County, IL, apparently in an unmarked grave. The mourning family then returned home to Somerset County. Later in life, she told her children that she had been born in Kansas.
Hattie's first husband was Benjamin F. Romesburg (1863-1901), a laborer for the Ursina Coal & Coke Company.
The Romesburgs produced a brood of seven children -- Harry Mahlon Romesburg, Dennis Orville Romesburg Sr., Etta C. Wilson Hayes Knox, Zelma Shoaf, Lillie Belle Brown Deal, Myles B. Romesburg and Ray Hermon Romesburg.
The Romesburgs resided on a farm about five miles from Confluence, Somerset County. To get to school, the children needed to walk a distance of about one and one-half miles through fields and woods along a river, crossing a covered bridge to the one room King School.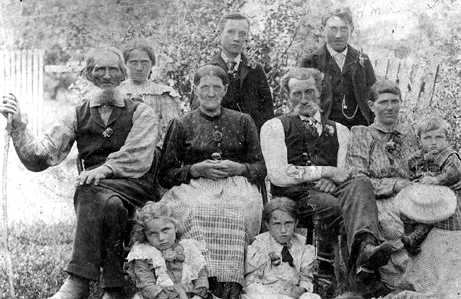 Hattie and Ben seated at right, 1890s. Their children, back row, L-R: Etta, Dennis, Harry. Children in front, L-R: Lillie, Zelma. Child on lap: Miles. The older couple at left are Benjamin's parents, Moses and Sarah Ann (Nicola) Romesburg.
Death came young, violently and painfully for Benjamin, while working at a construction site in nearby Ursina, Somerset County. He and co-workers were eating lunch in a shed when an explosion rocked the site. The Dec. 4, 1901 Somerset Herald reported that:
Ben. Romesburg, while ... excavating for the company store, was struck last week on top of the head by a stone that had been hurled in the air by a blast, crushing his skull. At last account he was still living but the doctors had very little hopes of his recovery. He has a wife and large family.

Bird's eye view of Confluence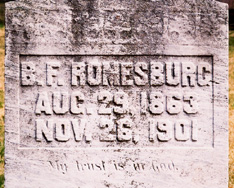 Benjamin's grave, Ursina
Benjamin's broken body was brought home, where he was laid on a table in the family home while a physician was en route from Connellsville to provide medical treatment. Unfortunately, he died a short time afterward, without regaining consciousness, and was buried at the Ursina Cemetery. The tragedy also was reported in the Connellsville Courier. His grave marker was inscribed, "My trust is in God."
Benjamin was only age 38 at the time of his tragic death.
Hattie was left alone to raise their brood of children. She lived for 11 years as a widow, also helping raise her grandson, Wilfred Brown.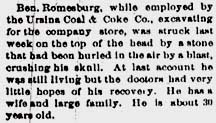 Somerset Herald, Dec. 4, 1901
On Oct. 23, 1912, Hattie married again, at age 48, to 47-year-old widower Elisha T. Turney (1865- ? ), the son of Joseph and Elizabeth Turney of Lower Turkeyfoot Township. The wedding took place in her home near Humbert, Somerset County. At the time of marriage, Elisha was employed as a teamster. Justice of the peace Andrew J. Case performed the ceremony. The news was published in the Meyersdale (PA) Commercial newspaper, which said she was the "daughter of Mr. and Mrs. Eli Younkin."
Elisha's first wife had died on July 4, 1883, so he had been a widower for almost three decades prior to his marriage to Hattie. He is believed to have died a short time after the second marriage, but details are not known.
Hattie is believed to have earned a meager income working in the laundry of the famed Markleton Sanatorium. Located 2,000 ft. above sea level, it billed itself as a top health care facility "owned and operated exclusively by physicians," according to promotional postcards. It featured the "finest bath equipment in the middle west" with "trained nurses, expert masseurs, skilled attendants ... [with] pure air and mountain water -- no malaria, no mosquitoes."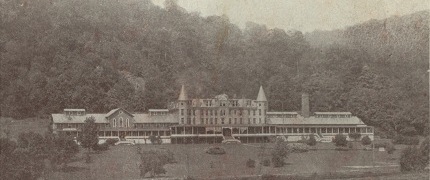 The old Markleton Sanatorium, where Hattie was a laundress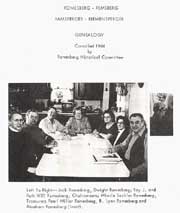 Romesberg book, 1984
Her house had no electricity or indoor plumbing. Visiting grandchildren played X's and O's on a table lit by an oil lamp, or would play hide and seek outside until it became too dark in the evening, or would hide in the old barn or spring house.
The federal census enumeration of 1940 shows her providing a home for her married son Wilford Brown. Living next door were her daughter Lilly Deal and family, and son Ray Romesburg and family.
Over the years, Hattie enjoyed going to the annual Kingwood Picnic. Her daughter Zelma Shoaf and family attended, and would see their cousin Beacher Younkin at almost every one.
As her health declined, Hattie went to live in the home of her married daughter Zelma Shoaf in Irwin, Westmoreland County, PA. She suffered a cerebral hemorrhage while visiting the Shoafs and died 10 days later. Her remains were returned to Somerset County for burial beside her first husband in Ursina Cemetery. Her obituary was published in a local newspaper, but misspelled her name as "Harry" instead of "Hattie." As well, on her official Pennsylvania certificate of death, her last name was given as "Romesburg" and not "Turney." At the time of her death, Hattie had 22 grandchildren and 18 great-grandchildren.
Hattie and Benjamin are mentioned in the books Romesberg Remsberg Ramsperger Riemensperger Genealogy (1984) and Reflections: Ursina 1787-1994. The 1984 book, seen here, is from the collection of the Somerset Historical and Genealogical Society.
~ Son Harry Mahlon Romesburg ~
Son Harry Mahlon Romesburg (1886- ? ) was born in 1886 in Upper Turkeyfoot Township, Somerset County.
At the age of 27, Harry resided in Ursina, Somerset County, where he was a laborer.
On Jan. 25, 1912, in a ceremony at Vanderbilt, Fayette County, Harry married Sarah A. Pirl (1892- ? ), a native of Indian Head, Fayette County, PA, and the daughter of George and Anna Pirl. Rev. J.C. Cunningham performed the nuptials.
The Romesburgs resided in Versailles, near Pittsburgh, Allegheny County, PA circa 1942-1945, with their home located at 541 Lynwood Avenue, Peterson Plan in Versailles, and in 1945 at 407 Center Street, Versailles.
They had five known children, and perhaps more -- Benjamin Romesburg, Bernice Brady Knutson, Juanita Romesburg, George Golden Romesburg and Ruth Romesburg.
Sadly, Sarah died young, when her children were young.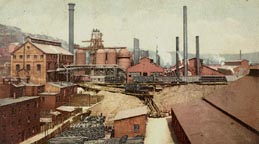 U.S. Steel's National Tube Works, McKeesport
Harry's fate is unknown.
Son George Golden Romesburg (1915-1977) was born in 1915. He married LaVerne Bartels (1922-2003). George was a "retired employee of the National Tube plant, U.S. Steel Corp., [and] was a member of the Bryn Mawr Church of Christ, White Oak, a life member of Versailles Volunteer Fire Co. and a U.S. Army Air Corps veteran of World War II," said the McKeesport Daily News. (The National Tube works is seen here.) LaVerne was retired from the Famous Department Store in McKeesport, near Pittsburgh, and the Irvin Plant of U.S. Steel Corp. She was a member of Bryn Mawr Church of Christ in White Oak and served as a deaconess and Sunday School teacher of the church. She also was secretary of the Versailles Chapter of the AARP (American Association of Retired Persons).
Daughter Bernice R. Romesburg (1918- ? ) was born on Jan. 12, 1918 in Versailles Borough. She was married two known times. Her first husband was Harry Brady (1916-1939). They resided at 407 Center Avenue in Versailles and had one son, Craig Brady. During the grip of the Great Depression, Harry generated income with employment by the Works Public Administration (WPA). Tragedy struck on Feb. 12, 1939, when Harry was stabbed to death in an attack by John E. Black, who lived at the same apartment building. Upon questioning, reported the Pittsburgh Post-Gazette, Black became enraged after the repeated clicking of Bernice's high heels on the linoleum floor of the hallway. When Black mocked Bernice and then threatened to slap her, Harry came out into the hall and challenged Black to a fight, during which the stabbing took place. Bernice and Harry had been married only two-and-a-half years, and their baby son was only six months old. Victim, wife, son and killer all were pictured in the Feb. 14 edition of the newspaper. As a widow, Bernice took on housekeeping work to generate income. In October 1942, when she was age 24, she wed her second husband, Theodore R. Knutson (1913-1982) of Versailles Borough, and the son of Swedish immigrants Gustaf L. and Alma M. (Carlson) Knutson. At the time of their marriage, during World War II, Theodore was serving in the U.S. Army at Fort Knox, KY. Nothing is known of their married lives together. Theodore died in Fontana, San Bernardino County, CA in December 1982, when he was age 69.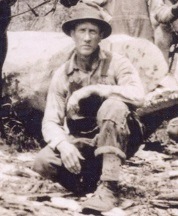 Dennis, 1931
~ Son Dennis Orville Romesburg Sr. ~
Son Dennis Orville Romesburg Sr. (1887-1966) was born in 1887.
He was married twice, first to Lulu Adeline Heinbaugh (1891-1955), daughter of Levi and Catherine (Nicklow) Heinbaugh. They resided in Humbert.
He and Lulu had at least eight children, only two of whom survived into childhood -- Robert James Romesburg, Garnet Romesburg, Clema Smith, Dennis Orville Romesburg Jr., Evelyn May Romesburg, Donald F. Romesburg, an infant daughter and Lindie Romesburg.
Heartache visited this family often during the 1910s and early '20s when they lost six of their children. Son Dennis, born with a malformed palate, died of jaundice at the tender age of only three days on Jan. 9, 1913. Burial was at Paddytown. Daughter Evelyn, age seven months and four days, died on Nov. 7, 1914 due to bronchial pneumonia and asthma, with interment at Ursina. Son Donald, age seven months, 18 days, was stricken with measles and passed on May 3, 1919 of bronchial pneumonia, with burial also at Ursina.
On May 1, 1920, their unnamed daughter died at childbirth on May 1, 1920, when the baby was born in a transverse position, with "labor far advanced when called," reported a physician. Daughter Lindie Romesburg, age six months and one day, contracted an acute intestinal infection added to rachitis ("rickets") which led to her death on Oct. 7, 1923. Then on May 3, 1927, their 11-year-old daughter Garnet -- who had been born with congenital syphilis -- passed into eternity after contracting pneumonia.
Circa 1931, Dennis was employed by the Tantum Lumber Company at Humbert, Somerset County with his cousin Levi Rose and others. About that time, a photograph was taken of their work crew, in the woods near Humbert, which later was published in the book, Down the Road of Our Past and also in the Somerset Daily American. The photo, seen here, shows the following individuals: Kneeling, left to right: Charley Cameron, Dennis, Levi Rose, Denny Kreger. Back, left to right: Charles H. Rose, Mutt Rose, Harvey James Rose and Alec Ohler.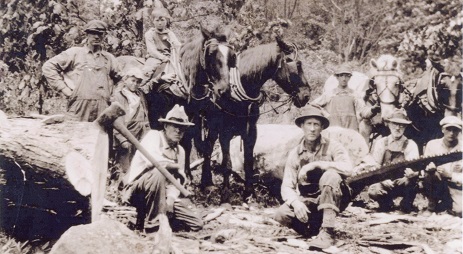 Dennis, kneeling 2nd from left, in a lumber work crew at Humbert, PA circa 1931, with his cousin Levi Rose (kneeling 2nd from right)
Sadly, Lulu suffered from bronchial asthma, and as a result was stricken with a heart attack and died on Oct. 25, 1955, at the age of 64. She was placed into eternal rest in Ursina Cemetery.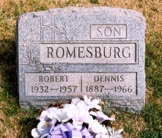 Ursina Cemetery
Later, Dennis wed his second bride, Della Edith (Shirer) Hachman (1891-1988), the widow of Noah Hachman.
On May 26, 1957, Dennis suffered yet another death, of his 24-year-old son, Robert James Romesburg (1933-1957), who was an unmarried laborer and resided in Confluence R.D. 3.
Dennis died in 1966, at the age of 79, and is buried with the son at the Ursina Cemetery.
Daughter Clema Elizabeth Romesburg (1921-2017) was born on May 26, 1921 in Confluence. She was joined in holy wedlock with a cousin, Harvey Smith (1907-1993), the son of Albert and Mary Catherine (Moon) Smith of the family of Andrew Jackson "Andy" and Harriet V. (Younkin) Moon. The couple produced five children -- Richard Smith, Ronald James Smith Sr., Betty Vogel, Debra Wagner and Clyde Smith. They made their home for decades in Confluence and were members of the Confluence Church of the Nazarene. Clema also earned income working for Henry Clay Villa and enjoyed volunteering her time at the Confluence Senior Center. She took pleasure in the outdoors, music and dancing. Harvey was a member of the Confluence Veterans of Foreign Wars and the Turkeyfoot Fish and Game Commission. Harvy eided in Siemons Lakeview Manor in Somerset at the age of 85 on April 15, 1993. Rev. Thomas Charles officiated at the burial in Jersey Church Cemetery. Anobituary was printed in the Somerset Daily American. Sadly, Clema outlived her husband, two of her sons and a daughter in law. At the age of 95, on Jan. 14, 2017, she passed away at The Patriot in Somerset. Rev. Ken Schweter led the funeral service, with burial in the Jersey Baptist Church Cemetery in Ursina.
Grandson Richard Smith lived in Manns Choice, Bedford County, PA in 1993. He was deceased prior to 2017.
Grandson Ronald James Smith Sr. (1942-1990) was born in 1942 and married cousin Donna Jean Shroyer (1946- ? ), son of Harvey and Clema (Romesburg) Smith of the family of Harriet (Younkin) Romesburg Turney of Confluence, PA. See the Shroyer biography for more.
Daughter Betty Smith was married to John Vogel Sr. and lives in Fort Hill, Somerset County. They are the parents of John Vogel Jr.
Daughter Debra Smith was wedded to Gregory Wagner and make their home in Salisbury, Somerset County. They are believed to have produced a son, Wes Wagner.
Son Clyde Smith was joined in matrimoy to Donna. They have dwelled in Confluence. Sadly, at the death of their nephew Ronald James Smith Jr. in 2019, they were mentioned as "special uncle and aunt" in the newspaper obituary.
Son Robert James Romesburg (1932-1957) was born on June 22, 1932 in Lower Turkeyfoot Township. He never married. Robert earned a living over the years as a laborer. As a teen, he developed hypertension, and later contracted nephrosclerosis, a form of kidney disease that grows progressively worse over time. At the age of 24, his health failing rapidly, he was admitted to Somerset Community Hospital where he spent a week until the Grim Reaper swept him away on May 27, 1957. His remains were lowered into repose in Ursina Cemetery and rests beside his father.
~ Daughter Etta (Romesburg) Wilson Hayes Knox ~
Daughter Etta Romesburg (1889-1962) was born on Oct. 12, 1889 in Somerset County. She was married at least thrice.
Her first husband was Emerson B.W. Wilson (1879- ? ), a laborer and widower whose first wife had died in 1905. He was the son of Joseph and Susan Wilson of Humbert, and was a decade older than Etta. Their wedding was held at Etta's home on Sept. 12, 1911, by the hand of justice of the peace Andrew J. Case. At the time, Etta was age 22, and Emerson 32. Emerson brought a son to the marriage, Joseph R. Wilson.
They went on to have these children -- William W. Wilson, Harry Wilson, Zelma Hattis Wilson and Frances Belle Wilson, who died in infancy. They also lost an unnamed baby son, on Sept. 5, 1914, who died at age 19 days from colitis and intestinal problems. The baby was buried at Ursina.
How Etta's marriage to Emerson ended is unknown.
Etta's second husband was Rutherford Birchard "Ford" Hayes (1877-1939), apparently named after the president of the United States. He was the son of (?) and Mary M. (Tinkey) Hayes. He also had a child, Mabel May Beitzel Copeland McClinsey Copeland, from his earlier marriage to Cora (Sleasman) Hayes.
Etta and Ford had one daughter of their own, Jean Murray, and resided in Markleton.
As recalled by a relative:
Ford had a wooden leg and walked with a limp, the result of being run over by the Chesapeake & Ohio Railroad in Confluence when his shoelace became tangled in the track. Bystanders who watched the accident said Ford had been very calm; when he realized he couldn't escape, he laid as far from the track as possible, so the initial cut was low - around his ankle. More was amputated at the hospital, but unfortunately gangrene necessitated a re-amputation at the knee, and still later there was a third amputation just below the hip. In 1904, Ford started a mail route covering the large Kingwood area, making deliveries in a horse and buggy, occasionally taking his young daughter along for the ride.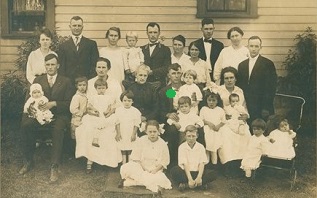 Rutherford Hayes, green dot, beside his mother and holding daughter Mabel, at a 1917 family funeral
Tragedy rocked this family in 1939, when Ford suffered a massive stroke. He was rushed to the newly opened Somerset Community Hospital. Unable to recover, he died at the age of 61, on April 27, 1939, leaving his wife and a seven-year-old daughter. A brief obituary in the Connellsville Daily Courier noted that his was "the first death in the new plant where was taken earlier in the day."
Later still, Etta married for a third time, to Harold (or "Howard") Knox ( ? - ? ). They resided in Versailles Borogh, near Pittsburgh, at the address of 5102 Railroad Street.
Stricken with acute pancreas disease, Etta passed away in McKeesport Hospital at the age of 73 on Nov. 5, 1962. An obituary in the Connellsville Daily Courier noted that in addition to her husband, she was survived by four children and five grandchildren.
Daughter Jean Hayes ( ? - ? ) married Harry "J.D." Murray, son of Jacob and Dora Murray. They had one son, Leonard Murray. Circa 1962, the Murrays made their home in Confluence. Tragedy rocked this family on July 9, 1966 when Harry drowned in High Point Lake, Somerset County.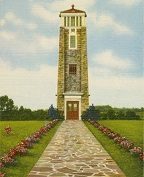 Somerset County Memorial Park, where legions of Younkins rest for eternity
Stepson Joseph R. Wilson (1902-1969) was born on April 19, 1902. He married Agnes Kreger ( ? - ? ). They had no children. Joseph was a longtime employee of the Baltimore and Ohio Railroad, from which he retired. he also was a member of the Confluence Fish and Game Club, the Confluence Lutheran Church and the local lodge of the International Order of Odd Fellows (IOOF). Joseph passed away at age 66, in Pittsburgh's Mercy Hospital, on April 3, 1969. Interment was in Somerset Memorial Park.
Son William W. Wilson (1913- ? ) was born in 1913. Nothing more is known.
Daughter Zelma Hattis Wilson (1916-1974) was born on Nov. 6, 1916 in Humbert. In 1938, when she was 22 years of age, she wed Larrie Pyle (1911-1981) in a ceremony held in Union, Monongalia County, WV. They resided for decades in Confluence. Zelma passed away on June 16, 1974 at the age of 58. Larrie outlived her by seven years. He died in 1981.
Son Harry Wilson (1921- ? ) was born in 1921. His home in 1962 was in Dunbar, Fayette County, PA.
Stepdaughter Mabel Hayes (1915-2009) was born on Aug. 25, 1915. She was age 15 when her mother died, and instead of moving in with her widowed father, she got married. Her new spouse was widower Clark Beitzel (1908-1989). They had these six children: Gerald Beitzel, Joyce Beitzel, Ronald Beitzel, Neil Beitzel, Dean Beitzel and Sandra Weese. In the 1940s, the family moved to Ohio. Sadly, Mabel's marriage with Clark ended, and she married William "Bill" Copeland On Aug. 29, 1952. That marriage ended in divorce on July 13, 1962. Mabel wed a third time to Perry McClinsey of Ohio, in November 1990. After Perry's death less than three months into the marriage, Mabel re-married her ex, Bill Copeland, on Aug. 29, 1997. They made their home in Mogadore, OH. Mabel died on June 30, 2009, at the age of 94.
~ Daughter Zelma (Romesburg) Shoaf ~
Daughter Zelma Romesburg (1892-2001) was born in 1892. She lived to age 109.
She married Jesse Shoaf (1888-1971), the son of Christ and Sarah (Weaver) Shoaf. Zelma's lifespan touched three centuries.
They resided in Irwin, Westmoreland County, PA, where Jesse worked on a construction gang for West Penn Power Company. He survived an electrocution in about 1927-1928, and once was severely injured when thrown by a swinging power pole. He was a maintenance survivor at the age of 60.
The Greensburg (PA) Tribune Review profiled Zelma, in a March 2001 feature article headlined "Area Woman Celebrates 109th Birthday." The story said that:
... before she met her husband, Jesse, she worked almost constantly through her teens and early 20s. In Connellsville, she worked as a baker, in a hospital, in a hotel and as a domestic. Life wasn't easy as a domestic without electricity - all the washing had to be done by hand.
Asked for the secret of her longevity, Zelma had no specific answer except for "God's will," and told the reporter, "Ask God. He can tell you." She passed away at age 109 on Aug. 26, 2001, and was laid to rest in Irwin Union Cemetery.
~ Daughter Lillie Belle (Romesburg) Deal ~
Daughter Lillie Belle Romesburg (1895-1989) was born in 1895 in Humbert, Somerset County.
Prior to marriage, in 1915, Lillie gave birth to a son, whom she named Wilfred/Wilford Brown. The boy was raised by his grandmother, Hattie (Younkin) Romesburg.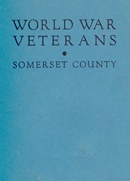 Book in which Roy was profiled in the 1930s
At the age of 27, on March 31, 1923, Lillie married 26-year-old Roy L. Deal (1898-1981), the son of Harvey and Hattie (Dwire) Deal and a native of Sand Patch, Somerset County. Justice of the peace E.E. Phillippi performed the ceremony at Humbert.
They resided in or around Confluence, Somerset County, where Roy was a coal miner.
The Deals together produced at least two children of their own -- Ruth A. Karla and Warren Deal.
During World War I, Roy served briefly in the U.S. Army Medical Corps, from Sept. 5, 1918 to Oct. 15, 1918. He was discharged at Rahway, NJ.
The family is known to have been in Boswell, Somerset County in 1924 at the birth of their son Warren. They remained in Boswell as shown by the 1930 federal census enumeration, with Roy earning a living as an edger in a sawmill.
Circa 1933, when a short profile of Roy was published in the book World War Veterans of Somerset County, they lived in Confluence, and Roy's physical condition was described as "poor." At the time, Lillie and children Warren and Ruth were named as his dependents.
Lilly was a member of the Turkeyfoot Valley Baptist Church of Confluence.
Roy passed away in 1981, at the age of 85, and was buried in the Baptist Cemetery in Confluence.
Lilly outlived her husband by eight years. She died at the age of 94 at her home in Confluence on July 11, 1989. At the time of her passing, she was survived by 12 grandchildren and 16 great-grandchildren. The Deal family is mentioned in the 1984 Romesberg book.
Son Wilfred/Wilford Ray Brown (1915- ? ) was born in about 1915. As a child born out of wedlock, he grew up in the household of his grandmother, Harriet (Younkin) Romesburg, and was there in 1930. Evidence suggests that he married Evelyn (1918- ? ) and that the pair were the parents of Jack Ray Brown and Wayne Brown. The Browns resided in the household of Wilford's grandmother Harriet near Paddytown in 1940. At that time, he was employed by the Works Progress Administration. The WPA was one of the ways President Franklin Delano Roosevelt and the federal government tried to overcome unemployment and is widely considered one of the Roosevelt's largest and most ambitious undertakings of his "New Deal" to get the nation back on sound economic footing. Over the years, the WPA hired millions of out-of-work individuals to build public works projects, such as roads, bridges, retaining walls and buildings. By 1946, the Browns had relocated to McKeesport near Pittsburgh. He was deceased by 1989.
Son Warren E. Deal (1924-1989) was born on April 19, 1924 in Boswell, Somerset County. He was married and the father of seven -- Donald Deal, Roger Deal, Terry Deal, John Deal, Carol Griffith, Ruth Bowman and Sherry Thomas. Warren held memberships in the Turkeyfoot Fish and Game Association and the Confluence post of the Veterans of Foreign Wars. Warren's final years were spent in rural Confluence. He died in Somerset Hospital at the age of 65 on Dec. 10, 1989. The Somerset Daily American published an obituary, which said he was survived by 14 grandchildren and one great-grandchild. Rev. Thomas Charles preached the funeral sermon, with burial in the Confluence Baptist Church Cemetery.
Granddaughter Carol Deal married (?) Griffith. They were the parents of Michael Todd Griffith and perhaps others. Sadly, their son Michael was deceased by 1989. Carol was in Somerset in 1989.
Granddaughter Ruth Deal wedded (?) Bowman. She relocated to Canfield, OH.
Granddaughter Sherry Deal was joined in matrimony with (?) Thomas. Circa 1989, she lived in Somerset.
Daughter Ruth H. Deal (1928-2021) was born on Nov. 17, 1928 in Humbert, Somerset County. She was joined in wedlock with (?) Karla ( ? - ? ). The Karlas' two children were Sandra Romesburg and Ronald Karla. Ruth belonged to the Turkeyfoot Baptist Church in Confluence and to the ladies auxiliary of the local post of the Veterans of Foreign Wars. At the age of 92, she died in In Touch Hospice in Somerset on Aug. 4, 2021. Interment of the remains was in the cemetery of her church, with the funeral led by Rev. Samuel McClintock. An obituary was published in the Somerset Daily American.
Granddaughter Sandra Karla wedded John Romesburg ( ? - ? ). The couple made a home in 2021 in North Huntington, Westmoreland County, PA.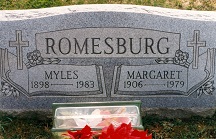 Jersey Church Cemetery near Ursina
~ Son Myles Romesburg ~
Son Myles Romesburg (1898-1983) was born in 1898.
He married Maggie M. Lee (1906-1979), the daughter of James and Mary (Mathias) Lee of Fayette County, PA.
They resided in Harnedsville, Somerset County, and had four children: Edward Romesburg, Ruth Gogoel, Jack Romesburg and Leroy Romesburg.
Maggie died on Dec. 9, 1979, at the age of 73, and was laid to rest in the Jersey Church Cemetery near Ursina. In an obituary, the newspaper said she had seven grandchildren and four great-grandchildren.
Miles outlived her by four years, and passed away on March 28, 1983, at the age of 85.
Son Edward Romesburg
Daughter Ruth Romesburg wedded (?) Gogoel.
Son Jack C. Romesburg (1933-2005) was born in 1933. He married Marion "Sally" Holt ( ? - ? ). He served in the U.S. Army during the Korean War, and was a member of the Kingwood Church of God and the National Rifle Association. He retired from U.S. Steel's Clairton Works.
Son Leroy Romesburg
~ Son Hermon "Ray" Romesburg ~

Ray Romesburg profiled in the Somerset Daily American
Son Hermon "Ray" Romesburg (1901-1988) was born in 1901 in Lower Turkeyfoot Township, Somerset County.
He married Nellie McDaniel (1909-1984), daughter of William McDaniels and Ellen (Groff) Lingenfield of Confluence, Somerset County. The wedding was held on July 31, 1929 in Somerset, led by Rev.A.W. Hayes. At the time of marriage, the 28-year-old Ray was a laborer and 25-year-old Nellie performed housework.
They had three children -- Mary Martin, Betty Burnsworth and Thomas Romesburg.
Ray was a farmer in early life and later a railroad laborer, "working on a section of the railroad that extended from Humbert to Bakersville," said the Somerset Daily American. He "helped to put in ties, raised track, and 'when the train would wreck, we'd have to fix the track so they could get over it the next day to haul logs over to the mill'." Once the local sawmills closed in the late 1920s, Ray "became a miner, digging and loading out coal for various companies in the Uniontown area. Over the years, he held various jobs in a variety of fields. He worked for a sand and gravel company in Akron, Ohio; was a laborer in the building trades in Cuyahoga Falls, Ohio; did carpentry in Youngstown, Ohio; even kept the Leap Frog ride running in an amusement park in McKeesport; helped maintain Posy Corners near New Centerville; and was a caretaker at Laurel Hill State Park."
Nellie passed away on Sept. 18, 1984.
Two years after her death, Ray was profiled in the Daily American in 1987 in an article, "He Recalls Humbert's Heyday." The original article is on file at the Meyersdale (PA) Public Library. Ray died at the age of 87 on July 18, 1988, at Uniontown Hospital in Fayette County. He was laid to rest in the Jersey Church Cemetery.
Son Thomas Romesburg lived in Youngstown, OH.
Daughter Mary Romesburg married (?) Martin and resided in Markleysburg, PA.
Daughter Betty Romesburg married (?) Burnsworth. They lived in Mill Run, Fayette County and in Sebastian, FL.
Copyright © 2000-2002, 2006-2007, 2009, 2012, 2014-2015, 2017, 2021 Mark A. Miner
Many thanks to Linda (Romesburg) Albis and Jamie Robinson for sharing their information. Dennis Romesburg photo courtesy Mark Rose.