Sarah Ellen 'Sadie' Harbaugh (1879-1939) and
Joseph Ward Ream (1875-1939)

Memoir by Granddaughter Doris (Sands) Hawker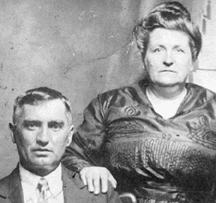 Joe and Sadie Ream
Sarah Ellen "Sadie" (Harbaugh) Ream was born on March 27, 1879 on a farm at what is now Clairton Lake near Scullton, Somerset County, PA, the daughter of David and Mary Magdalene (Whipkey) Harbaugh.
Sadie was the youngest of her 12 brothers and sisters. She was born some 14 years after her father returned from serving in the Union Army during the Civil War.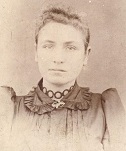 Sadie as a teen
At Christmas 1895, the teenage Sadie was invited to supper at the home of her friend Jo Keran. The news of this was relayed in a letter from "Stebbe" to "Sue," saying that "She said she thought she would be another Susie if her mother let her run... Will you ever forget the day two years ago last Christmas when we rode on mules to Harbaughs?"
Hard-working and fiery tempered, Sadie married a distant step-cousin, Joseph Ward Ream (1875-1939) on April 12, 1896. She was age 17 at the time, and he 21.
Joseph was the son of Thomas and Adeline (Shaulis) Ream Jr. and the youngest of 15 children. They lived on a farm at Jersey Hollow near Ursina, Somerset County.
Sadie and Joe went on to produce a grand total of 16 children -- Cyril "Edgar" Ream, Bertha Blanche Conn, Ethel Irene Harbaugh, Hazel Magdalena "Lena" Ream, Letitia Alice "Tish" Silbaugh, Charles David Ream, Harvey Joseph Ream, Harold Landa Ream, Alma Leora Sands, Herbert Matthias Ream, George Washington Ream, Alfred Boyd Ream, Arthur "Paul" Ream, Norman Richard Ream, Osborne Warren Ream and Erma Ruth Younkin.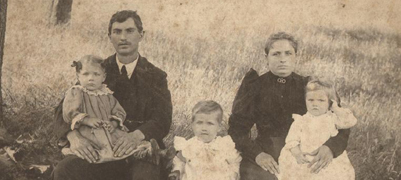 Joe and Sadie with their eldest children -- Bertha, Edgar and Ethel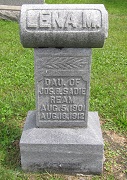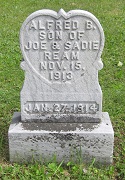 Lena and Alfred's graves, Imel Cemetery
Sadly, daughter Lena was stricken by inflammatory rheumatism at the age of 11. The illness was fatal, and she died on Aug. 12, 1912. She was laid to rest at the Imel Cemetery in nearby Clay Run, Fayette County.
Adding to the continuing sadness, son Alfred contracted whooping cough and bronchial pneumonia and died at a little over two months of age, on Jan. 27, 1914. He also is buried at Imel.
Sadie's father died in December 1910, and Joe was selected to help administer the estate.
Twenty years later, when Sadie's mother died, Joe also played a role with the estate paperwork. He wrote a letter to the United States Pension Commissioner, sending an executor's notice of the costs of her burial, so the estate could obtain reimbursement.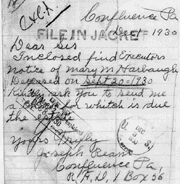 Joe's letter to the U.S.
Pension Commissioner
The letter is seen here, with the original held today in the National Archives in Washington, DC.
In a memoir by their granddaughter Doris (Sands) Hawker, she wrote that Joe and sons ran their farm and were loggers. Sadie and their daughters:
...took care of the household chores, which consisted of scrubbing wood floors, washing clothes on the washboard, baking bread and preparing all the meals each day for the whole family. On occasion they would spend their evenings visiting their neighbors.
Doris also wrote that the Ream family:
...raised most everything they needed to live on the farm. They would take produce and eggs to town and trade for what they didn't have, such as flour, sugar, salt, etc. Grandma would can and dry most everything she could. She was seventeen years old when she had her first child. She was pregnant 15 more times in the next 25 years. Her last child was born when she was 42.
Old postcard of nearby Confluence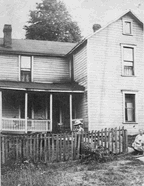 The Ream dwelling
In August 1923, Sadie and Joe attended the annual Minerd-Miner Reunion, held at Confluence Park. Joe was mentioned in the resulting article published in the Meyersdale Republican.
The following year, in August 1924, Joe and Sadie again went to the Minerd Reunion held at Lincoln's grove, near the Western Maryland Railroad Station in Confluence. Sadie's mother and sister Rosetta Minerd also were there, along with the Reams' daughter Bertha Conn. In 1925, Joseph was re-elected as secretary-treasurer at the reunion held at Sellers' hall, where, said the Republican, "Rev. Joyce gave an address portraying the benefits of family reunions and showing why they should be held. Burgess C.R. McMillan gave a recitation and Rev. Williams of Connellsville made an interesting address."
Sadie and Joe and their brood of children and grandchildren also enjoyed attending the annual Harbaugh Reunions. They are seen in group photos taken at reunions in 1929 (at the Jersey Church) and 1936 (at the Kingwood Picnic Grove).
Tragedy haunted the Reams over the years. In 1928, they lost their son Harold when he accidentally shot himself while climbing over a fence in the woods on their farm. Grandson Alvin Glenn Ream was killed in action in Germany during World War II. Daughter Tish Silbaugh died in a horrific housefire in 1970.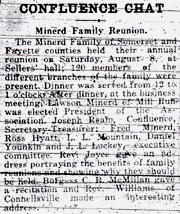 Article about Joe's election as
Minerd Reunion treasurer, 1925
A few days after the 1928 death of son Harold, Joe and Sadie received the following letter from Had Phillips of Pittsburgh Steel on company stationery:
Dear Friends: Just notice in the morning paper that your son Harold met with a fatal accident and as I talked to the boys that knew him they all asked me to convey their sympathy to both you and your family. We sure are sorry this accident happened and as friends, share the sorrow with you. Most sincerely,...
Sadie suffered a stroke on March 6, 1939 and lingered near death for three days. She finally succumbed on March 9, 1939, just 18 days shy of her 60th birthday. Son Edgar Ream, providing details for the official Pennsylvania certificate of death, mis-named Sadie's mother as "Hazel M. Cramer."
Joe only survived his wife by nine months. Afflicted for a decade with coronary heart disease and hardening of the arteries, Joe suffered a heart attack and retired from farming in April. He passed away at the age of 64 on Dec. 8, 1939. Burial was in the Jersey Church Cemetery, with son Paul signing the death certificate.
Joe is pictured on several pages of the book Draketown: Past and Present, with fellow coal miners. One of the images shows him at Raleigh's Mine with friend Simon Pyle and a horse.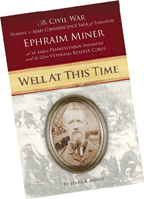 Book naming Sadie
In July 1999, continuing in the tradition established by Joe Ream some 75 years earlier, his granddaughter Doris (Sands) Hawker came to her first Minerd-Miner national reunion. In 2001, she and her husband Jack Hawker donated a young sugar maple tree to be planted as the reunion's legacy gesture at the Odd Fellows picnic grove in Kingwood, Somerset County. That same year, Doris was elected treasurer of the reunion, replacing the late Melda (Miner) Bittinger who had held the position since the modern reunion's founding in 1986. See the colorful English wedding ring and fan quilt she completed and displayed at the 2005 reunion. See also the antiqued swan, hand-woven baskets and cross-stitch pictures, and decorated metal trays that she exhibited at the 2006 gathering.
Sadie is mentioned in a lavishly illustrated, 2011 book about her sister Rosetta who married a Civil War veteran -- entitled Well At This Time: the Civil War Diaries and Army Convalescence Saga of Farmboy Ephraim Miner. The book, authored by the founder of this website, is seen here. [More]
For more information on this line, contact granddaughters Doris (Sands) Hawker and Joan (Ream) Cleaver.


Copyright © 2000-2001, 2005, 2007-2008, 2011, 2013, 2016 Mark A. Miner