Charles S. Turner
(1870-1957)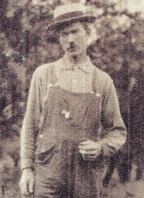 Charles S. Turner was born in February 1871 in Farmington, Fayette County, PA, the son of George Washington and Mary Frances (White) Turner. He married sisters Flora Hull (1877-1953) and later Grace Hull (1884-1931).
Charles is seen here in an undated portrait. He was a farmer and resided near Chalk Hill, Fayette County.
In all, Charles had 10 children -- Robert M. Turner of Chalk Hill, Nancy Leonard of Greenbrier, Pearl M. McCartney of Uniontown, Bessie G. Smith Sorrels of Chalk Hill, Theodore R. Turner of Evans Station, Luella M. Thompson of Farmington, Eugene Charles Turner of the U.S. Navy, Cornelia F. Turner, Apostle "Paul" Turner and Raymond Turner.
Charles married his first wife, Flora Hull (1877-1953), in 1895 at Cumberland, Allegany County, MD. He was age 25, and she 18, at the time of marriage. She was the daughter of Isaac and Jane (Inks) Hull of Chalk Hill, Fayette County.
After a few years of marriage, and two known children (Nancy and Robert), he allegedly left Flora and the family. She in turn filed for divorce, on the grounds of desertion. News of the legal proceeding was covered in the Connellsville Courier in late 1904 and early 1905. Attorney Leslie A. Howard was appointed master for Flora in the case.
The divorce was secured, with Charles now residing in Belle Vernon, Fayette County. Imagine his reaction when, in 1908, his ex-wife cruelly married his widowed father. The scandal made headline news in the Connellsville newspapers.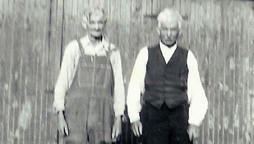 Brothers Charles (left) and John Turner
Charles made his own twist of revenge when, at age 35, he married his ex-wife's sister, 23-year-old Grace Lee Hull (1882-1931) of Uniontown, also a daughter of Isaac and Jane (Inks) Hull. The ceremony was held on May 6, 1905, with the couple uniting themselves in marriage. He and Grace were 14 years apart in age.
They went on to have five children of their own -- Pearl M. Turner, Bessie Turner, Theodore Roosevelt "Teddy" Turner, Essie Irene Turner and Luella Turner.
Circa 1910, they resided along West Newton Road in Rostraver, Westmoreland County, PA, with Charles working as a farm laborer. Residing in their home that year were children Nancy and Robert from the first marriage and Pearl, Bessie, Theodore and Luella from the second marriage. Living next door were Charles' brother and sister in law, John P. and Lillian Turner. In 1914, their residence was Hopwood, Fayette County.
The Grim Reaper of Death visited the Turners in the spring of 1914, when baby daughter Essie Irene, just 24 days old, died of malnutrition on April 24, 1914. The baby's tender remains were interred in the Leonard Cemetery at Chalk Hill. The family later returned to Wharton Township.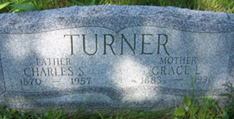 Sadly, Grace was felled by a cerebral hemorrhage and quickly died at home on Oct. 20, 1931, just five days shy of her 49th birthday. She rests for eternity in the Leonard Cemetery, with her burial arrangements handled by the Edward E. Minerd Funeral Home of Uniontown.
Former wife Flora passed away at the age of 76 on the day after Christmas 1953, at the home of granddaughter Mrs. Ralph Smalley at Coolspring, near Uniontown. She was laid to rest at the Lutheran Cemetery in Chalk Hill. At her death, the Courier gave the names of her surviving children as Albert Turner of Perryopolis, Raymond Turner of Ohiopyle and Nancy Leonard of Dunbar. At the time, she had produced 15 grandchildren and 11 great-grandchildren. She also was survived by brother John Hull of Uniontown and sisters Sally Hann of Philadelphia, Prudence Swedeburg of San Francisco and Frances Grier of Washington State.
Charles lived in Uniontown, Fayette County circa 1951. He died in 1957.
~ Daughter Nancy "Nannie" (Turner) Leonard ~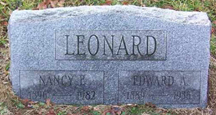 Daughter Nancy "Nannie" Turner (1896-1982) was born in 1896. She married Edward A. Leonard (1889-1938). Edward was considered a "member of a pioneer family at Kentuck," Fayette County, the son of John W. Leonard. He also was known as "a lifelong resident of Kentuck and one of its most prosperous farmers."

They had two sons -- Dale Leonard and Jay Leonard -- and attended the Union Church of Kentuck.

Suffering from a "complication of diseases," reported the Uniontown Morning Herald in the winter of 1938, Edward "had been in declining health since the first of the year," and died at the untimely age of 49 on Feb. 9, 1938. His passing "came as a shock to members of the family and residents of the community." Burial apparently was in a cemetery near the family home.

Nancy outlived her husband by more than four decades, making her home in Dunbar, Fayette County. She died in November 1982, at the age of 86.

~ Son Robert M. Turner ~

Son Robert M. Turner (1899-1946) was born in 1899.

He married Mabel Weimer ( ? - ? ) on April 15, 1922. They lived at 105 Chestnut Street in Uniontown.

The Turners had one daughter, Betty Guthrie.

Robert died in the Uniontown Hospital at the age of 47 on April 17, 1946. His place of burial is the Leonard Cemetery.

~ Daughter Pearl M. (Turner) McCartney ~

Daughter Pearl M. Turner (1902-1992 ) was born in 1902.

She wed Benjamin "Ben" McCartney. She resided in Uniontown circa 1970.

She passed away in July 1992 at the age of 90.

~ Daughter Bessie ( Turner) Smith Sorrels ~

Daughter Bessie Turner (1905-1987) was born in 1905. Apparently she was married twice, first to (?) Smith and second to Dewey Sorrells.

She lived in Washington, DC in 1970.

Bessie passed away on Nov. 10, 1987.

~ Son Theodore Roosevelt "Ted" Turner ~

Son Theodore Roosevelt "Ted" Turner (1907-1970) was born i n1907. He married Viola Moreland ( ? - ? ). They resided in Uniontown for many years and later in 1964 moved to nearby Belle Vernon, Fayette County.

The Turners had five children -- Frances Fotta, Beatrice Chidester, Elizabeth Golcher, Edward Turner and Theodore E. Turner.

Ted died at the age of 53 on Oct. 18, 1970, and was buried in Leonard Cemetery. At the time, he was survived by 20 grandchildren and three great-grandchildren.

~ Daughter Luella ( Turner) Thompson ~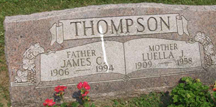 Daughter Luella Turner (1909-1958) was born in 1909.
She married James Thompson (1906-1994). They resided on the Chalk Hill-Ohiopyle Road near Uniontown.
The Thompsons had three children -- Viola King, Hazel Clender and James R. Thompson. They attended the Chalk Hill Methodist Church.
Luella passed away at the age of 49 on Feb. 3, 1958. She was interred in the Sunset View Cemetery.
James outlived his wife by 36 years. He died in 1994, and rests for eternity beside Luella.
~ Son Ray Turner ~
Son Eugene Charles Turner (1913-1959) was born in 1913. As an adult, he resided in Imperial Beach, CA. He was married and had children. He was a retired chief gunner's mate with the US Navy, and was a World War II veteran, with 22 years' of service in total. He died at the age of 46 on May 13, 1959.
~ Daughter Cornelia F. Turner ~
Daughter Cornelia F. Turner (1916-1935) passed away at the age of 19, following an illness of four months' duration, on April 10, 1935. Following funeral services held at the home of her married sister, Pearl McCartney, she was laid to rest in the Leonard Cemetery in Chalk Hill, near Uniontown.
~ Son Paul P. Turner ~
Son Paul P. Turner (1917-1989) resided in Dunbar, Fayette County, circa 1970. He died on June 11, 1989.
~ Son Ray Turner ~
Son Ray Turner (1923-1981) lived in Waltersburg, Fayette County in 1970. He died in August 1981.
Copyright © 2003-2004, 2006-2007, 2009-2010 Mark A. Miner
Grave marker photos courtesy of Brenda (Turner) Blake, which also are posted on the Find-A-Grave webpages for Bryer Ridge Cemetery