Home

Catherine (Welker) Tucker
(1809-1845)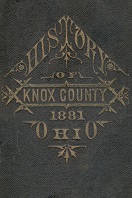 Book naming Jones
Catherine (Welker) Tucker was born on May 30, 1809 in Southampton Township, Somerset County, the daughter of John and Elizabeth (Gaumer) Welker Sr. Her birth occurred after her parents relocated to Ohio, so it's possible her birthplace actually was in Knox County.
At the age of 17, on July 27 or Aug. 2, 1826, she was joined in holy wedlock with 20-year-old Jones Tucker (1806-1870), also spelled "Jonas." He also was a native of Somerset County and the son of William and Rachel (Jones) Tucker and grandson of William and Margery Tucker. Justice of the peace Benjamin Butler officiated at the wedding ceremony.
Jones is profiled in the 1881 book compiled by N.N. Hill entitled History of Knox County, Ohio: Its Past and Present. The entry reads that he:
... was brought to Knox county, Ohio, by his parents ... in 1811, who settled in Union township near Mt. Holly or Gann station. William Tucker erected a log cabin which served his family as an abode for a number of years. He followed clearing, farming, hunting, and fishing as his vocation. There were but few settlers in the neighborhood, and they were far apart at the time of Mr. Tucker's settlement in the township.
The couple produced these seven known children, and perhaps others -- Elizabeth Tinker, Barnett Tucker, William Tucker, John Tucker, Wilson Tucker, Mary Frances Tucker and James Tucker.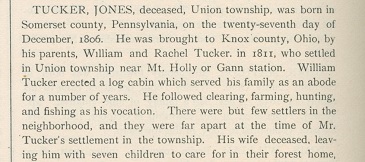 Jones' profile in the 1881 History of Knox County
After 13 years in Knox County, the family relocated to Fayette County, IL in 1839. Reported the Vandalia (IL) Leader many years later:
Jonas and his family migrated further west on the newly constructed National Road to its termination in Vandalia where they settled in about 1839. The National Road was no 'ribbon of concrete'. Specifications for the Road required a cleared thirty foot wide route, but allowed large stumps to remain in the Road to a height up to fifteen inches. No doubt the emigrant family of Tuckers traveled the Road at a crawling pace in a canvas covered wagon in which the mother Katherine and the smallest children rode by day and slept by night...
Sadly, Catherine met her demise there on Nov. 18, 1845, at the age of 36, about three months after the birth of her youngest child. The grieving widower returned to Knox County with his eldest four sons, and left three behind in Illinois -- Mary Frances in the care of her 16-year-old sister Elizabeth, and baby James with the family of James Suber.
He then departed Ohio after enlisting with the U.S. Army in the Mexican War, serving with the 2nd Regiment, Ohio Foot Soldiers.
Jones went on to marry two more times. His second marriage was on Nov. 10, 1853 to Jane "Ginny" Woolsley ( ? - ? ), in Fayette County, IL. They later divorced.

Vandalia, 1839, as the state capital, about the same time the Tuckers arrived.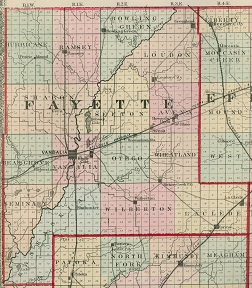 Map of Fayette County, Illinois, 1875
During the Civil War, Jones was required to register for the Union Army draft. At the time, he was farming in Laclede Township, Fayette County, and was marked as age 28, married and a farmer. If he eventually was indeed drafted, the identity of the regiment is unknown, and no record has been found for Jones in databases of Civil War soldiers from both armies.
On Feb. 15, 1866, he married for the third time, to Anna Haney (1824- ? ), an immigrant from Prussia.
A son was born to the third marriage, Benjamin Obadiah "Ben" Tucker, in 1868.
Further tragedy decimated the family on March 2, 1870, when Jones was "run over by one or more of three wagons whose 'drivers were drunken Germans racing their teams'," reported the Leader. He "died within nine hours of broken legs, broken ribs and spinal injuries." The month of his death also has been given as August. Unable to support herself, Anna and her three-year-old son went to live in the household of George and Hettie Werts in Otego, Fayette County.
When the federal census enumeration was made in 1870, Anna and son Ben dwelled together in Otego, Fayette County.
Anna and her son are known to have migrated to Pleasant Valley, Cowley County, KS and resided in 1880.
As an 86-year-old, Anna made her home with her son in Pleasant Valley in 1910.
~ Daughter Elizabeth (Tucker) Tinker ~
Daughter Elizabeth Tucker (1829-1925) was born on Nov. 22, 1829 in Union Township, Knox County. When she was age 10, her family left Ohio and migrated to Fayette County, IL.
There, at the age of 17, on April 23, 1846, she was united in marriage with Missouri native John Jacob Tinker (1817-1881). The ceremony took place in Fayette County, where the newlyweds put down roots. They lived about two miles from her parents' home.
When their mother died in 1845, Elizabeth took in her two-year-old sister Mary Frances to raise. In 1860, federal census records show that their home was in Hickory Creek, Cumberland Township, Fayette County.
The couple produced 10 children, but Elizabeth is believed to have outlived all but four. The known offspring are Benjamin "Wilson" Tinker, George W. Tinker, Laura J. Tinker, William M. Tinker, Jacob M. Tinker, Sina Catherine "Kate" Tinker, Cary May Tinker and Celura "Lou" Stapp.
Sadly, John Jacob died in 1881 and was laid to rest in Haley Chapel Cemetery in Bluff City, IL.
Elizabeth lived as a widow for her remaining 44 years. She passed into eternity on July 8, 1925 in Fayette County.
Son Benjamin "Wilson" Tinker (1850-1925) was born in about 1850 in Fayette County. He married Ann Akeman ( ? - ? ). Wilson was a house carpenter and is known to have charged $25 to construct entire dwellings. He also served as a justice of the peace. Their children were Grace McMillan and William "Poke" Tinker.
Son George W. Tinker was born in 1852 in Fayette County.
Daughter Laura J. Tinker (1854- ? ) was born in 1854 in Fayette County.
Son William M. Tinker (1857- ? ) was born in about 1857 in Fayette County.
Son Jacob M. Tinker (1859- ? ) was born in about 1859 in Fayette County.
Daughter Sina Catherine "Kate" Tinker (1865- ? ) was born in about 1865.
Daughter Cary May Tinker (1868- ? ) was born in about 1868.
Daughter Celura "Lou" Tinker (1870- ? ) was born in about 1870. She wed John Logan Stapp ( ? - ? ). Their only known daughter was Rachel Stapp, who, in 1975, was a school teacher living in Bluff City, IL.
~ Son Barnett "Barney" Tucker ~
Son Barnett "Barney" Tucker (1831-1917) was born on Feb. 9, 1831 in Union Township, Knox County. He too is profiled in the 1881 book compiled by N.N. Hill entitled History of Knox County, Ohio: Its Past and Present.
He went to work at age 16 in the cabinet shop of his uncle John W. Moffitt, circa 1847, and did not move with his parents to Illinois. Later, he acquired the Moffitts farm in Union Township.
When the federal census enumeration was made in 1850, the 18-year-old and his 14-year-old brother John were in Millwood, Knox County, in the household of their Welker grandparents.
At the age of 22, on Nov. 17 or 27, 1853, he was united in wedlock with his 17-year-old first cousin Margaret Marilla Meredith (1836-1915), daughter of Benjamin and Delilah (Welker) Meredith. The nuptials took place in Buckeye City, Knox County.
Federal census records show the family residing in 1880 and 1900 in Union Township.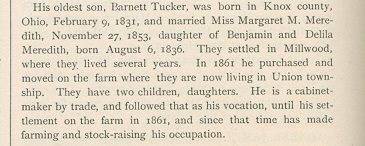 Barnett's profile in the 1881 History of Knox County
Their two daughters were Hallie E. Tucker and Lura B. Tucker.
Margaret endured heart valve problems and, at age 79 died from their effects a week before Christmas in 1915.
Barnett outlived her by two years. At the age of 86, he was failing in health, having become senile, stricken with gangrene and vomiting blood. He died on Dec. 30, 1917 in Union Township. Burial followed beside his wife in the Workman Cemetery.
Daughter Hallie E. Tucker (1860-1937) was born on July 1, 1860 in Ohio. In January 1918, when she signed her father's death certificate, she was unmarried and lived in Buckeye City, Knox County. She spent her life as a housekeeper. Suffering from arthritis and hardening of the arteries, she suffered a stroke and died two weeks later at the age of 76 on April 17, 1937 in Union Township. Her remains were placed into eternal repose in Workman Cemetery. Her sister Lura Watson of Danville, OH was the informant for her Ohio death certificate.
Daughter Lura B. Tucker (1864-1951) was born on Oct. 27, 1864 in Ohio. She married Grant Watson ( ? - ? ). In 1937, she dwelled in Danville, Knox County, where she had spent her entire life. As she aged, following the same health pattern as her sister, she was stricken with chronic arthritis and hardening of the arteries. At the age of 86, she was felled by a stroke and three days later died on May 15, 1951. Interment was in Workman Cemetery. Robert Watson signed her death certificate.
~ Son William Tucker ~
Son William Tucker (1834-1916) was born on Dec. 14, 1834. He was 11 years of age when his mother died. He was sent to dwell with his uncle Daniel Welker in Howard Township, OH and remained there until reaching the age of 18. He then was employed by Joseph Martin in cabinet-making and eventually migrated to Paris, IL, where he worked for four or five years.
Continuing to feel restless, he relocated again to Vandalia, IL, but moved frequently after that. He is said to have patented several of his inventions, among them a middling purifier, clothespins and a window stop.
On April 26, 1858, in Vandalia, Fayette County, he was united in marriage with Caroline Gerich (1849-1890).
Their two children were Grace Covert and William Tucker Jr.
Sadly, Caroline passed away on May 19, 1890 a few months shy of her 41st birthday.
William outlived his bride by more than a quarter of a century. He died in Vandalia on May 11, 1916. Burial was in South Hill Cemetery in Vandalia. [Find-a-Grave]
Daughter Grace Louise Tucker (1867-1918) was born in 1867 in Vandalia, IL. She was united in marriage with Charles Grant Covert (1863-1953), son of Jacob and Maria Catherine (Gooldy) Covert. Their known children were Alan Tucker Covert and Jeannette Nolan. They made their home in Evansville, Vanderburg County, IN where he was an attorney, newspaper editor and possibly also sheriff. In early life, said the 1908 book Who's Who & Why, Charles "learned the trade of printer and became a compositor on the old Evansville Journal, where he remained several years, until called to take the city editorship of the Evansville Tribune, an evening paper which his father founded many years before. His newspaper work brought him in close touch with local politics, and it was not long until Mr. Covert was taking an active part in shaping the destiny of the Republican party of Vanderburgh County." From 1899 to 1904, he was mayor of Evansville. On Nov. 12-13, 1903, he attended the fifth annual meeting of the Ohio Valley Medical Association and gave an address of welcome to the attendees. He was named postmaster of Evansville in 1906. In 1912, he entered into a law partnership with James Frederick Ensle. He was a director of the Mercantile Trust & Savings Co. and belonged to the Masons, Knights of Pythias, Elks, Red Men, Royal Arcanum, Buffaloes and Foresters. Sadly, Grace died in Evansville at the age of 51 on Oct. 14, 1918. Charles outlived her by 35 years. He passed into eternity on Nov. 11, 1953, with burial beside his wife in Oak Hill Cemetery. Charles is pictured and/or mentioned in several books, among them An Evansville Album: Perspectives on a River City, 1812-1988 by Daniel E. Bigham (Indiana University Press, 1988); The National Cyclopaedia of American Biography (J.T. White, 1943); Murder & Mayhem in Indiana by Keven McQueen; The History of Evansville Blacks by Dallas W. Sprinkles (Mid-America Enterprises, 1973); We Ask Only a Fair Trial: A History of the Black Community of Evansville, Indiana by Darrel E. Bigham (Indiana University Press, 1987); and Old Tales Retold: An Ohio Valley Decameron - by Kenneth P. McCutchan, 1997.
Son William Tucker ( ? - ? ). For two decades, he manufactured and sold mill machinery. In 1919, he was employed by Sinkler Davis Manufacturing Co. as a pattern maker.
~ Son John Tucker ~
Son John Tucker (1837- ? ) was born on Jan. 15, 1837 in Gann, Union Township, Knox County. At the age of three, he migrated with his parents to Vandalia, IL but returned to Ohio after his mother died and made a home in Holmes County.
When the federal census enumeration was made in 1850, the 14-year-old and his 18-year-old brother Barnett were in Millwood, Knox County, in the farm household of their Welker grandparents.
A brief story of his life is told in the 1881 book compiled by N.N. Hill entitled History of Knox County, Ohio: Its Past and Present. The motherless boy was taken into the residence of his uncle Thomas (?) near the town of Jimtown, OH. Said a family manuscript:
He was small of stature and very active. His uncle used him as a jockey for racing horses. Not liking that, John went to live with his grandfather John Welker in Millwood, OH, where he helped on the farm until 1855. He accompanied his Uncle Obadiah, going west in wagons as far as Keokuk, Iowa. There he left his uncle and took odd jobs, traveling around Iowa. When he'd saved $200 he returned to Millwood to learn the cabinet trade with his brother Barnett. He lived in Gambier, OH for about a year with his wife's family, then returned to Millwood and work as a cabinet maker and undertaker. He also bought a hotel and ran a store.

John's profile in the 1881 History of Knox County
John was married at the age of 24 to 21-year-old Rose B. Welker (1840-1888), daughter of Paul and Rose Welker of Gambier. The ceremony took place in Knox County on Aug. 25, 1861. They settled in Millwood, Knox County and had at least one son, Judge Robert Tucker.
Said the History of Knox County, "In 1871 he purchased the hotel stand in which they are now living, and entertain the travelling community. Good accommodations given to travellers, and all who wish to stop by them. The place is known as the Tucker house. His cabinet rooms are in the same building, and prompt attention is given to all work in his line. He has filled the office of justice of the peace two terms, and postmaster of Millwood five years, and also held various township offices."
Son Judge Robert Tucker (1866-1944) was born on Sept. 5, 1866 in Millwood, Knox County. He became a lawyer and went on to a distinguished career as a lawyer and judge in Portland, OR, where he was dubbed "the Dean of Multnomah county judges." Robert was married and the father of one son, Harland Wynn Tucker. Robert received a doctor of philosophy degree from a university in Akron, OH in 1891 and two years later a law degree from the University of Cincinnati. From 1909 to 1917, he was assistant United States District Attorney and at one time was president of the Oregon State Bar Association. Circa 1917, he resided in Portland, OR and was appointed as a Circuit Court Judge. In his free time, he held high office in the local Masons lodge. He was admitted to membership in the Sons of the American Revolution in recognition of the service of his great-great-grandfather Corporal William Tucker (1747-1780). [National membership #30155 - State #455] The ancestor was an immigrant from Scotland and was a member of the First Maryland Regiment, commanded by Col. John H. Stone and Capt. Edward Pratt. He loved to golf at the Portland Golf Club and often told friends that "when his time came he could think of no better way to go than sitting on one of the tees on the course." His wish became prophetic. After playing several holes on May 2, 1944, at the age of 77, and as he sat at the 10th tee, he suffered a massive heart attack and died. The news made headlines all over the state. Funeral services were led by Rev. William G. Eliot Jr., of the First Unitarian Church, held at the Scottish Rite Cathedral.
Honeymooning movie stars Harland
and Marie, 1920.

Portland Oregonian

Grandson Harland Wynn Tucker (1893-1949) -- also spelled "

Harlan

" -- was born on Dec. 8, 1893 in Toledo, Lucas County, OH. He became an actor and was considered a "hearththrob" of the era although he never had starring movie part. Early in his career, he played leading roles in stage plays at the Majestic and Morosco Theater in Los Angeles and at the Hollywood Playhouse and was affiliated with George Sharp. In 1935, he portrayed Lord Throgmorton in the play

Mary of Scotland

, authored by Maxwell Anderson and Helen Hayes and later made into an RKO Radio film starring Katharine Hepburn and Fredric March. In 1936, he was in the film

Charlie Chan At the Opera

for Twentieth Century Fox. Among his other movie appearances were in

Kid Galahad

(starring Edward G. Robinson, Bette Davis and Humphrey Bogart),

Missing Witnesses

(starring Dick Purcell, John Litel and Jean Dale) and

Slim

, all circa 1937. In 1920, at the age of about 26, he wedded 26-year-old silent film actress Marie Walcamp (Aug. 27, 1894-1936), a native of Dennison, Tuscarawas County, OH and the daughter of Arnold and Mary (Mackel) Walcamp. They reputedly met when acting together in a series produced by Universal Studios,

The Dragon's Net

, and their wedding was held in Tokyo, Japan. Marie's filmography included more than 100 productions between 1913 (

The Werewolf

) and 1927 (

In a Moment of Temptation

), many of them silent films where she often was a heroine of the action and Western genre. Reported the

Muscatine (IA) Journal

, "Her popularity in series and westerns during WWI was second to none in the industry."

The Tuckers dwelled in Hollywood, and their union lasted for 16 years. He and she are known to have performed together in films such as

On the Ragged Edge

(1928) and in carnivals in San Francisco with Jack Benny. They did separate in February 1934, as reported in a national news syndicate, but within a few months were reconciled. For years, they are known to have traveled to Dennison to visit Marie's brother Harry H. Walcamp and his family. They also came to nearby Pittsburgh in January 1935, which led

Pittsburgh Sun-Telegraph

columnist George Seibel to write that "Marie Walcamp, who is a Pittsburgh girl, was famous before she married George Sharp's leading man. She was the desperate cowgirl of the early Western movie serials; more redskins, greasers, and cattle-rustlers have bitten the dust before her trusty rifle than the total losses at Gettysburg."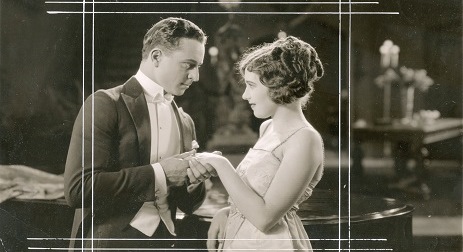 Harland with Janice Wilson in The Swamp, a 1921 silent film released by Robertson-Cole Pictures Corporation and produced by Japanese star Sessue Hayakawa.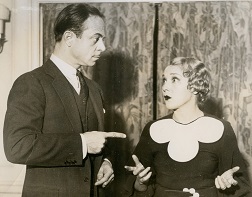 Harland and Mary Pickford.
Associated Press
Circa 1934, Harland played opposite Mary Pickford on the stages of Broadway and Toronto in Ladislas Fodor's 19-minute romantic comedy, A Church Mouse. It was the first time in 25 years that Pickford appeared live on stage. In the performance, she portrayed a typist and Harland her boss. A photograph of the two rehearsing was distributed by the Associated Press. But when the play was adapted for radio later in 1934, Harland had been replaced, and his part was performed by Gale Gordon (well-known in the 1960s as Lucille Ball's boss Mr. Mooney in the The Lucy Show and Here's Lucy).
Tragically, said to have been despondent over declining health, Marie made the choice to die by suicide at the age of 42 on Nov. 17, 1936. News stories were reported coast to coast. One report said that she had turned on the gas in their home and was found dead by her husband once returning from a business trip. Other sources say she took her life by an overdose of medication. Her brother Harry is known to have traveled from Dennison to California for the funeral service. The following January, in a syndicated "Hollywood" column, Robbin Coons wrote the following:
Marie Walcamp is dead, victim they said, of worry over poor health. The new generation of film fans would not remember the name. Once upon a time kids stomped and whistled and cheered when it flashed on the screen, usually on Saturday marinees, which was serial pictures. Marie, with her blonde curls streaming, dared death week after week with the brawly little Eddie Polo... When Marie went abroad the natives cheered as loudly as for Mary Pickford, then the queen of screen drama. They mobbed her and fought for her autograph. And when she died she rated a couple of sticks of type. Hollywood has no serial queens today to compare with those of the Marie Walcamp era. There were Helen Holmes in those railroad thrillers, and Pearl White, and Grace Cunard, and Ruth Roland.
Harland outlived Marie by a baker's dozen years. He was stricken by a heart attack at home and died in Los Angeles on March 22, 1949. His remains were placed in the Great Mausoleum of Forest Lawn Memorial Park in Glendale.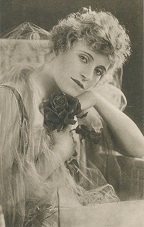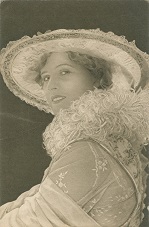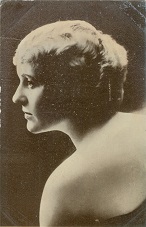 Tryptich of Marie Walcamp's glamor photographs
~ Son Wilson Tucker ~
Son Wilson Tucker (1840-1863) was born on March 11, 1840 in Fayette County, IL. At the age of five, he was rendered motherless upon his mother's death. He grew up and worked in horse shipments in Vandalia during the early years of the Civil War.
On March 12, 1860, he married Isabella George ( ? -1863).
Tragically, at the age of 22, he caught an incurable fever and died on Jan. 26, 1863. Burial was in Haley Chapel Cemetery in Bluff City/Vandalia.
Compounding the heartache, Isabella joined him in death six months later. [Find-a-Grave]
~ Daughter Mary Frances (Tucker) Stopher ~
Daughter Mary Frances Tucker (1842- ? ) was born in about 1842 in Fayette County, IL. Her mother died when Mary Frances was only two years old. She was sent to dwell with an aunt and uncle, Elizabeth and John Jacob Tinker in Hickory Creek, Cumberland Township, Fayette County.
When she was age 18, she lived with the John Truman family in Vandalia, Fayette County and earned her keep as a house servant.
On July 21, 1865, when Mary Frances was age 23, she married 29-year-old widower and farmer Henry Stephen Stopher (1836- ? ), sometimes misspelled "Stofer" and "Slother." He had been married previously and brought a son to the union, William Stopher.
They produced these additional children, Allie Eckroth, Charles Uriah Stopher and James Stopher.
They dwelled in Illinois in 1866 and by 1870 had moved to Delphos, Van Wert County, OH. The Stophers migrated back to Illinois during the decade of the 1870s. Their residence in 1880 was in Otego, Fayette County. They may have pushed further into Nebraska at some point.
Nothing else about the couple is known. More will be added here when discovered.
Stepson William Stopher (1860- ? ) was born in about 1860. When he was age 20, and unmarried, he helped on his father's farm in Otego, Fayette County, IL.
Daughter Allie Stopher (1866-1914) was born on Oct. 26, 1866 in Illinois. In 1885, when she would have been about age 19, she married 27-year-old Walter A. Eckroth (Oct. 2, 1858-1924), a Pennsylvania native and the son of Moses and Sovina (Hartranft) Eckroth. The couple bore an only son, Edward Earl Eckroth. They resided in Lincoln, NE in the late 880s and early '90s at the address of 1021 South 12th Street. Allie was considered "a very prepossessing woman." But events and the human heart transpired to break up the family. Reported the Lincoln Evening Call on Aug. 23, 1895:
For several years prior to last Saturday there lived at 1021 South Twelfth street one Walter Eckroth, his wife and little child, and it was such a happy family that neighbors frequently remarked upon the same. Up to three months ago no one ever dreamed that anything could possibly come up to disturb this peaceful condition of affairs, but just about that time it commenced to dawn upon the neighbors that unless Mrs. Eckrock paid less attention to a certain young constable by the name of Jasper Schwartz, whose home is at Bennett, or rather on a farm adjoining that town, a clash would come some day which would be far-reaching in its effects. It seems that Jasper had a sister living near the Eckroth family and it was his custom to come in quite often and see her.
One day they resolved to go for a days fishing with a party of friends and had made all the necessary arrangements. When about ready to start out however, it was discovered that there were no fish hooks. The sister, remembering that Eckroth was quite a fisherman suggested that her brother go over the the latter's house and borrow some. He did so. It was the first time that he had ever set eyes on Mrs. Eckroth and he admired her greatly. In fact it was a case of love at first sight on the part of both. Jasper consumed so much time in borrowing those fish hooks that the rest of the party grew very impatient and went after him. With great reluctance he bade the woman good bye, -- but not until he had made arrangements to meet her the next day. According to all reports they met quite frequently after this, some times down town and some times at the home of Jasper's sister. They would frequently take long walks togethr, and be gone some times half a day at a time.
Mr. Eckroth, who is a plasterer did not learn of these facts, however, until about a week ago, when, it is related a very storm scene ensued. Eckroth demanded of his wife that she cease her disgraceful actions and not bring shame upon herself, her child and her husband. For a couple of days this storm continued, but the husband finally saw that it was of little use to talk with her longer. Jasper had plainly taken his place in the affections of his wife and when he heard the words come from her own liops he was convinced of the truth of it. In fact Mrs. Eckroth is said to have exclaimed in very loud tones to her husband: "I don't love you and never did. Jasper Schwartz is the only man I ever loved." "Well, why don't you marry him," replied the husband. "Why, how can I, when I have ndivorce and no grounds on which to obtain one. I am going to quit you.anyhow, and we might as well come to an understanding now as any time."
The broken-hearted husband was considerably overcome by this last utterance, but decided to take the matter philosphically and things were soon settled. On Saturday last Constable Jasper Schwartz came in from Bennett, met Mrs. Eckroth and took her away to his home where it is alleged she is now living. As soon as his wife had gone he immediately went to work and disposed of all his furniture and the next day, Sunday, left the city with his three-year old child for his old home in Reading, Penn. It is reported that Mrs. Eckroth was so completely begigged after the constable that she lost every spark of effection for her little one even and did not do so much as kiss it good bye. Eckroth said before leaving that he would never return to Lincon, and his wife gave it out that she hoped she would never set eyes on her husband again.... Strange to say, Mr. Eckroth took no steps before leaving to have the authorities interfere with the actions of his wife. To make a long story short it was simply a complete and unqualified smashup -- a case of "you go your way, and I'll go mine." It is very likely, however, that the good citizens of Bennett, as soon as they read this report, will institute an investigation, which may not be in accordance with Constable Schwartz's wishes, and our readers may read chapter second in a very short time.
In fact, Walter and his son did relocate cross-country to Pennsylvania. And, eventually, so did Allie. The couple apparently reconciled. They ended up establishing a new home in Lower Towamensing, Carbon County, PA, as shown in the 1900 federal census enumeration. Walter continued his labors there as a plasterer. Then at some point they moved into Allie's ancestral community of Allentown, Lehigh County, PA, where generations of Gaumers had lived since the 1700s. In about 1911 they moved from Allentown into the nearby town of Macungie. Allie suffered from chronic heart valve disease. She was felled by a stroke of apoplexy at the age of 48 and succumbed to death at home on March 25, 1914. Interment of the remains was in Allentown's Fairview Cemetery. An obituary in the Allentown Leader said that she had been "in Allentown on a shopping tour yesterday and seemed in good spirits when she retired last evening. Shortly afterward she was stricken and she sank rapidly." A story in the Allentown Morning Call added that "The family had bought the property of Benneville Yellis, just between East Macungie and the borough proper. As Mr. Eckroth's work as a plasterer was nearly always in Allentown he found it too inconvenient to live so far away and owing to his frequent absence, Mrs. Eckroth was rejoicing to move back again." Walter outlived his bride and moved into the home of his married sister Mrs. William Schraer in Orwigsburg, Schuylkill County, PA. Burdened with a tumor on his spine, he too was stricken with apoplexy at the age of 65 and died on March 22, 1924.
Grandson Edward Earl Eckroth (1892-1945) was born on Sept. 25, 1892 in Lincoln, Lancaster County, NE. He was only age three when his parents separated. He seems to have been married twice. His first bride is thought to have been Anna Marie ( ? - ? ). They made a home with his parents in Macungie, Lehigh County circa 1914. The marriage was troubled, and Anna Marie sued him for divorce in Lehigh County Court in the October Term, 1918. News of the action was published in the Allentown Morning Call. Edward later was joined in wedlock with a presumed cousin, Anna Josephine Stopher (1903-1965), daughter of William Clifford and Laura Alice (Herring) Stopher. They eventually migrated to Florida. He died in or around Orlando, Orange County, FL in 1945. Rev. George Trapp officiated, and an obituary was printed in the Orlando Evening Star. He sleeps for eternity in Orlando's Greenwood Cemetery. Anna Josephine survived for another two decades as a widow. Her final days were spent in Gadsden County, FL, where she was spirited away by the Grim Reaper on Aug. 30, 1965.
Streetcar in Lincoln, NE, of a type operated by Charles "Uriah" Stopher
Son Charles "Uriah" Stopher (1870-1939) -- misspelled at times as "Stoppler" -- was born on Nov. 4, 1870 in Delphos, Van Wert County, OH. He relocated to Lincoln, Lancaster County, NE at about the age of eight. Uriah was joined in marriage on Jan. 26, 1893 with Clara Wessel (Feb. 1871- ? ), daughter of Charles and Henrietta (Wittstruck) Wessel of Nebraska. News of their marriage license was printed in the Lincoln Star Journal. The couple did not reproduce. Their home for years was in Lincoln, with Uriah employed as a motorman starting in 1899. He was hired in March 1906 as a streetcar conductor by the Lincoln Traction Company, and he remained there until the day he died. He may have spent time in Canton, OH in 1914. The couple's home in the 1930s was 626 South 32nd Street, and they belonged to Elm Park Methodist Church. On Valentine's Day 1939, he worked his usual shift on the College View route, came home and "passed away suddenly," said the Lincoln Star. There was "no previous indication of illness." Funeral services were held in the Hodgman Chapel, led by Rev. S.B. Thomas, with interment of the remains in Wyuka Cemetery. He was pictured in an obituary in the Star. Clara lived for another eight years and died in 1947.
Son James Stopher (1872- ? ) was born in about 1872. He is said to have died at the age of five.
~ Son James Tucker ~
Son James Tucker (1845-1926) was born on Oct. 18, 1845 in Fayette County, IL and was but a newborn when his mother died. He then was taken into the home of James Suber, apparently in or near Vandalia, Fayette County.
In adulthood, he stood 5 feet, 7½ inches tall, and weighed 121 lbs., with light hair, blue eyes and fair complexion.
James was age 16 when the Civil War broke out and at the time worked as a farm laborer. He first enlisted in the Union Army on July 30, 1861, and was assigned to the 35th Illinois Infantry, Company H. He later wrote: "I was quite young when I enlisted only about 16 years old. But I shouldered my gun and carried it all through the campaigns until the Battle of Shilo..." The Shiloh fight took place in Harden, TN on April 6-7, 1862.
After his first term of service was completed, he re-enlisted on March 25, 1864, while in Louden, TN. This time he was placed within the 59th Illinois Infantry, Companies C and I. While stationed in Atlanta, GA in September 1864, he contracted the measles which led to problems of his lungs, heart and voice. With his skin broken out in itchy hives, he was treated in a field tent hospital of the 3rd Brigade, 3rd Division, 4th Army Corps. He was given brandy to drink and only saw the surgeon once or twice. He was released after three days.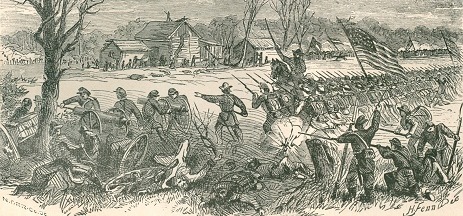 Battle action at Shiloh, Tennessee
He served in the army throughout the duration of the conflict and eight months after the Confederate surrender. While in Cairo, IL in June 1865, prior to a move to Texas, he again was treated in a field hospital for about six days. He eventually made it to Texas and was discharged on Dec. 8, 1865 at New Braunfels, TX.
After the war's conclusion, James returned home to Vandalia in Wilberton Township, Fayette County. He obtained work on the farm of his brother-in-law John Jacob Tinker and spent the first year in the Tinker household.
On Nov. 19, 1868 in Fayette County, the 23-year-old James married 19-year-old Mary Frances "Fannie" Peyton (Jan. 1849-1917). Rev. William J. Creswick officiated. Mary Frances was the daughter of John W. and Maria Frances (Miller) Peyton.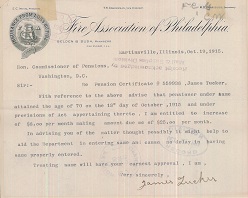 James' 1916 letter to the U.S. Pension Commissioner.
National Archives
The Tuckers had four children -- John "Robert" Tucker, Rose M. Hix, Lillian "Maude" Miller and Lura "Grace" Tucker.
They remained for about 15 years in Vandalia. Nephew William M. Tinker noted that James "was unable to do heavy work such as cradling grain, cutting corn or choping." The next 16 years were spent in Chrisman, Ross Township, Edgar County, IL. In Chrisman, he worked a bit on the farm of Thomas A. Prunty, a justice of the peace. Cousin John W. Moffitt of Paris, Edgar County remembered that "We lived within about 3 miles of each other and he occasionally worked for me, but he was never able to make more than 1/2 a hand and I would not pay him 1/2 wages for farm work. I think I paid him about 50 cents per day, but he only worked a short time as I did not want him because he could do so little work. He was doctoring a good deal of the time, and his wife supported the family."
Then in about 1897 they relocated again to Martinsville/Orange, Clark County, IL. James spent some of that time laboring as a carpenter.Family members noted that he often had a"bad or hacking cough" and that he complained of his throat and heart.
In January 1890, James was awarded a military pension as compensation for wartime disabilities. His claims of disability ranged from neuritis of the legs, constipation and blindness in his right eye to deafness in his right ear and old-age debility. He began to receive checks every month thereafter for the balance of his life. [Invalid App. #750.033 - Cert. #559.936]
When the federal census enumeration was made in 1900, the Tuckers were in Martinsville, with James working as a salesman in a hardware store. That year, he also may have spent time residing with his married sister Elizabeth Tinker in Hickory Creek, Cumberland Township, Fayette County.
Mary Frances passed away in Martinsville, Clark County, IL on April 8, 1917.
James lived for another nine years. At the end he was receiving $72 a month in pension payments. As his health failed, he was admitted to the Mark Greer Hospital in Vandalia. There, he succumbed one day before his 81st birthday on Oct. 17, 1926. Said the Decatur Daily Review, he was "a veteran of the Civil war .... The body was taken to Martinsville, for interment." [Find-a-Grave]
Son John "Robert" Tucker (1868-1940) was born on Oct. 2, 1868 in Wilberton Township, Fayette County. He is said to have been a telegraph operator and railroad dispatcher, working in Chicago, St. Louis and other cities. He died in 1940.
Daughter Rose M. Tucker (1871-1938) was born on Oct. 17, 1871 in Wilberton Township, Fayette County. On Feb. 22, 1891, she married Henry V. Hix ( ? - ? ) in Clark County, IL. They resided in Martinsville, Clark County, IL. Rose died on April 26, 1838. Her sister Grace is known to have traveled from Bloomington to attend the funeral. Rose and Henry are believed to be buried in Island Grove Cemetery in Martinsville.
Daughter Lillian "Maude" Tucker (1878-1961) was born on Sept. 2, 1878 in Ross Township, Edgar County, IL. At age 21, in 1900, she was unmarried and employed as a milliner in Martinsville, Clark County, IL. She later wedded Guy Miller ( ? - ? ), a merchant of Martinsville. Maude died in 1961 with interment in Ridgelawn Cemetery.
Daughter Lura "Grace" Tucker (1888-1949) was born on July 7, 1888 in Chrisman, Ross Township, Edgar County, IL and grew up in Martinsville, Clark County. She never married but devoted her life to teaching. She received her bachelor's degree in education at Illinois State Normal School. Circa 1920-1921, she taught in the elementary school at Streator and in the Martinsville public schools for 13 years. Her other assignments over the years included 21 years in the kindergarten of Illinois Soldiers and Sailors Children's School at Normal. She received additional higher education at the University of Iowa and the University of Wisconsin. Her final position was as an instructor for the Normal Baby Fold for two years, ending with her resignation in 1948. She also served for two years as president of the Illinois Kindergarten and Primary Association and taught in the Bloomington-Normal Community School of Leadership Training for Sunday School officers. She belonged to the Daughters of the American Revolution, the St. Grace Order of Eastern Star and the First Methodist Church of Normal.. Her home in Normal the 1940s was at 303 Mason Street. While a patient in the Mennonite Hospital in Normal, she died at the age of 61 on Jan. 29, 1949. Rev. W.R. Hampton preached her funeral sermon, with an obituary published in the Streator Times and an obituary with her photograph in the Bloomington Pantagraph.
~ Jones' Son Benjamin "Obadiah" Tucker ~
Jones' son Benjamin Obadiah "Ben" Tucker (1867-1955) was born on Dec. 6, 1868 in or around Otego, Fayette County, IL. As a boy, he migrated with his widowed mother to Pleasant Valley Township, Cowley County, KS.
In about 1894, when he would have been about 27 years of age, Obadiah wedded Sarrah Rebecca Miller (Feb. 8, 1875-1959), nicknamed "Rebecky."
The offspring produced by this marriage were Stephen A. Tucker, Forrest Obadiah Tucker, Della Fae Tucker, Joseph S. Tucker and Blanche M. Eastman.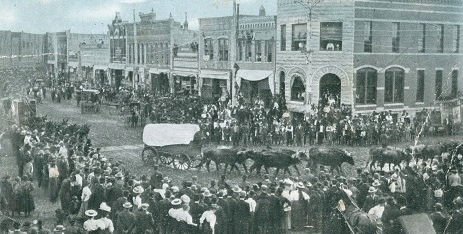 Oxen and wagon team, Winfield, Kansas, 1880s
The couple put down roots in the Winfield section of Cowley County and staked a claim for property within the Osage Indian Lands. On June 3, 1893, he filed his intention to fully secure the tract, located in the northeast quarter of the southwest quarter of Section 19, Township 33, South Range 5 East. He stated that M.L. Devore, Simon Scott, John Campbell and S.W. Stout, all of Winfield, could provde the he had continuously resided on and cultivated the acreage. News of his claim was printed in the Winfield (KS) Industrial Free Press.
Federal census records for 1900 show the Tuckers on a farm in Pleasant Valley. Elmer P. Knight boarded in their home and was a farm hand.
In addition to farming, Obadiah generated income as a local auctioneer, typically handling farm sales. He also enjoyed attending auctions as a prospective buyer.
Circa 1910, their household included the five children in addition to Obadiah's 86-year-old mother and Sarrah's presumed brother, 53-year-old William R. Haney.
They remained in Cowley during the 1910s and 1920s. The Tuckers kept a lodger in 1930, 57-year-old divorcee and Canadian native William Faulkingham.
On Oct. 19, 1955, Obadiah passed into eternity.
Sarrah outlived him by four years. She was carried away by the Angel of Death on Nov. 15, 1959.
They rest for eternity in Highland Cemetery in Winfield, Cowley County. [Find-a-Grave]
Son Stephen A. "Steve" Tucker (1894-1929) was born on Sept. 21, 1894 in Pleasant Valley, Cowley County, KS. As a teenager, he provided labor on the family farm in Pleasant Valley. The Grim Reaper cut him away at the age of 35 on Oct. 12, 1929. The cause of his untimely death is not yet known. He rests for all time in Highland Cemetery.
Son Forrest Obadiah Tucker (1896-1983) was born in June 1896 in Pleasant Valley, Cowley County, KS. He is known to have registered for the military draft in June 1918 during World War I. He was joined in wedlock with Metta May Byers (1899-1969). They produced three known children, Lola Cales, Nelda Irene Yohn and Thelma May Tucker. Forrest passed away in 1983. Burial was in Highland Cemetery.
Daughter Della Fae Tucker (1899- ? ) was born in Aug. 1899 in Pleasant Valley, Cowley County, KS.
Son Joseph S. Tucker (1907- ? ) was born in about 1907 in Pleasant Valley, Cowley County, KS.
Daughter Blanche Tucker (1908-1993) was born on Jan. 14, 1908 in Pleasant Valley, Cowley County, KS. She had no occupation and lived at home at age 22 in 1930. At the age of 35, on Feb. 21, 1943, she was united in holy matrimony with Thomas Arthur Eastman (Jan. 6, 1902-1983), a native of Wilmot, Cowley County and the son of Thomas Reuben and Margaret Louise (Bowen) Eastman. Their nuptials were held in Newkirk, OK. The couple bore one son, Dale Eastman. During World War II, she worked for Boeing Aircraft. Later, she was employed at Winfield Laundry. Thomas worked for a quarter of a century as a toolmaker for Boeing Aircraft, retiring in 1977. He died on July 3, 1983, at the age of 81, cleaving apart their marriage which had endured for four decades. Blanche outlived her spouse by a decade. As her health declined, she was admitted to the Walnut Hill Nursing Center in Winfield. She died there at the age of 85 on Feb. 5, 1993. Burial was in Highland Cemetery.
Copyright © 2000, 2015-2020 Mark A. Miner
Minerd.com extends appreciation to Ken Moffitt for graciously sharing his family's history compilations, including Gertrude (Tucker) Fitzpatrick's compilation which he received from Gilbert Gaumer.