Drusilla (Welker) Moffitt
(1821-1892)


Drusilla and John Moffitt

Courtesy Kenneth Moffitt
Drusilla (or "Druzella") (Welker) Moffitt was born on July 3, 1821 in Union Township, Knox County, the daughter of John and Elizabeth (Gaumer) Welker Sr.
On Nov. 8, 1838, at the age of 17, she was united in marriage with 18-year-old John W. Moffitt (1819- ? ). He was the son of Irish immigrants Robert and Jane (Clark) Moffitt and a native of Indiana County, PA. The ceremony took place in Millwood, Knox County, with justice of the peace John Welker, the bride's brother, officiating.
John's parents were Protestants in their religious faith and emigrated first to Pennsylvania. When John was one year of age, in 1820, his parents pushed further into Ohio, making their home on a farm in Knox County, OH. When the Moffitts first arrived in Ohio, "there were plenty of wild game, such as deer, wolves, etc.,; he has visited the Indian camps," said his biographical profile in the book The History of Edgar County, Illinois (Chicago: Wm. Le Baron, Jr., & Co., 1879 -- link).
Drusilla and John had seven children -- Dillon W. Moffitt, Edith Parish, Joshua Moffitt, Charles Rollin Moffitt, M.D., Benjamin Y. Moffitt, Robert Bruce Moffitt and John H. Moffitt.
The Moffitt farm in Ohio was near the town of Jelloway. In about 1850, they continued their westward migration. Wrote grandson James Moffitt: "In 1850 they moved to Illinois. A neighbor took them in a wagon to Zanesville on the Muskingum River. Here they boarded a little river steamboat. Their journey took them down the Muskingum to the Ohio and down the Ohio to the Wabash and up the Wabash to Terre Haute and by stage coach from Terre Haute to Paris, IL. There were no roads then. He had two sisters already there. One was dead by then."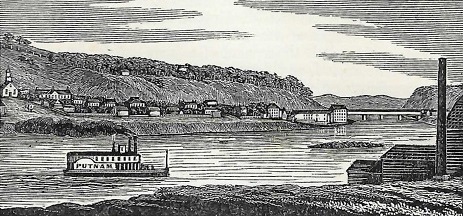 Zanesville, 1850, at the time the Welkers departed there for Illinois
Historical Collections of Ohio by Henry Howe, 1851
They settled on a farm in Paris, Stratton Township, Edgar County, IL. There, he became active in public affairs and served as the inaugural steward of the local poor house, earning a salary of $300 per year. During his labor at the poor house, at the age of 45, he suffered a hernia. Despite wearing a truss, he was unable after that to perform manual labor. Local teacher John W. Mapes, who later became a physician, called him "a weakly man." Another physician who examined John in 1878 noted badly ruptured varicose veins in the left leg, which caused him to wear an elastic bandage, and a severely shrunken right leg, one-half its natural size.
Wrote grandson James Moffitt: Grandfather owned two farms, was county jailor, kept the county poor farm, had a cabinet shop, then bought the Stratton Twp. farm from 1850 to 1875." Family friend Henry Van Sellar once wrote that they "were good people and of good repute amongst their neighbors and associates." Their post office in 1867 was Buck, Edgar County.
About that time, John employed the services of Drusilla's nephew James Tucker, a Civil War veteran, to provide farm labor. John later wrote that "We lived within about 3 miles of each other and he occasionally worked for me, but he was never able to make more than 1/2 a hand and I would not pay him 1/2 wages for farm work. I think I paid him about 50 cents per day, but he only worked a short time as I did not want him because he could do so little work. He was doctoring a good deal of the time, and his wife supported the family."
After five years in Paris, the Moffitts moved again within Edgar County to a farm at Mulberry Grove and thence to May's Station.
Several of the Moffitts' offspring -- son Dillon and son in law David Parish -- served in the Union Army during the Civil War. Dillon sent home a portion of his pay to benefit his parents. Tragically, though, both the son and son in law lost their lives in the conflict. Details are below.
John eventually left the poor house employment after eight and one half years. In 1875, they pulled up stakes and moved back to Paris, where they appear to have stayed for some time. They owned a town lot which contained a small dwelling house. In about 1889, Drusilla applied to the federal government for a military pension as compensation for the loss of her son. Needing to show proof that the son had supported the family by sending money home, Drusilla wrote in September 1889: "The letter containing money... and other letters promising to send us money as he got it I have lost, or they have been destroyed. I have made careful and diligent search for the said letters about the house and in the places where they ought to be found...." She also reported that since the death of the son, "I have supported myself by my own labor + exertions." [Mother App. #397.689; Cert. #291.200; Father App. #541.925]
Drusilla died on Feb. 12 or 13, 1892 at home near Paris. Family friends Charles H. Hodge and David C. Ewing attended the funeral service.
The same month that Drusilla died, her widowed husband applied for their dead son's pension payments. John only lived for another 16 months after his wife's passing, owning a cow and household furniture worth $40 at the time. He joined her in death on June 9, 1893.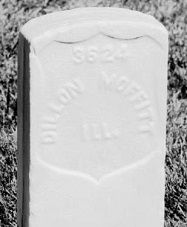 Mound City, IL. Courtesy Randy Watkins
~ Son Dillon W. Moffitt ~
Son Dillon W. Moffitt (1844 -1863) gave his life for our nation during the Civil War. He was born in August 1844 in Knox County. As a boy, he grew up in Knox County and often played with his first cousin Leander W. Meredith.
Later, after moving to Illinois with his parents and siblings, he counted playmate Levi R. Miller as a friend. When maturing into a young man, he was his father's principal laborer on their farm. He also earned income working for others, including neighbors David S. Curtis, Toby Lycan, Jonathan Morehouse and Mr. Dinsmore of Hunter Township, Edgar County. When time permitted, he attended school taught by John W. Mapes.
Dillon never married.
Seven months after the war broke out, Dillon and Miller both enlisted on Dec. 10, 1861 in the 54th Illinois Volunteer Infantry, Company F. Their term was three years in duration, and Dillon's occupational specialty was as a teamster. At different times, Dillon sent home a significant portion of his army wages, telling his friend Miller that "he wanted to help his parents at home, all he could, and that he intended to send them all his pay, except a little that he wanted for pocket change, for postage, +c."
Tragically, at the time of the Battle of Helena, AR, he was stricken with chronic diarrhea and was admitted to a convalescent camp after his regiment moved away. The ailment triggered a precipitous decline in his health. Said The History of Edgar County, Illinois, he "was taken sick at Vicksburg, Miss., and on his way home with his father died at the Soldiers' Home in Cairo, Ill.; his remains were buried at Mound City, Ill."
Other military records show the place of his death as Memphis, TN. The date was Sept. 13, 1863. On April 8, 1865, his remains were re-interred in the Mound City National Cemetery. [Find-a-Grave] Some 26 years after his death, in 1889, his aging parents filed for and began receiving a military pension as compensation for their loss.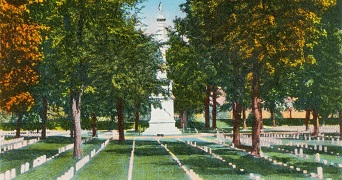 Mound National Cemetery where Dillon Moffitt rests
~ Daughter Edith (Moffitt) Parish ~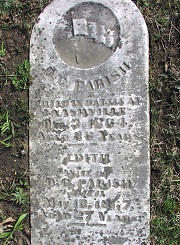 Parishes' badly worn grave,
Paris, IL. Courtesy Phyllis Sutton
Daughter Edith Moffitt (1840-1867) was born in about 1840 in Knox County, OH. She may have been named for her aunt Edith (Welker) Dillon. A niece once said that Edith was "redheaded, crosseyed, and not very good looking."
On April 29, 1858, at Paris, the 18-year-old Edith married 30-year-old David C. Perrish (or "Parish") (1828- ? ), who was a dozen years older. Rev. G.W. Riley officiated.
They had one daughter, Carrie Drusilla Ryan. Edith's mother was present at the birth and nursed the mother in her confinement.
David was reputedly a veteran of the Mexican War. After marriage, he was a master carpenter working in and around Paris.
Wrote a nephew, David was "a good many years her senior and 'good for nothing.' So one night she slipped out and ran away with him. They did not know it until morning; grandpa went to hunt them but could not find them. She never came home ... had a hard life -- washed for a living. Had this one baby and he (David) left her and joined the army. She was sick so they sent her folks word. Grandpa ... brought her home and she lived a few years, passed away with TB ... Uncle David was cleaning his gun under a tree and they 'nipped him off'."
When the Civil War erupted, David enlisted immediately as a private in the 59th Illinois Volunteer Infantry, Company F. Said The History of Edgar County, Illinois, he "participated in the battle of Nashville, Tenn.; after the battle, he was in a skirmish where he received a wound which proved mortal." The wound -- a gunshot in the throat or head -- occurred on Dec. 3, 1864, and he died the same day. His remains are believed to have been brought back to Paris.
In January 1865, Edith began receiving a government pension as compensation for her loss. [Widow App. #81.680 - Cert. #421.133].
Tragically, she contracted tuberculosis ("consumption," as it was then known). Although her mother was present to help provide care, Edith died at the age of 27, on May 18, 1867, leaving their young daughter as an orphan. She was laid to rest in Edgar Cemetery in Paris. A marker was erected at the grave with both her and her husband's names and dates, inscribed that he had been "killed in battle at Nashville." [Find-a-Grave]
Daughter Carrie Drusilla Parish (1860- ? ) was born on April 28, 1860 in Paris, Edgar County. She was but four years of age when her father died at war and then seven years old when becoming an orphan altogether. Her grandfather John W. Moffitt was appointed guardian for the girl until she reached the age of maturity. In September 1867, he applied to the federal government so that the orphaned child could begin receiving the dead father's pension payments [Minor App. #152.221; Cert. #100.524]. On Nov. 24, 1881, the 21-year-old Carrie married 30-year-old John M. Ryan (1851-1941), also spelled "Ryon." He was a son of John Fletcher and Eliza Jane (Chapman) Ryan. The couple produced two children -- Nellie Ryon, Jessie Luke, Myrtle Williams, Robert Ryon and Ruth Ryon.
~ Son Joshua Clark Moffitt ~
Son Joshua Clark Moffitt (1846-1924) was born on April 18, 1846 in Loudonville, Knox County, OH. As a boy, he migrated with his parents to Illinois, settling on a farm in Paris, Edgar County.
On Sept. 13, 1893, he was united in marriage with Katherine Bell "Kate" Sterling (1856-1915). They lived in or around Paris.
Their known children were James R. Moffitt and Charles Byron Moffitt..
Kate passed away at the age of 58 on May 6, 1915, with burial in Bethesda Cemetery.
Joshua survived her by nine years. He died on Feb. 2, 1924.
Son James R. Moffitt (1895-1976) was born on Jan. 9, 1895. He was united in marriage on May 12, 1928 to Margaret on (1904- ? ). They produced two children -- Robert Bradfield Moffitt, Donald Eugene Moffitt and Colleen Ruth Edmonson Lowe Bangert. James died 11 days after his 81st birthday on Jan. 20, 1976 in Terre Haute, IN. Margaret passed away in Tucson, AZ.
Son Charles Byron Moffitt (1899-1977) was born on May 24, 1899 in Paris, Edgar County, IL. On Nov. 10, 1931, when he was 32 years of age, Charles married Susie Williams (1913-1998), a native of Robert, LA. The nuptials took place in Crown Point, IL. They resided for many years in New Orleans and had these children -- James Wesley Moffitt, Shirley Dixie Gerard, Alder Wilmer Moffitt and Jean Beverly Moffitt. Charles died in Independence at the age of 78 on Oct. 19, 1977 in Independence, Tangipahoa Parish. Susie survived her husband by more than two decades. She spent her final years in Brookhaven, Lincom County, MS. They are buried in St. Rock Cemetery in Laranger, Tangipahoa Parish.
~ Son Dr. Charles "Rollin" Moffitt ~
Son Dr. Charles "Rollin" Moffitt (1850-1877) was born on March 7, 1850 in Knox County, OH. As a boy, he migrated with his parents to Illinois, settling on a farm in Paris, Edgar County.
On Jan. 9, 1970, he was united in marriage with Helen Carpenter ( ? - ? ).
They produced three children -- Jessie Edith Garner, Hallie Moffitt and Charles B. Moffitt.
Sadly, he and Helen later divorced.
Rollin obtained his medical degree from Keokuk Medical College. A niece recalled that "a doctor, smart as a whip. He was sent at one time to Hawaii by the government. He was too big for the family so lived with an aunt near Quincy, IL and Keokuk, IA (Margaret Moffitt Clifford). He came home sick with TB, dissatisfied with family, so cross, made fun of Uncle Bruce (his brother Robert Bruce) until Grandma was glad when he left, but they were mad when he left his wealth to the relatives."
He practiced medicine in Hawaii but died at age 27 on July 20, 1877 after returning to the mainland.
Daughter Jessie Edith Moffitt (1871- ? ) was born on Aug. 17, 1871 in Iowa. She married (?) Garner ( ? - ? ). They produced one known child, Grandal Garner.
Daughter Hallie Moffitt was married and had a son.
Son Charles B. Moffitt (1873- ? ) was born in about 1873. He died in childhood.
~ Son Dr,. Benjamin Yates Moffitt ~
Son Dr. Benjamin Yates Moffitt (1856-1884) was born on Jan. 6, 1856 in Paris, Edgar County, IL.
He was a physician and spent his early career in Knightstown, IN. Later he went to Hawaii and survived a shipwreck in the Sandwich Islands.
He came back to San Francisco but died in at the age of 28 in 1884. His remains were sent back to Illinois for burial in his hometown of Paris. A niece, Edna Wolfe, wrote that after his death, Benjamin's medical instruments were given to his brother Bruce, and that it was a thrill for Bruce's children "to look at them and wonder."


~ Son Robert Bruce Moffitt ~
Son Robert Bruce Moffitt (1858-1915) was born on July 20, 1858 in Paris, Edgar County, IL. He enjoyed telling people that he had been born on the poor farm without explaining that his parents ran the farm.
At the age of 25, on the day after Christmas 1883, he was united in holy wedlock with Emma Buckler (1866-1946), daughter of Allen and Catherine (Mason) Buckler.
Their children were Fred Allan Moffitt, Louella Belle Moffitt and Hattie Drusilla "Drusie" Boller.
Over the years, he worked as a farmer, cabinet maker, grocer and wagon driver.
Heartache shook the family when 25-year-old daughter Louella Belle succumbed of tuberculosis on Dec. 18, 1912.
Bruce died at the age of 57 on March 10, 1915 in Edgar County. His remains were placed at rest in the Edgar Cemetery.
Emma lived for another 30-plus years after his death. She spent her final years on earth at the home of her daughter Drusilla Boller in Gillette, WY. She died on Dec. 18, 1946, and her remains were shipped back to Illinois for interment. Their great-grandson Ken Moffitt has graciously provided much of the outline of content on this biography.
Son Fred Allan Moffitt (1885-1963) was born on Sept. 13, 1885 in Paris, Edgar County, IL. He learned the trade of building railroad bridges. At the age of 26, on Jan. 11, 1912, he was united in marriage with 24-year-old school teacher Elsa Evelyn Sheppard (1887-1967), daughter of William Lee and Eliza Evelyn (Jones) Sheppard. They had grown up together and were grammar school mates. Their children were Robert Allan Moffitt and Eva Jane Boyd. Soon after marriage, they relocated to Gillette, Campbell County, WY and raised cattle and wheat on a farm. When Elsa's health faltered, her father encouraged them to join him in Los Angeles. Fred "became a carpenter at the new Ambassador Hotel, being hired by the owner who also was a former resident of Paris," said a family manuscript. "He later worked as a locksmith and specifications writer for the Los Angeles and Pasadena school districts. Elsa, whose sight failed temporarily at the birth of Robert, gradually lost her vision due to Retinitus Pigmentosa, and was declared legally blind in 1935. She continued active in many church and community affairs, however, and could do almost everything around the house." They were both active in the Eagle Rock Presbyterian Church. The couple resided in Los Angeles for 43 years until Fred's death on May 5, 1963. His remains were placed at rest in Forest Lawn Cemetery in Glendale. Elsa continued to dwell in their home at 1957 Loleta Avenue until her own death on June 11, 1967. Fred and Elsa's son and wife, Robert Allan and Frances Belle (Kratz) Moffitt, prepared an extensive Gaumer genealogy research of their own and compiled work done by others. Their son Kenneth Richard Moffitt, a research chemist and American record holder for long-distance running, graciously shared the genealogy material in 2015 with the founder of this website.
Daughter Louella Belle Moffitt (1887-1912) was born on Dec. 6, 1887 in Paris, Edgar County. She became a nurse. Tragedy swept through the family when Louella, age 25, contracted tuberculosis. She was offered treatment at a sanitarium run by a friend's father, but the family refused to allow her to go,. She succumbed on Dec. 18, 1912, with burial in Edgar Cemetery in Paris.
Daughter Hattie Drusilla "Drusie" Moffitt (1889-1969) was born on Jan. 29, 1889 in Paris, Edgar County. On Feb. 22, 1922, when she was age 32, she was married to John M. "Jack" Boller (1888-1953), son of J.J. and Margaret (Myers) Boller of Iowa. They remained in Gillette, WY when her brother and family relocated from there to Los Angeles. Their children were Emma Jean Titsworth Hardy, Earl Allan Boller, John J. Boller and Dick Bruce Boller. Said a family manuscript, "they raised sheep on a ranch 40 miles southeast of Gillette, WY. Drusilla was a member of the Gillette Presbyterian Church and a charter member of the 4H Club. Her mother (Emma Buckler Moffitt) lived with the Bollers the last years of her life, coming to California on the bus or train to visit, even when well up in years."
~ Son John H. Moffitt ~
Son John H. Moffitt (1864-1921) was born on May 14, 1864 in Paris, Edgar County. The middle initial "H." stood for nothing. It's said that his father wanted to call him "Halbert" and his mother "Herbert" and so, unable to break the deadlock, gave him the initial in the hope he would choose for himself someday. (He never did.)
John was twice married. On Aug. 11, 1884, when he was age 20, he was united in marriage with 24-year-old Nancy Florence Mason (1860-1916), daughter of William and Elizabeth (Richerson) Mason. Over the years, they resided in Paris and in Webb City, MO, where he earned a living as a groceryman and merchant.
Their children were Mary Edith Whitton, Edna Drusilla Holloway Stewart Wolfe, Zola Mae Gordon, Paul Maxwell Moffitt and Russell Mason Moffitt.
Sadly, Nancy died on May 16, 1916 at the age of 56. Burial was in Edgar Cemetery.
John remained a widower for four years and married again in 1920 to Sally Langworthy ( ? - ? ). They made their residence in Carterville, Jasper County, MO.
John, stricken with cancer of the stomach, became deathly ill after only a year into his second marriage. He was admitted to St. Johns Hospital in Joplin where he died on April 14, 1921 a month shy of his 57th birthday. He is said to be "buried in southern MO with people of 2nd wife." His death certificate shows his place of interment as Mt. Hope Cemetery.
Daughter Mary Edith Moffitt (1885-1927) was born on June 26, 1885 in Vermillion, Edgar County, IL. On Feb. 15, 1905, at the age of 20, she married Charles Whitton ( ? -1927). Their children were John Robert Whtton, Edward Aaron Whitton, Mola Mae Sunkel and Charles H. Witton. Tragedy struck in May 1921 when 13-year-old son Edward drowned while swimming in Twin Lakes near Paris. Sadly, Mary Edith and Charles both died in 1927, she on July 17 and he two days after Christmas.
Daughter Edna Drusilla Moffitt (1886- ? ) as born on Aug. 3, 1886 in Paris, Edgar County. She was thrice married. Her first husband was Harry Holloway, whom she was wedded to on June 22, 1907. Their children were Russell Roy Holloway, Byron Vencil Holloway, Alice Florence Holloway (stillborn in 1913), Maurice Beatrice Holloway, Max Holloway and Mary Jo Cushing. Harry died on Dec. 18, 1936. She married again to Marion Stewart, but they divorced. Her third spouse was Al Wolfe, married in a ceremony taking place on May 9, 1947. Sadly, Al died after only five years of marriage on Sept. 17, 1952. Circa 1980, Edna's home was in Port Orchard, WA.
Daughter Zola Mae Moffitt (1887-1974) was born on Oct. 17, 1887 in Paris, Edgar County. On Nov. 26, 1910, she married Charles H. Gordon (1879-1965). They resided in Chillicothe, Livingston County, MO and had an only daughter Melba Florence Williams. Charles died on April 4, 1965. Zola Mae followed him to the grave nine years later on Jan. 5, 1974.
Son Paul Maxwell Moffitt (1895-1970) was born on Jan. 12, 1895 in Paris, Edgar County. His first wife was Zena Gilbert ( ? - ? ), to whom he was wedded in April 1920. Their home was in St. George, FL and their one daughter was Edna Moffitt.
Son Russell Mason Moffitt (1897-1956) was born on April 12, 1897 in Paris, Edgar County. He resided in Pittsburg, KS for many years and was twice married. His first wife was Eliza Anna Forbes ( ? - ? ) with the nuptials held in June 1917. Their only son was John Hulbert Moffitt. Russell's second bride was Deborah Simpson ( ? - ? ) whom he married on Feb. 16, 1939. Russell died in Pittsburg on Dec. 17, 1956. Their grandson Lawrence Richard Moffitt is said to possess the family Bible of their Irish immigrant ancestors Robert and Jane (Clark) Moffitt.
~ Daughter Lulu Moffitt ~
Daughter Lulu G. Dillon (1865- ? ) was born in about 1865 in Marengo, Iowa County.
Copyright © 2000, 2015-2017, 2020 Mark A. Miner
Many thanks to Ken Moffitt for sharing his family's history compilations.