Elizabeth (Wortman)
Purinton Sisk
(1879-1949)
Elizabeth (Wortman) Purinton Sisk was born on Feb. 24, 1879 in Dunbar, Fayette County, PA the daughter of Moses "Ross" and Hester Ann (Minerd) Wortman. The family name also has occasionally been misspelled as "Workman."
At the age of 19, in about 1878 or 1879, Elizabeth married her first husband, Orpheus Boutwell "Orf" Purinton (1873-1913). He was a native of Newburg, Preston County, WV, and the son of Francis Wayland and Florence Bell (Howell) Purinton and grandson of Rev. Jesse M. and Roxa Boutwell (Buell) Purinton. (One of Orpheus' cousins, Thomas Lagee Purinton, also of Newburg, wed Elizabeth's distant cousin Matilda "Tillie" Hanshaw.)
The Purintons together produced five children, of whom only three lived to adulthood -- Rev. Ross Edward Purinton, Raymond Purinton and Dorothy Purinton. All three children were born in Cumberland.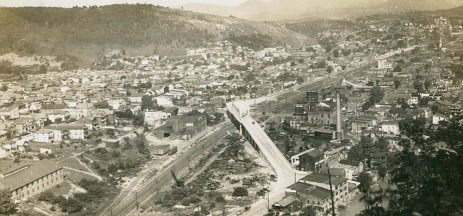 The National Highway (U.S. Route 40) cuts through the middle of Cumberland, with the bypass bridge shown here
The federal census of 1900 shows the couple living apart -- and in the households of their respective parents in Cumberland. Elizabeth is marked as having been "married" for one year and as the mother of one child.
When the federal census was taken in 1910, the Purintons had been married for 11 years and made their home on Pennsylvania Avenue in Cumberland, where Orpheus was employed as a "hostler" with the steam railroad, servicing engines at the end of a run.
Tragically, Orpheus died at the age of 40 on Feb. 25, 1913, at Cumberland. The cause of his untimely passing is not known.
Elizabeth spent a number of years as a widow. In 1920, the census shows her boarding as a "domestic" in the home of Dr. A. Leo Franklin, a surgeon in Cumberland, with three other adults and four Franklin children in the residence that year.
Sometime during the decade of the 1920s, Elizabeth married again, to James William H.S. Sisk (1872-1950), son of Joseph and Harriett (Fetters) Sisk of Claysville, Mineral County, WV. He was eight years older than she.
James brought at least five adult sons to the marriage -- William H. Sisk, Oscar Murray Sisk, Francis Sisk, Mason S. Sisk and Laurence E. Sisk. James' occupation was as a railroad engineer for the Baltimore and Ohio Railroad in Cumberland. He held a membership in the Calvary Evangelical United Brethren Church.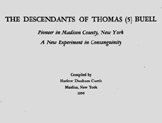 Descendants of Thomas
Buell book naming the family
In 1930, Elizabeth, James, daughter Dorothy, the Sisk stepchildren and boarder William Brown lived together on Mary Street in Cumberland. They remained in Cumberland for years, at 36 Mary Street.
Sadly, Elizabeth died in Allegany Hospital at the age of 70 on May 17, 1949, "after an extended illness," said the Connellsville (PA) Daily Courier. Funeral services were held in the family church.
At the age of 77, James died in the residence of his son William at 39 Mary Street on Jan. 31, 1950. An obituary in the Cumberland News said that he "had resided in Cumberland for 50 years" Preaching the funeral service, held in the family church, was Rev. C.K. Welch. Interment of the remains was in Rose Hill Cemetery. At the time, his son William was in Cumberland, Oscar in Fort Ashby, WV, Francis in Cleveland, Mason in Roberts Place in Cumberland and Lawrence with the U.S. Army in Omaha.
The family is profiled in the genealogical study, The Descendants of Thomas (5) Buell, compiled in 1956 by Harlow Dunham Curtis of Manlius, NY.
~ Son Rev. Ross Edward Purinton ~
Son Rev. Ross Edward Purinton (1900-1986) was born on St. Patrick's Day 1900 in Cumberland.
He grew up in Cumberland and was a member of the Calvary United Methodist Church on Mary Street. As a young man, he labored in the steel mill of N&G Taylor Company, a company which had combined with Maryland Sheet and Steel Company and the United States Rail Company..
On March 31, 1928, in Reading, PA, Ross married Helen Virginia Weltman (1902- ? ) on March 31, 1928. She was the daughter of George and Marion M. Horchler Weltman of Newburg.
They bore one daughter, Julianne Purinton, born circa 1930 when the family was in Chester, PA.
Circa 1930, Ross and Helen made their residence in Berks County, PA, boarding in the residence of Robert A. and Fanny Miller, with Ross serving as minister of a local Methodist church.
Then in 1932, now in Strasburg, Lancaster County, he attended a meeting of the Lancaster County Methodist Ministerium and delivered his paper, "The Church of the Depression." The family was in Willow Grove, PA in 1941.
During World War II, he joined the U.S. Army in 1941. He was assigned to the Foreign Service on April 20, 1942. Holding held the rank of colonel and was a U.S. military chaplain stationed overseas in Guam. He received his honorable discharge on March 2, 1946.
In 1947, he served at the First Methodist Church of Mahanoy City, and in January 1948 was tapped to be chaplain of the Army War College in Washington, DC, bearing the rank of major.
They were posted to China in 1950. Having returned to the United States, he was assigned to a congregation in Alexandria, VA. He is known to have written a letter in the early 1950s which was published in the February 1952 edition of The Milwaukee Road Magazine. He wrote:
After being away from America a number of years, it was with great satisfaction that I took your railroad east. The scenic beauty of your line cannot be exaggerated and the train personnel, without exception, were courteous and thoughtful. The modern comforts and conveniences of your service were almost unbelievable.
The Purintons' addresses in Alexandria were 1107 South 20th Street and 101 West Linden Street.
Ross and Helen divorced in Alexandria by court decree on Sept. 3, 1957, with her bringing suit on charges of desertion. Evidence suggests that Ross again served in the Army between 1957 and the end of 1962.
On Jan. 31, 1959, Ross was joined again in matrimony with 44-year-old secretary Adele Heidi (Effner) Burmeister ( ? - ? ), daughter of Heinrich V. and Mathilda (Schuster) Effner and an immigrant from Wurzburg, Germany. Officiating the ceremony was Rev. William Laughlin Jr. of the Mt. Vernon Methodist Church.
The pair established a residence at 942 Radcliffe Drive in Alexandria. By 1964, they had relocated again to Colorado, settling in the town of Pueblo.
He died in Pueblo at the age of 86 on May 18, 1986, and was buried at Fort Logan National Cemetery in Denver, Denver County, CO.
Daughter Julianne "Julie" Purinton (1930- ? ) was born in about 1930. She was an alumna of Emory and Henry College in Emory, VA. When she was 22 years of age, on Sept. 15, 1962, she was joined in wedlock with 20-year-old student Michael Terry Brewster ( ? - ? ). He was a native of Cleveland, TN and the son of Walter Warren and Louise (Wolfe) Brewster and at the time of marriage dwelled in Cleveland. The wedding was held in Calvary Methodist Church in Arlington, VA, by the hand of Methodist pastor Rev. Forrest B. Oglesby. In announcing the nuptials, the Chattanooga (TN) Daily Times said that the bride "wore a floor-length gown of Chantilly lace with scoop neckline, embroidered with seed pearls and sequins, long sleeves coming to a point at the wrists, and a basque bodice finished with folds of lace over the hip line, extending to a chapel-length train. Her veil of imported silk illusion fell from a crown of seed pearls and iridiscent sequins. The bridal bouquet was of white rosebuds and lilies of the valley." The newlyweds established their first home in Princeton, NJ, where she was to teach and he was to attend Westminster Choir College. Nothing more about the pair is known.
~ Son Raymond "Happy" Purinton ~
Son Raymond "Happy" Purinton (1901-1964) was born in 1901 in Cumberland, Allegany County, MD.
He spent his fatherless years in the home of an aunt and uncle, Ada and Edward Collins of Cumberland.
He married Mary Margaret Hayes ( ? - ? ), the daughter of Charles and Sally Hayes.
They did not reproduce.
Raymond was a foreman in a machine shop of the Baltimore and Ohio Railroad in Cumberland and was a member of the International Association of Machinists union. They resided at 312 Park Street. By 1964, their address had changed to 142 Bedford Street. They were members of Kingsley Methodist Church, and he belonged to the Cumberland lodge of the Moose.
Sadly, Raymond passed away in Cumberland's Sacred Heart Hospital at the age of 63 on Sept. 28, 1964. An obituary was published in the Cumberland Evening Times, which said that Rev. John E. Parks, of the family church, led the funeral service. Burial was in Sunset Memorial Park. Pallbearers were John Brode, Clarence Blacklin, Donald Durst, Robert McCarty, Rochard Rowley and Arthur Zarger.
For several years, on the anniveersary of Raymond's death, Mary Margaret published a memoriam in the Evening Times, saying "The cherished memories of our love and devotion to each other, gives me consolation to carry on just as if you were here."
~ Daughter Dorothy Purinton ~
Daughter Dorothy Purinton (1906-1983) was born on Oct. 24, 1906.
She never married.
She made her home circa 1956 in Cumberland at 3 Marion Street, and in 1964 in Rawlings, MD.
Dorothy surrendered to the spectre of death in March 1983.
Copyright © 2006, 2009, 2014, 2021 Mark A. Miner
Descendants of Thomas (5) Buell cover courtesy of Google Books