Edward 'Ellsworth' Younkin
(1863-1932)
Edward "Ellsworth" Younkin was born on April 14, 1863 near Albany, Athens County, OH, the son of William and Catherine (Knight) Younkin. He and his sister Ellazor were twins.
When Ellsworth was a young boy, his mother became deathly ill, and went to Illinois seeking to recover her health, but she died, in 1867. His father later remarried to Emily Brooks back in Athens County.
The family is shown in the 1880 federal census as living in Bedford Township, Meigs County, OH. That year, Ellsworth was age 17 and employed in farming, while his father was a 44-year-old farmer.
At some point in time, Ellsworth joined the Methodist Episcopal Church at Pherson, Pickaway County, OH.
Ellsworth was married twice -- first to Elsie Dagon ( ? - ? ). They bore one child, who sadly died in infancy.
When the federal census enumeration was made in 1900, Ellsworth resided in Madison, Fayette County, OH, and was marked as widowed. He made a living that year as a day laborer.
His second wife was Ida (Rowe) Charles (1864-1925), the daughter of Elijah and Schrelda (Cox) Rowe. They did not reproduce.
The Younkins made their residence in 1920 in Muhlenberg, Pickaway County, OH, with a farm home along Five Points Road.
Ida passed away at the age of 60 in Madison County, OH, on April 17, 1925. The cause of her death was anemia.

West Columbus Street in Mt. Sterling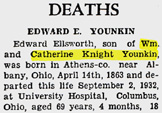 Obituary, 1932

After Ida's death, Ellsworth moved to Mt. Sterling, Madison County, OH. According to his newspaper obituary, while residing in Mt. Sterling, "he gained for himself a wide circle of friends. He was a kind and patient husband, a loving brother and a most highly esteemed neighbor. He was of a cheerful disposition, always speaking kindly of everyone."

Ellsworth continued his occupation of farming. In his late 60s, he became deathly ill of tuberculosis in the late summer of 1932. Said his newspaper obituary, "Although his sickness of about three weeks duration, he bore his suffering patiently and we feel assured that he has gone to that Heavenly Home where sickness and sorrow have no abiding place and where peace dwells forever."

Ellsworth died at the Ohio State University Hospital in Columbus on Sept. 2, 1932, at age 69. His brother Horton published a Card of Thanks in a local newspaper, saying: "We wish to thank Mr. Snyder and Son for their efficient services, the minister for his consoling words, the singers for the beautiful songs and all others who helped to aid and cheer our brother in his last days." Ellsworth's remains were laid to rest in Pleasant (precise place unknown).

Copyright © 2000, 2005-2008, 2022 Mark A. Miner