On Oct. 21, 1914, at Cumberland, Allegany County, MD, the 24-year-old Frank married 16-year-old Ida Alphretta Burkholder (July 6, 1898-1966), the daughter of James Wesley and Jennie (Hartzell) Burkholder.
(There were many connections between our family and the Burkholders. Ida's brother, Daniel McKinley Burkholder, married Kathryn Miner, Ida's sister, Rebecca Burkholder, was the first wife of Otis "Freed" Minerd, and cousin Josephine Gorsuch married William Burkholder.)
The couple produced five children -- Elmer "Eugene" Younkin, James "Fae" Younkin, Hubert Dayton "Hubie" Younkin, Mildred "Esther" Humes and Lois Jean Hensel.
Sadly, their firstborn son Eugene contracted diphtheria and died at the age of six years, 11 months on Feb. 24, 1922. His tender remains were placed at rest in the Imel Cemetery.
Frank was a farmer, and a onetime member of the Springfield Township School Board. With the involvement of his brother David, who was Mayor of Connellsville, PA, Frank served for several years as a central committeeman of the Fayette County Republican Party. Active in the community, he also belonged to the Wesley Chapel Methodist Church and the Indian Creek Valley Lions Club.
Ida also was involved with the community, and in 1938 is known to have "entertained the Anagram Club … at her home. Prizes were awarded to three highest players."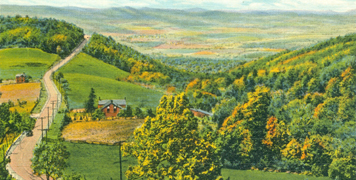 Mountainous and winding "Springfield Pike" -- also known as Route 653 -- near the Younkins' farm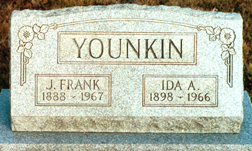 Imel Cemetery, Clay Run
During World War II, with their daughter Esther serving in the military in the European Theatre, Frank supported the war effort by financially underwriting some of the publication costs for The Messenger, a hometown newsletter for local servicemen and women and their families, edited by a distant cousin, Ferne (Minerd) Work.
A large landowner, Frank is said to have sold considerable real estate to the owners of what is now the renowned Seven Springs Ski Resort. He also is believed to have sold land at Bear Run to Edgar J. Kaufmann, owner of Pittsburgh's Kaufmanns Department Store, but this is not yet confirmed.
"Ida and Frank were a big part of my childhood," wrote Glenda (Tressler) Smith. "If they weren't at the farm, we were at their place. On our way home from the farm, we would pass their house. It was quite a common occurrence for us to stop. If they weren't home, they would find some type of surprise when they did. Porch chairs turned upside down, something hung on the clothesline."
In October 1964, the couple celebrated their 50th wedding anniversary. The event generated an article in the Connellsville Daily Courier.
About a year later, Ida was diagnosed with cancer of the liver and intestines. She endured the illness for a year until the Angel of Death carried her away at the age of 67 on Jan. 25, 1966.
Frank outlived his wife by more than 17 months. He was burned by chronic phlebitis. Sadly, he was felled by a pulmonary embolism and succumbed 15 minutes later, at age 78, on June 7, 1967. They are buried together in the Imel Cemetery in Clay Run.
~ Son James "Fae" Younkin ~
Son James "Fae" Younkin (1916-1986) was born in 1916.
In about 1946, when he would have been 30 years of age, Fae married Evelyn M. Faidley (1923-2004), daughter of John F. and Matilda (Pyle) Faidley. He was seven years older than his bride.
The Younkins went on to produce a family of six children -- Barbara Beeman, James "David" Younkin and Brenda Younkin, and three babies who sadly died in infancy.
Fae was a farmer and "owned and operated a school bus for Springfield Township schools," said the Somerset Daily American. They were members of the Wesley Chapel United Methodist Church in Scullton.
A mysterious fire caused major damage at the Younkin farm several days before Christmas 1981. Firefighters with the New Centerville and Rural Volunteer Fire Department responded to the call just after midnight. Reported the Daily American, "The Younkins and several other persons in the Rockwood RD 3 area on the party line had been without phone service since Saturday. Upwards of $55,000 in damage was caused to the contents and the 30-by-40-foot, newly-built, concrete and frame garage. Destroyed inside were a pickup truck, automobile, two tractors, a highlight, a lawn and garden tractor, hay mower, two snowmobiles, trail bike as well as miscellaneous tools and supplies. The fire was fought in sub-zero temperatures. Brenda Younkin, 18, required hospitalization for exposure and exhaustion as she ran, in nightclothes covered with a snowmobile suit, about a half-mile to the residence of her sister... to get help." Fire Chief James Calvin "Jim" Brocht -- a distant cousin of the Frederick and Margaret "Peggy" (Faidley) Dull branch of the Younkins -- told a news reporter that he believed the electrical fire started in the oats grainery when a light was left on.
Fae passed away at the age of 70 on July 6, 1986. He was laid to rest in the Imel Cemetery.
Evelyn outlived him by 18 years, minus two days. Evelyn opened her home to the founder of this website in October 1991 and provided insights into this branch of the clan.
In late March 1992, she suffered the amputation of one of her arms when "trying to pump water for her cattle on her farm" reported the Daily American. "The pump was connected to a power-takeoff unit on a tractor. She was injured when her clothing became entangled in the spinning drive shaft... [The] pump broke and she fell to the ground. Younkin was flown by helicopter to Presbyterian University Hospital in Pittsburgh, where she was undergoing surgery..."
Evelyn survived her injury, and lived for another dozen years. She died at the age of 81, at Somerset Hospital, on the Fourth of July 2004. Burial was in Imel Cemetery, with Rev. Curtis heisler and Rev. John Hollis co-officiating the funeral. An obituary was printed in the Somerset Daily American.
Daughter Barbara Younkin ( ? - ? ) married William Beeman ( ? - ? ), son of William and Emma Jane (Rhoades) Beeman. Their home in 1993-2004 was in Rockwood.
Son James "David" Younkin ( ? - ? ) wedded Cathy. Their residence in 2004 was in Mill Run.
Daughter Brenda Lou Younkin ( ? - ? ) has lived in Rockwood.
~ Son Hubert D. "Hubie" Younkin ~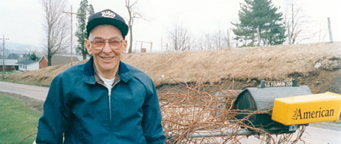 Hubie Younkin, as photographed by Donna (Younkin) Logan
Younkin Family News Bulletin, July 1992
Son Hubert D. "Hubie" Younkin (1918-1992) was born in 1918.
He was joined in wedlock with Opal Schmuck (1917-1991), the daughter of Samuel and Bertha Mae (Henry) Schmuck.
They had two daughters -- Lynda Blubaugh and Beverly Stewart.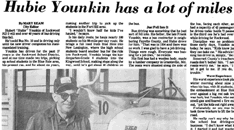 Connellsville Daily Courier
The Younkins belonged to the Wesley Chapel United Methodist Church in Scullton. Hubie was a farmer, carpenter and school bus owner/operator, and a member of the Carpenters Union.
He was profiled in the Daily Courier for his 40 years as a bus driver,headlined "Hubie Younkin Has a Lot of Miles," which reported that "In his daily route, he hauls nearly 100 students on his 66-mile-per-day route." He also is pictured in the July 1992 issue of the "new" Younkin Family News Bulletin.
Opal passed away at age 73 on Feb. 1, 1991.
Hubie survived her by less than two years, and went to live with his married daughter Lynda in Andrews, TX. He died there at the age of 74 on Dec. 5, 1992. His remains were returned home to join Opal in repose at the Somerset County Memorial Park.
Daughter Lynda Younkin wedded Robert L. Blubaugh ( ? - ? ), the son of Homer G. and Irene C. (Domer) Blubaugh. They were the parents of Scott Blubaugh. Circa 1995, the family lived in Andrews, TX.
Grandson Scott Blubaugh grew up in Andrews, TX. As a high school senior, he captured the grand prize for the Permian Basin Regional Science Fair, which took placed at the University of Texas. Reported the Daily American, "He studied the 'Effect of Hydrogen Sulfide gas on common soil bacteria.' His project based based on a common problem found in the oil fields around Andrews hydrogen sulfide (H2S) poisoning."
Daughter Beverly Joan Younkin ( ? - ? ) was born in (?). In about 1972, Joan was joined in marriage with Daniel Earl Stewart ( ? - ? ), a resident of West Broadway Street in Rockwood. He was the son of Albert W. and Bernadine K. (Shultz) Stewart. The couple established a residence in Farmington, NM and were the parents of Chad Stewart and Tina Stewart.
~ Daughter Mildred Esther (Younkin) Humes ~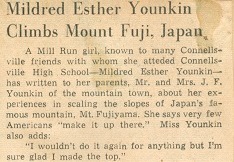 Connellsville Daily Courier, 1947
Daughter Mildred "Esther" Younkin ( ? - ? ) was born in (?).
She married Vance O. Humes ( ? - ? ).
The couple bore two children -- Janet Humes and Terry Humes.
As a young woman, Esther attended California State Teachers College circa 1939.
Then after World War II broke, out, she served with the Women's Army Corps (WAC) for two years in Europe. After the war ended, she was transferred to Japan to serve on the staff of Gen. Douglas MacArthur. Her military updates were noted in The Messenger, a hometown newsletter for local servicemen and women and their families. One article in March 1946 reported that she had "reinlisted and [we] understand she is on her way overseas."
In 1947, she made headlines in the Daily Courier when she climbed to the top of Japan's famous Mt. Fuji, later saying: "I wouldn't do it again for anything but I'm sure glad I made the top."
The Humeses made a home in San Diego. In 1994, Esther and her granddaughter Laura Hansen traveled to attend the Younkin Reunion-East in Kingwood, Somerset County.
She is mentioned in the 1939 and 1940 editions of the original Younkin Family News Bulletin, the national newspaper published by her uncle Charles. She also is referenced in the 1970 book, A History of Mill Run.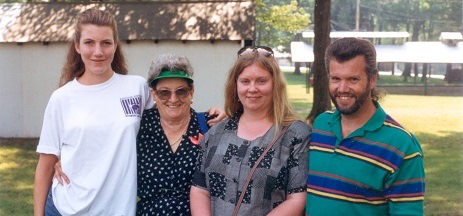 Esther Humes and granddaughter Laura Hansen (left) with Kathy and Roger Hensel at the 1994 Younkin Reunion East in Kingwood, PA.
~ Daughter Lois Jean (Younkin) Hensel ~
Daughter Lois Jean Younkin (1929-1973) was born in 1929.
She married William F. Hensel (1917-1985).
They moved to Scottdale, PA, in 1952 and bore two children -- Peggy Malone and Roger L. Hensel.
Lois belonged to the Mount Nebo United Methodist Church and its Missionary Society.
In 1955, Lois was badly injured "while holding a pan of hot grease in the kitchen of her home," reported the Daily Courier. She slipped and fell on the floor, "spilling the contents of her body and suffering second degree burns of the body, both hands, arms and neck."
Sadly, Lois died at the age of 44 on April 16, 1973. She was laid to rest at Green Ridge Memorial Park north of Connellsville.
William outlived his wife and died on Feb. 18, 1985 at the age of 67.
Daughter Peggy Hensel wedded (?) Malone.
Son Roger L. Hensel
Copyright © 2001-2002, 2006, 2009, 2020 Mark A. Miner