Home

David Harbaugh
(1831-1910)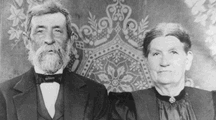 David and Mary
David Harbaugh was born near Scullton, Somerset County, PA, on Sept. 27, 1831, the son of Leonard and Martha (Minerd) Harbaugh. He was a veteran of the Civil War.
As an old man, David once testified that he spent his entire life on the farm where he was born. This was his parents' farm at what is now Clairton Lake near Scullton, of which he purchased a parcel as an adult.
In boyhood, David joined the Methodist Episcopal Church. He stood 6 feet tall, unusual for the time.
At the age of 21, he married 19-year-old Mary Magdalena "Lena" (or "Lany") Whipkey (1833-1930), the daughter of Peter and Hannah (Cramer) Whipkey. The Harbaugh wedding took place the day after Christmas in 1852, in Middle Creek Township, Somerset County. Among the witnesses were Rosann Geary and Marion Henry.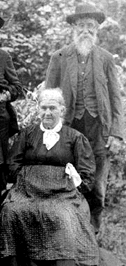 David and Mary
Mary was raised by an uncle and aunt, Daniel and Catherine (Cramer) Burkholder, after her mother died young.
They were the parents of a dozen children -- Albert Franklin Harbaugh, Robert Bacom Harbaugh Sr., Lucinda Younkin Johnson, Rosetta Minerd, Charles "Evans" Harbaugh, Joanna Laura Weyant, Martha Jane "Mattie"Laughery, Amos William Harbaugh, Mary E. Harbaugh, Letitia Alice Stoner, Susanna Conn Strickler and Sarah Ellen "Sadie" Ream.
The census of 1860 shows David and Mary and their four eldest children in their home. Next-door neighbors were his parents and half-brother Joseph Harbaugh.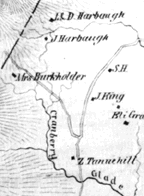 1860 map of the county
As the Civil War raged, David enlisted in the U.S. Army. He was assigned to Company D of the 5th Pennsylvania Heavy Artillery on Aug. 15, 1864. During his absence, Mary worked in the fields, cooked meals for their seven children and made all of the family's clothing Periodically, he sent money home so she could buy part of his family's farm along Cranberry Glade.
That farm, shared with his much older half-brother Joseph Harbaugh, today is part of the Clairton Anglers Club. Marked "J.&D. Harbaugh," the farm appears on a rare 1860 map of the township, from the Pennsylvania State Archives. The dotted line to the left of their farm is the mountainous border of Fayette-Somerset Counties. The meandering stream running between the two farms later was officially named "Harbaugh Run" which appears today on maps published by the US Geological Survey and in studies by the Pennsylvania Department of Environmental Protection. Click for more details.
David saw little action during the war except for a skirmish near Rectortown, VA. During the winter of 1864-1865, his regiment worked at the Bull Run/Manassas battlefield, burying thousands of dead soldiers whose rotting corpses had lain exposed since the battle the previous two summers earlier.
In October 1864, while at the Seward light artillery barracks at Alexandria, VA, David and his fellow soldier George F. Cunningham were the only two members of their regiment to cast absentee ballots in a congressional election in their home region of Somerset County. Lt. William H. Askins and Sergeants John A. Floyd and John M. McGratty were duly elected judges of the election, and Cpl. John J. Case and Pvt. James L. Sutherland served as clerks, to make sure the voting was carried out fairly. Interestingly, the only name on the ballot was William H. Koontz, running for Congress in the 16th District.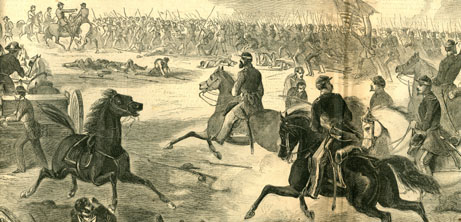 Above: cavalry charge at Manassas/Bull Run, and right, deceptively peaceful postwar view of the center of combat. Below, among the thousands of rotting corpses David helped to bury months after the battle ended.

David was discharged at Vienna, VA, on June 30, 1865, and he returned home. After David's safe arrival, said the Connellsville Daily Courier, "he cleared up newly acquired land and became a progressive farmer and stockraiser besides being skillful in mechanical work.... He was a sincere Christian" and "was always noted for his strict honesty, hospitality and all other of the best characteristics."
David and Mary produced five more children after the war.
The old Harbaugh family Bible -- seen here -- has been passed down among the family generations. The center pages are hand-inscribed with the many births and deaths of several generations of this branch. Lent to David and Mary's adult grandchildren in 1926, it survived a nearly disastrous fire and water-hose soaking when a Connellsville apartment building burned.
If one looks closely, one can see the scorch marks around the edges of the pages. The names and dates copied from this Bible were published in the 1947 book by Cora Bell and J.L. Cooprider, Harbaugh History, a standard reference of the family.
When the federal census was taken in 1880, David and Mary and seven of their children were in the household. Among their neighbors was George Steyer and Malachai Hartzell.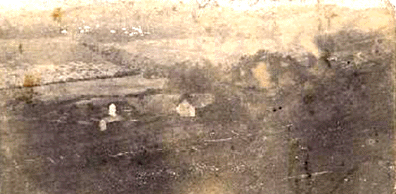 Above: the old farm at what today is the Clairton Anglers Club. Below: 1875 Atlas of Somerset County shows David's farm, Harbaugh Run and the Harbaugh School.

During his rambles and explorations of local mountain forests, David discovered and took home some fossils that had been embedded within a formation of lime rock on Laurel Hill. Said the Courier:
The deposits were evidently made when the mountain top was the bottom of a lake of fresh water. One of these petrified forms is a shell in a good state of preservation. Another is a tadpole in a similar condition, a perfect counterpart of his species of the present time. Remembering these were taken from the heart of a solid rock, how does it look for the Darwin theory of evolution?
In 1891, at age 60, when examined by physicians in connection with his military pension, David weighed 160 lbs. The doctors noted that his nutrition was "poor" and that he suffered from "stiffening in larger joints" along with "veins varicose on both legs, from knees to ankles; enlarged to 3 times normal size."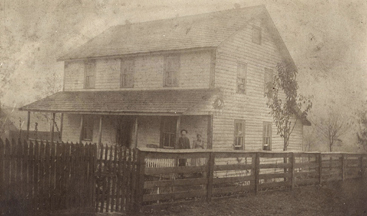 The Harbaughs' farm house, with David and Mary standing on the porch -- the frame structure has long since been torn down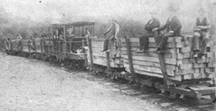 David riding a logging train
David may also have worked in the timber and logging industry, as his mountainous home region was laden with trees. He was once photographed, seated at the far right of a pile of boards on a train car of the Laurel Hill Lumber Company, "enroute to Kutztown with six cars of finished lumber."
Seen here, the photo was published in Benjamin F.G. Kline Jr.'s 1973 booklet, Stemwinders in the Laurel Highlands, which included material provided by David's grandson, Cyril 'Edgar' Ream. Click to see an enlargement.
Connellsville obituary, 1910
Son Albert Franklin is said to have fought with David over the use of a family horse. Infuriated, Albert left home and never returned. He is known to have lived in Walla Walla, WA and perhaps Arizona too.
In 1889, a new one-room school was built near the Harbaugh farm. Called the "Harbaugh School," it was in use until 1930, when the Great Depression forced a widespread consolidation into one large school building in Confluence.
David suffered from "heart dropsy" in his last years. He passed away at home on Dec. 13, 1910. When he was dying, many of his children and grandchildren came to the home, checking on his condition. David was propped up in bed, and when he took his last breath, and died, his young grandson Edgar Ream burst out in tears.
Mary survived her husband by two decades, and was blessed with many scores of grandchildren and great-grandchildren. The image seen here, of her seated on her 96th birthday, was our "Photo of the Month" for July 2006 -- click to see the full, enlarged view.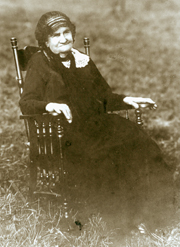 Mary on her birthday, 1926
As a widow, Mary received her late husband's federal pension for his military service. However, she needed help when corresponding with government officials. Grandson James "Franklin" Younkin wrote a letter on her behalf in 1926, attempting to document the date of her marriage to her husband. He wrote: "My grandmother has no learning and can neither read nor write. As near as we can get at it [the wedding occurred] about Dec. 25, 1851."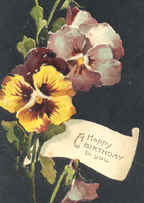 Leona's postcard
The birthday postcard, seen here, was sent to Mary in 1909 by her 13-year-old granddaughter Leona Laughery, who at the time was living in Vanderbilt, Fayette County. Leona wrote:
Hellow Grandma, How are you these days. We are all well and hope you the same. The baby is growing. We haven't named him. Our school starts in two weeks. Wishing you a happy birthday.
In August 1924, at the age of 92, Mary attended the annual reunion of her husband's Minerd-Miner family. She was mentioned in a resulting article in the Meyersdale Republican newspaper. The event was held at Lincoln's grove, near the Western Maryland Railroad Station in Confluence, with total attendance of 82 people. Among the other attendees were son Amos Harbaugh and his daughter Ruby Peck and grandson; daughter Rosetta Minerd and her sons John and Harry and their children; and daughter and son in law, Sadie and Joseph Ream, and the Reams' married daughter Bertha Conn. Son in law Joseph Ream served as the secretary-treasurer of the Minerd-Miner Reunion in at least the three year span of 1923 to 1925.
In 1926, Mary's 94th birthday proved to be the pivot point for the Harbaughs forming their own reunion. It was a picnic held in the waning days of summer in 1926, at the old Harbaugh farmstead. A panorama photo was taken that day by the New York Studio of Connellsville, PA. The event was covered with an article in the Connellsville Daily Courier on Aug. 31, 1926. The article reported:
MRS. MARY HARBAUGH
HONORED AT REUNION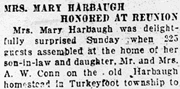 Mrs. Mary Harbaugh was delightfully surprised Sunday when 225 guests assembled at the home of her son-in-law and daughter, Mr. and Mrs. A.W. Conn on the old Harbaugh homestead in Turkeyfoot Township to celebrate the ninety-fourth anniversary of her birth. The affair was in the form of a family reunion and will remembered as a very enjoyable occasion. The family which dates from Casper Harbaugh, who settled in Somerset county in 1732, has spread to many points. Five generations were represented at the reunion by the following persons: Mrs. Harbaugh, her daughter, Mrs. George W. Johnson of Connellsville, the latter's daughter, Mrs. Laura B. Shroyer of Mill Run, Mrs. Shroyer's daughter Mrs. Gertrude Harbaugh and little daughter, Betty, of Mill Run. At noon a basket picnic dinner was served under the shady trees. Six of Mrs. Harbaugh's children and their families were present as follows: Mr. and Mrs. Conn, Mr. and Mrs. Johnston, Mr. and Mrs. W.C. Stoner, of Robinson, Ill., Mr. and Mrs. Joseph Ream of Confluence, Mrs. Rosetta Minerd of Markleton and Mr. and Mrs. Amos Harbaugh of Centerville. Thirty grandchildren, 35 great-grandchildren and five great-great grandchildren were in attendance. The only absent daughter was Mrs. L.L. Laughery of near Wilmington, Del., formerly of Vanderbilt. Other guests included the following grandchildren: Ira D. Younkin and family, Warren D. Younkin and family, Osborne Younkin, Miss Lena Younkin, all of Connellsville. Mr. and Mrs. Frank Shelkey of South Connellsville were also guests. The following officers were elected for the ensuing year: President, Warren D. Younkin; secretary, Miss Lena Younkin; treasurer, Dr. J.R. Silvis of Greensburg. Other members of the family were present from Greensburg, Pittsburg, Rockwood, Star Junction, Addison, Charleroi, Somerfield and Johnstown.
Mary's 94th birthday party, at the old homestead in 1926, the first of what became the annual Harbaugh Reunion. See reunion archives.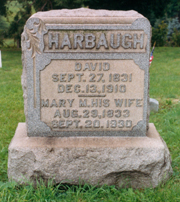 Imel Cemetery
This reunion continues today, as the longest-running reunion known in our family. Since 1926, though officially since 1929, the Harbaughs have gathered every summer in Western Pennsylvania to celebrate family connections and renew old ties. The reunion archives are published on Minerd.com, covering 1926-1929 and then from 1947 to 2000. Today, the reunions are held at Wharton Township Park at Farmington, Fayette County, PA, near US Route 40. The 2006 reunion was the Harbaughs' 77th annual event.
Mary died at age 97 on Sept. 20, 1930 at the home of daughter Lucinda at Snydertown, near Connellsville, PA. The Connellsville Daily Courier said she "had been bedfast only for 10 days and had been very active despite her advanced age."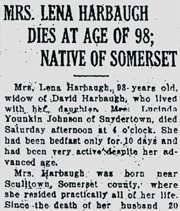 Connellsville obituary, 1930
The newspaper reported that at her death, she had 53 grandchildren, 89 great-grandchildren and 14 great-great grandchildren. The funeral was held at the Maple Summit Church of God, and she was buried with her husband at the Imel Cemetery near Clay Run, Fayette County.
Son in law David Leander Laughery served for many years as postmaster of Vanderbilt, PA, and later moved with his wife Mattie to Delaware.
Son in law Nathan C. Stoner built oil pumps in Sistersville, WV for a number of years, and later, after moving with wife Letitia to Robinson, IL, traveled throughout the nation selling oilfield leases.
Grandson Ira "David" Younkin was mayor of Connellsville, PA, and helped build the city's new airport. Grandson Charles Arthur Younkin was co-founder of the National Younkin Homecoming Reunion in 1934 and was editor of the Younkin Family News Bulletin from 1937 to 1941. Grandson Warren Dempsey Younkin was wounded with poison gas in World War I, and co-organized the first Harbaugh Reunion in 1926. The reunion was held on the old Harbaugh home farm.
David and Mary are pictured in a lavishly illustrated, 2011 book about their daughter Rosetta who also married a Civil War veteran -- entitled Well At This Time: the Civil War Diaries and Army Convalescence Saga of Farmboy Ephraim Miner. [More]
Copyright © 2000-2003, 2006-2007, 2010, 2017 Mark A. Miner
1860 map courtesy of the Pennsylvania State Archives. Manassas/Bull Run sketch originally published in Harper's Weekly, Aug. 3, 1861.