Home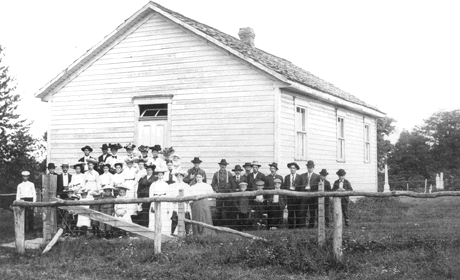 The Old Bethel Church of God, a small country church seen here in Hexebarger near Kingwood, Somerset County, PA, was a symbol of a national religious renewal among German-Americans in the 1830s and '40s. It's thought that cousins Harry David Miner and/or Minnie (Miner) Gary and their families are in this view.

John Winebrenner
John Hickernell
The Church of God movement was led by Rev. John Winebrenner, (left) who resigned from the German Reformed Church to found the new church in 1826 in Harrisburg, PA. One of Winebrenner's chief colleagues was Rev. John Hickernell (right), who helped found Old Bethel, the first Church of God to be planted in Somerset County.
Hickernell's work at Old Bethel personally touched a number of our cousins who resided nearby. They included Harrison and Catherine (Minerd) Barnhouse, whom Hickernell married in May 1849 -- perhaps coinciding with an early visit to Kingwood. Early members were Charles and Adaline (Harbaugh) Minerd and their children, and Ephraim and Rosetta (Harbaugh) Minerd, whose family attended for several generations, and whose descendants are buried in the adjoining cemetery. Today the wood-frame building is gone, replaced by a modern brick structure across the road circa 1959-1960. Several Minerd descendants, including Olive (Faidley) Gary and Orion Nicklow, served on the building committee for that project. It was known among local residents as the "Winebrennarian Church."
Another cousin, Eli Minerd, likely attended Old Bethel as a teenager. Later, in 1878, he and his wife Mary Ann joined the Mt. Pleasant (PA) Church of God, just a few years after the church was built under the leadership of another important, pioneering preacher, Rev. Peter Loucks. Later in his career, Hickernell served the Mt. Pleasant church, following Loucks' tenure.
On May 20, 1866, Church of God elder John A. Plowman preached an important sermon at Kingwood, "delivered to a large congregation," on the institution, form, administrator, subjects, mode, design and benefits of Christian Baptism. The sermon was reprinted, in book form, and today a copy is on file in the archives of the Historical Society of the Churches of God in Findlay, OH.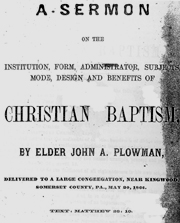 Book about 1886 revival in Kingwood
A widely respected authority on the Churches of God is none other than our cousin Dr. G. Richard Kern, whose wife Sharon (Sheldon) Kern is the daughter of Dorothy (Stoner) Sheldon and granddaughter of Letitia (Harbaugh) Stoner. Dick is the former President of the Winebrenner Theological Seminary in Findlay, OH, and retired Professor of History at the University of Findlay. The author of several books, Dick also has written many articles on "John Winebrenner and the Church of God" for The Church Advocate.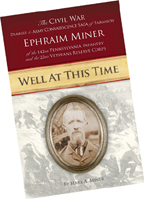 Book discussing Old Bethel,
its founder and members
More on Hickernell. Assigned to the church's Pittsburgh Mission in the 1840s, he served followers in five counties, including mountainous rural Somerset. He once wrote that "I have to ride two hundred and sixty or seventy miles going and coming my route." A manuscript history of Old Bethel says that he came to Kingwood and preached with "power and eloquence" and that his "journeys were made and sermons preached at different intervals and thereby the seeds of truth [were] being sown on good ground in 1850." Once the church was firmly planted, Hickernell returned in about 1858 to preach in a "camp meeting" and to dedicate the building seen here. He came again in 1873-1874. Said the history, Hickernell's "name and service in the cause of Christ will live for centuries in the memories of the rising generations of God's people..."
On a national scale today, the Churches of God, General Conference (as it's now known) has about 31,000 members. (Click here for more history of the church.)
Old Bethel is discussed and pictured, as well as the role of Hickernell and his influence on the Kingwood community, in a lavishly illustrated, 2011 book -- entitled Well At This Time: the Civil War Diaries and Army Convalescence Saga of Farmboy Ephraim Miner. The book, authored by the founder of this website. [More]

The Old Bethel Church, July 2011
Copyright © 2002, 2005, 2011 Mark A. Miner
Renderings of Winebrenner and Hickernell from the History of the Churches of God in the United States of America by C.H. Forney, D.D., LL.D. (Publishing House of the Churches of God: 1914). Plowman's sermon courtesy of the Churches of God Historical Society.