Home

Margaret (Younkin) Pisel
(1835-1906)
Margaret (Younkin) Pisel was born on July 14, 1835 in or near Somerset, Somerset County, PA, the daughter of Abraham and Mary Ann "Polly" (Haupt) Younkin.
She was wedded to James Pisel (1835-1897), son of Joseph and Anna Pisel.
Their known children were Ellen Ralston Johns, Charles Pisel, Mary Hunsicker and Edward B. Pisel.
When the federal census was taken in 1860, the family dwelled in Somerset Borough, with James earning a living as a shoemaker. They remained in the borough through the 1860s and were there in 1870, with James continuing his work manufacturing shoes.
By 1880, the Pisels made the decision to relocate the shoemaking business to Akron, Summit County, OH, where they are shown on the census that year, with their 15-year-old son Edward living in their home. They were still in Akron in May 1891 when receiving word of the death of James' widowed mother in Somerset.
The couple's address in Akron was 110 Falor Street.
In June 1889, the Pisels received word of the tragic Johnstown Flood in a community near their hometown of Somerset. Reported the Summit County Beacon, James "had one sister, one nephew and two nieces in the Johnstown disaster."
The family entertained a visit in August 1894 from niece Mary Fleck, daughter of Margaret's sister Christianna Fleck of Somerset. The news was printed in the gossip columns of the Beacon. That same month, Margaret was the victim of a clever swindle at home. One morning, said the Akron Beacon Journal, a "well dressed and smooth tongued individual" came to their front door, bearing a small package which had been "neatly and securely" wrapped. He told Margaret that he worked at the local express office and was delivering a package sent from Somerset, PA, and he asked for 85 cents for a delivery fee. She promptly paid him, and he left. To her shock, when opening the package, she found that it "contained a cigar box in which there were two pieces of brick and some old paper. The man had put the woman's address on the package and had learned somewhere that Mrs. Pisel had relatives in Somerset."
Circa 1895, the Pisels relocated to Barberton, Summit County.
James only lasted two years after the move. Stricken with peritonitis and pneumonia, which caused what a newspaper called "great suffering," he passed into eternity on Dec. 3, 1897. A notice of his death was printed in the Beacon Journal.
After suffering a stroke, Margaret died in the home of her son Edward, at 96 South College Street, on St. Patrick's Day 1906. An obituary was printed in the Beacon Journal, which noted that she "was the widow of James Bisel and an estimable, Christian woman." Her remains were lowered into eternal sleep in Glendale Cemetery.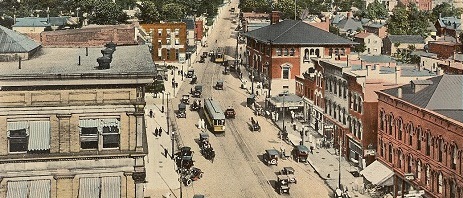 Bird's eye view of East Market Street, Akron, Ohio
~ Daughter Ellen Ralston "Ella" (Pisel) Johns ~

Somerset Herald, April 14, 1875
Courtesy Dan Floyd and the Library of Congress
Daughter Ellen Ralston "Ella" Pisel (1857-1922) was born on Jan. 9, 1857 in Somerset, Somerset County, PA.
On April 8, 1875, at the age of 18, she was united in marriage with 25-year-old William Mackey Johns (Aug. 14, 1849-1892), also of Somerset. L.F. Bittle officiated at the wedding, with the news covered in the pages of the Somerset Herald.
The Johnses produced four children, among them Charles Henderson Johns, Elizabeth "Lizzie" Johns, Margaret "Maggie" Johns and Gertrude Oakley.
Circa 1877-1878, in between the births of their daughters Elizabeth and Margaret, the Johnses migrated to Ohio, making their new home in Akron, Summit County, where he found work as a plasterer.

East Cleveland Cemetery
Courtesy Dan Floyd
Sadly, William died on March 4, 1892, at the age of 42. The cause of his untimely passing is not yet known. His remains were placed into repose in East Cleveland Cemetery.
Ella survived her spouse by three decades. As a widow, she maintained a home at 2830 Sedgwick Road in Shaker Heights, Cuyahoga County.
She suffered for a decade from heart problems and, on Dec. 2, 1922, died from acute gastritis at the age of 65. Interment was in East Cleveland Cemetery, with daughter Mrs. C.L. Anderson signing the official Ohio certificate of death. On the document, the maiden name of Ella's mother was written as "Duncan" instead of "Younkin."
Son Charles Henderson Johns (1875-1936) was born on Nov. 28, 1875 in Somerset County, PA. As a boy, he relocated to Ohio with his parents and grew up in Akron. Unmarried at the age of 24 in 1900, he worked as a motorman in Cleveland and lived with his widowed mother. On Oct. 1, 1902, in Cuyahoga County, OH, he was joined in wedlock with 19-year-old Lillie Pearl Jenks (1883-1968), daughter of Charles William and Lillie E. (Ebright) Jenks of Canton. Rev. Alfred W. Stone officiated. At the time of marriage, he was employed as an inspector and she as a stenographer. The couple bore one known daughter, Gladys L. Schumacher. When the United States Census was enumerated in 1910, the Johnses shared a residence with Lillie Pearl's widowed mother in Cleveland. Charles earned a living in 1910 as a dispatcher for a street railroad. In 1920, their home was on East 133rd Street, with Charles working as a foreman for a steel company. In 1930, his occupation was as a merchant in a confectionary store. With the country in the grip of the Great Depression, he then found a job as a clerk in the property department of the Cleveland Railroad Company. Sadly, at the age of 60, Charles contracted a deadly case of influenza and bronchial pneumonia. The Angel of Death swept him away on April 1, 1936. Burial of the remains was in East Cleveland Township Cemetery. Lillie Pearl survived him by more than three decades. She succumbed to death in 1968.
Granddaughter Gladys L. Johns (1905- ? ) was born in about 1905 in Ohio. At the age of 21, in about 1926, she was united in matrimony with (?) Schumacher ( ? - ? ). Two offspring were born of this union -- Marilyn Schumacher and Janice Schumacher.
Daughter Elizabeth C. "Lizzie" Johns (1877-1964) was born on July 8, 1877 in Somerset, Somerset County, PA. She earned a living as a dressmaker in Cleveland, Cuyahoga County, OH in 1900. At the age of about 25, in 1902, she was joined in the bonds of wedlock with George E. Kieffer (1876-1961), son of Michael and (?) (Stumps) Kieffer of Cleveland. The couple dwelled in Cleveland and were the parents of Kathryn Ellen Sevebeck. The federal census of 1910 shows George's occupation as a bookkeeper at a paper manufacturing company. Their home in 1920 and 1930 was along Herrick Road in Cleveland, with George continuing to work for a paper company in the credit management department. With their daughter in Pittsburgh circa 1960, and their health failing, the couple relocated to the Steel City, where they were admitted to the Cartwright Convalescent Home in Imperial, Allegheny County, PA. After a stay there of seven months, and burdened with hardening of the arteries and senility, George died on Feb. 2, 1961, at the age of 83. Elizabeth outlived him by three years. She passed into eternity, also at Cartwright, on June 10, 1964. The Pittsburgh Post-Gazette published a death notice. They are at rest in Lake View Cemetery in Cleveland.
Granddaughter

Kathryn Ellen Kieffer

(1903-1980) was born in about 1903 in Cleveland. In young adulthood, she graduated from Western Reserve University and pursued a career as a teacher. On Oct. 16, 1926, when she was 24 years of age, she married 26-year-old draftsman Donald H. Sevebeck (1920- ? ), son of Otto C. and May (Larkin) Seveback. The marriage was officiated by Rev. Robert G. Huggins of New Britain, CT. The couple put down roots in Cleveland and produced a daughter, Kathryn "Ann" Augenstein Nusbaum. Census enumeration records for 1930 show Donald working as an estimator for a bronze works. The last half of the decade of the 1930s, with American in the grip of the Great Depression, saw a job change and relocation to Buffalo, NY, where Donald accepted a position as special representative for a wholesale glass and paint company. The couple were in Buffalo when the 1940 census was taken. By 1947, they migrated again to Pittsburgh and dwelled in Brentwood in the South Hills. While in Pittsburgh, she became the first educator to teach at St. Edmunds Academy, a private day school for preschool through eighth grade. Still in Pittsburgh in 1955, Kathryn was involved in planning for a Women's Chapter of the Pittsburgh Regional Club of Western Reserve University. Later still, they moved to Chicago and thence by 1976 to Carefree, AZ. Kathryn passed away in Carefree at the age of 77 on June 7, 1980. The funeral was held in Phoenix, and a death notice was published in the

Chicago Tribune

.
Great-granddaughter Kathryn "Ann" Sevebeck ( ? - ? ) was born on (?). On Aug. 14, 1948, she married John Russsell Augenstein ( ? - ? ), son of Fred A. Augenstein of Brentwood. News of the marriage was published in the Pittsburgh Sun-Telegraph. Two children were born to this union, Michael Augenstein and Donna K. Augenstein. The Augensteins were in Pittsburgh circa 1964. Later, by 1980, she married (?) Nusbaum ( ? - ? ).
Daughter Margaret Mae "Maggie" Johns (1878-1949) was born in Nov. 1878 in Somerset County, PA. (Some sources list her birth year as 1884.) She was married twice. Her first spouse, whom she wed in Cleveland on Sept. 12, 1900, was 23-year-old Leander James Hoover ( ? - ? ), son of Emanuel and Mary (Hidelbaugh) Hoover. Rev. J.Z. Tyler officiated. At the time of marriage, Leander dwelled on the Logan block of Cedar Avenue and was employed as a clerk. Leander died sometime in or before 1934, and Margaret wedded Charles Anderson ( ? - ? ). The couple dwelled in the Shaker Heights section of Cleveland in 1934. That year, they were sued by the Hoover estate for $500,000, alleging commingling of estate funds with personal funds, failure to file annual accounting reports and selling securities without proper financial accounting. Later, they relocated to Zanesville, Muskingum County, OH and lived at 2735 Martin Road. As Margaret bore heart disease, which developed into heart failure, she was admitted to Good Samaritan Hospital. She died there as a patient, at the age of 65, on Dec. 23, 1949. After funeral services preached by Rev. Dr. Jacob H. Goldner, her remains were returned to Cleveland for burial at Acacia Cemetery in Shaker Heights. A short obituary appeared in the Zanesville Times Recorder.
Daughter Gertrude Johns ( ? - ? ) was born on (?). She was united in matrimony with (?) Oakley ( ? - ? ). In 1964, her home was in Raleigh, NC, at a time when she was named in the Pittsburgh Post-Gazette death notice of her sister Elizabeth Sevebeck. Research is underway to determine if she married Charles Oakley and in 1907, in Norfolk, VA, bore a daughter Mildred Zanger.
~ Son Charles L. Pisel ~
Son Charles L. Pisel (1858-1924) was born on March 28, 1858 in Somerset, Somerset County, PA.
When a young man, in 1879, he relocated with his parents to Akron, Summit County, OH and obtained work in factory of Diamond Match Company.
He married Lovina Adelia Winkelman (April 30, 1861-1940), a twin with her sister Melvina Amelia Baus and the daughter of Mary Winkelman.
Lovina grew up in a house across the street from a fledgling rubber manufacturing business, B.F. Goodrich, later one of the nation's industrial giants.
The Pisels bore a daughter, Bertha Wise.
Circa 1880, the newlyweds resided with Lovina's widowed mother in Akron. At some point he worked as an engineer at the municipal water works plant. Eventually he was named superintendent of the Peoples Savings & Loan Company building in Akron. Circa 1920, the Pisels moved to 33 North Forge Street in Akron. He belonged to the Odd Fellows lodge and the High Street Church of Christ.
Charles was burdened with heart and kidney problems and died at the age of 66, on Dec. 1, 1924, from the effects of acute kidney infection. Burial was in Glendale Cemetery, with Rev. George W. Knepper officiating. In providing details for the Ohio death certificate, Lovina spelled her mother-in-law's maiden name as "Young." An obituary in the Akron Beacon Journal noted that he "had been a resident of Akron for 45 years."
Lovina survived as a widow for another 16 years. She was active in "several leading Akron historical organizations," reported the Beacon Journal, including the Fifty Year Club and Summit County Historical Society. She also held a membership in the Womens Christian Temperance Union. Her final years were spent with her married daughter at the address of 33 North Forge Street. When reaching their 75th birthdays, the Beacon Journal published a feature about the twins:
Seventy-five years ago today -- as the first shots thundered against Fort Sumter -- twin girls were born in a small wooden house at what is now S. Main and Exchange sts. The years have rolled by and many persons who have passed the three score mark have forsaken the old ways fo rthe new, looking back in some derision on the old-fashioned ways of their younger years. It is not so with Mrs. Lovina Adelia Pisel and Mrs. Melvina Amelia Baus -- those twin babies of 75 years ago, now Ohio's oldest twins. Quietly celebrating their 75th birthdays today, and asked if they would rather begin life in the complex modern era both declared they would not. "We have lived through the greatest period of advancement and excitement that America will ever see. Ours was the age of chivalry; yours is the age of speed," they agreed.
After suffering a six-week illness, Lovina succumbed to death in Akron City Hospital at the age of 79 on June 28, 1940.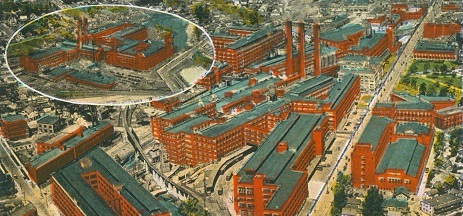 Harry Wise's

workplace, Goodyear Tire and Rubber in Akron.
Daughter Bertha Pisel ( ? - ? ) was born in (?). In June 1907, she married Harry S. Wise ( ? -1957). News of their engagement was published in the Akron Beacon Journal. The Wises raised a foster daughter, Gloria Batchik. They were in Cleveland in 1908. By the 1930s, they were back in Akron. Harry spent the initial years of his career with B.F. Goodrich Company, Diamond Rubber Company, Cowing Engineering Company of Cleveland and the E.W. Bliss Company of New York before going on to 37-years with the engineering department of Goodyear Tire & Rubber Company. While with Goodrich in May 1898, he and several co-worker tire builders were photographed on Akron's "boardwalk" on Main and Howard/Market Streets, with the picture appearing many years later in 1938 in the Beacon Journal. Bertha herself made history as one of Goodyear's first telephone operators, working in plant #1. She is known to have assisted her mother in hosting meetings of the Womens Christian Temperance Union. Harry belonged to the Trinity Lutheran Church, and Bertha to the High Street Christian Church, and Harry was a member of the Yusef-Kahn Grotto and the Adoniram lodge of the Masons. Their address for decades was at 33 North Forge Street in Akron. Sadly, Harry died at the age of 79 on June 1, 1957. Co-officiating at the funeral service were Rev. Dr. Fred C. Wiegman and Rev. Franklin H. Minck, with interment of the remains in Glendale Cemetery. A death notice appeared in the Beacon Journal. Bertha is thought to have survived another 11 years. As a resident of Arlington House Nursing Home, she succumbed to the Grim Reaper on June 2, 1968.
Foster granddaughter Gloria Wise married (?) Batchik. Circa 1957, she resided in Portage Lakes, OH and in 1968 was in Akron.
~ Daughter Mary (Pisel) Hunsicker ~
Daughter Mary Pisel (1860-1888) was born on Aug. 9, 1860 in Somerset, Somerset County. She became a Christian at the age of 14, in about 1874.
At the age of 19, circa 1879, she moved with her parents and brother to Akron, Summit County, OH.
In about Dec. 1879, she was united in the bonds of holy wedlock with Alfred F. Hunsicker (1856- ? ). News of their marriage license was printed in Akron's Summit County Beacon. When the federal census enumeration was made in 1880, Alfred is shown as working as a carpenter.
Mary was "a faithful and devoted wife," said the County Beacon, and "was loved by all who knew her." She was an active volunteer worker with the Disciples and Grace Reformed church congregations in Akron. The couple's home in the 1880s was on Fay Street.
Tragically, Mary contracted a deadly disease in the early autumn of 1888. She endured "weary weeks of patient suffering," said the County Beacon. No cure was to be had. She succumbed at home at the age of 28 on Oct. 29, 1888. Her funeral was conducted the pastors of both of the churches with which she was affiliated, and was held in the First Disciples Church.
~ Son Edward B. Pisel ~
Son Edward B. Pisel (1865-1944) was born on March 28, 1865 or 1866 in Somerset, Somerset County. As a boy, he relocated with his parents to Akron, Summit County, OH, and in 1880, as a 15-year-old, worked there in a pottery.
He appears to have been twice-wed.
His first wife was Annette (Sept. 1869- ? ). They tied the knot in 1889, but did not reproduce.
The couple is shown together in the 1900 federal census of Akron.
Then, at the age of 36, on April 8, 1901, he was joined in wedlock with 35-year-old Hulda Lindsay ( ? - ? ). The couple made a home in Akron. The marriage was troubled, and in May 1902, Edward printed a classified advertisement in the Akron Beacon Journal, saying he would "not stand responsible for any bills contracted by my wife." Hulda filed for divorce in January 1904. Her complaint was a "long chapter of alleged cruel wrongs," said the Summit County Beacon.
Three days after the wedding, she said, "he called her an 'old thing,' cursed her and used other insulting and abusive language. On May 1, the same year, she alleges he called her names too vile for publication; that in July, 1901, he consigned her to the warm regions, so to speak, and a year later knocked her out of the bedroom, pulled her back again, wrenched her wrist, and afterwards abused her while sick... [She] alleges that he bought her nothing but one coat, one waist, two pairs of stockings and a 50-cent hat for her daughter. She was a widow when she married the defendant, and claims that he makes $30 every two weeks." The judge of the Court of Common Pleas dismissed the case as without merit and assessed the lawyer's fees to Hulda.
Edward and Hulda appear to have smoothed over their differences. The gossip columns of the Beacon Journal reported in May 1906 that they had gone together for an extended visit to Grand Rapids, MI. But she again filed for divorce in November 1906. Again in 1918, the local newspaper said the couple, along with Martha Pisel, took a driving vacation to Toledo and Detroit.
Over the years, Edward made a living as a carpenter. He and Hulda were sued in 1913 by Alfred A. Hozhauer, who stated that he had never been paid his fee of $157 for roofing an apartment house which Hulda owned. In the 1930s, he moved to 3722 Meadowbrook Drive in University Heights, Cuyahoga County, OH.
On the fateful night of April 20, 1944, while Edward was smoking, his clothes caught fire and he was burned to death. The coroner examined the body and noted extensive second and third degree burns. Burial was in Cleveland's Lakeview Cemetery, in Section 4, lot 669. Hulda signed the death certificate, giving her mother-in-law's maiden name as "Margaret Bevens."
Copyright © 2016-2017, 2020 Mark A. Miner
Research for this page graciously shared by Dan Floyd, the late Olive (Rowan) Duff and the late Donna (Younkin) Logan.