Online Museum of Creativity
Item: Acrylic Painting
Creator: Sue Ellen (Colbert) Martin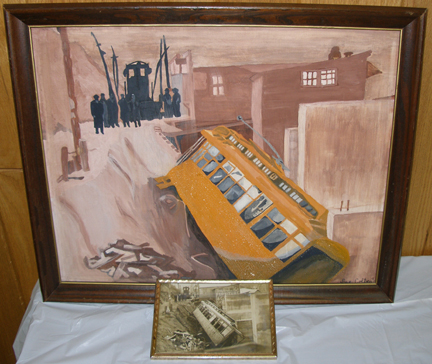 Sue Ellen (Colbert) Martin painted this historical scene in acrylic as a student at the age of 14. It is based upon an original photograph showing a trolley wreck in December 1913 at the "end of the line" in Dickerson Run, PA. Sue Ellen's grandfather, Charles Cleveland Colbert, was the conductor of the trolley, and was trapped under the wreck before being successfully rescued. Fourteen passengers were injured. The painting was displayed at our 2006 reunion. Sue Ellen is the great-granddaughter of John Vough Jr. and the great-great granddaughter of Missouri (Younkin) Wingerd of Rockwood, PA.
Click for next artifact
Return to index page
Copyright © 2006 Mark A. Miner.