Missouri (Younkin) Wingerd
(1861-1936)

Missouri Wingerd
Missouri "Zouri" (Younkin) Wingerd -- also nicknamed "Sissy" -- was born on Dec. 11, 1861 at South Milford Township, near Rockwood, Somerset County, PA, the eldest daughter of William "Shedrick" and Caroline (Cupp) Younkin.
In 1879, when she was 18 and unmarried, Zouri gave birth to a son, John Vought Jr. (The name is pronounced "Vote.") She opted not to marry the boy's father. Her own father then signed a legal agreement to keep and maintain the boy at his own expense.
In 1906, unmarried at age 45, Zouri went to Connellsville, Fayette County, PA to visit her cousin Mrs. Harvey Shaffer during the city's Centennial celebration. This tidbit of news was reported by the Connellsville Daily Courier. Later that same year, the Daily Courier said that George "had been working … on the B. & O. repairs…" in Connellsville.
Zouri later was joined in wedlock with George E. Wingerd (July 1, 1861-1934), also spelled "Wingard" and "Wengerd." He was a lifelong resident of Rockwood and the son of Ala and Mary (Sanner) Wingerd.
They did not reproduce.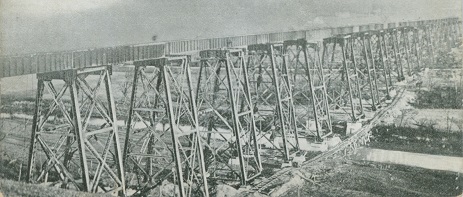 Western Maryland Railroad viaduct, Meyersdale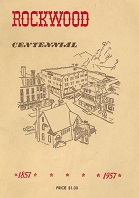 Booklet naming
the Wingerds
It's believed that in the late 1890s, George operated a cigar factory on Rockwood's Main Street. Mentioned in the commemorative booklet Rockwood Centennial 1857-1957, his shop was located "where Johnny Meyers' store now stands." They also owned a building in which Robert E. Meyers operated a grocery store for 35 years. Zouri later sold the building to Z. Ed Miller, and after five years, he sold it to Harry Miller, son of "Blinky" Miller. Circa 1935, the grocery was owned by John P. Meyers.
George was a railroader, said once by the Somerset County Leader to be "employed by the Western Maryland Railroad as foreman of the maintenance of ways, with headquarters at Rockwood." The famous viaduct of the Western Maryland at nearby Meyersdale, Somerset County, is seen here in a vintage photograph postcard.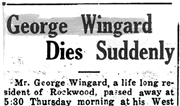 Somerset County Leader, 1934
The Wingerds belonged to the Rockwood Evangelical Church.
In 1920, Zouri's second cousin and neighbor, Martha (Minerd) Gorsuch, named her as a credible witness in a government investigation involving Martha's missing husband, an old Civil War pensioner.
Toward the end of his life, George began to suffer from coronary artery disease. Then on Aug. 30, 1934, at the age of 73, George died suddenly at home. Said the Leader, his "death [was] caused, it is believed, by a heart condition superinduced by high blood pressure." His funeral was conducted by another of Zouri's second cousins, Rev. William Mullen Minerd. George was buried at the Rockwood IOOF Cemetery.
Zouri herself was burdened with cardiovascular and kidney ailments. She passed away of those causes two years later, on Sept. 11, 1936, at the age of 74. Her brother Grant Younkin was the informant for her official Pennsylvania certificate of death. She was laid to rest beside her husband. Red barre granite markers stand today at their graves.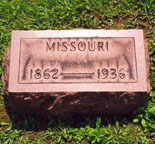 Graves of Zouri and George, IOOF Cemetery, Rockwood
~ Son John Vough Jr. ~


John and Ella (Swarner) Vough Jr.
Son John Vough Jr. (1879-1932) was born on March 30, 1879.
He was married twice. His first wife was a cousin, Martha Ellen "Ella" Swarner (1882-1915), with the wedding taking place in about 1901. Ella was daughter of Henry and Barbara (Younkin) Swarner, and granddaughter of Frederick F. and Sarah (Faidley) Younkin. Theirs' was one of many intertwined marital unions between the Younkin and Minerd clans over the years.
The Voughs produced three children -- Ostie Heinbaugh, Olga Heinbaugh and Oren Vough. (While the "t" at the end of the "Vough" name dropped away during the 20th century, the family name generally is still pronounced in Somerset County as "Vote.")
Early in their marriage, about 1905 or '06, John and Ella moved to Kansas, where they spent many years in the town of Junction City. See the Minerd.com study of other Somerset County Younkins who also migrated to Clay and Geary Counties, KS.

The 1910 federal census shows the family in Geary County, KS, with John working as a farmer. Residing in their home that year were their three children, all born in Pennsylvania, along with farm laborer Louis Marker and boarder H.F. Fleming, a railroader. A newspaper article in 1912 reported their home as "Sole, Kansas." In July 1912, Ella returned to Rockwood to visit her ailing mother.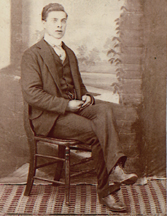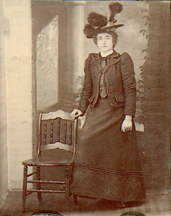 John and Ella Vough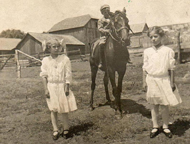 Vough girls with "Topsy"
Seen here, the Vough children at play on the Kansas farm with their beloved horse "Topsy."
In about 1913, a few years before Ella died, the Voughs returned to Rockwood. It is possible that they attended the first annual Minerd Reunion, held that August in Ohio Pyle, Fayette County, PA, but this is speculation.
Ella was afflicted with gall stones, and tragedy struck when this led to a rupture of her gall bladder in mid-July 1915. After trying to recover for two days, her body gave out, and she died on July 15, 1915. She was only age 32. She is buried in the Rockwood Odd Fellows Cemetery.
When the federal census enumeration was made in 1920, the widowed John dwelled with his daughter Olga and son Oran in the home of his widowed mother-in-law in Black Township.
Later, on April 5, 1922, when he was age 43, John married 27-year-old Lillian "Grace" (Conn) Marker (1895- ? ), daughter of Jacob and Elizan (Tannehill) Conn of Lower Turkeyfoot Township and widow of Harry Marker ( ? -1918). Grace is believed to have brought two children to the marriage, Harriet Marker and Everett Marker.

Junction City, KS, near the Union Pacific Railroad station
The federal census of 1930 shows the Voughs making their home in Black Township and living next door to John's niece and husband, Olive and Clark Melvin Younkin. The census-taker marked John as a coal mine laborer.
In the mid-1930s, Ella's branch of the Younkin family was researched in connection with the National Younkin Home-Coming Reunions held at Kingwood, Somerset County, and which drew more than 1,000 people a year during the heart of the Great Depression. Ella and John mentioned are specifically in genealogy notes compiled and typed by reunion president Otto Roosevelt Younkin circa 1934. (Click here to see the first set of pages and second set of pages.) As well, Ella's mother was mentioned in a letter by reunion secretary Charles Arthur Younkin, who was actively writing to many of the Younkin branches to figure out who was who. Click here to see the actual letter, dated March 7, 1937.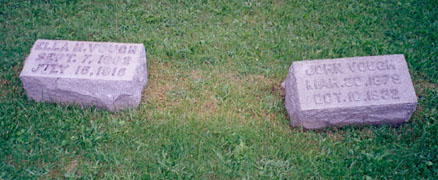 John and Ella's graves at Rockwood Odd Fellows Cemetery

Meyersdale Republican, 1932
Of John, the Meyersdale Republican once said that he:
...did quite a bit of farming during his younger years. Later, his chief occupation was mining. He was a handy man at nearly any kind of work. He was loyal and of a kind disposition and had no bad habits, and being a man of such type he had many true friends who held him in high esteem.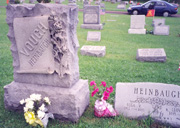 Rockwood IOOF Cemetery
In 1932, the 53-year-old John was employed "working on the state highway shoveling shale from a heap on the ground upon a motor truck, near the barn of Mr. Arthur Snyder in Black Township." On Oct. 13 of that year, while shoveling, he suddenly collapsed from a cerebral hemorrhage, and fell into the arms of fellow laborer, William Eagle (who was the husband of his cousin Grace Hauger). He died immediately, and was laid to rest in the Rockwood IOOF Cemetery. Son-in-law Amos Heinbaugh of Rockwood served as the informant for the Pennsylvania death certificate.
Grace remained a widow for about six years and lived during that time in New Centerville, Somerset County. Then, in a ceremony held on Nov. 26, 1938, in New Castle, Lawrence County, PA, officiated by Rev. F.E. Stough, she wed again at the age of 44 to 53-year-old farmer Charles Magne Whipkey (Sept. 3, 1885-1957). He was the son of Jesse and Clara (Barron) Whipkey of Middlecreek Township, Somerset County. Charles' first wife, Carrie Pyle, had died on May 18, 1931, and he brought three children to the marriage, Reid E. Whipkey, Jay B. Whipkey and Alverta Ream (wife of Wilbur). Charles was a retired farmer and insurance agent. The couple dwelled at 437 West Main Street in Rockwood, and Charles belonged to St. Paul's Lutheran Church in Rockwood. Sadly, he suffered a cerebral hemorrhage in about April 1957 and succumbed two months later at home at the age of 71 on June 2, 1957. Interment was in Barron Cemetery, officiated by Rev. J. Edward Lija, with obituaries appearing in the Connellsville Daily Courier and Meyersdale Republican.
Stepson Everett L. Marker (1919- ? ) was born in about 1919. At the age of 11, he dwelled with his mother and step-father in Black Township, Somerset County. He resided in Berlin, Somerset Couinty in 1957.
~ Granddaughter Ostie (Vough) Heinbaugh ~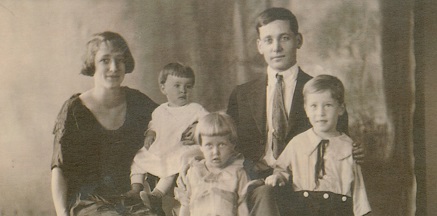 Circa 1923, L-R:
Ostie, Betty Jean, Althea, Amos and Dale
Ostie Vough (1901- ? ) was born on Jan. 13, 1901 in or near Rockwood, Black Township, Somerset County. She became a member of St. Luke's Lutheran Church in Rockwood.
She married Amos Bruce Heinbaugh (Jan. 2, 1898-1981).
Their children were Betty Jean Hall, Dale Wayne Heinbaugh, Althea Aileen Heinbaugh and Shirley Jo Ann Colbert.
In the late spring of 1927, Ostie and Amos and their young family traveled to Kansas to visit her aunt, Amanda "Mandh" (Marker) Snyder. Heartache swept over the family when son Dale (age 8) and daughter Althea (age 6) both caught a deadly fever and passed away on June 21 and June 23, 1927, respectively. Their tender remains were transported back to Somerset County to rest in the Rockwood IOOF Cemetery.
The Heinbaughs lived in Lemont Furnace near Uniontown, the county seat of Fayette County. There, in 1947, he joined the newly organized Texas Eastern Transmission Corporation. He was employed as a station operator until retirement on New Year's Day 1964. He was pictured in a story about his retirement in the Uniontown Morning Herald.
Sadly, Ostie passed away in Uniontown on July 20, 1966, at the age of 65. An obituary in the Somerset Daily American noted that services were held in the Wood Funeral Home in Rockwood, led by Rev. Hillis G. Berkey.
Amos survived his wife by 15 years. His address in the early 1970s was 40 Devan Avenue in Uniontown. He joined her in death on Oct. 29, 1981.
Daughter Betty Jean Heinbaugh (1922-2008) was born on Nov. 3, 1922 in Rockwood. She married Charles W. Hall ( ? - ? ). They had one daughter, Gayle Dillinger. Betty was a member of the Albright United Methodist Church of South Connellsville, Fayette County and of Red Hatters of Uniontown, PA and AMVETS of Hopwood. After the death of her husband, Betty became a companion of Sam D. Snyder of Hopwood, Fayette County. Betty attended a number of our national reunions in the mid-2000s. For the 2006 reunion, she brought afghans she has hand-made for display and to be photographed for our Museum of Creativity. One of Betty's quilts is featured in our Online Quilt Museum. Betty Jean entered eternity on May 12, 2008. An obituary in the Uniontown Herald-Standard reported that burial was in Rockwood Cemetery.
Granddaughter Gayle Hall married (?) Dillinger. She resided in Columbus, Franklin County, OH and produced two children -- Amy Dillinger and Greg Dillinger.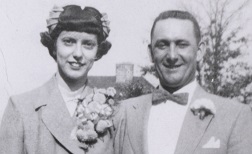 Wedding day, Shirley and Harold Colbert
Daughter Shirley Jo Ann Heinbaugh (1931-2000) was born on Aug. 25, 1931 in Rockwood. While she attended Rockwood High School, she actually graduated from Waynesburg High School in Greene County, PA. In her early 20s, Shirley was employed by the Elite Beauty Shop in Uniontown. On Nov. 16, 1953, when she was 22 years of age, Shirley was wedded to Harold W. Colbert (Oct. 15, 1917-2005), son of Edna Colbert of Lemont Furnace, Fayette County. He was 14 years older than his bride. Their marital union lasted for 47 years until the separation of death. The wedding was held in the parsonage of the Albright Evangelical United Brethren Church in South Connellsville, with Rev. R.A.Nelson officiating. Reported the Somerset Daily American, Shirley "was attired in a pecan brown suit with dark brown accessories and a corsage of yellow pompons. As only attendant for her sister, Mrs. Betty Hall, wore a gray suit, black accessories and a corsage of white pompons. Serving as best man for Mr. Colbert was Charles Hall, brother-in-law of the bride." The couple produced two children, Kim Wayne Colbert and Sue Ellen Martin. Harold was one of many of our cousins and their spouses to be employed by West Penn Power Company. Circa 1956, their home address was 72 Devan Avenue in Uniontown, Fayette County. Shirley was a member of Calvary United Methodist Church, Johanna Circle, North Union Veterans of Foreign Wars Post 8543 Auxiliary, Uniontown American Legion Post 51 Auxiliary, AMVETS Post 88 in Greensburg and AMVETS Post 103, Hopwood. Sadly, Shirley passed away in Beverly Healtcare Center on Aug. 14, 2000, just 11 days shy of her 69th birthday. Funeral services were led by Rev. H. Melvin Shultz, with the American Legion and the VFW holding their own services, followed by interment in Sylvan Heights Cemetery. Reported a newspaper, "Shirley was a caring, devoted wife, mother and sister. She will be sadly missed by her family." Harold survived his wife by five years. He joined her in death on April 27, 2005. A quilt made by Shirley is highlighted in the Minerd.com Online Quilt Museum. As well, Shirley's daughter, Sue Ellen (Colbert) Martin, an artist, brought an acrylic painting she created to our 2006 reunion, and one of her own quilts, a tractor pattern, to our 2005 reunion.
~ Granddaughter Olga (Vough) Heinbaugh ~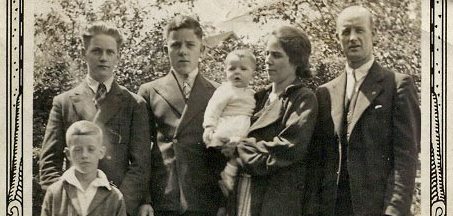 L-R: Wayne, Bernard, Donald, baby Lloyd, Olga and Lloyd

Olga Vough (1902-1993) was born in 1902.
She married Lloyd J. Heinbaugh (1893-1983), the son of Milton and Alice (Marker) Heinbaugh of Rockwood, Somerset County.
They produced four sons, Bernard Heinbaugh, Donald Oren Heinbaugh, Wayne R. Heinbaugh and Lloyd Van Heinbaugh.
The photograph seen here was taken of Olga and Lloyd's family in the spring of 1938 when their son Lloyd was baptized.
During World War I, Lloyd served as a corporal in the U.S. Army Medical Corps. He enlisted in Columbus, Ohio on Oct. 4, 1917 until the Armistice on Nov. 11, 1918. He then was shipped to Germany, where he took part in the military occupation until Aug. 26, 1920, when he returned to the United States and was discharged at Fort Slocum, NY.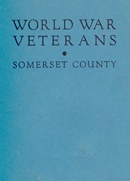 One of Olga's sons says that she was ahead of her time when it came to raising boys. She taught all of them to cook, sew on buttons, do laundry and ironing, clean house and many other things that were customarily done by girls in the 1920s-1950s.
The family were members of the Main Street Evangelical United Brethren Church in Rockwood.
In the 1930s, Lloyd was profiled in the book World War Veterans of Somerset County, published by the commissioners of Somerset County. The entry said that his dependents included Olga and their children Donald, Bernard and Wayne, and that his physical condition was "fair."
In the 1950s, Lloyd was an officer and adjustant in the American Legion post 279 in Rockwood. He is named for his service in the commemorative booklet Rockwood Centennial: 1857-1957.
Lloyd passed away in 1983 at the age of 90.
Olga outlived him by a decade, and died in 1993. They rest together in the Vough-Heinbaugh plot at the Odd Fellows Cemetery in Rockwood.
She is pictured in the booklet Down the Road of Our Past, Book II, published by the Rockwood Area Historical & Genealogical Society.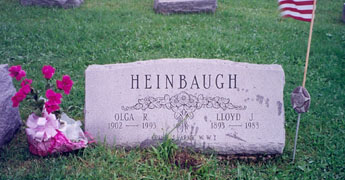 Heinbaugh grave marker at Rockwood, PA
Son Donald Oren Heinbaugh ( ? - ? ) was married and had a family. He served in World War II, and later worked for Republic Steel Corp. as superintendent of construction. His known children were Donna Heinbaugh, Jerry Heinbaugh, James "Jimmy" Heinbaugh, Ronald "Ronnie" Heinbaugh and Susan Heinbaugh. They dwelled in Cleveland circa 1959.
Son Wayne R. Heinbaugh (1931-2005) was born in about 1931. He served with the U.S. Marine Corps during the Korean War and in July 1952-October 1953 was stationed in Portsmouth, NH. He married Donna Jean Sisson (April 10, 1933-2001) and produced these known sons -- Randy Heinbaugh, Richard "Dick" Heinbaugh and John Heinbaugh. They resided in Lakewood, OH circa 1959, Cortland, OH in 1965 and later in Macedonia, OH. Sadly, Donna Jean passed away on April 1, 2001. After her death, Wayne kept company with Elaine Kartisek. Tragically, on May 27, 2005 while on vacation in St. Croix, U.S. Virgin Islands, Wayne drowned in a hotel swimming pool. The Virgin Islands Daily News reported that "a 79-year-old woman said that ... she saw Heinbaugh disappear under the water in the deep end of the pool. She said she rushed over to try to pull him out, but could not, so she called out for help. She said several residents attempted to resuscitate the man while emergency dispatchers were called. Velazquez said emergency medical technicians took the ferry to the cay and also attempted to revive the man." A death notice was printed in the Akron (OH) Beacon Journal, stating that his survivors included six grandchildren and four great-grandchildren.
Grandson

Randy Heinbaugh married Pam.
Grandson Richard "Dick" Heinbaugh was wedded to Mary Helen.
Grandson John Heinbaugh

was joined in matrimony with Barb.
Son Bernard Heinbaugh ( ? -1981) was born in (?). He married Elaine A. "Kate" Bush (1924-2011), the daughter of Reggie and Ruth (Coughenour) Bush. Bernard was a World War II veteran, and a member of the Rockwood School Board for six years. They had two daughters -- Bonnie Sechler and Debbie Wagner. They were members of the Rockwood United Methodist Church. Sadly, Bernard died in 1981. Kate outlived him by three decades. She passed away at Somerset Hospital on Oct. 24, 2011, at the age of 87.
Son Lloyd "Van" Heinbaugh is married and circa 1966 lived in Lakewood, OH. He married and had four known children -- Leann Heinbaugh, David Heinbaugh, Carol Joy Heinbaugh and Jenifer Heinbaugh. Van was a longtime purchasing manager for the Cuyahoga County Public Library in Cleveland, retiring a yearend 2004. He attended our 2007 reunion with his daughter. In August 2007, he formed a reunion of the Jacob Lloyd Heinbaugh family, held at the Farmers and Threshers Jubilee Building in New Centerville, Somerset County. A total of 36 attended the reunion, and a treasury was formed with the net proceeds. Sue Ellen Martin agreed to be the family memorabilia collector, such as photographs or keepsakes to be preserved and shared with future generations.
~ Grandson Oren C. Vough ~
Oren C. Vough (1906-1944) was born in about 1906 in Somerset County. He spent his early years as a schoolboy in Junction City, KS, but returned with his parents to their native Pennsylvania.
After the death of his mother when he was a boy, Oren dwelled with his father and grandmother Swarner in rural Black Township near Rockwood.
He appears to have resided as an adult in Wichita, Sedgwick County, KS.
Sadly, at the age of 39, Oren passed away in 1944. Burial was in Wichita Park Cemetery and Mausoleum. [Find-a-Grave]
Copyright © 2001-2008, 2010, 2012, 2016-2017 Mark A. Miner