Online Museum of Creativity
Item: Hand Woven Baskets and Cross-Stitch Pictures
Creator: Doris (Sands) Hawker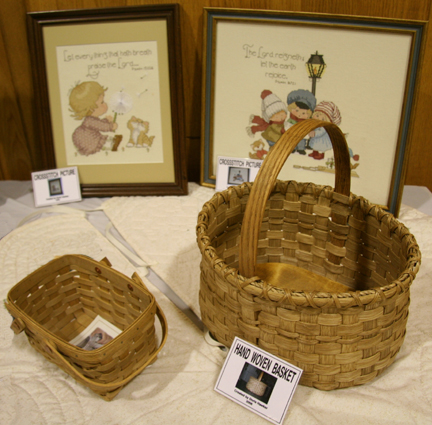 Reunion treasurer Doris (Sands) Hawker displayed two hand woven baskets at our 2006 national reunion, with the larger one at right made in 2006. In the background are two matted and framed cross-stitched pictures that she fashioned in 1979 for her daughter Lisa. The one on the left is inscribed, "Let every thing that has breath praise the Lord," and the one at right states, "The Lord reigneth, let the earth rejoice," both quotations from the Bible. Doris is the daughter of Alma (Ream) Sands and the granddaughter of Sadie (Harbaugh) Ream.
Click for next artifact
Return to index page
Copyright © 2006 Mark A. Miner. Photo by Sid Miller.