Home

Chew, Wilcocks and
the Ingersoll Brothers
Prominent Philadelphia Landowners Who Sold Southwestern Pennsylvania Farmland to the Minerd/Younkin Family
By Mark A. Miner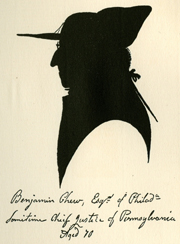 Benjamin Chew, age 70
"Chew and Wilcocks" are familiar names to many researchers of early southwestern Pennsylvania land ownership records, and for good reason. Together, Benjamin Chew Sr. and his son-in-law Alexander Wilcocks owned 43 tracts totaling nearly 12,000 acres in Somerset and Fayette Counties in the late 1700s. These lands were held by the family for some six-plus decades.
As residents of Philadelphia, 240 miles away, Chew and Wilcocks were absentee owners. In fact, they may never have actually laid eyes on the lands they owned. Chew (1722-1810) was active and influential in state politics and, in addition to serving as Chief Justice of the Pennsylvania Supreme Court, was the attorney for the family of Pennsylvania's founder, William Penn. Wilcocks (1741-1801), who married Chew's daughter Mary, was his law partner, judge and recorder of deeds in Philadelphia.
In 1837, the Wilcocks' heirs sold one of their tracts to local farmer Jacob and Catherine (Younkin) Minerd Jr. and their eldest son John Minerd.
~ Philadelphians Owning Faraway Property ~
As did many foresighted government officials of that era, Chew and Wilcocks could envision the investment potential of their thousands of acres of virgin timber and river lands. Their holdings were acquired from the Penns during the American Revolution, when the Penns' ownership rights, granted by British royal charter, became null and void. Less than a year after the Declaration of Independence was signed, March 21, 1777, the partners received a detailed description of each of their tracts in a document compiled by Henry Rhodes.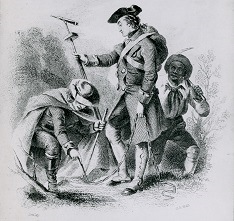 Colonial surveyors with rod and chain
Chew and Wilcocks jointly held their Somerset/Fayette properties for about 14 years, until November 1790, when they divided their holdings. Chew was allocated 5,947 acres and Wilcocks 6,011 acres.
Many of the tracts had fancy names, such as Death of the Fawn, White's Little Mill Seat, and Hunting Lot, and were often rented to farmers for cultivation. Hunting Lot -- the tract that was sold to the Minerds -- contained 318 acres and was located in what is now locally called Hexebarger in Upper Turkeyfoot Township, near the Old Bethel Church. Chew admired Hunting Lot and once wrote about its "excellent upland-meadow."
~ The Minerds Take Occupancy ~
Tax records suggest that Jacob may have begun occupying Hunting Lot as early as 1829. Then after eight years, he was in a position to own the property. It sat to the west of the village of Kingwood, in a hills-and-valleys section known locally as "Hexebarger" -- German for "witch mountain."
How Minerd, an unlettered farmer, came into contact with the faraway Wilcocks and Ingersoll heirs is not known, though probably their communications were made through an intermediary. As absentee owners, Chew, Wilcocks and the Ingersolls utilized agents to handle day-to-day administration of the properties.
One of Chew's agents was attorney Abraham Morrison, who has been dubbed "the patriarch of the Somerset County bar." Morrison lived across the street from the county courthouse and in his career served as the first county commissioners' clerk, county treasurer, prothonotary and clerk of courts, register of wills and register of deeds.

The "excellent upland meadow" known as Hunting Lot and sold by Chew and Wilcocks heirs to Jacob Minerd Jr. and his son John in 1837.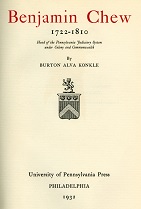 Chew's 1932 biography
Morrison kept in touch with Chew by writing letters containing details of developments and asking opinions of certain matters. Several of these letters survive in the collection of the Historical Society of Pennsylvania, in Philadelphia. The author reviewed these letters in person in 1987.
One letter was penned from Somerset on Feb. 13, 1808, and contains nuggets of information of interest to genealogists, historical researchers and archeologists. In it, Morrison summarized leases with Jacob Streight, Peter Kendle, Mr. Shunk, Frederick Zufalt, Jacob Neffe, George Arnold, Joseph Mattick, John Lighty and Daniel Miller. Morrison also mentioned the names Shapthat Dwire, William Tissue, Mr. Ringer, Mr. Wood, Mr. Biggs and Adam Faidley.
The letters describe terms and conditions of the leases, which required labor in return for low rental rates. For instance, Jacob Neffe rented "Turkey Bottom" (today part of Casselman) for a three-year term, for a penny a year. In return, Neffe agreed to build a barn and stable measuring 20 by 24 feet, plant 30 apple trees, make all the outside fences "good and sufficient," and pay all taxes.
Morrison was frustrated in trying to stay fully abreast of the status of all the properties. He once wrote to Chew:"As I have not had full power to sell your land. I have not informed myself of the value of the respective tracts, nor indeed is it easy to get such information without a personal examination of them."
The Minerd 1837 acquisition enlarged their Hexebarger farm to 500 acres, which played an important role in the family's growth and development. Four generations lived there until 1867, when the final section was sold out of the family. Minerd and his wife Catherine Younkin raised nine children there, and four sons -- John Minerd, Henry Minerd, Jacob Minerd III and Charles Minerd -- bought portions after their father's death.
In 1851, at the heyday of the Minerd habitation, about 35 family members lived in various dwellings within the farm'sborders. One of the Minerd grandsons, the six-year-old Andrew Jackson Miner, was the great-great grandfather of the founder of this website. Another, Daniel Martin Younkin, referred to the Minerds as "early settlers in what was known as the 'Hexebarger' community, which is a provincialism that is still frequently applied to that locality.... The topography is unusually rugged and the primitive inhabitants were themselves a rugged, sturdy people." When grandson Martin Miner returned for a visit in 1905, he remarked that the "old ear marks of boyhood days are about all obliterated." Many of the grandchildren gathered for a first-ever family reunion in 1913, and could say that they or their parents had once lived on the farm.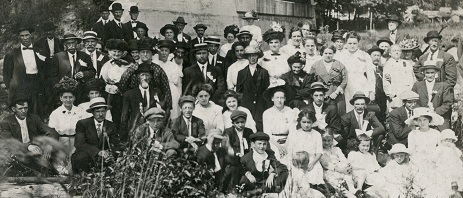 Minerd reunion, 1913, where most of the attendees could claim that they or their parents had once dwelled on the Hexebarger farm. Enlarge>>>
~ Chew's Son-in-Law Alexander Wilcocks (1741-1801) ~
On May 18, 1768, Alexander wedded Mary Chew ( ? -1794). A man of public affairs, he served as a justice for the County of Philadelphia and was a member of the Committee of Safety, in addition to his role as recorder of deeds after the end of the American Revolution.
Mary died on Aug. 22, 1794. Alexander followed her to the grave 11 years later, on July 22, 1801.
At his death, the Wilcocks' lands were inherited by these of their children: Benjamin Chew Wilcocks, Elizabeth Wilcocks, Samuel Wilcocks, Ann Wilcocks (wife of attorney Joseph Reed Ingersoll) and Mary Wilcocks (wife of lawyer Charles Jared Ingersoll). These parcels remained in the possession of the Wilcocks heirs for nearly four decades.
~ The Nation's Financial Panic of 1837 ~
The 1830s were an era of change and financial uncertainty. Digby Baltzell's book, Philadelphia Gentlemen, noted that during the decade, Americans embarked on "an era of 'wild cat'" spending. As President Andrew Jackson began to dismantle the controversial Bank of the United States, the economy became increasingly "speculative and unsound," wrote historian Arthur Schlesinger. "Crop failures in 1835 toppled the first domino. Farmers could not pay merchants and speculators, who in turn could not pay banks." In New Orleans, the price of cotton plunged, triggering the collapse of several financial firms which led to multi-million-dollar losses by major banks in Boston and New York.
By 1837, the nation was in a full-blown financial panic. The value of the Wilcocks real estate declined, at a time when two of the husbands of the Wilcocks daughters -- Charles Jared Ingersoll and Joseph Reed Ingersoll -- were running for political office. It's likely that their decision to sell was driven by a need to raise cash, at discounted prices more affordable to farmers like the Minerds.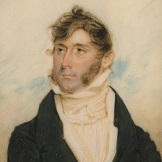 Benjamin Chew Wilcocks
Metropolitan Museum of Art
~ Wilcocks' Son Benjamin Chew Wilcocks (1776-1845) ~
Married Sarah Waln ( ? - ? ), daughter of William Waln. The couple bore two daughters, Mary Waln Campbell and Helen Julia Robbins.
In 1795, when the teenage Benjamin was traveling to Holland on business, John Adams wrote to his son John Quincy Adams, asking that "you will Shew him as much Civility as you can. He will be able to tell you all the news we have." He went to China in 1799 as an agent of his father-in-law. There, he w as a merchant trading in fabrics, porcelains and fineware. He also is said to have been a pioneer in smuggling opium from China and Turkey into the United States, with some critics today referring to him as a drug lord. The New York Times described Benjamin many years later as "a man so tall the Chinese called him the ''high devil,'' whose flamboyant life style led him far from his Quaker heritage." His father-in-law's business failed during a financial panic in 1819, and Benjamin became saddled with a $72,000 debt to a merchant named Wu Bingjian.
With business in shambles, Benjamin was named in 1820 as the United States Consul to China, with is base of operation in Canton. He held this post for the rest of his years in the country. He left Canton for good in 1827, although the amount of his indebtedness was forgiven in return for his many years of service "helping Chinese merchants collect debts in Philadelphia," said the book The Chinese Cornerstone of Modern Banking.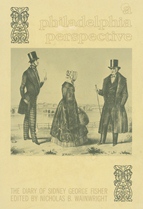 A Philadelphia Perspective
Benjamin was a patron of the miniature portrait painter Benjamin Trott. He also commissioned a set of eight large bells to be mounted in the historic St. Peter's Church in Philadelphia, at the corner of Pine and Third Streets, where George Washington had once attended.
His nephew Sidney George Fisher Sr. wrote this in his book A Philadelphia Perspective, "For some weeks before I left town he had sunk into a state of profound depression, similar to that with which he was once before affected, which lasted for 12 years during which he never left his house and from which he was roused some 3 or 4 years ago. When he was roused, he compensated by extraordinary activity for his long seclusion and apathy."
~ Wilcocks' Son-in-Law Charles Jared Ingersoll Sr. (1782-1862) ~
On Oct. 18, 1804, Charles Jared was united in marriage with Mary Wilcocks (1784-1862). Their nine offspring were Charles Jared Ingersoll Jr., Alexander Wilcocks Ingersoll, Harry Ingersoll, John Ingersoll, Benjamin Wilcocks Ingersoll, Elizabeth Fisher, Edward Ingersoll, Ann Meigs and Samuel Ingersoll.
A lawyer by training, his political career began with election to the U.S. House of Representatives circa 1813. From 1825 to 1829, he was United States Attorney, but was fired upon the election of President Andrew Jackson. His next elected post was to the Pennsylvania House of Representatives in 1830. Then in 1837, the year in which the heirs sold their farmland to the Minerds, he was a delegate to the Pennsylvania State Constitutional Convention, secretary of the Legation to Prussia and made an unsuccessful attempt at a seat back in the House. He was elected to Congress in 1840 and served as chair of the House Committee on Foreign Affairs.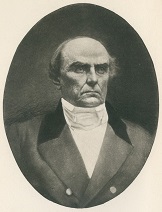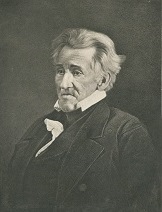 Charles Jared's bitter political opponents
Daniel Webster and President Andrew Jackson
As a Congressman, Charles Jared was friends with former Presidents James Madison and James Monroe. But he regularly was in conflict with the policies of Secretary of State Daniel Webster and President Andrew Jackson. He and Webster clashed as the senator launched an investigation into Charles Jared's alleged receipt of a bribe. The Foreign Relations perch gave Charles Jared an opportunity to launch a strong counter-attack, charging misconduct on Webster's mis-handling of a Canadian border matter some years earlier. Webster responded viciously, saying his opponent's "mind is so grotesque, so bizarre -- it is rather the caricature of a mind, than a mind. When we see a man of some knowledge, and some talent, who is yet incapable of producing any thing true, or useful, we sometimes apply to him a phrase borrowed from the mechanics. We say, there is a screw loose, somewhere. In this case, the screws are loose all over."
Robert V. Remini's book Daniel Webster said that Webster's "harangue was as thorough a job of demolition as ever heard in the Senate. He squelched Ingersoll." Charles Jared then fired back another salvo, starting an official investigation of his own, alleging embezzlement and corruption. Watching all of this unfold on the Senate floor, John Quincy Adams wrote in his diary about their "malicious personal enmities." Mississippi Senator Jefferson Davis, future president of the Confederacy, earned Charles Jared's anger when preparing a pro-Webster summary for publication.
Charles Jared left the House of Representatives in 1847 and returned to Philadelphia, where he died in 1862.
Their son-in-law, Sidney George Fisher Sr., wrote an extensive and insightful diary that was published under the title A Philadelphia Perspective. He wrote that Charles Jared's "conversational powers, & his gentlemanlike manners make him exceedingly agreeable.... He was in many respects a remarkable person and during a long life held a conspicuous position as a public man, having been twice in Congress and for many years district attorney in this city when the place was far more respectable than it has since become.... His intellect was not of a high order, but he wrote & spoke with east, animation, and earnestness & was witty at times, generally sarcastic, clever, pointed, odd, never eloquent or profound."
Charles Jared Sr.'s great-grandson, Robert "Sturgis" Ingersoll (1891-1973) was a fifth generation lawyer and a name partner of the venerable firm of Ballard Spahr Andrews & Ingersoll. He held the post of president of the Philadelphia Museum of Art from 1948 to 1964 and was a board director of the Philadelphia Savings Fund Society, several railroad companies, the Philadelphia Zoological Society, Philadelphia Orchestra Association and the Fairmount Park Art Association.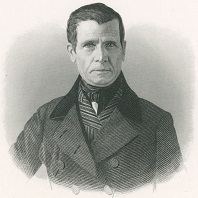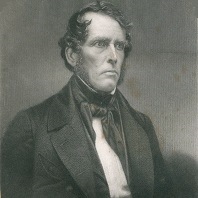 Brothers Charles Jared Ingersoll and Joseph Reed Ingersoll (right)
~ Wilcocks' Son-in-Law Joseph Reed Ingersoll (1786-1868) ~
He was of medium height, light complexion, bright blue eyes and auburn hair. On Sept. 22, 1813, he married Ann Wilcocks (1781-1831). They were the parents of three -- James Ingersoll, Mary Wilcocks Ingersoll and Joseph Ingersoll. Sadly, Ann died in 1831, and was eulogized as "a woman of great personal attractions, an amiable temper, and most refined and accomplished manners." The two sons did not survive childhood, and the unmarried daughter passed away at age 25 in 1842.
As with his brother Charles Jared, Joseph was a lawyer. Circa 1810, he had the rare opportunity for a young man to argue a case before the United States Supreme Court, presided by Chief Justice John Marshall.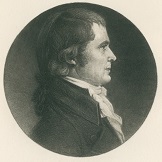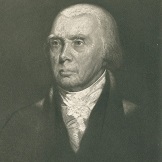 Joseph's contemporaries Justice John Marshall and President James Madison (right)
Joseph was elected to Congress in 1812 but defeated in a re-election bid two years later. President James Madison appointed him as a United States Attorney, a post which he held until 1829, when he was removed from office after the election of President Andrew Jackson. Then in 1840, on a ticket opposed to Jackson, he was again elected to Congress. He supported tariffs on imported products by which to protect American producers and opposed to the annexation of Texas.
Eulogist David Paul Brown wrote that Joseph was "the Cicero of the American Bar, and he may be truly said to be one of Plutarch's men, nay, if I have read his annals rightly, one of the noblest of them. He was a man of geneal alacrity, of systematic and untiring industry, of refined manners, of a frank and urbane spirit, exemplary integrity, and a most signal example of benevolence."
As a lawyer in private practice, Joseph in 1844 argued a trial involving the city's bloody anti-Catholic protests known as the "church riots" - "Orange riots" and "Kensington riots." For a year, appointed by President Fillmore, Joseph served as Minister to the United Kingdom, also known as the Court of St. James. Others who have held this ambassadorship over the years have been Robert Todd Lincoln, Andrew W. Mellon and Joseph P. Kennedy, among others. Joseph was a trustee of the University of Pennsylvania and president of the Philadelphia Academy of Fine Arts and Historical Society of Pennsylvania.
His nephew Sidney George Fisher Sr. wrote that Joseph's "mind was decidedly commonplace, his range of knowledge narrow. He possessed however that sort of ability which produces success, fluency of speech, agreeable manners, great power of labor, & determined will. He had a large practice at the bar, but he was a jury-lawyer; he had a respectable position in Congress, because he worked well on Committees & was known to be upright & honorable, but he was not distinguished & never made a speech that excited public attention."
~ Chew/Wilcocks/Ingersoll Papers, Historical Society of Pennsylvania ~
These documents show that Chew and Wilcocks played important roles in developing the largely uncultivated lands of Somerset and Fayette Counties. With the help of on-the-scene agents, these influential Philadelphians touched the lives of any common farming families.
~ Select Land Records ~
Lists of all properties, including the county, tract name, acreage, and renter
Hand-drawn survey maps of tracts
Letters from Morrison to Chew, naming prospective buyers and their offers
Lists of payments made over time by purchasers, including Nicholas Long, Christian Fike, Henry Painter, Simon Shunk and George Setter
1810 letter from Chew's son, Benjamin Chew Jr., informing an unidentified agent about the death of Chew Sr., and asking the agent for a complete list of local land holdings
Original newspapers with published advertisements announcing that tracts from the estate were for sale.
These were published in Philadelphia (1826), Uniontown, Somerset (1848), and Baltimore (German language).
Offer letters from prospective buyers who had seen the newspaper ads
Letters from renters explaining extraordinary circumstances, such as house or barn fires, which rendered them unable to fulfill their payment obligations.
Other renters' letters asked for Chew Jr.'s help in evicting squatters
~ Bibliography ~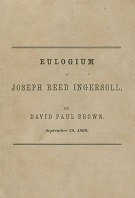 Eulogium of Joseph
Reed Ingersoll
Biographical Encyclopedia of Pennsylvania of the Nineteenth Century, Philadelphia: Galaxy Publishing Company, 1874.
Brown, David Paul. Eulogium on the Life and Character of the Late Joseph Reed Ingersoll, President of the Historical Society of Pennsylvania. Philadelphia: Collins, Printer, Sept. 28, 1869.
Chew, Benjamin A. A Particular Description of the Situation, Quality and present Value of the Several Tracts of Land Taken Up and Patented in My Own and Alex.Wilcocks' Names. March 21, 1777. Manuscript. Chew Family Papers, Box 277, Manuscripts and Archives Library, Historical Society of Pennsylvania, Philadelphia.
Names and Quantities of Tracts. Nov. 11, 1790. Manuscript. Chew Family Papers, Box 277, Manuscripts and Archives Library, Historical Society of Pennsylvania, Philadelphia.
Deed. Benjamin Wilcocks, et al. to Jacob Minerd and John Minerd, April 10, 1837. Book 44, Page 242, County of Somerset, Pa.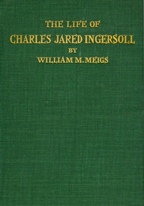 Life of Charles
Jared Ingersoll
Fisher, Sidney George. A Philadelphia Perspective. Philadelphia: The Historical Society of Pennsylvania, 1967.
Jordan, John W., ed. Colonial and Revolutionary Families of Pennsylvania, Vol. I: Genealogical and Personal Memoirs, New York: The Lewis Publishing Co., 1911.
Meigs, William M. The Life of Charles Jared Ingersoll. Philadelphia: J.D. Lippincott Company, 1897.
Morrison, Abraham, Letter to Benjamin Chew, Sr., Feb. 13 1808. Chew Family Papers, Box 277, Manuscripts and Archives Library, Historical Society of Pennsylvania, Philadelphia.
Twentieth Century Bench and Bar of Pennsylvania, Vol. II. Chicago: H.C. Cooper, Jr., Bro. & Co. 1903.
U.S. Congress, House. Biographical Dictionary of American Congress, 1774-1927. 69th Cong., 2nd sess. H. Rept. 783. Washington, D.C.: United States Government Printing Office, 1928.
Copyright © 1992, 2010, 2012, 2014, 2017, 2020 Mark A. Miner
The Met portrait of Benjamin Chew Wilcocks is in the public domain.