Home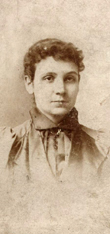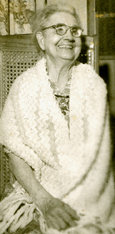 Letitia (Harbaugh) Stoner

The first remembrance of my Grandmother Letitia was as a child in the 1940s. I grew up in Perrysburg, Ohio, and Letitia lived 333 miles away, in the very remote and small village of Oblong, Illinois. I remember that mileage, because our street address was 333 West 5th Street in Perrysburg. It was a long hot trip, by car or train, but I always looked forward to three weeks with Letitia every summer.

When I knew my Grandmother Letitia, she lived with my mother's sister, Agnes Colline (Stoner) Wood, and her husband Ralph. Aunt Agnes was named for her father's favorite aunt, Agnes (Stoner) Collins. Agnes and Ralph owned a comfortable Victorian home which sat on the NW corner of North Harrison Street and East Ohio Street. The house had a V-shaped floor plan, and it faced the corner. The mailing address was 307 East Ohio Street. It was a pleasant place, and the property was the entire east half of a village block. Letitia's room was on the north side of the house, and had windows to the west and to the east. She had a door to one of three porches, and that porch also had doors to the kitchen and the dining room. With the garage on the north side, and everyone coming to visit through the kitchen door, she had the pleasure of watching for company pull into the driveway, and welcoming them in. I can still see her eagerly stretching her upper body to the window to see who might be arriving. I say this because she was confined to a wheelchair all the years that I knew her.

Seen here, years before her stroke is a young, vibrant Letitia, comforting her crying daughter Agnes, while son Oliver (at far left) gazes at the camera.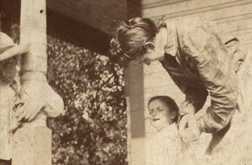 Letitia with Agnes and Oliver

Letitia had moved to Oblong from Robinson, just nine miles to the east. Her Robinson address reads only North Cross Street, without a number, on all the old mail I have. She moved after her husband, Nathan, died suddenly, and just a few days before her 65th birthday. I have a letter postmarked the day Nathan died. Letitia writes, Nathan has picked a pot of walnuts all hulled out. He traveled across many states, as an oil leaser, and was not home very much. Before he died she had a stroke, and her entire left side was paralyzed. I was told by my mother her stroke occurred at Aunt Agnes's house, where she slipped on a loose rug between the kitchen and the foyer. She broke her hip. Mother felt that the fracture happened as a result of the stroke, not that the stroke resulted from the broken hip. The reason I remember this information is that many years later Uncle Ralph had a stroke, and my mother fretted about his slipping on a loose rug, and then pointing out the exact place where Letitia slipped.

I can tell which old photos which were taken after her stroke, because her left fist is gripped near her right side, and her left elbow is stiffly bent. There are not many pictures taken after her stroke, which was probably in 1935, because she was so proud. Her husband, Nathan, said she was the most beautiful woman in town, which may well have been true. When I asked her how she was able to stand in pictures after her stroke, she responded that even I could stand on one foot long enough to take a picture! And that is what she was doing. I have only two pictures of her in her beautifully caned wheelchair, both taken in her later years, and she had carefully draped her shawl over her paralyzed side.

She was an amazing woman. She was very independent. She was able to swing herself in and out of bed gripping a tall bedpost. She could make her bed very neatly with her cane. She swept her floor. She could sew with one hand, and she even mastered the sewing machine. She taught me how to rip a seam, blind stitch, and use a thimble. She always bought dresses that buttoned down the entire front, so that she could put them on herself.

Letitia always sat at the end of the kitchen table where we usually ate, which gave her wheelchair more room. The guestroom where my sister Diane and I slept was directly over the kitchen, with a large register right over the table. All of the adults would be up early, and we would always be awakened by the aroma of breakfast. Sometimes we would hang over the bed to spy on our relatives.

Seen at left are Diane and Sharon Sheldon (the author), Letitia's granddaughters, with their favorite cat.

Diane and Sharon Sheldon

After each meal, Letitia was in charge of cleaning up the table and washing the dishes. I still have the large dented basin she used for washing and rinsing, and the pot with a wooden handle where she put the scraps. Uncle Ralph would wait patiently for her to finish, and then carry it to the ditch. She dried the dishes more vigorously with one hand than I did with two hands!

Her recent cards and letters were kept in an old candy tin. She enjoyed helping Diane and me read those cards and letters, and would pretend to be so surprised when we found dollar bills in her birthday cards—and would give that money to us. It was years before I knew she was planting the money. I found money reappearing in the same previous cards. I never told her what I had realized.

Letitia read the newspaper cover to cover with her magnifying glass, listened to the radio a lot, and loved sharing her Republican viewpoints. She explained the Farmer's Almanac calendar to me, which always hung next to her door. I think she used the calendar mostly to count the time between letters from her sisters. Oblong was the last town in the United States to convert to rotary dial, which actually made using the telephone easier for her. She enjoyed talking to the operator, who was able to fill her in on everyone's whereabouts. Her mind was excellent, and she never complained about her affliction.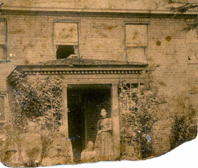 Collins house in Dunbar

She did complain, however, about being so far from her sisters. She felt very close to them, and they wrote back and forth quite a bit. She complained about missing the scenery of her roots, both of Pennsylvania and, after her marriage, of West Virginia. The Ohio River evoked very sentimental feelings in her, because she was married on a river boat in Allegheny, PA on Saturday evening, May 11, 1895 by the Rev. F. DeWitt Talmage.

Letitia had met Nathan while doing housekeeping for his Aunt Agnes (Stoner) and husband, Dudley Collins, in Dunbar, PA. Agnes and Dudley Collins were longtime members of the Cumberland Presbyterian Church, which might explain why Letitia was married by a Presbyterian minister. All the years I knew her, she was a Methodist.

Letitia longed for the days of sitting on her front porch in Sistersville, and enjoying the music from the large boats passing by on the Ohio River. I did not appreciate this until 1994, when my husband, Dick, and I first took my mother, Dorothy Lena (Stoner) Sheldon, there. Mother had never visited Sistersville, but always wondered what it looked like. All three of us were pleasantly surprised, and returned with Cousin Cheryl "Sherry" (Stoner) Stephens the following year for a more in-depth visit.

On our second trip, we brought along old documents and pictures, and were able to find Letitia's homes, and the graves of both her daughter, Hazel, and father-in-law, Levi Stoner. The first home we found was a few blocks from the river, and we could not envision how she could have enjoyed the river boats from this porch. My husband suggested we return to the library to find another home. The second home, however, was even further from the river. Of course we wanted to see it anyway. This home, at 221 Walnut Street, is perched on top of a small mountain overlooking the village—with a spectacular view of the Ohio River. No wonder memories of Sistersville made it difficult for Letitia to adjust to the quiet life in the flat lands of southern Illinois.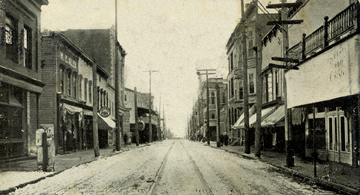 Postcard view of Sistersville's Wells Street, looking west, 1907
Nathan and work crew, Porter Company

The home on the hill also explained how she would call down to Nathan, when lunch was ready. On our map it looked too far for calling, but the Stoner Machine Shop was at 405 Charles Street, straight down the mountain from their house above. We stayed at The Wells Inn, 316 Charles Street, where we could sit on the front porch, and look over at the place where my Grandfather Nathan worked. I have a wonderful picture of Nathan and his machine shop, taken a hundred years ago, along with many other pictures taken in Sistersville. Life was very good to them there.

Nathan and the work crew are seen here at the Porter Company machine shop in Connellsville, Fayette County, PA in 1892, in the years before they moved to Sistersville. He is kneeling at the center of the photo, and was age 22 at the time.

Letitia said that when they moved to Illinois, they put all their belongings on a boat, and traveled down the Ohio River. I thought about that when we put our car on the ferry to cross the river to and from Ohio. Although I have a lot of small items from their early life, the only piece of furniture that I have from that river boat move is a ladder back chair. I don't know how they ended up in Robinson, Illinois, but they must have been a part of a large and sad migration from Sistersville when the oil boom ended.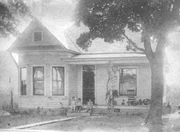 909 N. Cross, Robinson, IL

In 1956 Letitia became weaker, and too difficult to take care of for Aunt Agnes and Uncle Ralph. They moved her to the Drake Rest Home, 414 East Walnut Street, back in Robinson. I felt terrible about this, at age 13, during that summer's visit. We drove to Robinson to visit her every afternoon. The rest home seemed dark and musty, compared to her sunny room in Oblong. Aunt Agnes prepared a fine formal dinner for Letitia and other family members, and we arranged to have her delivered from the rest home. We set the dining room table with Aunt Agnes's Apple Blossom Haviland China, and everything looked perfect. How relieved I was feeling that Letitia would be back in Oblong, even for the day!

What I never considered was how Letitia felt. She enjoyed lots of conversation all day long in the rest home—and she loved it there. She talked and talked about her friends over dinner, and it wasn't long after the meal that she was eager to return home. I felt even better about her return to Robinson than I did about her arrival.

In the next few years, we watched her decline slowly. The last time I visited her, she was in a different home in a nearby town, bedfast, and confused about who each of us were. How she would have disliked that. It was nice to know, however, she thought she was in Sistersville, and thought her sisters were present. She died at age 91.

Copyright © 2004 Sharon Jo (Sheldon) Kern. Published with permission.