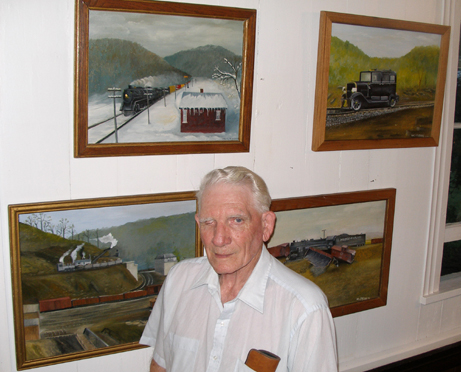 When he lost his right eye in a childhood accident, Warren C. Sterner of Rockwood, Somerset County, PA also lost any opportunity he might have had to be employed with the Western Maryland Railroad that he grew up loving. He taught himself painting and -- despite no formal training and the inability to understand depth perception -- created a series of oil paintings of railroad, church and covered bridge scenes in his home region. Seen here, Warren poses with four of his artworks among a dozen on temporary display at the historic Mt. Union Church near Casselman, Somerset County. This photograph was taken at the National Younkin-Junghen Reunion which held services at the church during the clan's gathering in July 2008.
Warren was featured and pictured in a 2003 article in the Somerset Daily American and also has displayed his paintings at Laurel Arts in Somerset and the Meyersdale (PA) Train Station.
Warren is the great-grandson of the late Wallace and Amanda (Younkin) Hechler of Kingwood, Somerset County. His brother Alton Glen Sterner is one of more than two dozen cousins in the extended Minerd-Minard-Miner-Minor to lose their lives in military service during wartime. As well, their brother Lloyd F. Sterner married Nola Gary, granddaughter of Minnie (Miner) Gary, and tragically was killed in a sawmill accident in 1969.

This is one in a series of photographic images published on Minerd.com in 2007-2008 to promote our 2008 "Pittsburgh 250" reunion and to acknowledge the family's collective, long-term contributions to Western Pennsylvania as the city celebrates its 250th birthday. Be sure to see the profile of our reunion and website on VisitPittsburgh.com.
Copyright © 2008 Mark A. Miner