Home

'PITTSBURGH 250'
More than 115 Cousins and Friends
Help Steel City Celebrate 250th Birthday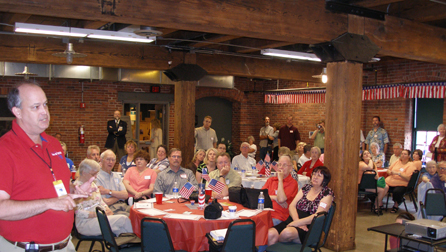 Bill Flanagan (left), who leads the Pittsburgh 250 Commission and is an official with the Allegheny Conference on Community Development, briefs our group on how the city is celebrating its milestone anniversary.

More than 115 Minerd-Minard-Miner-Minor cousins and guests celebrated "Pittsburgh 250" at the clan's three-day reunion weekend on June 27-29, 2008. The reunion made the KDKA-TV evening news, and was featured in articles in both of Pittsburgh's major daily newspapers.

It truly was a once-in-a-lifetime, unforgettable gathering of the scattered branches of our massive clan. Our reunion brought cousins to Pittsburgh whose ancestors left here in the early 1800s, and who have never been back since. They would have had no other reason to come to Pittsburgh except for the lure of reconnecting ancient family ties.
Cousins traveled here from many states, including as far away as California, and from many Pennsylvania towns. Attendance was up by two-thirds from last year, with many new faces.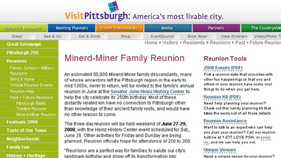 VisitPittsburgh webpage
Pittsburgh 250 leaders Andy Masich, CEO of the Senator John Heinz History Center, and Bill Flanagan, Executive Vice President of the Allegheny Conference on Community Development, gave remarks at the Saturday grand event. They highlighted all the ways the city is using its 250th birthday to promote its designation as "America's Most Livable City" (Places Rated Almanac, 2007) and change outdated perceptions.
Because of its unique role in promoting Western Pennsylvania by educating cousins that their ancient roots are based here, Minerd.com and our national reunion were licensed to use the logo of "Pittsburgh 250" and VisitPittsburgh.com, the website of the Greater Pittsburgh Convention and Visitors Bureau. We are delighted to assist in the celebration of the 250th birthday.
~ Friday Ballgame ~
A group of 14 cousins watched the Tampa Bay Rays beat the Pittsburgh Pirates by a score of 10 to 5 at PNC Park, about a 15-minute walk from our hotel. In that game, the Rays roughed up Pirates pitcher Jimmy Barthmaier, who made his first Major League start but left the game after giving up seven runs in less then three innings.
Four home runs were smacked in the game, including by Evan Longoria, Eric Hinske and Carl Crawford of the Rays, and Freddy Sanchez of the Bucs. Out-of-town cousins were awed by the ballpark amenities and glittering city skyline as daytime turned to evening. The ballgame experience proved why ESPN has rated PNC Park as the "best ballpark in the Major Leagues."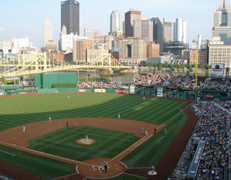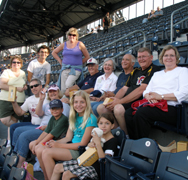 PNC Park -- the home of the Pittsburgh Pirates with a view of the spectacular city skyline -- and our reunion group, including cousins from California, Indiana, New Jersey and Ohio.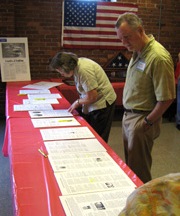 Mark Plants examines
extensive family tree charts

~ Saturday Gathering ~
In our special, private room at the Heinz History Center, the large group of 115 gathered for fellowship, presentations and a meal. Rev. Richard C. Meloy, retired pastor of the Faith Baptist Church of Pensacola, FL, said grace and returned thanks.
In addition to the remarks by Masich and Flanagan, reunion president Mark Miner and the Kellner family unveiled a portrait of cousin Capt. Erick Foster, who gave his life in Iraq last summer, one of 28 known cousins in the extended family to make the ultimate sacrifice during wartime. The ceremony drew a standing ovation from the audience. Foster, a captain and paratrooper with the 82nd Airborne Division, died Aug. 28, 2007 of combat injuries sustained during an enemy attack in Muqdadiyah, Iraq. The great-grandson of Oakey and Gertrude (Shroyer) Harbaugh, and a Pittsburgh area resident, he was the troop commander of A Troop, First Squad, 73rd Cavalry Regiment, 2nd Brigade Combat Team.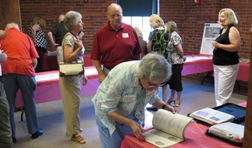 Gloria Carey examining an old document
The group also saluted the late Corwin D. Tilbury who is the only known cousin to have served on Pittsburgh's City Council. His tenure 100 years ago coincided with Pittsburgh's 150th anniversary, and in fact he is named in the city's official souvenir program booklet that was on display.
Miner also showed a powerpoint presentation about the family's connections with America in the areas of public education, military service, coal-coke-steel, entertainment, medicine-law, Custer connection, publishing and as pioneers of our nation. Rare family memorabilia and mementos lined special tables around the room. Cousins used yellow markers to highlight names of their branch of the family on 11 family tree panels with the names of nearly 2,000 members of the first five generations of the family, all born by 1900.
Attendees enjoyed the museum -- an affiliate of the Smithsonian Institution -- and the children's play areas. We learned that the renovated museum building once was a year-round storage facility for ice shipped by railroad from Lake Chautauqua, and then cut into pieces for sale to Pittsburghers. Costs for the day's events were underwritten in part by generous corporate underwriters Kellner's Fireworks, Fair Play and Mark Miner Communications, LLC.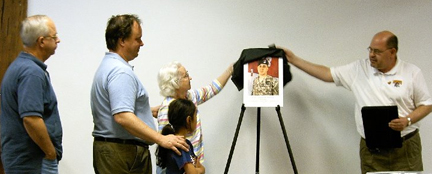 In a moving ceremony, Gladys (Harbaugh) Kellner and her family unveil a portrait of her grandson, Capt. Erick M. Foster, who lost his life in military service last year in Iraq. Assisting is reunion president Mark Miner.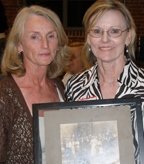 Jane Nusz, left, and Joan
Geers, with a family relic
Sisters Jane Nusz (left) and Joan Geers display a photograph of the 50th wedding anniversary of their great-grandparents, Oklahoma pioneers James R. and Lydia (Miner) Brown. This image was our "Photo of the Month" in April 2006. Joan and Jane, and their two sisters and parents, who today reside in Oklahoma and Texas, were the first members of their branch of the clan to return to the Pittsburgh region for a family event since 1812. Among other things, they enjoyed riding one of the inclines to the top of Mount Washington, featuring a breathtaking view of the city from high above.
Guest speaker Masich is president and CEO of the Heinz History Center, the Western Pennsylvania Sports Museum and the Meadowcroft Museum of Rural Life and the Meadowcroft Rockshelter archeological site, the oldest site of human habitation in North America. On a national level, he serves on the American Association of Museum's Accreditation Commission and has led the American Association for State and Local History's CEO Forum. He is the co-author of Cheyenne Dog Soldiers; Halfbreed: The Remarkable True Story of George Bent; and Dan Rooney: My 75 Years with the Pittsburgh Steelers.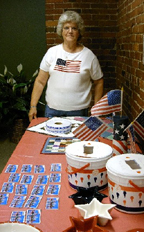 Doris Hawker
Guest speaker Flanagan is executive vice president of the Allegheny Conference on Community Development and its affiliated regional development organizations: the Pennsylvania Economy League of Southwestern Pennsylvania LLC, the Pittsburgh Regional Alliance and the Greater Pittsburgh Chamber of Commerce. In this role, he also hosts "Our Region's Business" on WPXI-TV, WJAC-TV, WTOV-TV and the Pittsburgh Cable News Channel (PCNC), a program the Conference produces in partnership with Cox Television. Prior to joining the Allegheny Conference, Bill covered the economy of southwestern Pennsylvania for more than 13 years as money editor of KDKA-TV.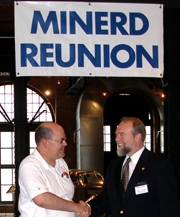 Mark Miner, left, and Andy Masich
Reunion treasurer Doris (Sands) Hawker raffled quilts and reunion magnets she had made as well as genealogy booklets about the family that were authored for previous years' by reunion president Miner. She was ably assisted by her daughter Connie (Hawker) Gibson.
In the Great Hall of the Heinz History Center, reunion president Miner (left) shakes hands with History Center CEO Andy Masich to say "thank you" for providing a terrific facility. He and his staff furnished our committee with outstanding, personal service, and for that we extend our deep appreciation.
~ Sunday Ducky River Tour ~
Quack, quack! Fortunately, the rains held off, and so 24 adventurous cousins and friends boarded a Just Ducky vehicle. Together, we embarked on a driving and floating tour of Pittsburgh's streets and rivers.
We got to see the headquarters buildings for Alcoa, United States Steel and the former Mellon Bank, as well as historic churches and the city's famed Cultural District.
While in the Ohio River, several cousins were allowed to sit at the controls and operate the steering wheel. The hour-long tour was terrific, and showed off the city's skyline from an entirely new perspective. As we passed sidewalks and street corners where pedestrians were standing, we all shouted out "Quack, quack!" What a buncha ducks!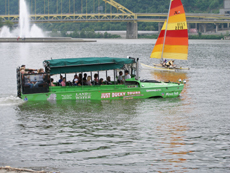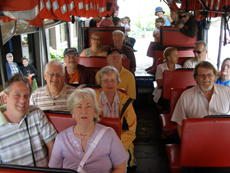 Quack, quack! On Sunday, our group enjoys a Just Ducky tour of Pittsburgh by land and by sea.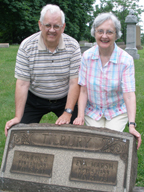 Bill and Gloria Carey at
the grave of former city
councilman C.D. Tilbury
Following the tour, cousins Bill and Gloria (Moennig) Carey and reunion president Mark Miner drove to the Wilkinsburg suburb of Pittsburgh to pay their respects at the grave of Gloria's cousins Corwin and Eva (Marsh) Tilbury. Bill and Gloria, who reside in Fort Wayne, IN, are seen at right, posed with the Tilbury marker.
~ About Pittsburgh and Our Family ~
Pittsburgh is the symbol of the epicenter of our family's growth since 1791, when Revolutionary War veteran Jacob Minerd Sr. and his wife Maria settled near Mill Run, Fayette County, about 60 miles southeast of the city. They produced 12 children, 67 known grandchildren, 310 great-grandchildren and more than 1,000 great-great grandchildren, virtually all born before the year 1900.
From this core of ancestors, an estimated 50,000 cousins have been born who are alive today. Many are spread all over the world, whose great-great grandparents left Western Pennsylvania in the early to mid 1800s, never to return. Many others remain in Western Pennsylvania and have been here for generations.
The city's actual 250th birthday will be on Nov. 25. On that date in 1758, Pittsburgh was named in honor of Sir William Pitt after British forces captured the French Fort Duquesne and built Fort Pitt on its ruins. Click for a more detailed timeline.

Pittsburgh in 1817, about the time the first waves of Minerd- Minard- Miner- Minor offspring were heading to Ohio and West Virginia as pioneers, while others were remaining for good.
Your Reunion Committee:
President: Mark A. Miner, Beaver, PA
Vice President: Peg (Grimm) Mansberry, Normalville, PA
Treasurer: Doris (Sands) Hawker, Morgantown, WV
Secretary: Rosella (Resh) Miner, Grantsville, MD
Past Reunions:
See recaps of reunions in 2019 - 2017 - 2015 - 2013 - 2011 - 2009 - 2008 - 2007 - 2006 - 2005 - 2004 - 2003 - 2002 - 2001 - 2000 - 1990s - 1980s - 1910s-1930s
Corporate Sponsors:


Copyright © 2007-2008 Mark A. Miner
Photos by Sharon (Sheldon) Kern, William Carey, Mark A. Miner and Mark A. Plants