Online Quilt Museum
Pattern: Fan
Quilters: Agnes (Stoner) Wood
and Doris (Sands) Hawker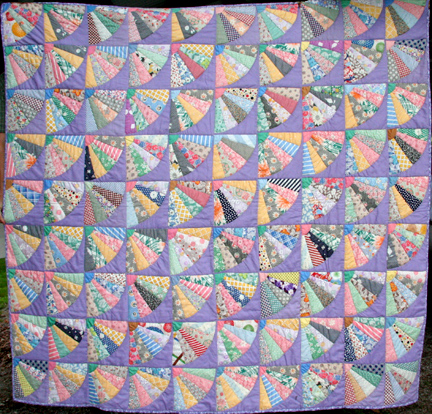 Agnes (Stoner) Wood of Oblong, IL, collected these colorful fabrics over the years, and pieced them together circa 1930. However, they were not completely quilted until 2005, when the work was finished by her cousin Doris (Sands) Hawker of Morgantown, WV. The finished product measures 6 feet by 6 feet, 2 inches.
It was photographed at the 2005 National Minerd-Minard-Miner-Minor Reunion, having been brought by Agnes' niece, Sharon (Sheldon) Kern.
Click for next quilt
Return to quilt index page
Copyright © 2005 Mark A. Miner. Photograph by Sid Miller.