Agnes (Stoner) Wood
(1902-1979)

Agnes Colline (Stoner) Wood was born on March 5, 1902 in Sistersville, Tyler County, WV, the daughter of Nathan C. and Letitia (Harbaugh) Stoner. She was named for one of her father's favorite relatives, Agnes (Stoner) Collins.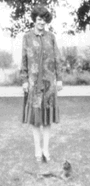 As a girl, Agnes moved with her parents to Robinson, Crawford County, IL, where her father was engaged in a national oilfield leasing business. She was a vibrant, energetic young woman, standing five feet, six inches tall, with brown eyes and dark brown hair.
On July 6, 1927, in Marion County, IN, Agnes married Ralph Forest Wood (1901-1968). He was a native of Illinois. They were happily married for more than 40 years, but had no children.
Early in her adult life, Agnes worked in a clothing store, and always was well-dressed. She enjoyed telling her nephews and nieces that she had been a "flapper" during the Roaring 1920s -- a term which meant a new breed of woman who went to parties, danced, voted, bobbed her hair, wore makeup and took risks.
The Woods made their home in a huge Victorian house in Oblong, Crawford County, not far from Robinson, where Agnes' parents lived. When Agnes' father died in 1936 in Robinson, Agnes hosted a large funeral dinner, attended among others by her aunts Susie Conn and Lucinda Younkin who had made the long journey from Pennsylvania.
After the death of Agnes' father, her widowed mother came to live in their home, and maintained an independent life there for many years, despite having suffered a stroke that paralyzed her left side. During World War II, when it appeared that brother in law Harold "Red" Sheldon would be drafted into the Army, Agnes' sister Dorothy and baby daughter Sharon came to live with the Woods in Illinois for several months.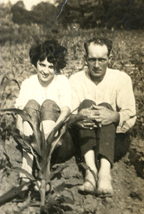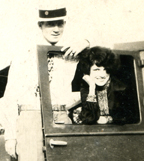 Ralph owned a battery shop in Oblong, but it was always more of a hobby than a profit-making venture. He received the bulk of his income from royalties from the family farm where oil had been struck. In the 1950s, while visiting Agnes' sister Dorothy Sheldon in Perrysburg, OH, Ralph paid cash for a new Ford automobile, stunning both the dealer and Ralph's in-laws.
Agnes and Ralph kept gardens, including grape arbors and sweet corn, and she enjoyed quilting, following a longtime family tradition. Agnes was a homemaker and a member of Martha Circle, Compliment Club and Order of the Eastern Star. They were staunch Republicans, and kept a collection of old campaign buttons.
During World War II, Agnes was a "spotter" for the Civil Air Patrol, and was trained to search the skies for enemy aircraft.
The Woods rented part of their home to tenants over the years.
Ralph passed away in Robinson on Jan. 17, 1968.
After Ralph's death, Agnes made a major decision in 1971 to leave her beloved house, and longtime friends and neighbors, and to relocate to Findlay, Hancock County, OH, to be near her sister Dorothy.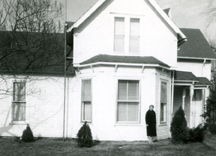 She stands in front of her Oblong home at left and at right.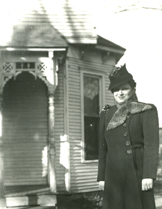 Agnes moved into a house in Findlay owned by the Sheldons, and later to an apartment on West Hardin Street. She and her sister Dorothy enjoyed bus trips to New York City, where they attended Broadway shows.
She joined St. Mark's United Methodist Church in Findlay, and remained a resident until her passing on Nov. 6, 1979. As the right to vote was so important in her life, it was fitting that she passed away on Election Day, and that all the voting flags were flying that day.
Her remains were returned to Oblong for burial beside Ralph at the Oblong Cemetery.
Copyright © 2005 Mark A. Miner