Edwin Stanton Gaither Sr.
(1889-1924)

Edwin Stanton Gaither Sr. was born on March 21, 1889 near Chalk Hill, Fayette County, PA, the son of William Alexander and Hannah M. (Minerd) Gaither. A World War I veteran, he met a horrible death in a construction accident in West Virginia.
Edwin married Ethel Gay Smith ( ? -1976). They had two sons -- Dr. Edwin S. Gaither Jr. and Robert A. Gaither.
During World War I, Edwin served overseas with Company A of the 63rd Engineers, a railroad unit. He rose in rank to corporal. After the war, in the early 1920s, when he got a job building a dam in West Virginia, he and Ethel moved to Evansdale, near Morgantown, Monongalia County, WV.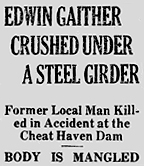 Tragedy struck on July 19, 1924 when Edwin was killed at the Cheat Haven power dam after being crushed under a steel girder. The Uniontown Morning Herald reported that:
Caught beneath a steel beam when it tipped over and fell … as he was attempting to life himself upon it, [he] was instantly killed … Gaither was employed by the Sanderson and Porter company on the concrete gang at the site of the new Cheat Haven power dam. Employes had been using the beam for some time past as a foot bridge over which they walked to their work at the scene of the concrete work … [Gaither] is said to have taken hold of the loose end of the beam and started pulling himself up. When he put his weight ton the beam, it slipped and crashed to the ground carrying its victim under it … In order to release the trapped man, acetyline torches had to be used to cut the girder several times before the badly crushed remains were rescued.
An over-eager headline writer reported the "Body Is Mangled," but another newspaper reported that the beam "had fallen directly across [his] chest and crushed his heart, causing instant death. His body was not crushed as reported and he had only a slight bruise over his heart, not even breaking the flesh. He also bore a slight cut on the finger."
Edwin's remains were buried at Oak Grove Cemetery in Uniontown.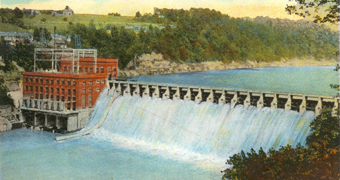 The completed Cheat Haven power plant and spillway, operated by the West Penn Railway and Power Co., near Morgantown
Ethel supported herself after Edwin's death as a teacher in the Uniontown and South Union Township School Districts, including at the Craig School. She also was a member of the Fayette County Medical Society Auxiliary and the Asbury United Methodist Church.
~ Son Edwin Stanton Gaither Jr., M.D. ~
Son Edwin Stanton Gaither Jr., seen here, married Lucia Kirsch of Chase, KS, and served with the US Air Force in World War II. He obtained a bachelor's degree at Marietta College and taught biochemistry at Brown University in Rhode Island. Later, he obtained a medical degree at Jefferson Medical College in Philadelphia.
He specialized in radiology and opened a medical office in Uniontown. Later, he worked at the Uniontown Hospital, Childrens Hospital of Pittsburgh, Aliquippa Hospital and the V.A. Hospital in Marion, IL. He also worked briefly for the government, treating Indians on reservations in New Mexico.
Copyright © 2001, 2011 Mark A. Miner