John Harbaugh
(1856-1939)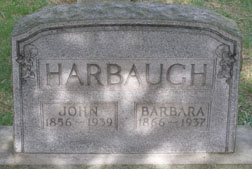 John Harbaugh was born on Sept. 29, 1856 in or near Nicolay, on the mountainous border of Fayette and Somerset Counties, PA, the son of Joseph and Jane (Williams) Harbaugh.
At the age of 33, John married 23-year-old Barbara Long (1866-1937) on Sept. 26, 1889. She was the daughter of Enoch and Rachel (Firestone) Long of Stewart Township, Fayette County, and was employed as a "school marm" at the time of marriage. The wedding ceremony was performed by Rev. John Williams at the home of John's mother.
The Long and Harbaugh-Minerd families were close. Barbara's sister Elizabeth Long (1869-1952) married Robert Bacom Harbaugh Sr. of Nicolay, Fayette County, and their uncle George Long Jr. married Elizabeth Minerd of Normalville, Fayette County.
Their nine children were Leonard Earl Harbaugh, John Williams Harbaugh, Ralph Harbaugh, Oma Stuckslager, Bertha Brant, Catherine "Mildred" Graham Thomas, twins Anna Ruth Buell and Scott "Brady" Harbaugh Sr., and Barbara Edith Harbaugh. Sadly, son Ralph died at the tender age of four days in 1893, and daughter Barbara died unmarried in 1928 at the age of 21.
For 45 years, the Harbaughs were farmers who resided at the now-gone town of Victoria, also known as Salt Spring Bottom. John also served as postmaster at Salt Spring Bottom, two miles east of Ohiopyle, for 26 years. John's step-grandmother, Martha (Minerd) Harbaugh, grew up in the vicinity of Victoria, where her father boiled salt and where she brought him food and drink while he worked.
Barbara was afflicted with cancer of her ovary which spread throughout her body. She passed away on Oct. 15, 1937, at the age of 71, at Connellsville State Hospital.
John outlived her by two years. Suffering from heart problems (mitral regurgitation), she died at the home of his married daughter Oma Stuckslager in Uniontown, Fayette County, on April 19, 1939, at the age of 82. They rest for eternity at the Indian Creek Baptist Church cemetery in Mill Run. At his death, John had seven grandchildren. They have an entry in the 1947 Harbaugh History book (Evansville, IN), authored by Cora Bell and J.L. Cooprider.
~ Son Leonard Earl Harbaugh ~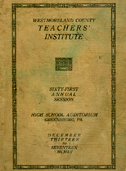 Son Leonard "Earl" Harbaugh (1890-1958) was born in 1890 and apparently was named in part for his great-grandfather, Leonard Harbaugh Sr.
He stood five feet, four inches tall, and weighed 160 lbs, with a scar area over his left eye. In 1915, he lived in Victoria and was employed as a teacher in Greensburg, Westmoreland County, PA and is listed in the directory of the 61st Annual Session of the Westmoreland County Teachers' Institute, held in the Greensburg High School Auditorium on Dec. 13-17, 1915. (The catalogue is seen here.)
When World War I broke out, he enlisted in the US Army on June 2, 1917, and held the rank of second lieutenant at the time of his discharge on Dec. 2, 1918, following the war's end.

Earl married Ella Setterdahl (1892-1949) on Feb. 12, 1921, at Orion, Henry County, IL. They had no children. The Harbaugh History states that Earl was a teacher and that Etta "taught school at Manual Training High School, in Indianapolis, Ind." The Daily Courier reported that Leonard was a "graduate of Edinboro State Teachers College, Allegheny College and the University, [and] had spent his professional life as a public school teacher, a school principal, the assistant superintendent of Fayette County Schools, a member of the faculty at the University of Pittsburgh and his last employment was as construction engineer with the state Highways Department. He retired in 1956. He was a member of Phi Kappa Psi, social fraternity; Kappa Phi Kappa; Phi Beta Kappa and the Indian Creek Valley Lions Club."
They returned to the Mill Run area of Fayette County in about 1934 and lived there in the 1940s. During World War II, at age 51, Earl registered for the military draft. he stated his place of residence as Mill Run, and his employer's name as the Pennsylvania Department of Highways at Uniontown.
Etta died in October 1949, while they were vacationing in Van Wert, Van Wert County, OH.
He outlived her by nine years. He died at the age of 67, in Pittsburgh's Veterans Hospital, on March 31, 1958. Burial was in Green Ridge Memorial Park near Connellsville.
~ Son John William Harbaugh ~
Son John Williams Harbaugh (1891-1975) was born in 1891.
He married Ethel Howland (1896- ? ) on Aug. 11, 1919 at Ebensburg, Cambria County, PA. They had one daughter, Barbara Ethel Harbaugh.
In 1920, John and Ethel moved to Mill Run, where they remained for at least a half century of time. According to their entry in the 1970 History of Mill Run book:
John began his schooling on the elementary level in Stewart Township (Rock Spring School) and Ohiopyle Borough, and attended the local Normal School at Mill Run in the summers of 1910 and 1911. He taught two years in Stewart Township's one-room schools, Bidwell and Bear Run. He then entered Edinboro State Normal School (now Edinboro State College) in 1912 and upon graduating in 1915, he entered Allegheny College. After two years there, he enlisted in the U.S. Army and returned to Allegheny in 1919, and graduated in 1920 with an A.B. degree. He served as Assistant Superintendent of Fayette County Schools from 1920 to 1927. He resigned this post to join the faculty of the University of Pittsburgh where he remained until his retirement in 1962, after thirty-five years, as Emeritus Professor of Education. [He] did his graduate work at the University of Pittsburgh and the University of Chicago. He was granted the M.A. Degree from the University of Pittsburgh in 1928, and completed all work for his Ph.D., except the thesis... Some special and interesting facts about his career include: one summer in Western Penitentiary testing inmates; while on the resident staff of the Erie Center of University of Pittsburgh he helped to found the Erie Day School, a private elementary school, where he was able to test his educational theories, serving four years there. For fourteen years, he served as a member of the Springfield Township School Board, and during this time the elimination of the one-room school came about.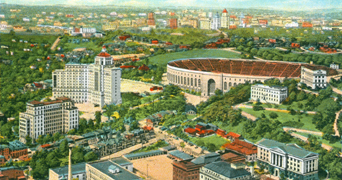 University of Pittsburgh campus, showing Presbyterian Hospital, Pitt Stadium and Childrens Hospital
John moved back to Mill Run in 1943, and was a member and president of the Indian Creek Valley Lions Club. Ethel died on April 24, 1972. He died at the age of 83, at Pittsburgh's West Penn Hospital, on May 23, 1975.
Granddaughter Barbara Ethel Harbaugh (1920- ? ) apparently was named in part for John's sister who died as a young adult. Barbara II married Dr. Frank Marion Mateer (1921- ? ) on July 11, 1943. Frank was a U.S. Army physician who was stationed in the Panama Canal Zone circa 1947. The Mateers later returned to Western Pennsylvania, and in 1970, Frank was a heart specialist working in Pittsburgh.
~ Daughter Anna (or "Oma") (Harbaugh) Stuckslager ~
Daughter Anna (or "Oma") Harbaugh (1894-1977) was born on Sept. 5, 1894 at Victoria, Fayette County. As a young single woman, she was a school teacher in Fayette County.
She married farmer James Cockburn Stuckslager (1888-1967) on June 19, 1918, when she was age 23 and he was 29. He was the son of C.H. and Josephine (Wills) Stuckslager.
James later became a Commissioner of Fayette County.
They resided in 1928 in New Salem, Fayette County, and in the 1940s in Uniontown, Fayette County, where James was employed as a livestock supervisor. They were members of the Third Presbyterian Church. They had two children -- Betty Jean Stuckslager and James Stuckslager. Sadly, son James Jr. died in childhood in 1933.
James is thought to have been elected treasurer of the Stuckslager clan annual reunion, held at an old family home near Perryopolis, Fayette County, in June 1931. That year, about 100 people attended, which included a celebration of the 100th anniversary of the purchase of the homestead, said the Uniontown Herald. The event featured a "beautiful chicken dinner" and speeches by county superintendent of schools James G. Robinson as well as H.R. Stuckslager, Christian Stuckslager, Florence B. Moore and James Stuckslager. Oma's brother Earl Harbaugh and his wife also attended in 1931.
Oma was a member of the Third United Presbyterian Church of Uniontown and enjoyed belonging to the Women's Bible Class. Their home in 1937 was at 227 Connellsville Street in Uniontown.
Oma passed away in Uniontown in July 1977, at the age of 82. The Uniontown Morning Herald said she had five grandchildren and two great-grandchildren. Following her funeral held at the Minerd Funeral Home in Uniontown, she was laid to rest at Lafayette Memorial Park at Brier Hill near Uniontown.
Granddaughter Betty Jean Stuckslager married Steve Towner. Circa 1977 they resided in Levittown, Long Island, NY.
~ Daughter Bertha (Harbaugh) Brant ~
Daughter Bertha Harbaugh (1896-1979?) was born in 1896.
She married Fred W. Brant (1887-1977?) on April 15, 1926. They had no children.
Circa 1928, they lived in Berlin, Somerset County, PA, and in the mid-1940s through the 1970s, they resided at Garrett, Somerset County.
Fred may have died in March 1977, at age 90.
We believe Bertha last lived in Youngstown, Westmoreland County, PA and died there in May 1979. This needs to be confirmed.
~ Daughter Catherine Mildred (Harbaugh) Graham ~
Daughter Catherine Mildred Harbaugh (1900- ? ) was born in 1900.
She married Henry Glen Graham (1888- ? ), the son of Sheldon P. and Minnie A. (Jackson) Graham, on Christmas Eve, 1921. She was a teacher in Fayette County circa 1921. During World War II, she served in the Women's Army Corps (WAC). Henry worked as a millwright, and they lived at Coraopolis, Allegheny County, PA in the 1940s.
The Grahams had two children -- Glenn Harbaugh Graham and Joan Catherine Galbreath. Sadly, son Glenn died on Christmas Eve 1928 at the age of six.
The Grahams lived at Glenwillard, Beaver County, in 1958.
Granddaughter Joan Catherine Graham married Rev. John Galbreath, a Navy chaplain in the Fifth Marine Division in World War II, and later a United Presbyterian minister in Mount Lebanon, a suburb south of Pittsburgh, circa November 1943.
~ Daughter Anna Ruth (Harbaugh) Buell ~
Twin daughter Anna "Ruth" Harbaugh (1905- ? ) was born in 1905.
She married Rev. Clifford Delmont Buell (1907-1991?) on June 16, 1933. They resided at Zara near Pittsburgh, Allegheny County, PA.
As of November 1946, when she provided information for the Harbaugh History book, they had one son, Clifford Earl Buell.
Ruth lived in Kittanning, PA in 1958 and at Beaver, Beaver County, PA, circa 1975-1977.
Clifford is believed to have died on July 30, 1991, at the age of 84.
~ Son Scott Brady Harbaugh ~
Twin son Scott "Brady" Harbaugh Sr. (1905-1975) was born in 1905.
He married Margaret Rosetta Hall (1906-1981), the daughter of John Lewis and Emma (Linderman) Hall, and a native of Connellsville, Fayette County. The wedding took place in East Pittsburgh, PA on April 7, 1930.
They had three sons -- Scott Brady Harbaugh Jr., James Ronald Harbaugh and Carl Richard Harbaugh, all born in the 1930s.
Circa 1947, the Harbaughs resided in Dearborn, Wayne County, MI, where Scott Sr. was employed as a machinist. He provided his own information for the 1947 Harbaugh History book. Circa 1975, Scott lived in Ferguson, near St. Louis, MO.
Scott died in July 1975, at the age of 70, in St. Louis.
Margaret outlived him by six years. She passed away in October 1981.

~ Daughter Barbara Edith Harbaugh ~
Daughter Barbara Edith Harbaugh (1907-1928) was born in 1907.
Tragically, she died unmarried at the age of 21 on Dec. 10, 1928, at her parents' home in Victoria. The Daily Courier reported that she was "the youngest of a family of eight children. She was a graduate of the Connellsville High School, being a member of the Class of 1926. She was a senior at the Southwestern Teachers College at California, Pa., which institution she was attending when she became ill 16 months ago."
Rev. E.H. Stevens, pastor of the First Baptist Church, oversaw the funeral. Said the Courier, "Mrs. N.T. Hibben, Mrs. S.B. Dull, of the church choir, and Rev. Stevens sang 'Some Time We'll Understand' and 'Abide with Me.' A duet, 'Jesus Knows Our Every Sorrow,' was sung by Mrs. Hibben and Mrs. Dull." Following the funeral at the family home, she was laid to rest in the Indian Creek Baptist Church Cemetery. Her grave marker is seen here as photographed in 2008.
Copyright © 2007-2010, 2012, 2014 Mark A. Miner