Home

James "Stack" Hoge
(1880-1913)
James "Stack" Hoge was born in January 1880 in Wheeling, Ohio County, WV, the son of Theudas and Agnes (Hanshaw) Hoge.
In early age, Stack and his brother Raymond clerked for their father in the family hardware business in Wheeling.
Stack married Edna H. (?) ( ? -1942?). They had at least one daughter, Agnes Elizabeth Henderson.
Circa 1908, the Hoges resided in St. Clairsville, Belmont County, OH. That year, at the death of his uncle Dr. Guy Hanshaw, Stack became entitled to a 1/16 share of the estate, which included lucrative oil and gas wells. He received an immediate payout from the estate of $115.63 in 1909. In 1910, when Stack's aunt Julia (Hanshaw) Fawcett passed away, he received a bequeath of $100 as "my beloved nephew, ... by reason of him having aided me materially at divers times."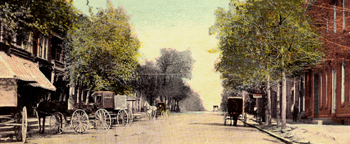 Center of St. Clairsville's Main Street, looking east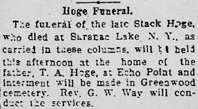 Tragically, Stack suffered from an incurable case of tuberculosis, and decided to leave the heavily industrial Ohio River Valley with its air pollution. He and Edna then moved to Saranac Lake in the Adirondack Mountains of Franklin County, NY. The area was world renowned as a leading treatment center for pulmonary TB. Knowing his time on Earth was drawing short, he penned a will on Sept. 7, 1912. Under the terms of the will, he left all of his estate to Edna. "I have expressly omitted to make herein any provision for my daughter, Agnes E. Hoge," he wrote, "for the reason that I have full confidence that my wife will make better provision for her in every way than I can do by any provision herein."
Just three days after writing his will, Stack died, on Sept. 10, 1912, at the age of 33. His remains were returned to Wheeling for burial in the Hoge family plot in the city's prestigious Greenwood Cemetery. The Wheeling Register noted that Rev. G.W. Way conducted the funeral ceremony, following a funeral at the home of Stack's aged father at Echo Point.
As a widow, Edna then began receiving the royalty payments. She continued to receive them until her death in about 1942. The high point was in 1918, when she received $49.08. In total, the Hoges received $534.35 in inheritance.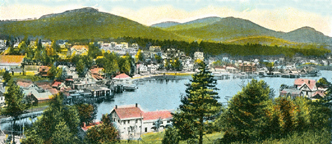 Deceptively peaceful Saranac Lake, where many tuberculosis patients, including Stack Hoge, unsuccessfully sought cures for their suffering. Baseball hall of fame pitcher Christy Mathewson also died here in the 1920s.
Edna's whereabouts after 1913, and fate, are not known.
In 1942, the Hoges' daughter Elizabeth received the final payment from the Hanshaw estate. She eventually married a man named Henderson, but her fate after that is lost to history.
Copyright © 2004, 2006, 2008 Mark A. Miner