Emma C. Jennings
(1865-1885?)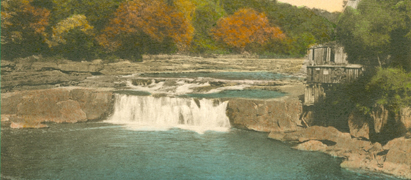 Ohio Pyle falls
Emma C. Jennings was born in 1865 near Ursina, Somerset County, PA, the daughter of John R. and Martha (Knight) Jennings Sr.
In the year 1880, when the federal census was taken, she was age 15 and living with her parents in the Maple Summit area of Stewart Township, Fayette County, in between Mill Run and Ohio Pyle, Fayette County. Among their near neighbors that year were the families of cousins Charles and Adaline (Harbaugh) Minerd and widow Jane (Williams) Harbaugh.
A rare old postcard of the world-famous Ohio Pyle falls is seen here, set against the backdrop of the "Little Alps of America."
~ Speculation on Marriage with Robert Linderman ~
It is possible that ours' was the same "Emma Jennings" of Fayette County who, on March 27, 1881, was united in marriage with Robert Linderman (March 26, 1858-1909), also of Fayette County, and the son of Jacob and Maria (Shipley) Linderman. Justice of the peace D. Mickey of Confluence performed the nuptials. News of this wedding was printed some nine months later in the Somerset Herald newspaper, on Dec. 14, 1881. If so, Emma would have been age 16 at the time. Census records for 1880 show that ours' was the only Emma Jennings residing in Fayette and Somerset Counties at the time.
Whether or not this couple reproduced is unknown. They resided in Stewart Township, Fayette County, where Robert labored as a farmer.
Somerset Herald, Dec. 14, 1881
Library of Congress
Sadly, Emma Linderman died after just four years of marriage. Her passing occurred on July 29, 1885 at the age of about 20. Burial was in Glade Cemetery, located near the Maple Summit Church in Fayette County. Her age was inscribed on the grave marker as 23 years, four months and 21 days. The cause of her untimely demise is not yet known and may be lost to history.
After three years as a widower, the 34-year-old Robert wed again to 24-year-old Rosa R. "Rose" Bingner (1868-1938), daughter of Charles and Lavina (Hirsch) Bingner of Berlin, Somerset County. The couple united themselves in wedlock on March 24, 1892. On the marriage license application, Robert stated that the date of death of his former wife was "3 years ago July 29th."
The couple produced two known children -- Lucy A. Linderman and Alfred "Lloyd" Linderman. The 1900 United States Census shows that the family remained in Stewart Township, with Robert engaged in farming work. Robert's former sister in law Mary Todd (Jennings) Shipley and her family lived a few houses away.
The gossip columns of the Connellsville Daily Courier reported in March 1906 that the Lindermans had attended a recent baptismal service in the Youghiogheny River in Bidwell, Fayette County.
Tragedy shook the family in the spring of 1909 when they dwelled near Ohiopyle, and Robert was about three weeks shy of his 52nd birthday. While he was at work at the Ohiopyle Company sawmill, on April 14, 1909, the spinning circular saw blade disintegrated, sending shrapnel in every direction. Robert was "badly slashed by the flying pieces of a rotary saw which whirled apart," said a newspaper. Dr. T.H. White of Connellsville and Dr. G.W. Gallagher were called to try to save his life. Death came after two days of suffering. "A leather apron worn by Mr. Linderman at the time saved him from instant death but gangrene set in and death came last night." Funeral services were held in the Linderman home, followed by burial in the Glade Cemetery. An upright stone marker was erected at the grave, and was inscribed "At Rest" at the bottom, along with this epitaph:
Again we hope to meet thee,
When the day of life is fled.
Then in Heaven with joy to greet thee,
Where no farewell tear is shed.
Rosa survived her husband by more than a quarter of a century. Toward the end, she moved into the home of her son Lloyd on Commercial Street in Ohiopyle. At the age of 70, suffering from inflammation of the heart and breakdown of her coronary arteries ("senile myocarditis"), added to chronic kidney disease, she passed away on Oct. 3, 1938. Reported the Connellsville Daily Courier, "Although she has been in poor health and under a doctor's care for some time her death came as a shock to the community. Monday afternoon her son, Lloyd, led her for a short walk in the sun. Although blind, she enjoyed the short walk and at 5 o'clock had her lunch. An hour later she went in a convulsion and died at 9 o'clock" Interment was in Maple Grove (Sugar Loaf) Cemetery, with Tom Linderman of Ohiopyle signing the death certificate.
Son Alfred "Lloyd" Linderman (1894-1966) was born in December 1894. At the age of 2, in May 1918, he was involved in a tragedy while riding on the back of a motorcycle driven by Ohiopyle policeman Harold H. Orndorff driving and friend Martin Shipley as a fellow passenger. The cycle "overturned throwing all three of the men," reported the Daily Courier. Orndorff was mortally injured and died after a week of suffering. In 1931, he was named captain of a newly formed Yough Valley Baseball Club, with Benjamin Thorpe elected manager of the team. Circa 1938, Lloyd lived on Commercial Street in Ohiopyle. Toward the end of his life, Lloyd relocated into Uniontown, the seat of Fayette County. He died at the age of 72 in Uniontown Hospital on Sept. 10, 1966. An obituary in the Somerset Daily American noted that burial was in Chalk Hill Cemetery, following funeral services conducted by Rev. James Bissell.
Daughter Lucy Linderman (1893- ? ) was born in January 1893. She wed Carl Welsh and in 1938 made her home in Wellsburg, PA. Their one known daughter was Julia Welsh.
All of this needs to be confirmed. More will be reported when learned.
Copyright © 2000, 2006, 2017 Mark A. Miner