Home

Arlina (Menefee) Stuck
(1871-1942)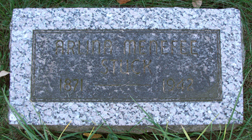 Arlina "Arlene" Grace (Menefee) Stuck was born on Jan. 3, 1871 near Newburg in the Reno District of Preston County, WV, the daughter of John and Ruhama (Hanshaw) Menefee. She and her husband were prominent hotel keepers in Newburg, a trait shared in a number of branches of the Hanshaw cousins. Her darkened grave marker is seen here.
In 1903, Arlene married William Franklin Stuck (1871-1960), otherwise known as "Frank Stuck," in Preston County. They had one daughter, Mildred Virginia Phillips.
The Stucks were considered "early settlers" of Newburg. According to the 1979 book, Preston County West Virginia History, published by the Preston County Historical Society, they "owned and operated an 18-room hotel in the house now owned by Mildred Phillips, their daughter." Continued the History: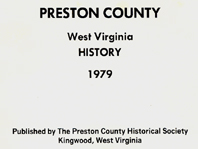 In 1908, William Frank Stuck bought the Glendale Hotel in Newburg. He and his wife ran the hotel for several years and in 1914, he built a hardware story which he ran until December, 1957. Mr. and Mrs. Stuck were both active members of the Methodist Episcopal Church in Newburg.
In 1908, Arlene's wealthy physician-uncle, Dr. Guy Hanshaw, passed away, leaving no children. Arlene's elderly mother was entitled to a share of the estate, which was comprised of extensive oil and gas holdings in West Virginia. To protect the mother's interests, the Ritchie County Chancery Court appointed the "Committee of Ruhama Menefee" to be led by Arlene's husband Frank. The committee received an immediate payout from the estate of $242.50 in 1909. After Arlene's aged mother died in 1912, Arlene and her siblings began receiving the money directly through the special committee. The committee existed about until Arlene's death, receiving annual royalty payments from the wells. Arlene herself began receiving payments in 1942, the same year she died. Also receiving a share of this payment in 1942 was "Belle Menefee," whose precise identity is unknown, but is presumed to be Arlene's sister, Isabelle Jane Menefee.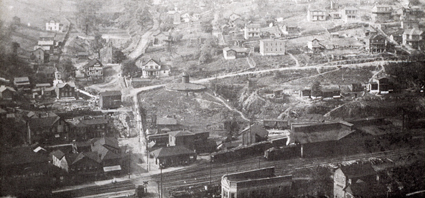 Bird's-eye view of Newburg, early 1900s
Frank was featured in a lengthy profile in The History of West Virginia, Old and New, published in 1923 by the American Historical Society, Inc. (vol. II. page 500). The profile described Frank as:
... a resident of Preston County throughout the half century of his life, [and] is a well known merchant at Newburg, and while his career has been chiefly concerned with civilian grouping of affairs, he has some of the sturdy traits and courageous spirit that has marked his ancestors.... [He] was born at Newburg, September 21, 1871, and as a boy he acquired a public school education. From 2886 to 1893 he clerked in a store, then entered business for himself as a general merchant, sold out in 1898, and, going to the Pacific Coast, was for five years a traveling salesman with headquarters at Seattle, representing Winship Brothers, wholesale grocers. Returning home in 1903, Mr. Stuck for a brief time resumed his work as a clerk at Newburg, and then again went on the road as a salesman, a vocation he followed until 1915. Since that year he has been building up and extending a prosperous business as a hardware and builders' supplies dealer. He is one of the original stockholders of the First National Bank of Newburg, is a stockholder in the Winchester Repeating Arms Company, and was an original stockholder and is vice president of the West Virginia Drilling and Development Company, which has done considerable development work in the oil and gas territory. Mr. Stuck served one term as president of the Board of Education of Lyon District, and during that time several new schoolhouses were erected. He has put forth his efforts constantly for general improvement, is a staunch republican in politics, casting his first vote for Benjamin Harrison for president, and has been a member of a number of conventions, including the first convention at Wheeling, when the noted Charles Swisher figured as a candidate. In more recent years politics has been an after consideration with Mr. Stuck, though he has never failed to vote and according to his party faith... While not a member, he believes in the good work of churches and gives them his financial support.

Opening lines of Frank's lengthy profile in the History of West Virginia, Old and New
Arlene passed away on April 29, 1942. She was age 71.
Frank outlived his wife by 18 years. He died on Valentine's Day 1960. He was laid to rest beside his wife in the old Stuck plot at the Damon Cemetery in Newburg.
~ Daughter Mildred Virginia (Stuck) Phillips ~
Daughter Mildred Stuck and Charles W. Phillips (1903-1956) -- seen at left -- were married in 1921. They had seven children – Mary Margaret Keeney, William Clare Phillips, James Lyle Phillips, John Howard Phillips, Clarissa Adaline McGinnis, Kathryn Ann Harriman and Sandra Charline Bolyard.
Charles worked from 1918 to 1956 as a trackman, fireman and engineer for the Baltimore & Ohio Railroad. He and Mildred are profiled and pictured in the 1979 Preston County history book.
Three of the Phillips' sons -- William, James and John -- "pursued railroad careers," said the Preston County history. "William was employed by the Pennsylvania Railroad, Maryland Division and James and John were both employed by the Baltimore and Ohio Railroad, Cumberland Division."
Grandson James Phillips (1926- ? ) and his wife Martha (Hockenberry) Stuck are pictured and profiled in the Preston County history. In addition to his career working on the railroad, said the history:
He served as County Executive Committeeman, 1960-1964; member Preston County Court, 1964-1968; secretary of the Court, 1965,1966, 1967; June, 1972, was elected Town Councilman of Municipality of Newburg; has been a lifetime member of the Newburg United Methodist Church; served as lay speaker, lay pastor, 1964-1968; served churches on Newburg Circuit comprising Howesville, Birds Creek, Shay's Chapel, Independence, Bethel, York's Run, and was ordained a deacon by the West Virginia Conference, June, 1967. He has served as president and secretary of Newburg Rotary Club; president of Newburg High School Alumni; 1964-1971; served as counselor-teacher to the Methodist youth camps of the Lower Cheat River Larger Parish; 1971-1978, a counselor-teacher and assistant director of Aldergate Youth Camp, Cranesville, West Virginia.
Thanks to the Menefee Family Association for sharing their information.
Copyright © 2000, 2004, 2006, 2008, 2010 Mark A. Miner
Phillips photo portraits courtesy of the Preston County West Virginia History, Preston County Historical Society (1979)