Martha 'Jane' (Minard) Manbeck
(1852-1939)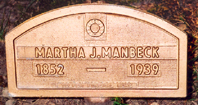 Martha "Jane" (Minard) Manbeck was born on Feb. 22, 1852 near New Rumley, Harrison County, OH, the daughter of Jacob and Mary Ann (Kimmel) Minerd.
Martha married Daniel Manbeck (1851-1938) on Jan. 8, 1880. She was age 27, and he 28, at the time. Rev. E.J. Collins, a minister of the divine word, (VDM) performed the nuptials in Harrison County.
They had seven children – Charles E. Manbeck, Flossie Elberta Slates, Gertrude G. Manbeck, Ila Laura Manbeck, Jesse Sheldon Manbeck Sr., Emmett E. "Preach" Manbeck and Leona Manbeck. Daniel had been married once before, to Alice A. Heidy, and had a son from that marriage, Ira M. Manbeck.
The federal census enumeration of 1900 shows the family residing near New Rumley, where Daniel was a day laborer and farmer.

New Rumley Methodist Cemetery
The Manbecks faced unspeakable tragedy in January 1905 when 22-year-old son Charles, a brakeman on the Pittsburgh & Fort Wayne Railroad, fell from a freight train in Alliance, OH. He "was instantly killed…" reported the Cadiz Republican. "His mangled remains were brought home Monday and laid to rest" at the New Rumley Methodist Church Cemetery.
Charles' grave is seen here. He is one of a frightening number of cousins to have lost their lives in railroad and streetcar accidents.
The following month, in February 1905, the Manbecks moved to the farm of Daniel's mother one mile north of Jewett. Then, in a domino-like effect a week later, son Emmet moved to the newly vacant Manbeck farm west of New Rumley.
By 1910-1920, remaining in their New Rumley area on Rumley-Scio Road, Daniel and Jane were the only occupants of their home, the rest of the children having made their way out into the world. Daniel made a living that year as a fireman in a local sawmill.
In 1930, the census-taker that the 78-year-old Daniel continued to work as a farm laborer.
Daniel passed away at the age of 87, at the home of son Emmet in Jewett on May 6, 1938.
Jane lived only another year longer, in her son's home in Jewett. Afflicted with a deadly case of bronchial pneumonia, she died on March 2, 1939, just eight days her 87th birthday. They are buried together at the New Rumley Methodist Church Cemetery. Their graves, which consist of simple metal plaques, were decorated with planted flowers when photographed in 2001

Simple metal plaques mark the graves of Martha and Daniel Manbeck, August 2001
~ Daughter Flossie Elberta (Manbeck) Slates ~
Daughter Flossie Elberta Manbeck (1889- ? ) was born in July 1889.
She married Perry Oliver Slates (1886-1944), a native of Shoals, IN, but a resident of Jewett, Harrison County at the time. His parents were Oliver and Elma (Neighbors) Slates.
They had at least two children -- Carl Slates and Martha (or Pauline) Schrickel.
Cadiz Republican
The Slateses resided in Jewett, where Perry was a railroad brakeman and later conductor. The federal census of 1920 shows this family residing on North Street, next to Flossie's married brother and sister in law, Emmett and Belle Manbeck.
Perry was employed for 28 years with the Wheeling Lake Erie Railroad.
At the age of 57, in July 1943, Perry was afflicted with colon and liver cancer and had to quit work. He died at home, the day after Christmas 1944, and was buried in Jewett's Fairview Cemetery. His obituary in the Cadiz Republican said his survivors included his siblings Mrs. Linwood Webster, John Slates and Mrs. Mert Walters
Flossie's fate is unknown.
~ Son Jesse Sheldon Manbeck ~
Son Jesse Sheldon Manbeck (1891-1973) was born on Dec. 3, 1891 or 1893 in New Rumley. He was a coal miner in the Cadiz area and also was employed in one of the rubber plants in Akron, OH, circa 1909.
At the age of 21, on Dec. 14, 1912, he married 20-year-old Anna B. Baker (1902- ? ). She was the daughter of R.M. and Mary (Benedict) Baker. At the time, Jesse was a laborer living in New Rumley. Rev. George L. Davis performed the ceremony.
They had six children -- Charles M. Manbeck, Woodrow Manbeck, William Manbeck, Betty M. Manbeck, Jesse Manbeck Jr. and Mrs. Daniel Krankovich.
The Pennsylvania Railroad depot in Cadiz
When the federal census was taken in 1920-1930, the family made its home on North Ohio Street in Cadiz. Jesse's occupation in 1920 was coal miner, and by 1930 was coal mine mechanic.
Jesse died at his home on Cadiz Route 1 at the age of 79 on Feb. 15, 1973. At the time, he had 18 grandchildren and 23 great-grandchildren.
Grandson Charles M. Manbeck ( ? - ? )
Grandson Woodrow Manbeck ( ? - ? ) made his home in Canton, OH.
Grandson William Manbeck ( ? - ? ) resided in Cadiz.
Granddaughter ( ? - ? ) Betty M. Manbeck
Grandson Jesse Manbeck Jr. ( ? - ? ) lived in Cadiz, Route 1.
Granddaughter (?) Manbeck ( ? - ? ) married Daniel Krankovich. They lived in Cadiz.
~ Son Emmett E. "Preach" Manbeck ~
Son Emmett E. "Preach" Manbeck (1886-1960) was born on Oct. 3, 1880 or 1886.
He was a railroad employee for decades and a member of the United Mine Workers of America.
When Emmett was age 22 (or 16), on Aug. 28, 1902, he wed 18-year-old Belle Abel (1884- ? ), daughter of Cyrus Abel. James S. Reager officiated.
They had five known children -- Clarence Denver Manbeck, Floyd L. Manbeck, Elbert E. Manbeck, Myrtle Latch and John Franklin Manbeck.
In September 1915, the Manbecks' two-month-old son Clarence became seriously ill. A physician was called to the home, and he noted that the "child was suffering extreme malnutrition from improper feeding & care." Tragically, the baby did not survive, and died on Sept. 20, 1915. His tender remains were laid to rest in New Rumley.
Their home circa 1920-1930 was on North Street in Jewett, Harrison County. Emmett's occupation in 1920 was track foreman on the railroad. Their next door neighbor was his married sister and brother in law, Flossie and Perry Oliver Slates.
In 1930, married son and daughter in law Floyd and Mary, and their young daughter Dorothy, lived in Emmett and Belle's home in Jewett. That year, Emmett worked as a foreman on the track division of the railroad.
Heartache rocked the family in the early weeks of the new year in 1933. Nine-month-old son John, who had been bottle fed since birth, developed a deadly case of rachitis, inflammation due to improper nutrition, worsened by bronchial pneumonia. He died on Jan. 13, 1933, and was laid to rest in Cadiz.
Emmett died at the age of 76 at his home in Jewett in 1960, "attributed to a heart attack," said the Zanesville (OH) Times Recorder.
Granddaughter Myrtle F. Manbeck (1904- ? ) was born in 1904. She married (?) Latch.
Grandson Floyd L. Manbeck (1906) was born in 1906. He married Mary (?) in about 1927, when he was age 22 and she 18. They had at least one daughter, Dorothy B. Manbeck. Floyd's occupation in 1930 was "helper" in a tin mill in the Jewett area.
Grandson Elbert E. Manbeck (1914- ? ) was born in 1914.
~ Daughter Gertrude Manbeck ~
Daughter Gertrude Manbeck apparently never married. She lived in Gallipolis, Gallia County, OH circa 1960.
~ Stepson Ira M. Manbeck ~
Stepson Ira M. Manbeck (1878-1933) was born on Jan. 9, 1878 near New Rumley. He was but a boy when his father remarried to our Martha Jane Minard. Ira grew up and as a young adult worked as a day laborer on local farms.
He married Clara B. Keuhn (Kuhn) on March 3, 1900, when both were age 22. She was the daughter of Henry A. and Phoebe (Elwood" Keuhn. Rev. W.B. Jackson officiated.
They resided in German Township, Harrison County, where Ira made a living as a teamster.
Suffering from acute bronchitis and a blood clot in his arteries, Ira died at the age of 55 on Feb. 2, 1933. He was buried in German Township.
Copyright © 2002, 2006, 2008, 2013 Mark A. Miner