Frank Miner
Franklin "Frank" Miner was born on Jan. 17, 1893 at Wilmerding, Allegheny County, PA, the son of William Henry 'Squire' and Sara Jane (Basinger) Minerd. He was a carpenter and a longtime employee at Fallingwater®, the house over a waterfall designed by Frank Lloyd Wright that is considered America's "most famous modern house."
As a young man, Frank and his family moved back to Mill Run, Fayette County, PA, in the vicinity of where his father had grown up. Frank played a bass drum in the Mill Run Concert Band, and is mentioned and pictured in the 1970 book, A History of Mill Run.
During World War I, Frank served in the U.S. Army. When he registered for the military draft, he stated that he was employed by his father as a farm laborer in Mill Run. He was recorded as being of medium height, and stout build, with gray eyes and black hair.
On Christmas Day 1919, Frank married his first wife, Ida B. Grimm (1900-1971), the daughter of Henry and Barbara "Ellen" (Parker) Grimm and a foster daughter of Milton and Beatrice (Bates) Shipley. Frank was age 26 at the time, and Ida 19, at the time.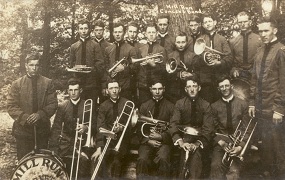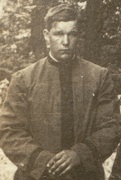 Frank (far left) with the Mill Run Band, 1910s
They had eight children: Harold Henry Miner, Hilda Cole, Howard K. Miner, Homer Miner, Eleanor Provance, Carroll "Wayne" Miner, Arla Borghi and Warren Miner. Sadly, Warren died at age three months, passing away at Connellsville State Hospital on July 25, 1941.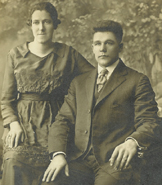 Frank and Ida
Immediately after their marriage, Frank and Ida began living with Ida's parents in Springfield Township, where Frank secured employment as a laborer in a local coal mine. When the federal census was taken in 1920, a year after marriage, the Miners and Grims are shown together under one roof.
The Miners later lived in Mill Run, Normalville and Indian Head, all nearby communities in the mountains of Fayette County. By 1920, remaining in Springfield Township, they had six children at home, along with brother in law Weldon Nicholson. Both Frank and Weldon were laborers for the Grimm Mine. Residing just a few households away were Frank's sister and brother in law, Irene and James Welsh and children, and their brother Clyde Miner and his wife Jane and family.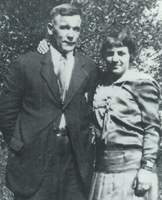 Frank and Bertha
Frank and Ida later divorced. She remarried, to Orville W. Imel (1904- ? ), the son of Charles Grant and Ida (Whipkey) Imel. Ida and Orville resided in Normalville, Fayette County.
Frank's second wife was Bertha C. Basinger (1902-1963), daughter of Samuel and Amanda (Meyers) Basinger of Springfield Township. She had two children prior to her marriage with Frank -- Marie Seneri and Judd C. Basinger.
Frank and Bertha went on to have five more children of their own -- Donnie Franklin Miner, Betty Lou Rugg, Ruth Shawley, Lenora Blanchard Reese Cox and Marvin Miner. They also apparently took in a young girl to raise, Carol Wall.
Frank was employed at Fallingwater by the owners, Edgar J. and Liliane Kaufmann, from the 1930s until his untimely death in 1956. His brothers Lester and Ralph also worked at Fallingwater for many years. The projects Frank was involved in are described in papers found in the Fallingwater archives during research in 2004. Among the projects were were:
... Steps at Fallingwater, painting the swimming pool pipe, working on driveways and the dam, and tearing down the Watson house (Sept. 12, 1955); a pipeline from the greenhouse to the garden (Nov. 8, 1955); working at the barn near Ethel Clinton Appel's house (Jan. 23, 1956); sanding floors and removing a door of the Merle Taylor house (April 17, 1956).
In 1954, Frank's large family gathered for the first official reunion, held at the home of son Harold in Point Marion, PA. The reunions continue to be held today, still drawing large crowds of family.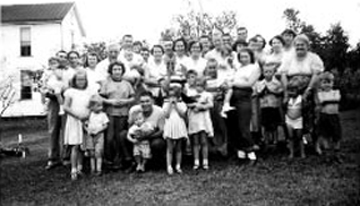 First reunion of the Frank Miner family, 1954, Point Marion, PA
During World War II, sons Harold, Homer and Howard served in the U.S. Armed Forces.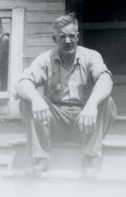 Taking a breather
Sadly, Frank passed away suddenly on June 4, 1956, after working a full day. He was shopping for a new television at a store in Normalville when he collapsed and died of a stroke.
He was laid to rest in the Normalville Cemetery. His obituary in the Connellsville Daily Courier noted that Frank "had been employed at the E.J. Kaufman estate, and was a veteran of World War One."
In her report to Mr. Kaufmann of June 4, Mrs. Appel wrote: "We were all shocked and saddened to learn of the sudden death of Ralph Miner's brother Frank, one of our workmen… Flowers were sent [from] Mr. Kaufmann." Two men were hired to replace Frank.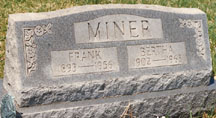 Normalville Cemetery
Bertha outlived her husband by seven years. Suffering with hypertension, she was felled by a massive heart attack and died at the age of 60 on March 9,, 1963. Her remains were laid to rest beside Frank at the Normalville Cemetery following funeral serviced led by Rev. Robert Blank in the Normalville Evangelical United Brethren Church.
Former wife Ida passed away on Oct. 2, 1971, in Connellsville. She and Orville Imel are mentioned in the 1975 book, Immel and Imel Families in America, authored by Velma (Byrum) Keller. Ida's children are mentioned in the book, but mistakenly are named "Imel" rather than "Miner."
In June 2004, Frank's family gathered for their 50th annual reunion at the Indian Creek Community Center. A special booklet with photos was published by loving granddaughters as a handout.
Just a few weeks later, on July 10-11, 2004, Frank was honored among several of his brothers and cousins, for their longtime work at Fallingwater, at the national Minerd-Miner-Minor Reunion in Kingwood and Mill Run, PA. Click here to view our special reunion booklet. The event received statewide news media coverage by the Associated Press.
2004 reunion of Frank's descendants in Fayette County
~ Son Harold Henry Miner ~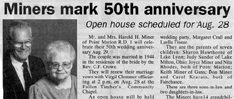 Uniontown Herald-Standard, 1994
Son Harold Henry Miner (1920-2007) was born in 1920.
He was a machinist with the U.S. Navy during World War II.
On Aug. 29, 1944, at the age of 24, he married Emma E. Blosser ( ? -2007).
They resided in Point Marion, Greene County, PA, where they raised their seven children -- Sharon Hawthorne, Judy Sandor, Joyce Miner, Keith Miner, Nita Rhodes, Don Miner and Carol Kezmarsky.
Harold worked for Houze Glass Corporation of Point Marion. On Aug. 28, 1994, they celebrated their 50th wedding anniversary. An article and photograph about their celebration were published in the Uniontown Herald-Standard.
Harold was "an electrician by trade [and] retired from the now former Houze Glass Corporation in Point Marion after over 30 years employment and was a member of the American Flint Glass Workers Union Local 547," said the Herald-Standard.
Harold and Emma were married for 62 years, and both passed away in 2007. She died on Jan. 30, 2007, and he only survived her by three and a half months, passing on May 4, 2007. They rest for eternity at Jacobs Lutheran Cemetery in Masontown, Fayette County.
~ Daughter Hilda (Miner) Cole ~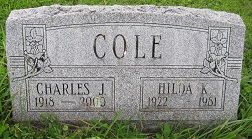 Normalville Cemetery
Daughter Hilda Miner (1922-1981) was born in about 1922.
At the age of 19, she moved in about 1941 to Monaca, Beaver County, PA.
She married Charles J. Cole (1918-2000) and had four children.
They were members of the United Methodist Church in Freedom and of the American Croatian Club in Monaca, said the Beaver County Times.
Circa 1979, she provided a few details about her family to neighbor Marlene (Shires) Bluemling, who in turn forwarded the material to the founder of this website.
She passed away in 1981. Her remains were brought back to Fayette County for interment in Normalville Cemetery.
Charles outlived his bride by 19 years. He died in 2000.
Grandson Ted Cole starred for the Monaca (PA) High School basketball team during a championship season in 1995, and often was pictured and mentioned in newspapers in Pittsburgh and Beaver County.
~ Son Howard K. Miner ~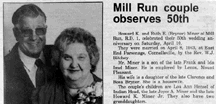 Daily Courier, 1993
Son Howard K. Miner ( ? - ? ) was born in (?).
He married Ruth E. Bryner ( ? - ? ) on April 8, 1943, the daughter of Clarence and Rosa Bryner of Mill Run. The nuptials were held in the parsonage of the East End Evangelical United Brethren church, with Rev. W.J. Richey leading the service.
Howard was employed as a mechanic by Connellsville Motor Sales and later by Lenox in Mount Pleasant, Westmoreland County, PA. They had three children -- Howard Miner Jr., Lou Ann Miner and one who died in infancy.
On April 8, 1993, they celebrated their golden wedding anniversary with a reception at the Indian Creek Valley Community Church in Indian Head, with 200 well-wishers in attendance. An article about the anniversary celebration, seen here, was printed in the Daily Courier.
Son Howard Miner Jr., of the Pittsburgh suburb of Monroeville, and daughter Joyce A. Miner passed away at young ages.
~ Son Homer Franklin Miner ~
Son Homer Franklin Miner (1925-2004) was born in 1925. He served in the U.S. Navy during World War II.
On Sept. 1, 1947, at the age of 22, he married 25-year-old Emma Jean Workman (1922-2013). She was the daughter of Oliver and Helen Workman of Vanderbilt, Fayette County.
They had two children -- Robert Miner and Marsha Garlick.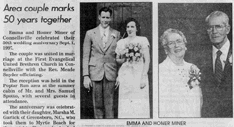 Daily Courier, 1997
The Daily Courier said that Homer "was a self-employed painter for many years, and also worked for many years as a custodian for the Connellsville Area School District. After retirement, he continued his work as a painter for family and friends."
Emma Jean, said the Courier, was a member of Otterbein United Methodist Church, where she sang in the choir and was secretary and treasurer of her Sunday School class. She also served in leadership roles with the Rebekah Lodge.
In 1997, the Miners celebrated their golden anniversary in 1997, with a reception in the Poplar Run area of Normalville, and with their photograph (then and now, seen here) appearing in the Courier.
Their son Robert D. Miner, an announcer for the WCVI and WPQR radio stations in Uniontown, Fayette County, died at age 31 in 1981.
Homer passed away in 2004.
Emma Jean outlived her husband by nine years, and spent her final years in the home of her married daughter in Greensboro, NC. She died at the age of 90 in Greensboro on July 22, 2013. Her remains were returned to Western Pennsylvania for interment in Green Ridge Memorial Park in Connellsville.
Daughter Marsha Miner married Charles Garlick.
~ Daughter Eleanor (Miner) Provance ~
Daughter Eleanor Miner (1927-1991) was born in 1927.
She moved to Monaca, Beaver County, PA, in about 1951, where she married Howard Provance and had one daughter.
She was "a retired manager of the snack bar at The Medical Center, Beaver, [and] a member of Freedom United Methodist Church," said the Beaver County Times.
Eleanor died in 1991 at the age of 64.
~ Daughter Arla (Miner) Borghi ~
Daughter Arla Miner (1933-2013) was born on Jan. 29, 1933 in Mill Run. As a young woman she and her brother Wayne moved to Beaver County, PA.
There, in about 1948, the teenager married William C. Borghi ( ? - ? ).
Their children were Mary Beth Kramer and Janice Anderson. The family made its home in Beaver Falls and were members of St. Philomena Catholic Church, today known as St. Monica-College Hill.
Arla was employed as a manager with Revco. She enjoyed bingo and card games and bowled in the Beaver Falls City Women's Scratch League.
Sadly, they endured the untimely death of their son in law George Kramer. Arla passed away in Providence Care Center on Sept. 20, 2013 at the age of 80. Following a mass of Christian burial at the family church, led by Father John Naugle, her remains were placed into eternal repose in St. Mary Cemetery in Chippewa Township.
Daughter Mary Beth Borghi married George Kramer ( ? - ? ). They had three children -- Matthew Kramer, Bradley Kramer and Douglas Kramer. Their home was in North Fayette Township.
Daughter Janice Borghi married Michael Anderson and dwelled in Beaver Falls. Their children are Melissa Bidlack, Jenna Anderson and Jack Anderson III. Janice is a legal secretary in the office of attorney John Rackley in Beaver, PA.
~ Daughter Betty Lou (Miner) Rugg ~
Anchor Hocking plant, Connellsville
Daughter Betty Lou Miner ( ? - ? ) was born in (?).
She married Army veteran Clayton R. Rugg (1931-2009), the son of Eli and Helen (Augustine) Rugg. They made their home in Mill Run.
Said the Uniontown Herald Standard, Clayton was employed at Anchor Hocking Glass Corporation (seen here) and also a self-employed farmer.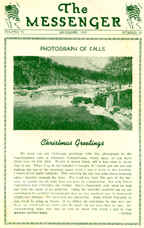 World War II publication
They had six children -- Russell Rugg, Clayton Eli Rugg, Larry Rugg, Kathy Rugg and Nancy Rugg.
Son Russell Rugg was born with spina bifida and died at the age of three weeks in January 1951 in Connellsville. Clayton passed away at the age of 78 in Highlands Hospital, Connellsville, on Aug. 29, 2009.
During World War II, military updates about sons Harold, Howard and Homer were published in a hometown newsletter, The Messenger, edited by a distant cousin, Ferne (Minerd) Work. A Messenger article in October 1944 disclosed that "On a furlough several weeks ago Harold Miner of the Navy was married to a girl from Point Marion. Congratulations and wish you happiness." In February 1946, the Messenger said that "Howard Miner was expecting to leave Europe the first of the year, but at this time have heard nothing else from him." In March 1946, the newsletter reported that:
Since the last publication more boys have been discharged. They include, ... Howard Miner... Homer Miner thinks he will be a civilian about this month. Boys we really hope it won't be long until you will all be back and going about in your usual way.
~ Son Donnie Franklin Miner ~

Donnie Miner
Son Donnie Franklin Miner (1932-2010) was born in 1932.
He married Helen Hutchinson.
They had nine children -- Pamela Treacher, Donnie Miner, Edward Miner, Robert Miner, Ronald Miner, Mark Miner, Elizabeth Hall, Christopher Miner and Rose Miner.
Donnie was "employed as a logger all of his life and he worked for the Gerald King Lumber Co.," said the Daily Courier. "He was a member of the Hampton Church of God." Suffering from Alzheimer's disease, Donnie passed away on Valentine's Day 2010, at home, at the age of 77. In his Daily Courier obituary, 33 grandchildren, 11 step-grandchildren and 31 great-grandchildren were named, for a total of 75 offspring.
Son Christopher Miner and his wife Lynn were pictured in the Greensburg (PA) Tribune Review in 1991, following his return from U.S. Navy duty during the Persian Gulf War.
~ Stepdaughter Marie Seneri ~
Stepdaughter Marie Seneri lived in Chicago in 1963.
~ Stepson Judd C. Basinger ~
Stepson Judd C. Basinger (1923-2009) was born on July 11, 1923 in Mill Run, the son of Carl Channing and Bertha Basinger.
He made his home on Hampton Road in Mill Run in 1963. Reported the Daily Courier, "Judd worked as a carpenter for James Meyers Contracting in Normalville for 32 years. He was a veteran of World War II having served in the Army and he was a charter member of the Donegal VFW No. 6743. He was also a member of the Normalville Rod and Gun Club. Judd was a longtime member of Mill Run United Methodist Church and a member of the Senior Bible Class where he had 62 years of perfect attendance.
Judd married Beulah A. Cole ( ? -2002). They had one daughter, Shirley Ann Morton.
Beulah passed away in 2002.
He died on Dec. 9, 2009. Following funeral services at the Mill Run United Methodist Church, burial was in Normalville Cemetery.
~ Foster Daughter Carol Wall ~
Foster daughter Carol Wall was taken in by the Miners and raised as a member of the family. Carol resided in Georgia in 1963.
Copyright © 2004-2007, 2009-2010, 2016 Mark A. Miner