Barbara (Minerd) McKnight
(1838-1866)
Cochran Cemetery, Dawson
Barbara (Minerd) McKnight was born in about 1838 in or near Wharton Township, Fayette County, PA the daughter of Henry and Hester (Sisler) Minerd.
Details of her relatively short life are sketchy. She also has been known as "Mary."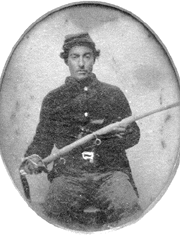 Civil War infantryman
On Oct. 23, 1854, when she was age 16, Barbara married 26-year-old Henry "Foxy" McKnight (1829-1915), seen here, the son of Henry and Mary McKnight. The ceremony was held at the home of her parents in Wharton Township, and was performed by J. Peters. The wedding was witnessed by Barbara's brother, Daniel Minerd, and by her brother in law, William McKnight, husband of Mahala Minerd.
The McKnights had five children -- Mary Hester Strauch, William McKnight, Ostman Theodore "Todd" McKnight, Charles McKnight and John Henry McKnight. Sadly, son William, born in 1857, died in infancy.
Barbara and Henry lived at Uniontown and Dawson, Fayette County, where Henry was a coal miner and coke oven laborer. He stood 5 ft. 8½ inches tall, with a fair complexion, grey eyes and sandy-red hair.
When the federal census was enumerated in 1860, Barbara and Henry, along with their young daughter and son, lived in Upper Middletown, in Menallen Township, near Uniontown. There, Henry worked as a day laborer, and was marked as unable to read or write.

Henry in old age
During the Civil War, on Aug. 25, 1862, Henry enlisted in the 140th Pennsylvania Volunteer Infantry, and was assigned to Company E. The photo seen here is thought, but not proven, to be him. Another distant cousin in our family was a member of the 140th Pennsylvania Infantry -- Cyrus Lindley, of Prosperity, Washington County, PA.
He is not known to have seen any action with his regiment during the 11 months he was with the army.
While Henry and the 140th Pennsylvania were serving at White Hall Station, MD, on Dec. 1, 1862, he came down with an illness that kept him sidelined. In his own words, he "was thrown into a creek and caught a severe cold which brought on Rheumatism and Catarrh in [my] head." Henry was treated at hospitals in York, PA from Dec. 1862 to May 1863 and in Pittsburgh until July 1863, when he received an early honorary discharge. He then returned home to his wife and young family.
Tragically, Barbara passed away shortly after his return from the war, on Valentine's Day, Feb. 14, 1866. She died from the effects of childbirth with her son John, and was only age 28. She was laid to rest at the Cochran Cemetery at Dawson, leaving Henry alone to worry about how to care for and raise his brood.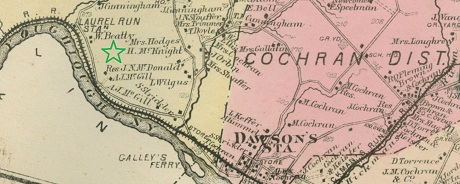 The 1872 Atlas of Fayette County shows the site of Henry's home (upper left, beside green star) near Strickler's Store and just north of the Youghiogheny River near Dawson, and not far from Laurel Run Station.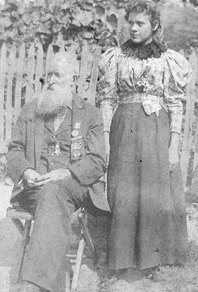 Henry with an unidentified woman
Their young, motherless son Charles was taken in by his uncle and aunt, Andrew and Mary (McKnight) Hiles of Dunbar, Fayette County. Another son, John Henry, was raised and adopted by Barbara's sister Mahala and her husband, William McKnight, who lived near New Salem, Fayette County. Who raised the other children is unknown.
Henry is seen here, wearing his Civil War medals and ribbons, with a young lady who is not yet identified but may be a granddaughter.
For the remaining 50 years of his life, Henry remained a widower. Despite constant arthritis ("rheumatism"), he continued to work in the coal and coke industry, and enjoyed attending Civil War reunions and encampments.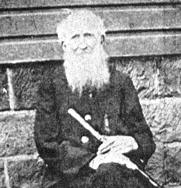 Henry in old age
Henry is seen here as an elderly man, having lost much weight as he aged.
Henry worked with his son in law, John H. Strauch, and Strauch later observed: "I have worked with him in the mines from the winter of 1873 at intervals to the Spring of 1884...," claiming that Henry was not "able to work more than half the time, sometimes not for from 2 to 4 weeks at a time" due to his wartime disabilities.
Justice of the peace William H. Cottom once wrote that "since 1865 [Henry] worked at the Fayette Coke works off an on for over five years and I was clerk and time keeper and I know that [Henry] was disabled from work fully one fourth of his time..."
Henry was close with his grandchildren, especially the Strauchs. Writing from an Army camp in Delaware in 1906, grandson Walter S. Strauch wrote:
Dear Grandady, I will take the pleasure of writing you a few lines to let you know that I have not forgot you yet... Say dady, I will send this picture to you. And you can see how I look since I was at home. I have got fatten up a little more now then when I was at home the last.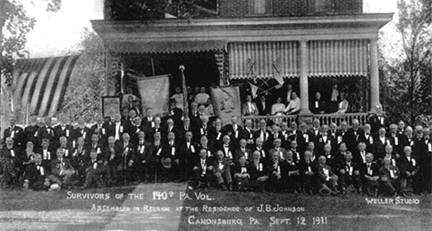 Reunion of the 140th Pennsylvania Volunteer Infantry. Is Foxy in this image?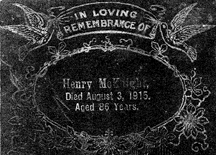 Henry's funeral card
In 1912, Henry was mentioned by name in Robert Laird Stewart's book, History of the One Hundred and Fortieth Pennsylvania Volunteers.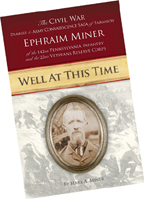 Confined to bed for the last years of his life, with no use of his lower limbs, Henry died on Aug. 4, 1915, and was buried beside his wife. A portion of Henry's black, cardboard-backed funeral card, with faded lettering, is seen here.
Their final resting place is near the grave of Sarah B. Cochran, famed coke industry widow whose home, Linden Hall, is now a famous Fayette County landmark. In the 1960s or '70s, some of their descendants replaced their crumbling grave markers with newer stones.
Henry is mentioned in a lavishly illustrated, 2011 book about one of Barbara's cousin who also was a Civil War veteran -- entitled Well At This Time: the Civil War Diaries and Army Convalescence Saga of Farmboy Ephraim Miner. The book, authored by the founder of this website, is seen here. [More]
Copyright © 2000-2001, 2011-2012 Mark A. Miner