Dr. Harold 'Daniel' Minerd
(1895-1973)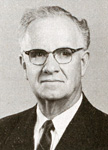 Dan Minerd
Dr. Harold "Daniel" Minerd was born in 1895 at Dunbar, Fayette County, PA, the son of Rev. David Ewing and Catherine (Williams) Minerd. He was a popular dentist for 53 years and one of the best-known and most politically active cousins in our family, using Connellsville, Fayette County, as his base.
Profiled in Lewis Clark Walkinshaw's 1939 book, Annals of Southwestern Pennsylvania, Dan had "an extensive and distinguished career," and "has not only enjoyed outstanding success as one of the leading dentists in Fayette County, but has also gained wide recognition and popularity for the contributions he has made to the social and civic life of his surroundings." Click to read the full text of the book entry.
In 1918, Dan graduated from the University of Pittsburgh with a doctor of dental surgery degree. Following graduation, Dan served in World War I, as a lieutenant in the dental department of the Army Medical Corps. His brothers Ewing and William also served in the Army during the war. Years later, as World War II loomed on the horizon, he was described in a newspaper saying he "knows the horrors of such conflict and is unalterably opposed to becoming involved in another unless it is one of defense. He is not opposed to an adequate defense program but will not countenance hysterical appropriations such as those now being granted."

Dan and Charlotte
In 1918, when he was age 23, Dan married 29-year-old Charlotte Helen Keffer (1889-1936). He was six years younger than his bride, and they are seen here. The Minerds had three children -- Richard David Minerd, Sarah Catherine Minerd and John Bain "Jock" Minerd Sr.
A Uniontown newspaper once carried this description of Charlotte, saying she was:
... a member of one of the best known families of Fayette County ... She was educated in the Connellsville schools and until her illness had been active in church and civic affairs of her city and community. She was a member of the Lutheran church of Connellsville and was affiliated actively in the work of the church in its various departments. She was a member of the Order of Eastern Star and of the American Legion Auxiliary.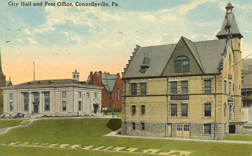 Connellsville City Hall
From 1930 to 1936, Dan served as Mayor of Connellsville, the youngest man ever to be elected to the office. Seen here is a rare old postcard photograph of the Connellsville City Hall and nearby post office.
In the election of 1935, Dan ran for the office of County Treasurer. This was a position to which his father once had aspired, and had run twice unsuccessfully in the late 1800s. Dan was not the only Minerd on the 1935 ticket of Democratic candidates. His second cousin, Wilbert Regis "Patsy" Minerd, a coal mine union organizer from Republic, Fayette County, ran for County Sheriff. Dan won the race for county treasurer by a sweeping 4,000 votes over his opponent, Mr. Crow. Unfortunately, Dan's cousin Patsy was not so fortunate, and lost to Thomas R. Aubrey by more than 3,000 votes.
To accept the county treasurer's post, Dan resigned as mayor in Connellsville, and was succeeded by his political opponent and distant cousin Ira "David" Younkin.
Dan was an active fundraiser for many charitable causes, and chaired President Roosevelt's Birthday Ball Committee in the 1930s. He and James J. Driscoll, president of the Courier Company, publisher of the Connellsville Daily Courier, drove to Washington DC in May 1934 to attend a reception at the White House, "at which time the Warm springs Foundation Fund, raised through the birthday ball for the President, will be transferred to the Foundation through President Franklin D. Roosevelt," reported the Courier. "Immediately after the reception there will be a dinner. The invitations to the affair were extended ... because of their connection with the birthday ball held here."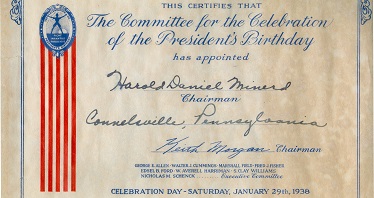 Certificate which Dan received in 1938 for FDR's birthday celebration

Daily Courier
Circa 1938, the executive committee for FDR's birthday ball included George E. Allen, Walter J. Cummings, Marshall Field, Fred J. Fisher, Edsel B. Ford, W. Averell Harriman, S. Clay Williams and Nicholas M. Schenck.
In 1940, Dan ran unsuccessfully for the 24th District of Congress. Appealing to local farmers, he said that he was "opposed to squandering public funds on doubtful projects" such as government confiscation of private land to flood for the Youghiogheny River dam. He supported farmers' grange groups that were protesting dam construction, "pointing out that Federal parks had already removed from taxable sources a large section of the county with the resultant increase in levies on privately owned properties," said an article in the Meyersdale Republican. "Parks and lakes are nice for the accommodation of picknickers," he said in the article, "but it is not fair to expect Somerset county taxpayers to furnish these things at such a great cost to themselves."
He also ran for Sheriff of the county at some point in time, but was not successful.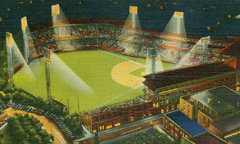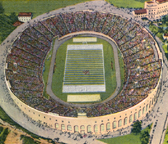 Pittsburgh's Forbes Field, left, and University of Pittsburgh football stadium, where Dan was a regular spectator over the years. Below, some Pitt stars he saw in action: Marshall "Biggie" Goldberg, Mike Ditka and Tony Dorsett.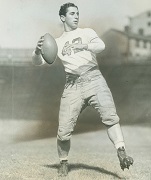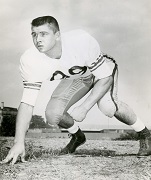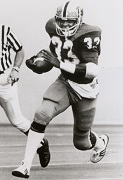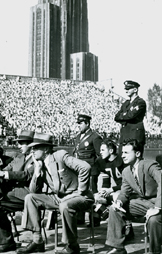 Sutherland (left) and coaching at Forbes Field,
Pittsburgh, jaw resting on his hand
Dan was a rabid sports enthusiast and closely followed professional and collegiate teams in Pittsburgh. In April 1927, he and his brother Bill and many other Connellsville residents traveled to the Steel City to watch the Pirates' opening game against the Cincinnati Reds at Forbes Field. Later that year, the Pirates played the New York Yankees in the World Series, but were defeated four games to zero, with the New York "Murderer's Row" led by Babe Ruth and Lou Gehrig.
He was an especially close friend of his dental school classmate Dr. John Bain "Jock" Sutherland, who went on to coach Pitt's football team to an 111-20-12 record and five national championships. In fact, Dan named one of his sons after Coach Sutherland -- John Bain "Jock" Minerd. When the coach would come to Connellsville to recruit high school players, he and Dan often would get together for a sumptuous dinner and plenty of drinks.
During his many decades as a Pitt football fan, he got to watch such legends as Marshall "Biggie" Goldberg, Joe Schmidt, Mike Ditka and Tony Dorsett.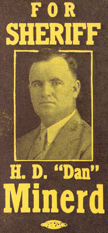 Campaign card,
1930s or '40s
In May 1943, during World War II, Dan attended the silver anniversary luncheon of the University of Pittsburgh School of Dentistry's Class of 1918. Sutherland -- then serving as lieutenant commander in the U.S. Navy -- was the guest speaker at the affair, held at the city's venerable William Penn Hotel. Sutherland is seen at right, with hand on chin during a close football game at Forbes Field. Sutherland went on to coach the Pittsburgh Steelers and the Brooklyn Dodgers of the National Football League before being stricken with a fatal brain tumor in 1948.
Among other events, Dan is known to have driven with Herbert Keffer, Charles Oaks and S.M. Carroll to South Bend, IN in October 1931 to watch the Pitt-Notre Dame football game. In May 1935, he and Herbert Keffer Jr. drove to Louisville, KY, to attend the annual Kentucky Derby. In November 1936, he drove to Philadelphia with son Richard, daughter Sally and Herbert Keffer to take in the annual Army-Navy football game.
Trying his hand at deer hunting in December 1937, he traveled with friends to Elk County, PA and bagged a 200 lb. deer.
Dan was re-elected Mayor of Connellsville in November 1941, less than a month before the United States was plunged into World War II with the attack on Pearl Harbor. During the war, Dan served on the county's Tire Rationing Board.
Tragically, during Dan's term as Fayette County Treasurer, his wife Charlotte became very ill. After a long bout with cancer, she died on Aug. 9, 1936, at the age of 47. She had been "confined to her bed since last October, prior to which time she had been ill for several months and had undergone treatment by specialists in a Baltimore hospital," said the Uniontown Morning Herald. "Throughout the months of her illness and the weary weeks when she was confined to her bed, Mrs. Minerd maintained her courage and cheerfulness against the handicaps of illness." She was laid to rest in the Minerd family plot at Hill Grove Cemetery in Connellsville.

The Connellsville Daily Courier gave Dan's 1941 election top billing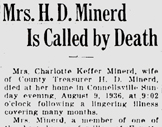 Uniontown Morning Herald
A born leader, Dan helped plan the Minerd Reunion of 1930 held on Aug. 9 at Uniontown's Shady Grove Park, where he chaired the transportation committee. Among the other cousins involved with that reunion were Arnold Overholt, president; Ernest E. Minerd, secretary; Mary Adaline (Luckey) Malone and Frank Zearfoss, general committee; Bess (Minerd) Lemon, speakers committee; Dr. Paul David Luckey, sports committee; Edith (Erwin) Minerd, invitation committee; Andrew Luckey, refreshment committee; and Frank Woodmancy, publicity committee. Dan also helped organize a Minerd Reunion in the mid-1940s, seen at right, with him standing at far right.
Later, after several years as a widower, Dan married Ivenore "Ivy" Darr (1903-1992), daughter of James and Anna (Friend) Darr. Ivy was an office worker for the County of Fayette. She and Dan met when she worked in the County Treasurer's office circa 1942-1944. They eloped to Cumberland, MD.
Dan built a house for her on "Ivy" Drive in Connellsville. Later, she worked as a private duty nurse and as a registered nurse. Ivy was a member of the Connellsville Garden Club, American Legion Auxiliary, Pleasant Valley Country Club and Connellsville Presbyterian Church.
He often spoke with his wife Ivy about his interest in commissioning someone to undertake a family history study, to connect all the dots of the Minerd branches scattered throughout the area, but it was never done.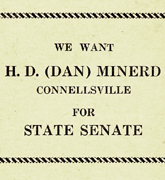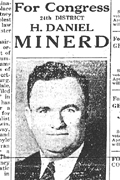 Political ads circa 1934 (left) and 1940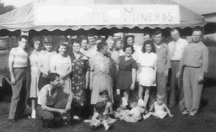 Minerd Reunion, 1940s, with Dan far right
Dan remained active in political and community-service circles for many years, as well as maintaining a busy dental practice.
On Sept. 15, 1973, Dan and Ivy traveled to Athens, GA, joining with his son Richard and wife Martha in attending a Pitt football game against the University of Georgia. The contest marked the first collegiate appearance of future Heisman Trophy winner Tony Dorsett. In that game, wearing uniform number 33, Dorsett gained 101 yards on 26 carries, with Pitt and Georgia tying 7-7.
Connellsville Daily Courier
Sadly, Dan only lived another month and a half after that travel. When he died on Oct. 29, 1973, at age 78, the news made the front page of the Connellsville Daily Courier. He is buried with Charlotte at Hill Grove Cemetery in Connellsville.
After 11 years as a widow, Ivy married Connellsville attorney Donald M. Higbee (1899-1992), the son of E.C. and Emma (Lint) Higbee. They were wed on July 14, 1984. Donald was a graduate of Amherst College (1921) and the University of Pittsburgh School of Law (1925) and had spent many years with his own law firm in Uniontown and Connellsville. Donald had been married once before, to Martha Elizabeth Port, and had two children to that marriage -- Martha "Jane" Munson and Edward "Carter" Higbee II.
Ivy lived to the age of 89. Ivy and Donald both passed away within a few weeks of each other in 1992 -- he on May 13, and she on May 27. She is buried at Sylvan Heights Cemetery in Uniontown.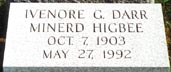 Sylvan Heights Cemetery
A year before their deaths, the Higbees graciously entertained the founder of this website at an elegant dinner in their home in Connellsville. Not only Ivy, but also Donald, had been longtime friends of Dr. Dan Minerd, and it was clear that they both relished his memory. Their helpful input and advice has led to many wonderful discoveries about a true leader in our family.
~ Son Richard David Minerd ~
Son Richard David Minerd (1920-1973) was born on Aug. 29, 1920, in Connellsville.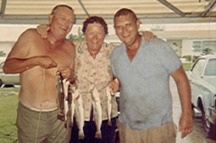 Left to right: Richard, Sally and Jock
Seen here, fun loving Richard (left) with sister Sally and brother Jock with a string of fish they had just caught.
Richard was married twice -- first to Patricia Arison. They had three sons -- Daniel Bain Minerd, Richard David Minerd and Robert Arison Minerd.
After Richard and Patricia divorced, she remarried again, to Chester Hampton Bay ( ? -1995), in February 1958. They lived in Lakeland, FL until Chester's death in 1995.
In September 1956, in Alachua County, FL, Richard wed again, to Martha (Golden) Brown (1918-1982). She was a native of Jacksonville, FL, and the daughter of LaFayette "Pop" Golden, head of the Florida High School Activities Association. She "was a homemaker and retired secretary in the University of Florida student financial aid office," said the Gainesville Sun. She was a member of the Christian Science Church.
Circa 1973, the Minerds made their home in Gainesville, Alachua County, FL, where Richard was employed by Sears Roebuck Company. He and Martha incorporated Town & Country Garden Center Inc., also in Gainesville.
Sadly, just three years after the untimely passing of his 36-year-old brother Jock, and just 35 days after the death of his father, Richard died in Gainesville at the age of 53, on Dec. 1, 1973. Burial was in Florida.
Martha outlived her husband by nine years. She passed away at the Charleston (SC) Convalescent Center at the age of 63 on April 2, 1982. In addition to her step-children, her obituary in the Sun also named a daughter, Barbara Brown Thrower of Hanahan, SC. Burial was in Noonansville (FL) Cemetery.
Grandson Robert Arison "Bobby" Minerd (1944-1996) was born on July 19, 1944. He wed Sandra Melanie Bohannon in October 1964 in Alachua County. On Oct. 25, 1975, he married again, to Jacque Lynn Geiger (a.k.a. Reynolds). Robert's three children were Robert Minerd, Michael Minerd and Lisa Farmer. They resided in Gainesville, FL. He died in a tragic boating accident on March 27, 1996 in Jacksonville, Duvall County, FL, at the age of 52.
Grandson Richard David Minerd Jr. married Kathleen Currie (1941-2003) in about 1972. She was a native of North East, PA and later was employed as a special education teacher in Georgia. They had two children -- Ryan Minerd and Alyson Leady. After battling breast cancer, Kathleen died on June 30, 2003 in Naples, Collier County, FL. She was laid to rest in Eternal Hills Cemetery in Snellville, Gwinnett County, GA. Richard married again, to high school sweetheart Brenda Jones, in 2011, following eight years as a widower. In 2010, Richard and Brenda drove to Connellsville to see the old Ivy Drive homeplace of his grandparents.
Grandson Daniel Bain Minerd married Judith. They reside in Pittsburg, CA and have two children, Mark Minerd and Suzanne Minerd.

Sally Minerd
~ Daughter Sarah "Sally" Minerd ~
Daughter Sarah Catharine "Sally" Minerd (1923-1983) was born on April 12, 1923, in Connellsville.
She never married.

Connellsville Daily Courier
After attending the University of Pittsburgh and Temple University, she graduated from the West Penn Hospital School of Nursing.
She later moved to Pittsburg, Contra Costa County, CA, where she was employed as a registered nurse. She also was active in the Business Professional Women and California Nursing Association organizations.
Sally died in Pittsburg at the age of 60 on Nov. 21, 1983. Her remains were returned to Connellsville for burial with her parents in the Minerd family plot at Hill Grove Cemetery.
~ Son John Bain "Jock" Minerd Sr. ~
Son John Bain "Jock" Minerd Sr. (1933-1970) was born on March 30, 1933, and was named for his father's dental school classmate and University of Pittsburgh championship coach John Bain "Jock" Sutherland.

Connellsville Daily Courier
He married Betty Lou Lessman ( ? - ? ) of Mount Pleasant, Westmoreland County. The Minerds had two children -- John Bain Minerd Jr. and Harold Daniel Minerd II.
Jock obtained a degree from the Pittsburgh School of Mortuary Science, presumably being groomed as a successor to his late uncle at the Minerd Funeral Home in Uniontown.
He was a member of the Connellsville United Presbyterian Church and King Solomon's Lodge of the Masons. He also served in the U.S. Army during the Korean War.
The Minerds moved to Indian Harbor Beach, FL, where Jock was employed as a computer operations supervisor for Boeing Aircraft Corporation.
Tragically, Jock died at the age of 36, in a Florida hospital, on Feb. 6, 1970. His remains were returned to Connellsville for burial.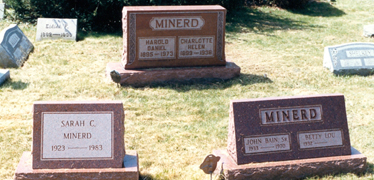 The Minerds' grave plot in Hill Grove Cemetery, Connellsville
Copyright © 2000, 2002-2003, 2005-2007, 2010, 2014 Mark A. Miner
Marshall Goldberg photo courtesy of the University of Pittsburgh Athletic Department. Tony Dorsett photo courtesy of Crum and Forster.