Henry T. Ream
(1822-1901)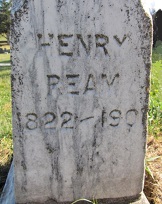 Omaha Valley Cemetery
Courtesy Jim Childers -
Find-a-Grave
Henry T. Ream was born on Nov. 3, 1822 in or near Ursina, Somerset County, PA, the son of Samuel W. and Mary (Rheims) Ream.
He was twice married. His first wife was Jane (1823-1864?).
Their known children were Marcellus M. Ream, Charles H. Ream, Emma Ream, Mary McBeath, Fanny Easton, Missouri U. Ream and John H. Ream.
In 1853, Henry and Jane made a monumental decision to relocate to the far west. They first came to Wisconsin, where their daughter Emma was born in 1854. Then, they pushed further into Iowa, and cross the state headed toward Nebraska Territory. Then the Reams crossed over the Missouri River and arrived in Nebraska on May 1, 1856. Said Warner's History of Dakota County, Nebraska: From the Days of the Pioneers and First Settlers to the Present Time, having crossed the Missouri River:
Before him stretched one vast wilderness where the trade of civilization was yet unknown. he made his way afoot to the highbluffs where Col. Baird afterwards located. The grass and weeds were more than ten feet high, and it was, indeed, a weary journey. But long before he again reached the Iowa shore, the marvelous richness and fertility of the soil had been fully determined by him. To himself he kept repeating over and over again: "Upon this fair land I will settle, and it shall ever more be my home.
Many years later, the Dakota County Herald said that "history tells us that he was the only solitary white man on the soil of northern Nebraska that day." After his arrival, his wife and family followed from Sergeant Bluffs to "old Omadi" where they lived in a tent until building a house.
The Nebraska State Journal once said of Henry that he was "one of the principal factors in the upbuilding of Dakota county, at different times being sheriff, coroner, assessor, county commissioner and taking active engagement in social affairs."
When the federal census was taken in 1860, the Reams' home was in Omadi Township, Dakota County, with Henry employed as a hotel keeper. Sadly, Jane passed away sometime between 1864 and 1867.

Almeda Ream
Courtesy BJW / Find-a-Grave
In 1867, at the age of 45, Henry wed his second wife, 33-year-old Almeda Hirsch (Oct. 27, 1834- ? ), a native of Nauvoo, IL and the widow of Abraham Hirsch ( ? - ? ). The Hirsches had migrated with their daughters to Omadi on March 1, 1856, but a day later, little Laura died, "and there was no lumber to be had in the town to make a coffin," said the Herald. "One man took enough boards from his cabin floor for the purpose. Mrs. Jesse Wigle (long since deceased) the only other white woman in the county, came and aided in every way she could. Following this bereavement it was eight weeks before she saw a white woman again."
Almeda lost another daughter Della in 1864 prior to her marriage with our Henry. Other children she brought to the Ream union were Henrietta Hirsch, Luella A. "Lue" Hirsch and Frank M. Hirsch. Her first husband died in Bon Homme, SD. Said the Herald, "The first meeting for the organization of the county and election of officers was held in her home."
Henry and Almeda produced five additional children -- Dr. Nina M. Smith, Mabel Ream, Leon L. Ream and Dr. William R. Ream plus one other who died young.
By 1870, they had moved into Dakota City, Dakota County, making their home in a hotel which Henry was "keeping." In addition to six children, 13-year-old Luella Hursh, 10-year-old Frank C. Hursh and 35-year-old physician G.W. Wilkinson lived under their roof.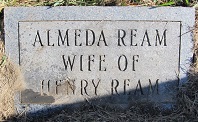 Omaha Valley Cemetery
Courtesy Jim Childers -
Find-a-Grave
Apparently nostalgic about triumphing over pioneer challenges, or perhaps as a social outlet with longtime friends, Henry joined with a number of friends to form the Pioneers and Old Settlers' Association on Aug. 26, 1882, an idea which had been discussed for years. The other founders were his brother in law George T. Woods, A.H. Baker, Thomas Ashford Sr., Capt. Cornelius O'Connor, William Nixon, Col. J.F. Warner, J.W. Davis, M.S. Mansfield Sr., J.O. Fisher, Dennis Armour, John Braunt, Dennis Duggan, Joseph Brannan, Gen. Joseph Hollman, E.L. Wilbur, William Frazier, Herb Harris, Thomas Smith and M.M. Warner. The first reunion of the group was held Sept. 23, 1882, with Col. Warner speaking about "the very first settlers and the rapid growth of the county to date."
Henry died at home in Dakota City on Jan. 15, 1901. In an obituary, the State Journal of Lincoln called him a "Dakota County Pioneer" and said he had suffered "an illness of about a year, superinduced by a fall, in which he sustained a broken hip... He was in his seventy-ninth year, and leaves a wife and eight children, all of whom are residents of this county. A sister, Mrs. George T. Woods, also resides here." His remains were laid to rest in Potter's Cemetery, today known as Omaha Valley Cemetery, near Homer. [Find-a-Grave]
Almeda outlived her second husband by a number of years. On Aug. 5, 1910, she was profiled and pictured in the Dakota County Herald, which referred to her as "now THE pioneer woman of Dakota county." Her final fate has not yet been discovered.
~ Son Marcellus M. Ream ~
Son Marcellus M. Ream (1847- ? ) was born in about 1847 in Pennsylvania.
He was united in marriage with Ledonia J. (1852- ? ), an Iowa native. They produced one known daughter, Edna Ream.
Circa 1880, the Reams dwelled in Dakota, Dakota County, where Marcellus earned a living as a common laborer, and stated that he was without work three months out of the year.
Daughter Edna Ream (1876- ? ) was born in 1876, most likely in Dakota, Dakota County.
~ Son Charles H. Ream ~
Son Charles H. Ream (1849- ? ) was born in about 1849 in Pennsylvania.
~ Daughter Mary (Ream) McBeath ~
Daughter Mary Ream (1851-1949) was born on Sept. 5, 1851 in Pennsylvania.
She wedded (?) McBeath ( ? - ? ). They were the parents of George McBeath and Gertie Best.
Mary was active socially and in October 1910 served as a delegate to the Rebekah Assembly, the women's affiliate of the International Order of Odd Fellows, held in Lincoln. She also volunteered with the Dakota County Homemakers' Club and in January 1912 taught a class on "home nursing." Then over the Memorial Day Weekend in 1921,she and the Herald family "drove to the Omaha Valley cemetery Sunday to decorate the graves of departed relatives," reported the Dakota County Herald.
Mary died at the age of 97 on April 26, 1949. Burial was in the Dakota City Cemetery. [Find-a-Grave]
Son George McBeath ( ? - ? ) was married and had offspring. Circa 1906, they resided in Homer. George had musical talent and served as director of music with the Methodist Church in Dakota City. A November 1915 article in the Dakota County Herald, written by Rev. F.J. Aucock, noted that "The musical part of our services is being greatly appreciated. The new musical director, George McBeath, is getting his forces lined up efficiently, and he is to be congratulated on the qualty and variety provided in his department. You must travel a long way to find the equal to our male quartet. We hear whispers of a ladies quartet too! Come out on Sunday. You will enjoy the whole service."
Daughter Gertrude "Gertie" McBeath married (?) Best. Their children were Neva Best, Willie Best and Donald Best. Circa 1907, their home was in Dakota City.
~ Daughter Emma Ream ~
Daughter Emma Ream (1854- ? ) was born in about 1854 in Wisconsin.
~ Daughter Fanny (Ream) Easton ~
Daughter Fanny Ream (1858-1905) was born in about 1858, the first of the children to be born after the migration to Nebraska.
As a young woman, she taught school for a number of years in and around Omaha. She married Ed J. Easton ( ? - ? ).
They produced three children.
Circa 1905, Ed earned a living as a liveryman in Dakota City. Sadness enveloped the family when Fanny was admitted for surgery to St. Joseph's Hospital in Sioux City, NE and did not survive, dying on June 10, 1905. An obituary noted that Fanny's parents were "Mr. and Mrs. Henry Ream, pioneer residents of this county."
Circa 1905, one of the Eastons' daughters was a public school teacher in Omaha.
~ Daughter Missouri U. Ream ~
Daughter Missouri U. Ream (1869- ? ) was born in about 1869 in Nebraska.
~ Daughter Dr. Nina (Ream) Smith ~
Daughter Dr. Nina Ream married E.J. Smith, an attorney practicing in Homer, Dakota County.
Their children were Lula Smith and Malcolm Smith.
In 1910, she was a physician practicing in Homer.
~ Son Leon L. Ream ~
Son Leon L. Ream ( ? - ? ) was born in (?).
In September 1906, he was joined in wedlock with Edna M. VanValin ( ? - ? ), with the ceremony held in Pender, Thurston County, NE. Leon's sister Mary McBeath and friend Mary Easton traveled from Dakota City to attend.
Leon lived in Pender in 1910.
~ Son Dr. William R. Ream ~
Son Dr. William R. Ream ( ? - ? ) was born in (?).
He was married and had a daughter Mabel. For seven years, from 1908 to 1913, he was a physician practicing in Walthill, Thurston County, NE. At Christmas 1908, said the Dakota County Herald, he visited family or friends in the town of Lyons, NE. In October 1912, he escorted his mother and sister Nina to Florida where they planned to spend the winter in Jacksonville "on account of Mr. Ream's age and health," reported the Herald.
Then in October 1913, he took a six-month sabbatical from his practice to study surgery under Dr. Jepson in Sioux City, NE.
~ Son John H. Ream ~
Son John H. Ream ( ? - ? ) was married and had a son and daughter.
In 1906, he was editor of the Dakota County Herald newspaper and then in 1911-1918 the Dakota City Herald. He also served as postmaster. By 1918, he held a position as agent for the Security Insurance Company. In August 1920, he received a letter from an old friend, who addressed him as "Pioneer Friend: Yes, that is it -- pioneer friends. The constitution of the Pioneers and Old Settlers' Association makes all persons pioneers who came to the county prior to Nebraska's admission as a state." The friend, M.M. Warner, went on to write:
Well, I came to Dakota county 63 years ago on the 17th day of last May, and you came soon after that, because I remember of playing ball with you over 53 years ago when we all lived together in the "Old Bates House," your father, the late Henry Ream, having charge of this time-honored and historic hotel, at that time.... This building was framed in Saint Louis and shipped up on a steamboat and erected on the corner of Broadway and Thirteenth streets, in 1858. It was three stories, with a two-story wing extending northward. On the side of the wing the words: "Bates House" were painted so large that I once plainly read the letters from the high bluffs above the old William Taylor home, eight miles away, with a small field glass. The third floor was used as kind of a warehouse, and where the "Sons of Malta" held their meeting.... Well, I will tellyou the rest of the story when I meet you at the 39th annual reunion at Dakota City on Thursday, August 26, 1920.
~ Stepdaughter Lue A. Hirsch ~
Stepdaughter Lue A. Hirsch ( ? - ? ) was born in (?).
She served in the early 1900s as deputy county clerk in Dakota County. She lived in Homer in 1907 but in June of that year traveled to Texas with J.P. Twohig to become bookkeeper of his large fruit farm. She was in Pender, Thurston County in 1910.
She was close with her half brother Dr. William Ream and assisted in the care of his baby in 1908. In 1915, she became bookeeper of the O'Connor Store in Dakota City.
~ Stepson Frank M. Hirsch ~
Stepson Frank M. Hirsch ( ? - ? ) was born in (?).
He made his home in Sioux City, NE. He married (?) and they had one daughter, Myrtle M. (Ashford) Mathison, wife of Alof M. Mathison of Canton, SD.
Copyright © 2002, 2009, 2012, 2014-2017 Mark A. Miner