Home

Samuel W. Ream
(1788-1874)
Cross Roads Cemetery.
Photo by Linda Marker
Samuel W. Ream was born in 1788 in Ursina, Somerset County, PA, the son of John and Anna Rosina (Weitzel) Ream, and the stepson of (?) (Minerd) Ream. He was only four years of age when his mother died from the bite of a poisonous snake.
The Somerset (PA) Herald once said that "He was born, lived and for many years owned the farm on which the thriving town of Ursina is built."
Over the span of his eight-plus decaces of life, he was "one who saw the county change from a rugged wilderness to a rich, beautiful and peaceful land," reported the Herald. "One who saw the Nation emerge from the desperate struggle of the Revolution with a mere existence, with wonderful recuperative power and unexampled rapidity assume a rank and station among the mightiest Nations of the Earth... His last looks were over a fertile and happy land crowded with smiling homes and thriving villages, in strange contrast with his first recollections, the indelible impressions of childhood when a dense wilderness filled with savage beasts and yet more savage men spread limitless and illimitable around him."
Samuel married Mary Rheims (1795-1874), sometimes spelled "Ream," whom descendants say was not related to her husband. Their known children were Louisa Ann Wilkins, Otho Reams, Levi Ream, Julia Ann Nicklow, Henry Ream, John Ream, Catharine Ream and Lydia Ann Ream.
They made their home in the general vicinity of his birthplace area of Ursina, where Samuel farmed and earned income as a blacksmith. A friend once wrote that the couple "had passed in peace and love an ordinary life time."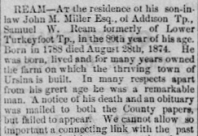 Somerset Herald, 1874
Said the Herald: "In many respects apart from his great age he was a remarkable man.... Originally endowed with great strength and wonderful activity, an excellent temper, a honest, kind and fearless heart, he was of course universally popular in a new country where such gifts were better than gold or silver. He reared a large family in habits of honest industry, and for many years manfully struggled with the hard-ships and dangers incident to a frontier life."
When he was age 56 and she 49, Samuel and Mary were admitted into membership of the Jersey Baptist Church, at that time led by Rev. William Woods. They remained there as worshippers for the rest of his life.
Reported the Herald: "... old age descended on him like a pleasant autumn day. And even to the last his flesh was firm, his cheeks rounded and fat, his teeth beautifully even, sound and white. His hand still gave the firm yet friendly grip, his genial smile was more than a speech of welcome from another, and had all the charms of youth."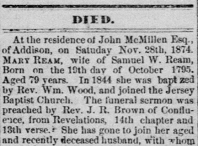 Somerset Herald, 1874
After his large brood of children had "scattered" in many directions, and as his health declined due to old age, Samuel went to Addison, Somerset County to live with his married daughter and son in law, Mr. and Mrs. John W. Miller. He died in the Miller home at the age of 85 on Aug. 28, 1874. His funeral was held in the Jersey Church, attended by "many old and attached friends," said the Herald, with Rev. James R. Brown of Confluence preaching from the first two books of Philippians. The remains were transported a short distance to Harnedsville for burial in the soil of the Crossroads Cemetery.
A friend wrote a death notice and obituary sent them to both of the Somerset County newspapers. When the news failed to be printed, the friend then re-submitted the obituary to the Herald, and it was printed on Oct. 28, 1874, some two months after Samuel's passing. Wrote the friend: "We cannot allow so important a connecting link with the past to be severed without some notice, however, imperfect. Respect ... forbids that some notice of a lifetime so pregnant with mighty events should not be taken."
Mary's health also was poor, and she only lived for another three months after Samuel's death.
The Grim Reaper gathered her up in the residence of John McMillen in Addison on Nov. 28, 1874, at the age of 79. Following the pattern set a few months earlier, Rev. Brown officiated at the funeral, preaching his sermon based on Revelations 14:13. Burial was in the Cross Roads Cemetery. In an obituary, the Herald reported:
There is something very touching in this swift fading of earthly things that follows the loss of a beloved companion. The aged survivor seems to feel as if the better part was already gone, and hastens to join it in the unchanged and never ending life beyond. Sustained by the Christian's hope she calmly sunk to her rest, cheered to the last by the kindly ministry of affectionate children. May her rest be peace.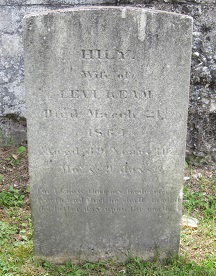 Hily's grave, Ream Cemetery, Ursina
~ Son Levi Ream ~
Son Levi Ream (1816-1903) was born on Nov. 28, 1816.
He married Highley "Hila" King ( ? -1864), daughter of Jacob and Eva (Pringey) King.
Their seven known children were John Ream, Norman Bruce Ream, Cleon K. Ream, Frank Ream, Mary Ganelson, Ida Mills and Samantha Johnson.
They initially lived in Ursina, raising their children in a household "presided over by sterling, God fearing and loving parents," said the New York Tribune's 1896 book America's Successful Men of Affairs. "Somerset county adjoins the Maryland State line and many were the slaves, who passed through that valley in the olden times on their way out of the house of bondage to freedom and homes in the North."
Sadly, Hila died on May 21, 1864, at the age of 39 years, 11 months and nine days, with burial in the Ream Cemetery. Her grave marker stands today. At the base is etched this epitaph taken from scripture (Job 19:25).
For I know that my Redeemer
Liveth and that he shall stand
the latter day upon the earth.
In 1868, four years after Hila's passing, Levi sold the farm for an astounding $25,000 and relocated to Osceola, Clarke County, IA. They are profiled in the 1886 book Clarke County History, page 101, which states that Osceola Township " was then the terminus of the Chicago, Burlington & Quincy Railroad. Here he engaged in wagon-making for six months. He would often send freight for citizens many miles. He has made and sold over 200 wagons in one year, often shipping car loads everyday for months."
Said the Clarke County History: "Mr. Ream has been an extensive traveler, having visited twenty-nine States and Territories." He died on March 19, 1903 in Osceola, with burial in Maple Hill Cemetery. Levi is included in a published profile of his son Norman in John W. Jordan's 1914 book Encyclopedia of Pennsylvania Biography: Illustrated, Vol. III. [Find-a-Grave]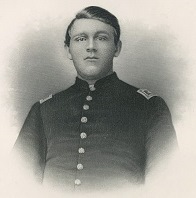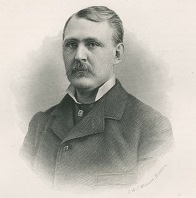 Norman Bruce Ream, in Civil War years and later as a businessman
Son Norman Bruce Ream (1844-1915) was born in 1844. He was only age 20 when his mother died. He was wounded twice in the Civil War as a member of the 85th Pennsylvania Infantry. (Many of our MMMM cousins served in the same regiment.) He later relocated to Iowa with his widowed father and became a businessman. He married Carrie Thompson (1852- ? ), daughter of Dr. John and Elizabeth Putnam. Their six children were Marion B. Stephens, Frances M. Kemmerer, Norman P. Ream, Robert C. Ream, Edward King Ream and Louis Marshall Ream. Norman rose to become a corporate powerhouse, serving on the board of directors of U.S. Steel, the Baltimore & Ohio Railroad, the Pullman Company, National Biscuit Co. (Nabisco) and the Equitable Life Assurance Society, among many others. At his funeral, President Lincoln's son Robert served as a pallbearer. During his business heyday, Norman frequently rode the B&O Railroad, "often along Laurel Hill Creek through Ursina and past the [Ream] cemetery," said the Somerset (PA) Daily American.
The railroad tracks are located on a hill directly across from the cemetery. Ream decided that when he passed the cemetery, he wanted to be able to see his descendants at rest, so he had all the timber cut away. He then had a retaining wall built at the river bank and a stone wall built to enclose the cemetery.
Son Cleon K. Ream (1847- ? ) was born in Ursina. After attending school in Carroll County, Ohio, he relocated to Iowa with his father in about 1868. The following year, he went to Minnesota where for 18 months he labored as a carpenter and laying rail for the Northern Pacific Railroad. He then ventured to Wyoming, living in Cheyenne, before going to Denver and then to Texas. At some point he hunted buffalo in Colorado and then spent six years in California. His path took him to Washington State, Mexico, Victoria (British Columbis), San Francisco, Tucson, AZ and then back to Mexico. In 1881, having completed his whirlwind tour, he relocated to Illinois, making his home in Gridley Township, McLean County. At the age of 36, on April 13, 1883, he married Belle I. Young ( ? - ? ), daughter of Isaac and Julia A. (Kemp) Young. They produced three children -- George Y. Ream, Grover C. Ream and one other. His story was profiled in great detail in the 1887 book Portrait and Biographical Album of McLean County, Vol. II.

Ream Cemetery circa 1994, with the stone fence built by Norman Bruce Ream
~ Daughter Louisa Ann (Ream) Wilkins ~
Daughter Louisa Ann Ream (1811-1852) was born on April 7, 1811 or in 1814. (Records differ.)
On Nov. 3, 1833, when she would have been age 22, she married William Wilkins (1803-1884). They had one known daughter, Louise Mowry.
They moved to Morgan County, OH.
The facts over their fates are confusing. Information established by their grave marker inscriptions differs from details provided by their grandson Ross Rutledge Mowry in his 1926 application for membership in the Sons of the American Revolution.
In Morgan County, Louisa Ann died on April 15, 1852 at the age of 43 (as per her grave marker) or in 1890 (as per the grandson). She is buried in Emery Cemetery. [Find-a-Grave]
William either died in 1856 (per the grandson) or on June 30, 1884 (per the grave marker). He rests beside his wife. [Find-a-Grave]
Daughter Louise "Louiza" Wilkins (1841-1921) was born in about 1841. At the age of about 20, on Nov. 3, 1861, she was joined in holy wedlock with John E. Mowry (1838-1917). They resided in Pennsylvania where their five eldest children were born. Sometime between 1870 and 1873, they relocated to a farm near Jasper, Clear Creek Township, Jasper County, IA, and John operated a mercantile business in nearby Baxter, Jasper County. Their 10 children were Florence Kline, Alice Cross, Jesse Mowry, Julia Dodd, William Mowry, Ella Buchanan, Milton Mowry, Anna Webb, Ervin Mowry and Ross Rutledge Mowry. Sadly, their son Ervin died young. Louise and John are named in a profile of their son Ross in James Baird Weaver's 1912 book Past and Present of Jasper County, Iowa, Vol. 1, which said "The Mowry family is of German stock, and the first specific record we have of them in America is when they settled in Pennsylvania in the early days."
Granddaughter Florence Mowry (1862- ? ) was born in about 1862 in Pennsylvania. She married Henry Kline and lived in Baxter, Jasper County, IA.
Granddaughter Alice Mowry (1864- ? ) was born in about 1864 in Pennsylvania. She was wedded to David Cross and made their home near Colfax, IA.
Grandson Jesse Mowry (1866- ? ) was born in about 1866 in Pennsylvania. In 1912, he resided in Nevada, MO.
Granddaughter Julia Mowry (1868- ? ) was born in about 1868 in Pennsylvania. She was joined in marriage with Fred Dodd and made their residence in Baxter, Jasper County.
Grandson William Mowry (1870- ? ) was born in about 1870 in Pennsylvania. He lived in Marshalltown, IA in 1912.
Granddaughter Ella Mowry (1873- ? ) was born in about 1873 in Jasper, IA. She was united in holy wedlock with J.M. Buchanan. In 1912, their home was near Colfax, IA.
Grandson Milton Mowry (1874- ? ) was born in about 1874 in Jasper, IA. In April 1896, living in Baxter, IA, he made a homestead application. Later, in 1912, he made his home in Kansas City, MO.
Granddaughter Anna (or "Fannie") Mowry was born in about 1877 in Jasper, IA. She married Carl C. Webb ( ? -1935) and lived in Baxter. Tragically, while driving near Laurens, IA on Jan. 24, 1935, Carl was involved in a vehicular accident and died. Anna filed claims of manslaughter against two other men involved with the crash, as reported in the Humboldt (IA) Independent.
Sen. Ross R. Mowry

Grandson Ross Rutledge Mowry (1882-1957) was born in Baxter, Clear Creek Township, Jasper County, IA on March 5, 1882. . On Sept. 17, 1908, he married Mary Edith Mathews (1878- ? ), daughter of John L. Matthews of Newton. She was said to be "a young lady of education and many pleasing traits of character which have long rendered her a favorite with a wide circle of friends." The couple dwelled in Newton, Polk County, IA and produced two daughters, Esther Virginia Mowry and Gertrude Ellen Spaulding. After obtaining his law degree from the University of Iowa in 1903, Ross became a lawyer. He was a member of the law firm of Mowry and Cross in Newton from 1904 to 1910. Then, he became a prosecuting United States District Attorney for Southern Iowa from 1911 to 1915. He is profiled in James Baird Weaver's 1912 book Past and Present of Jasper County, Iowa, Vol. 1. In 1916, he served as assistant Attorney General of Iowa. He served for a time as Iowa consul to the Modern Woodmen of America. From 1939 to 1946, he was elected to two terms in the Senate of the Iowa General Assembly. At the age of 44, on April 12, 1926, he submitted an application for membership to the Sons of the American Revolution (SAR). "At the time of his death," said the Journal of the Senate of the Fifty-Eighth General Assembly, he "was considered to be probably the greatest historian living in Jasper County." Ross died on Sept. 28, 1957. Afterward, his colleagues Eugene M. Hill, Carroll Price and X.T. Prentis petitioned the Iowa General Assembly, which passed a unanimous resolution that the "state of Iowa has lost a valuable and honorable citizen and by this resolution tenders its sincere sympathy to the surviving members of the family" Their daughter Esther Virginia Mowry (1909- ? ) also became a lawyer and served as assistant attorney general of Iowa in 1916; as a U.S. District Attorney from 1924 to 1932; and as a member of the Iowa State Senate from 1939 to 1947. Circa 1957, she lived in New York City. She provided an oral history interview for the publication Historical Materials in the Herbert Hoover Presidential Library (1983) and today the material is housed at the Library in West Branch, Iowa. Her sister Gertrude (1913-2000) married William Spaulding ( ? - ? ) and resided in Wakefield, MA. She was a longtime member of the Alpha Xi Delta Alumnae Association of Greater Boston and a scholarship for study in government or environmental affairs was named in her and her sister's honor -- the "Spaulding Mowry Scholarship." She also was a "civil leader and advocate for open space and conservation," said the Images of America book Lake Quannapowitt. "She led a 20-year effort to establish the town Conservation Commission, finally succeeding in 1983." She was a founder of the Friends of Lake Quannapowitt which, upon her death in 2000, named her "Lady of the Lake."
~ Son Otho Reams ~
Son Otho Reams (1815-1891) was born on April 19, 1815 in Ursina.
He married Marietta Smith (1829-1907. Their known children were Winfield Scott Reams, Carrie Elizabeth Reams and Albert Smith Reams.
The family relocated to Missouri, settling in Brookfield, Linn County.
Otho died the day after his 76th birthday on April 20, 1891. Interment was in Rose Hill Cemetery in Brookfield. [Find-a-Grave]
~ Daughter Julia Ann "Dora" (Ream) Nicklow ~
Daughter Julia Ann "Dora" Ream (1820-1895) was born on Feb. 22, 1820 in Ursina. Her name also has been spelled "Julianne."
In about 1844, when she was 24 years of age, Julia Ann was married to Jesse B. Nicklow (1822- ? ).
They had 10 children -- Irwin R. Nicklow, Rebecca Jane McNeill, Harriet Ann Prinkey, Dianna Shipley, Marcellus Nicklow, Julia R. King, Jesse "Bruce" Nicklow, Jr., Dora B. Wildey and Forward R. Nicklow.
The Nicklows were farmers. In 1860, the year before the Civil War broke out, they made their home in Lower Turkeyfoot. That year, 75-year-old Rhoda Jennings lived under their roof. By 1870, the family moved across the county line into Springfield Township, Fayette County, with Jesse earning income as a domestic servant.
Jesse passed away during the decade of the 1870s. Nothing about his demise is known.
Now widowed, Julia Ann headed her own household in Normalville when the 1880 federal census was taken. Her children Bruce, Julia, Dora and Forward were all in the household that year. Their next door neighbors were Elijah and Hannah (Minerd) Murray.
Julia died on Feb. 25, 1895 in Uniontown, Fayette County. Burial was in Normalville Cemetery. [Find-a-Grave]
Son Irwin R. Nicklow (1845- ? ) was born in about 1845.
Daughter Rebecca Jane Nicklow (1847-1937) was born on May 1, 1847. She married Robert McNeill and resided in Confluence. They retired from farming about 1930 after a lifetime of work. Having endured heart disease, Rebecca was plagued with an intestinal obstruction and died at the age of 89 on Feb. 12, 1937. Her remains were buried in the Jersey Baptist Church Cemetery.
Daughter Harriet Ann Nicklow (1848-1920) was born in 1848. She was wedded to (?) Prinkey. In later years, she dwelled in Mt. Pleasant, Westmoreland County, PA. SWhe died there three days before Christmas 1926, at age 72, caused by organic heart disease. Burial was in Hill Grove Cemetery in Connellsville. Irvin Prinkey signed her death certificate.
Daughter Dianna Nicklow (1850-1933) was born in 1850 in Somerset County. She wedded Squire Shipley and made their home in Mt. Braddock near Uniontown. At the age of 83, Dianna suffered a cerebral hemorrhage and died four days later on Oct. 25, 1933. Violet Bryner of 23 Dunlap Street in Uniontown was the informant for the death certificate. Interment was in Percy Cemetery near Uniontown.
Son Marcellus Nicklow (1853- ? ) was born in about 1853.
Daughter Julia A. Nicklow (1855- ? ) was born in about 1855. She married King. Circa 1895, they lived in or near Normalville, Fayette County.
Son Jesse Bruce Nicklow, Jr. (1856-1922) was born on May 24, 1856. He was married. For years, he worked as a coal miner and dwelled in Bullskin Township north of Connellsville. In mid-August 1922, at the age of 66, Jesse fell from a hay wagon and fractured his skull. The damaged brain abscessed, and he died on Sept. 11, 1922. Frank Nicklow of Pennsville signed the death certificate, with burial following in Mt. Olive Cemetery.
Daughter Dora B. Nicklow (1858-1941) was born on June 16, 1858. She was united in matrimony with Jacob Wildey and lived for decades in Connellsville. Her address in 1941 was 213 East Apple Street. As a widow, Dora suffered from senility and organic heart disease. She died on Nov. 11, 1941 at the age of 83. Her remains were placed into rest in Hill Grove Cemetery in Connellsville. Mrs. Reggis of Connellsville's Jefferson Street signed the death certificate.
Son Forward R. Nicklow (1859-1926) was born in about 1859 or 1860. He married Susan (?) and had four known children -- Ewing Nicklow, Roy Nicklow, Mrs. John Ferguson and Mrs. John Letch. The Nicklows made their home in the Percy Mines village in 1886, and in June that year Percy "brightened his home with a fresh coat of paint," noted the Connellsville Weekly Courier. They resided in or around Normalville, Fayette County in the mid-1890s. In May 1895 Forward and his married sister Julia King traveled back to Ursina to visit relatives, as noticed in the gossip columns of the Weekly Courier. In about 1897, the family moved into the coal mining patch town of Percy near Uniontown, and remained for good, though continued to visit family back in the mountains. The Weekly Courier reported in January 1896 that Forward had "butchered a porker on Tuesday that weighed 468 pounds. This is the largest we have heard of in this section." They were members of the Percy Methodist Church. Forward died at home at the age of 65 on March 2, 1926. Burial was in the Percy Cemetery.
~ Son Henry Ream ~
Son Henry Ream (1822-1901) was born in 1822 in Ursina.
He relocated to Nebraska and made his residence in Homer, Dakota County.
He married Almeda J. (?) (1834- ? ).
Henry died in 1901 and is buried in Omaha Valley Cemetery in Homer. [Find-a-Grave]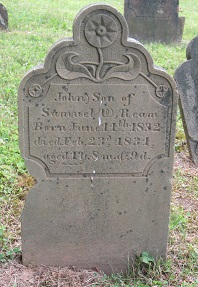 Young John's grave, Ream Cemetery
~ Daughter Catharine Ream ~
Daughter Catharine Ream (1829- ? ) was born in about 1829.
In 1850, at the age of 21, she lived at home with her parents. Her fate is not yet learned.
~ Son John Ream II ~
Son John Ream II (1832-1834) was born on June 14, 1832 in Ursina.
He only lived for 20 months and nine days. He died on Feb. 23, 1834.
Burial was in the Ream Cemetery in Confluence. His grave marker was erect and chipped on one side but fully legible when photographed in July 2016 by the founder of this website.
~ Daughter Lydia Ann Ream ~
Daughter Lydia Ann Ream (1836-1892) was born on June 6, 1836 in Ursina. She may never have married.
She died in Somerset County at the age of 56 on Dec. 22, 1892, just three days before Christmas.
She was entombed in Cross Roads Cemetery.
Copyright © 2002, 2009, 2012, 2014-2016 Mark A. Miner
Civil War sketch of Norman Bruce Ream from the History of the Eighty-Fifth Regiment, Pennsylvania Volunteer Infantry by Luther S. Dickey (New York: J.C. & W.E. Powers, 1915). Later N.B. Ream sketch from the History of Bedford, Somerset and Fulton Counties.