George E. Rowan
(1868-1944)

George E. Rowan
George E. Rowan was born on Feb. 16, 1868 in Fayette County, PA, the son of Jonas and Julia Ann (Williams) Rowan.
He married Althea "Alice" Prinkey (1875-1946), the daughter of John A. and Mariah (Murray) Prinkey. According to the Mill Run history, he was nicknamed "One-Armed George" to differentiate him from his cousin George S. Rowan, living nearby in Mill Run.
They resided near the Indian Creek Reservoir and had eight children -- Arthur Rowan, Sylvia Prinkey, J. Domer Rowan, Clark Rowan, Howard Rowan, Charles L. Rowan, Jennie Anderson and Earl Rowan.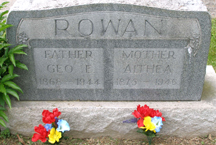 Indian Creek Baptist Church
Sadly, they lost an infant son on Oct. 13, 1916, born prematurely at 7½ months, and living only for four hours, never gaining strength. They also tragically lost sons Howard and Charles in coal mine accidents in 1928 and 1936, respectively.
George labored for many years as a farmer.
In January 1928, he filed a legal complaint against Fred Bowers, asking for payment of $110 in return for a tractor plow he had sold to Bowers. The case was heard by cousin William Henry "Squire" Miner, a justice of the peace in Mill Run. George won the civil suit and was paid the following month. Apparently unable to write his own name, George signed the paperwork with an "X."

Daily Courier
George injured his left foot in April 1944 and an infection of gangrene set in. With the deadly illness, added to hardening of the arteries, he was taken for treatment to Connellsville State Hospital, where he remained for five weeks. He passed at the age of 76 away the day after D-Day -- June 7, 1944, and a little more than one week after the death of his cousin, George S. Rowan. His obituary was published in the Connellsville Daily Courier.
Althea survived her husband by two years.
She died at age 71 of bronchial pneumonia on June 15, 1946. At the time of Althea's death, said the Daily Courier, she and George had produced 33 grandchildren and 25 great-grandchildren. They both rest for eternity in the Indian Creek Baptist Church Cemetery in Mill Run.
During World War II, the deaths of the two Georges were noted in a hometown newsletter, The Messenger, sent to soldier in the armed forces, and edited by a distant cousin, Ferne (Minerd) Work. One Messenger article in March 1946 reported that: "Since many of you left Mill Run quite a few folks have been laid to rest. To name a few who have passed away during the last year or so George S. Rowan, George E. Rowan, ... and my grandfather Minerd."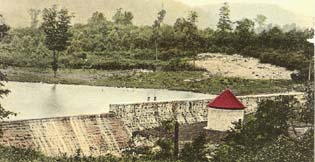 Indian Creek Reservoir, near the Rowan residence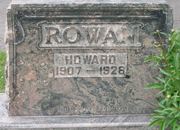 Indian Creek Baptist Church
~ Son Howard Rowan ~
Son Howard Rowan (1907-1928) was born on Sept. 8, 1907.
In the spring of 1928, unmarried at the age of 20, he was employed as a coal miner at the Mather Colliery in Greene County, PA. The plant consisted of some 4,400 acres in the town of Mather north of the village of Jefferson.
Tragically, on May 19, 1928, Howard was one of 194 unfortunate coal miners caught in a fatal explosion at the mine. A coroner's jury ruled that "this disaster was caused by an explosion of explosive gas and coal dust in the north side of the mine. The primary cause of which explosion is unknown." The Connellsville Daily Courier stated that it was "one of the most disastrous explosions in the history of Pennsylvania soft coal mining... Edison Tedrow, Howard Rowan and H.A. Wells are believed to have met with death. Their bodies have not been found."
As of June 2, two weeks later, the Courier reported that his body was still beyond the grasp of recovery teams. The following day, however, his corpse was were found and identified. His was the 190th body to be removed from the death scene, with only three remaining, according to the Charleroi (PA) Mail.
His remains were laid to rest in the Rowan plot at the Indian Creek Baptist Church Cemetery, with a red granite marker erected there in his memory. His brother Clark signed his official Pennsylvania certificate of death. The tragedy is summarized in a rare book, The Mather Mine Disaster, on file today in the rare book room of the Uniontown Public Library.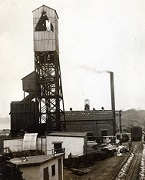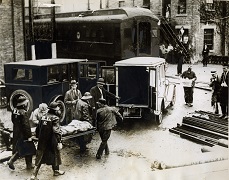 Mather Colliery at the time of the explosion. Right: rescuers at Mather carry a shrouded body to an awaiting ambulance. ACME Newspictures
~ Son Charles L. Rowan ~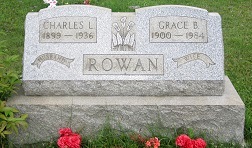 Indian Creek Baptist Church
Son Charles L. Rowan (1898-1936) was born on May 12, 1898 at Mill Run.
He married a cousin, Grace Bigam (1900-1984), daughter of David D. and Lucinda (Cole) Bigam, and granddaughter of John and Eliza (Harbaugh) Bigam. The two families were close, and Charles' brother Earl married Grace's sister Geraldine.
They resided in Mill Run and had no children.
At the age of 37, in about May of 1936, Charles began employment as a coal laborer at the No. 5 mine of the Vesta Coal Company at Vestaburg, a job to which he commuted from his home. Compounding the family history of coal industry tragedy, he was killed at the mine on Aug. 18, 1936, after only having worked there for three months. Said the Daily Courier:
Rowan ... was decapitated and two other workers miraculously escaped a similar fate ... when a large slab of slate let go as they were leaving the Vestaburg workings after completing their day's work. The trio comprised a group of workmen who had left the man trip several minutes before the tragedy. Rowan was struck by the full force of the slate which landed on his head and severed it from his body, according to Deputy Edward Hagerty of Millsboro. The fatality was the first of the year at the Vesta Company mine.
Rare look at the Vesta mines where Charles L. Rowan was killed. Here, a 20-ton motor in tandem hauls 70 cars of coal (about 500 tons) along 6.5 miles of track in the No. 4 and 5 mines.
Connellsville Daily Courier
Charles' funeral drew 600 mourners. It was held at the Mill Run United Brethren Church, led by Rev. Frank S. Wortman, Rev. Paul O. Morris and the Junior Order of United American Mechanics. Said the Daily Courier, "A quartet composed of Mr. and Mrs. William Griffiths, Edward Hiltabidel and E.D. Small, with Miss Alice Small at the piano, sang 'Face to Face,' 'Abide with Me' and 'Going Down the Valley.' The Vestaburg Local of the United Mine Workers of America came in a large delegation and led the funeral process from the home to the church and then to the cemetery, holding its ritual at the grave.
The pallbearers were George Colborn, E. Sturgis Colborn, Robert Laughery, Dayton Newill, Preston Williams and Foster Bigam." Burial was in the Indian Creek Baptist Church Cemetery. Later that month, Grace placed a classified advertisement in the Daily Courier, saying: I take this means of expressing my sincere appreciation and thanks to my many kind neighbors, friends and relatives for their many acts of kindness and sympathy following the death of my husband. Especially do I desire to thank the U.M.W. of A., the Jr. O.U.A.M. for their service, those who sent flowers, those who so kindly furnished cars and all who assisted me in any way." As a widow, Grace kept herself busy with family and community activities and occasional out of town visits. She died in July 1984 at the age of 83.
~ Daughter Jennie (Rowan) Anderson ~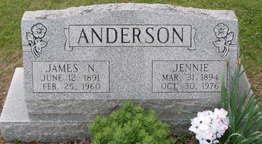 Indian Creek Baptist Church
Daughter Jennie Rowan (1894-1976) was born on March 31, 1894 in Mill Run.
She married James "Nelson" Anderson (1891-1960), a native of New Brighton, Beaver County, PA, and the son of Marion and Sarah (Johnson) Anderson.
They are named in the Mill Run history book and had a dozen children -- James E. Anderson, Calvin A. Anderson, Lewis Anderson, Mildred A. Miner, Della Mae Arzberger Cuica, Lauretta Shipley, Bertha Shipley, Richard C. Anderson, Howard R. Anderson, Jennie Anderson and a daughter and son who died in infancy.
In 1913, when he was about 22, Nelson is believed to have been employed as a night watchman by the McFarland Lumber Company in Indian Creek near Mill Run. He left that job in August 1913 and went to Connellsville to look for work. Nelson was a coal miner for Rice and Wilkins Coal Company in Mill Run circa 1917, when he registered for the military draft during World War I.
Later, he labored as a miner for the Eastern Gas and Fuel Associates with membership in the United Mine Workers of America local union in Melcroft.
Nelson passed away on Feb. 25, 1960, at the age of 69. His obituary was printed in the Connellsville Daily Courier.
Jennie survived her husband by 16 years. She died at the age of 82 on Oct. 30, 1976, at the Connellsville State General Hospital. Her remains were buried at Indian Creek Baptist Cemetery. At the time of her death, the Courier said that Jennie was survived by 43 grandchildren and 92 great-grandchildren.
Daughter Bertha Anderson (1915-1999) was born in 1915. She wed Charles K. Shipley ( ? - ? ). They resided in Buchanan, PA. The couple had five children -- Clifford C. Shipley, Elgie Shipley, Patricia Miller, Jennie Nicholson and Sandra Shipley. Bertha passed into eternity in 1999.
Daughter Lauretta Shipley (1922-1977) was born in 1922. She married Walter Shipley ( ? - ? ). They produced three sons -- David Claydean Shipley, Roger L. Shipley and George E. Shipley Sr. Lauretta died in 1977.
Grandson Roger L. Shipley ( ? - ? ) was deceased by 2015.
Grandson David Claydean Shipley married Bonnie and lived in Mill Run.
Grandson George E. Shipley Sr. (1943-2015) was born on Aug. 13, 1943 in Mill Run. In about 1964, he married Jean K. Dahl, and they were wed for 51 years. The couple had three children -- George E. Shipley Jr., Dana Bowser and Craig Scott Shipley. They were members of the Indian Creek Baptist Church in Mill Run. George was a longtime die setter with Anchor Hocking Corporation in South Connellsville. George died at age 72 on Aug. 16, 2015 in Excela Health Latrobe Hospital. Rev. Christopher McLaughlin officiated at the funeral service with burial in the church cemetery.
Son Richard C. Anderson (1927-2005) was born in 1917. He resided in Champion, Fayette County. He died in 2005.
Son James E. Anderson made his residence in Melcroft in 1960.
Son Calvin A. Anderson lived in Connellsville for decades.
Son Howard R. Anderson resided circa 1960 in Barberton, OH. By 1976, he had moved to Doylestown, OH.
Daughter Della May Anderson apparently was wed twice, first to (?) Arzberger and second to (?) Ciuca. In 1960, her home was in Baden, Beaver County, PA. She relocated to Elyria, OH and was there in 1976.
~ Son Earl Rowan ~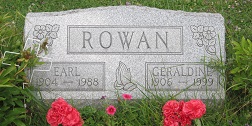 Indian Creek Baptist Church
Son Earl Rowan (1904-1988) was born on Sept. 13, 1904.
On April 6, 1925, at the age of 21, Earl eloped to Cumberland, MD to marry a cousin, 19-year-old Geraldine Bigam (1906-1999), the daughter of farmers David D. and Lucinda "Lucy" (Cole) Bigam, and granddaughter of John and Eliza (Harbaugh) Bigam. The nuptials were led by Rev. Paul E. Blakney.
The two families were close, and Earl's brother Charles married Geraldine's sister Grace.
They resided in Mill Run and had five known children -- Gladys L. Basinger, Barbara W. Bryner, Donna Jane Novak, James Orland Rowan Sr. and Mary Louise Glotfelty.
Circa 1940, when the federal census enumeration was made, Earl labored as a trackman in local coal mines. He eventually joined Eastern Gas and Fuel Company of Melcroft, and retired from the firm.
Geraldine enjoyed hosting meetings of the Mill Run Women's Christian Temperance Union (WCTU) at their home. They were longtime members of the Mill Run United Methodist Church.
Near-tragedy occurred in mid-July 1965 when Earl and Geraldine, who were riding together in their automobile near Armbrust, Westmoreland County, was struck broadside by another vehicle. Earl suffered a contusion of his right hand while Geraldine's right knee was cut and her head and right arm bruised.
The Rowans hosted an August 1966 visit from Geraldine's cousins Gladys Carpenter of Ashtabula, OH and Edna Bigam of Cleveland. They also enjoyed extended visits their their daughter Mary Louise Glotfelty in Michigan. In April 1975, they celebrated their golden wedding anniversary with an open house at the Mill Run United Methodist Church and a family dinner at Glisan's Restaurant along Route 40. To mark the event, their photograph and an article were published in the Daily Courier.
Earl passed away on Jan. 8, 1988.
Geraldine survived for another 11 years and died on July 9, 1999. They are buried at Indian Creek Baptist Church Cemetery. At the time of Geraldine's passing, she had 17 grandchildren and 34 great-grandchildren.
Daughter Gladys L. Rowan (1926- ? ) was born in about 1926. At the age of seven, having had perfect attendance at school through 2nd grade, she fell from a school bench she and friends were seated upon, and the bench landed on her finger, cutting off the tip. At the age of 17, on April 15, 1943, Gladys wed James Edward Basinger ( ? - ? ), son of Levi "Lee" and Susan Basinger of East Connellsville. The ceremony was held in the parsonage of the East End United Brethren Church, with Rev. J.W. Ritchey officiating. At the time, James was serving as a private in the U.S. Army during World War II, and he immediately returned to his post at Fort Sam Houston, TX. By 1965, the family returned to Mill Run and made their home on Hampton Road. They are believed to have produced at least four children, Robert Earl Basinger, Edward William Basinger, Donetta Thiel and George David "Cubby" Basinger.
Grandson Robert Earl Basinger married Peggy Sherbondy, daughter of John C. Sherbondy of Normalville. They produced at least two sons, James Bradley Basinger and John Robert Basinger.
Grandson Edward William Basinger
Granddaughter Donetta Basinger married Thomas F. Thiel. Circa 1977, their home was in Washington, MI. They had at least one son, Erik T. Thiel.
Grandson George David "Cubby" Basinger was born in 1961. On his fourth birthday, he was pictured in the Daily Courier.
Daughter Barbara W. Rowan (1928-2016) was born on Oct. 15, 1928 in Mill Run. She married Clifford E. Bryner (1920-2013). The couple made their home in Uniontown and produced three children -- Earl Bryner, Wonetta Miller and Dennis Bryner. They made their home in Ohiopyle and were longtime farmers. Barbara was talented with creativity and laid her own ceramic tile floor. Clifford was well known for his woodworking skills and ability to produce Adirondack chairs. Clifford passed into eternity on Feb. 21, 2013. Barbara survived him by three years. She succumbed in Farland Hospital in Sandusky, OH at the age of 87 on March 25, 2016. Her remains were brought back to Uniontown for interment in Sylvan Heights Cemetery. A distant cousin, Rev. Lee Maley -- of the family of Martha Ellen (Mayle) Mayle -- officiated at the funeral service. The family asked that any memorial donations be made to Stine Hospice Care of Sandusky.
Grandson Earl Bryner married Michele and dwells in Texas.
Granddaughter Wonetta Bryner was wedded to Jim Miller of Ohio.
Grandson Dennis Bryner was united in matrimony with Brenda and resides in Smithfield, near Uniontown.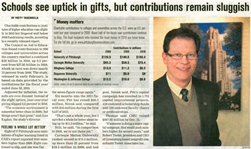 Albert Novak, Pittsburgh Business Times
Daughter Donna Jane Rowan (1931-1977) was born on Christmas Eve 1931 in Mill Run. When she was age 24, in the mid-1950s, she made her home in McKeesport, near Pittsburgh. She married Albert Jacob Novak Sr. (1925-1995), son of Louis and Mary (Volkar) Novak of Slickville, Westmoreland County, PA, a farming and coal mining family. Donna Jane and Albert resided in Slickville for 19 years until her untimely death. The couple produced four offspring -- Albert Jacob Novak Jr., Thomas Novak, Robert Novak and Barbara Novak. They were members of St. Sylvester's Roman Catholic Church in Slickville, and Donna Jane belonged to the Rosary Altar Society and the American Legion Auxiliary. In mid-September 1960, the gossip columns of the Connellsville Daily Courier noted that the Novaks hosted a family reunion dinner at their home in Slickville for Donna Jane's sister and brother in law, Mary Louise and Ronald Glotfelty, who were visiting from Michigan. Heartache rocked the family when Donna Jane was stricken with cancer and admitted to Westmoreland Hospital in Greensburg. After lingering for five weeks, she passed away on June 25, 1977. Rev. Angelo Ciuffoletti celebrated the mass of Christian burial in the family church, with interment in Twin Valley Memorial Park. Albert survived his wife by 18 years. He joined her in eternity on Nov. 1, 1995.
Grandson Albert Jacob Novak Jr. (1959-living) was born in 1959 in Latrobe Hospital. News of his birth was published in the Connellsville Daily Courier. Today is is vice president and chief development officer for Excela Health in Greensburg, PA. From 2003 to 2016, he served as vice chancellor for institutional advancement at the University of Pittsburgh. During that time, Pitt completed a $2.135 billion comprehensive capital campaign in 2013, with generous donors naming two schools in the process and helping to transform the campus. Earlier, from 1991 to 1997, he was director of corporate and foundation relations for the Heinz School at Carnegie Mellon University. He often has been quoted in Pittsburgh news stories about higher education issues, such as the one at right from the Pittsburgh Business Times in 2011. Al received his bachelor of arts in communication from St. Vincent College in 1981 and his master's degree in public policy and management from CMU in 1996. He and his wife Sally Anne attended our 2011 national reunion, "A Visit from a Civil War Soldier."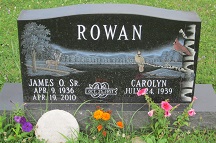 Indian Creek Baptist Church
Son James Orland Rowan (1936-2010) was born on about April 9, 1936. On Oct. 25, 1957, the 21-year-old James was united in wedlock with Joyce "Carolyn" Smith ( ? - ? ), daughter of Homer and Regina Smith of Mill Run and granddaughter of G.L. Smith of Mount Pleasant. In announcing the engagement, Carolyn was pictured in the Connellsville Daily Courier. The couple honeymooned in Michigan and Canada and went on to enjoy 52 years of marriage. James earned a living circa 1957 as a truck driver for Hagan and Fikes' Dairy in Uniontown. They had three children -- Kathy Gail Herchko, James O. "Chip" Rowan Jr. and Karlo Jo White. Said the Connellsville Daily Courier, James "was the owner/operator of James O. Rowan Milk Hauling and also worked for Arsenberger Trucking of Mill Run for 30 years. He was a member of the Mill Run United Methodist church, the Springfield Twp. Vol. Hose Co. for many years, and the Early American Friday Night Bowling League for 37 years." In February 1967, having moved into a new home, the family received many housewarming gifts from the Ever Ready Sunday School Class of their church. A lifelong resident of Mill Run, James died at the age of 74 on April 19, 2010. He was laid to rest in the Indian Creek Baptist Church Cemetery. Their dark black grave marker, photographed in July 2016 by the founder of this website, is etched in color with scenes from nature.
Granddaughter Kathy Gail Rowan (1958- ? ) was born in 1958. As a girl, she enjoyed ballet dancing, and was pictured in the Daily Courier. She married Davide Herchko, who owns a Certapro Painters franchise in North Huntingdon, PA.
Grandson James O. "Chip" Rowan Jr. (1962- ? ) was born in 1962.
Granddaughter Karla Jo Rowan (1975- ? ) was born in 1975. She married Cale White.
Daughter Mary Louise Rowan (1939- ? ) was born in about 1939. As a nine-year-old, she is known to have spent a summertime vacation at the home of her aunt Mrs. Elmer Day in Columbus, OH. In about 1955, she was wedded to Ronald L. Glotfelty ( ? - ? ), the son of former Ohiopyle residents Mr. and Mrs. Marvin Glotfelty, now residing in Lincoln Park, MI. At the time, Ronald was employed in Michigan with Friano Excavating Company. The couple produced three offspring -- Michael Edwin Glotfelty, Rhonda Glotfelty and Julie Glotfelty. In September 1960, residing in Melvindale, MI, they returned to their home region and were treated to a large family dinner at the home of Mary Louise's married sister Donna Jane Rowan in Slickville, PA. By August 1961, Ronald was a specialist fourth class in the U.S. Armed Forces and stationed at Fort Belvoir, VA. In October 1966, the Glotfeltys hosted a two-week visit with Mary Louise's parents at their home in Romulus, MI, and then in August 1971 another extended visit.
~ Daughter Sylvia (Rowan) Prinkey ~
Daughter Sylvia Rowan ( ? - ? ) married John A. Prinkey (1909-1974).
They were lifelong residents of Springfield Township. They had 13 children -- Ronald B. Prinkey, Bernard R. Prinkey, Clark Prinkey, Wayne Prinkey, Gerald Prinkey, Douglas Prinkey, George Prinkey, Raymond Prinkey, Helen Mansberry, Marion Radcliff, Elsie Dial, Nancy Richter and Shirley Prinkey.
John died at the age of 64 on Jan. 15, 1974. Burial was in Normalville Cemetery.
Sylvia's fate still needs to be learned.
Daughter Nancy Louise Prinkey (1939-2006) resided in Confluence, Somerset County, where she "was a member of the Calvary Community Church of Fort Hill and Somerset Local U.S. Steel Workers," said the Somerset (PA) Daily American. "After her retirement, she worked part-time for the Deer Valley YMCA Camp."
~ Son Joseph "Domer" Rowan ~
Son Joseph "Domer" Rowan (1902-1974) was born in 1902.
He married Opal "Marie" Kemp (1912-2003), the daughter of William T. and Mary Jane (Showman) Kemp. They resided at Breakneck, near Connellsville, for more than three decades.
The Rowans lived in Mill Run and had 10 children -- Howard Kemp Rowan, Domer Ellsworth Rowan, David Rowan, Donald Rowan, Bradley Rowan, Jeffrey Rowan, Marjorie Miller, Janet Young, Sharon Gorman and Debra Hoyman.
In the fall of 1926, Domer was employed by the Indian Creek Mine Drainage Company. He injured his back at work and underwent treatment, and received $196 from the company as compensation. However, when seeking additional recompense, he was turned down because "of his failure to file and application for the renewal of his compensation within the one year period," reported the Uniontown Daily News Standard. He appealed to the Court of Common Pleas of Fayette County and lost the case per the ruling of a panel of three judges.
Domer later was the proprietor of a general merchandise store and gasoline filling station in Indian Creek. He was robbed at gunpoint at the store in September 1931, which made news in the Daily Courier. Later, he was a longtime line foreman for the West Penn Power Company.
Marie was seriously injured in an automobile accident in about 1934. A July 23, 1934 story in the Daily Courier said she was "getting along as good as could be expected."
Domer passed away at the age of 72 on Sept. 8, 1974 "following a lingering illness," said the Daily Courier. He was survived by 21 grandchildren and one great-grandchild.
Marie outlived her husband by more than 30 years. She attended the Church of Christ in Connellsville. She died at the age of 90, at Frick Hospital in Mount Pleasant, Westmoreland County, PA on Jan. 7, 2003. She was laid to rest at Green Ridge Memorial Park near Connellsville.
Son Howard Kemp Rowan (1928-2006) was born in 1928 and apparently was named for his ill-fated uncle who was killed in a coal mine accident that year. Howard served in the U.S. Navy for 26 years and was a veteran of World War II, Korea and Vietnam. Upon his retirement in 1973, said the Pittsburgh Tribune-Review, he "led the fight to keep the Los Alamitos Naval Air Station open. In his retirement, he had a successful civilian career as he served as the director of public works for the cities of Cerritos, Pomona and Irvine, Calif. he also was very active in local politics, serving on the Cypress City Council and as mayor of Cypress." Howard died in Cypress at the age of 77 on March 30, 2006, leaving behind his wife and three children.
Son Domer Ellsworth Rowan served as an interior communications electrician fireman apprentice in the U.S. Navy in the mid-1950s. Circa 1955, he was stationed on the U.S.S. Burdo which was in the Caribbean on his third midshipman training cruise.
~ Son Clark Rowan ~
Son Clark Rowan ( ? - ? ) is believed to have married Eunice Harford ( ? - ? ) and resided in Mill Run.
If so, they had five children -- Jean Harpster, Louise Pegg, Frank Rowan, Paul Rowan and Robert Rowan.
Little more is known about them, but is being researched.
Son Frank Rowan (1934-2010) married Donna Opalka in about 1956. They made their home in Hopwood, Fayette County, and had six children. Frank passed away at home at the age of 75 on March 2, 2010, and was buried at Indian Creek Baptist Church Cemetery.
Copyright © 2001, 2005-2009, 2014-2016 Mark A. Miner
Other information courtesy Beverly (Murray) Domer and Albert Novak Jr.