James "Loren" Thurston
(1899-1952)
James "Loren" Thurston was born on Feb. 2, 1899 in Mt. Pleasant, Westmoreland County, PA, the son of Charles W. and Emma (Minerd) Thurston.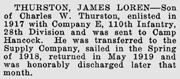 During World War I, Loren served with the US Army in France. He was a member of the 110th Supply Company. Sadly, he was still in Europe when his mother died at home in 1919, and was unable to get home for the funeral. A short profile of his military career -- seen here -- later was published in the book, Westmoreland Towns in the World War.
Loren married Ellen Ahlborn (1897-1976), sometimes known as "Helen." They had at least three children -- Jay Thurston, Mrs. Don Stewart and Mrs. Joseph Matty. One of the daughters' names was Blanche Jean and the other was Pearl.
The census of 1920 shows Loren and Ellen and eldest daughter Pearl living in the Strohms District of East Huntington Township, Westmoreland County. Loren's widowed father made his home with them that year. Loren's occupation was listed as fireman in a coal mine.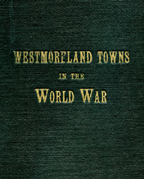 When the federal census of Westmoreland County was enumerated in 1930, the Thurstons lived in Standard (Spring Garden) near Mt. Pleasant. That year, Loren labored as a miner in a local coal mine. His widowed father lived under their roof.
In September 1931, Loren is known to have resided in Mt. Pleasant, and that month attended a 25th wedding anniversary reception for his brother Alvin Thurston.
James made his home in 1942 in Grindstone, Fayette County, likely working in local coal mines there.
By 1945, the Thurstons had moved to Detroit, where they remained at least through the early 1950s.
Loren passed away at the age of 53 on May 2, 1952, at the Veterans Hospital in Dearborn, MI. His remains were returned to Mt. Pleasant for burial in the Mt. Pleasant Cemetery.
Ellen outlived him by almost a quarter-century, and died in 1976.
Daughter Pearl Thurston (1916- ? )
Son Jay Thurston (1921- ? )
Daughter Betty Thurston (1923- ? )
Copyright © 2001, 2003, 2008-2009, 2011 Mark A. Miner