Missouri (Younkin) Wingerd
(1861-1936)

Missouri Wingerd
Missouri "Zouri" (Younkin) Wingerd was born on Dec. 11, 1861 at South Milford Township, near Rockwood, Somerset County, PA, the eldest daughter of William "Shedrick" and Caroline (Cupp) Younkin. She also was known by the nickname of "Sis."
In 1879, when she was 18, Zouri gave birth to a son, John Vought Jr., but did not marry the boy's father. Her own father then signed a legal agreement to keep and maintain the boy at his own expense. (The name is pronounced "Vote.")
Zouri later married George E. Wingerd (1861-1934), also spelled "Wingard." He was a lifelong resident of Rockwood.
They had no children of their own.
Western Maryland Railroad viaduct, Meyersdale
George was a railroader, said once by the Somerset County Leader to be "employed by the Western Maryland Railroad as foreman of the maintenance of ways, with headquarters at Rockwood." The famous viaduct of the Western Maryland at nearby Meyersdale, Somerset County, is seen here in a vintage photograph postcard.
It's believed that in the late 1890s, George operated a cigar factory on Rockwood's Main Street. Mentioned in the booklet Rockwood Centennial 1857-1957, it was located "where Johnny Meyers' store now stands."
In 1906, unmarried at age 45, Zouri went to Connellsville, Fayette County, PA to visit her cousin Mrs. Harvey Shaffer during the city's Centennial celebration. This tidbit of news was reported by the Connellsville Daily Courier. Later that same year, the Daily Courier said that George "had been working … on the B. & O. repairs…" in Connellsville.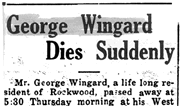 Somerset County Leader, 1934
The Wingerds belonged to the Rockwood Evangelical Church.
In 1920, Zouri's second cousin and neighbor, Martha (Minerd) Gorsuch, named her as a credible witness in a case involving Martha's missing husband, a Civil War pensioner.
On Aug. 30, 1934, George died suddenly at home, said the Leader, "death being caused, it is believed, by a heart condition superinduced by high blood pressure." His funeral was conducted by another of Zouri's second cousins, Rev. William Mullen Minerd. George was buried at the Rockwood IOOF Cemetery.
Zouri passed away two years later, on Sept. 11, 1936. She was laid to rest beside her husband.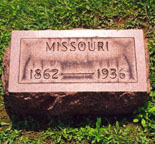 Red-granite grave markers of Zouri and George at the IOOF Cemetery in Rockwood
John Vough Jr.
~ Son John Vough Jr. ~
Son John Vough Jr. (1879-1932) was born in 1879.
He was married twice – his first wife was a cousin, Martha Ellen "Ella" Swarner (1882-1915), with the wedding taking place in about 1901. Ella was daughter of Henry and Barbara (Younkin) Swarner, and granddaughter of Frederick F. and Sarah (Faidley) Younkin. This was one of many marital unions between the Younkin and Minerd clans over the years.
They had three children -- Ostie Heinbaugh, Olga Heinbaugh and Oren Vough. (While the "t" at the end of the "Vough" name dropped away during the 20th century, the family name generally is still pronounced in Somerset County as "Vote.")
Early in their marriage, about 1905 or '06, John and Ella moved to Kansas, where they spent many years in the town of Junction City. The 1910 federal census shows the family in Geary County, KS, with John working as a farmer. Residing in their home that year were their three children, all born in Pennsylvania, along with farm laborer Louis Marker and boarder H.F. Fleming, a railroader.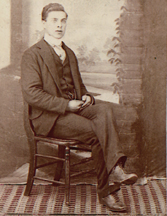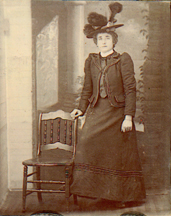 John and Ellen (Swarner) Vough Jr.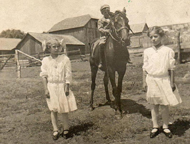 Vough girls with "Topsy"
Seen here, the Vough children at play on the Kansas farm with their beloved horse "Topsy."
In about 1913, a few years before Ella died, the Voughs returned to Rockwood. It is possible that they attended the first annual Minerd Reunion, held that August in Ohio Pyle, Fayette County, PA, but this is not yet proven.
Ella was afflicted with gall stones, and tragedy struck when this led to a rupture of her gall bladder in mid-July 1915. After trying to recover for two days, her body gave out, and she died on July 15, 1915. She was only age 32. She is buried in the Rockwood Odd Fellows Cemetery.
Later, John married Grace (Faidley) Marker ( ? - ? ).
In the mid-1930s, Ella's branch of the Younkin family was researched in connection with the National Younkin Home-Coming Reunions held at Kingwood, Somerset County, and which drew more than 1,000 people a year during the heart of the Great Depression. Ella and John mentioned are specifically in genealogy notes compiled and typed by reunion president Otto Roosevelt Younkin circa 1934. (Click here to see the first set of pages and second set of pages.) As well, Ella's mother was mentioned in a letter by reunion secretary Charles Arthur Younkin, who was actively writing to many of the Younkin branches to figure out who was who. Click here to see the actual letter, dated March 7, 1937.
John and Ella's graves at Rockwood Odd Fellows Cemetery

Meyersdale Republican, 1932
Of John, the Meyersdale Republican once said that he:
...did quite a bit of farming during his younger years. Later, his chief occupation was mining. He was a handy man at nearly any kind of work. He was loyal and of a kind disposition and had no bad habits, and being a man of such type he had many true friends who held him in high esteem.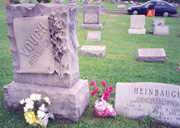 Rockwood IOOF Cemetery
In 1932, John was employed "working on the state highway shoveling shape from a heap on the ground upon a motor truck, near the barn of Mr. Arthur Snyder in Black Township." On Oct. 13 of that year, while shoveling, he suddenly collapsed, and fell into the arms of fellow laborer, William Eagle (who was the husband of his cousin Grace Hauger). He died immediately, and was laid to rest in the Rockwood IOOF Cemetery.
The fate of John's wife Grace is not yet known but will be added here when learned. They are buried beside their Heinbaugh children and grandchildren at Rockwood.
~ Granddaughter Olga (Vough) Heinbaugh ~
Olga Vough (1902-1993) was born in 1902.
She married Lloyd J. Heinbaugh (1893-1983), the son of Milton and Alice (Marker) Heinbaugh of Rockwood, Somerset County.
Olga and Lloyd and family
They had four sons, Bernard Heinbaugh, Donald Heinbaugh, Wayne R. Heinbaugh and Lloyd Van Heinbaugh.
The photograph seen here was taken of Olga and Lloyd's family in the spring of 1938 when their son Lloyd was baptized. (He is the baby in his mother's arms.) Left to right, back row: Wayne, Bernard, Donald, baby Lloyd, Olga and father Lloyd.
One of Olga's sons says that she was ahead of her time when it came to raising boys. She taught all of them to cook, sew on buttons, do laundry and ironing, clean house and many other things that were customarily done by girls in the 1920s-1950s.
During World War I, Lloyd served as a corporal in the U.S. Army Medical Corps. He enlisted in Columbus, Ohio on Oct. 4, 1917 until the Armistice on Nov. 11, 1918. He then was shipped to Germany, where he took part in the military occupation until Aug. 26, 1920, when he returned to the United States and was discharged at Fort Slocum, NY.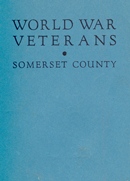 Book naming Lloyd
She was a quiltmaker, and one of her creations was displayed at our 2005 national reunion, and today is featured in our Online Quilt Museum.
In the 1930s, Lloyd was profiled in the book World War Veterans of Somerset County, published by the commissioners of Somerset County. The entry said that his dependents included Olga and their children Donald, Bernard and Wayne, and that his physical condition was "fair."
Lloyd passed away in 1983 at the age of 90.
Olga outlived him by a decade, and died in 1993. They rest together in the Vough-Heinbaugh plot at the Odd Fellows Cemetery in Rockwood.
She is pictured in the booklet Down the Road of Our Past, Book II, published by the Rockwood Area Historical & Genealogical Society.
Son Wayne R. Heinbaugh served with the US Marine Corps during the Korean War. He resided in Macedonia, OH. Tragically, he drowned in May 2005 while on vacation in St. Croix, US Virgin Islands.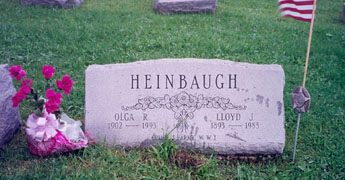 Heinbaugh grave marker at Rockwood, PA
Son Bernard Heinbaugh married Elaine A. "Kate" Bush (1924-2011), the daughter of Reggie and Ruth (Coughenour) Bush. Bernard was a World War II veteran, and a member of the Rockwood School Board for six years. They had two daughters -- Bonnie Sechler and Debbie Wagner. They were members of the Rockwood United Methodist Church. Sadly, Bernard died in 1981. Kate outlived him by three decades. She passed away at Somerset Hospital on Oct. 24, 2011, at the age of 87.
Son Lloyd Van Heinbaugh is a purchasing manager for the Cuyahoga County Public Library in Cleveland, retiring a yearend 2004. He attended our 2007 reunion with his daughter. In August 2007, he formed a reunion of the Jacob Lloyd Heinbaugh family, held at the Farmers and Threshers Jubilee Building in New Centerville, Somerset County. A total of 36 attended the reunion, and a treasury was formed with the net proceeds. Sue Ellen Martin agreed to be the family memorabilia collector, such as photographs or keepsakes to be preserved and shared with future generations.
Ostie and Amos and family
~ Granddaughter Ostie (Vough) Heinbaugh ~
Ostie Vough ( ? - ? ) was born in (?).
She married Amos Bruce Heinbaugh ( ? - ? ).
They are seen here in a family portrait circa 1923, from left to right: Ostie, baby Betty Jean, Althea Aileen, Amos and Dale Wayne.
Son Donald Oren Heinbaugh served in World War II, and later worked for Republic Steel Corp. as superintendent of construction.
Daughter Betty Heinbaugh (1922-2008) was born in 1922. She married Charles W. Hall ( ? - ? ). They had one daughter, Gayle Dillinger. Betty was a member of the Albright United Methodist Church of South Connellsville, Fayette County and of Red Hatters of Uniontown, PA and AMVETS of Hopwood. Betty attended a number of our national reunions in the mid-2000s. For the 2006 reunion, she brought afghans she has hand-made for display and to be photographed for our Museum of Creativity. One of Betty's quilts is featured in our Online Quilt Museum. A quilt made by Betty's late sister, Shirley Jo Ann (Heinbaugh) Colbert, also is highlighted in our Online Quilt Museum. Shirley's daughter, Sue Ellen (Colbert) Martin, an artist, brought an acrylic painting she created to our 2006 reunion, and one of her own quilts, a tractor pattern, to our 2005 reunion.
Copyright © 2001-2008, 2010, 2012, 2016 Mark A. Miner