Home

We currently are researching the following individuals who share our family name and may (or may not) be related. As we dig deeper, we hope to gather the facts that would establish a connection with precision.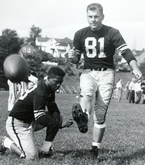 Tom Miner
~ Tom Miner, Pittsburgh Steelers Kicker ~
Tom Miner (1932-1988) was a kicker for the Pittsburgh Steelers in 1958, his one and only season in the National Football League. He was born on May 14, 1932 in Checotah, McIntosh County, OK, and played in college for the University of Tulsa, where he was named in 1951 to the All-Missouri Valley Conference. He stood 6 ft., 4 in. tall, and weighed 235 lbs. While with the Steelers, he kicked 14 field goals (out of 28 attempts) and converted on all 31 extra point attempts, in a year when the team quarterback was future hall of famer Bobby Layne. He also played in Canada during the 1950s with the Winnipeg Blue Bombers and Calgary Stampeders. He died in Tucson, AZ at the age of 55 on Jan. 1, 1988.
~ Blas Minor, Major League Baseball Pitcher ~
Blas Minor pitched in the Major Leagues from 1992 to 1997 for the Pittsburgh Pirates, Houston Astros, New York Mets and Seattled Mariners. He was born on March 20, 1966 in Merced, Merced County, CA. He played collegiately at Arizona State University, where he pitched a no-hitter and was drafted by Pittsburgh in 1988. A right-hander, he had a lifetime record of 13 wins, 10 losses and five saves, appearing in 157 games and logging 225 innings. His career earned run average was 4.40.
~ Zack Miner, Major League Baseball Pitcher ~
Zachary Charles "Zack" Miner was a relief pitcher from 2006 through 2009 for the Detroit Tigers of Major League Baseball. He was born in St. Louis, MO on March 12, 1982. Drafted by the Atlanta Braves, he pitched in the minor leagues from 2001 to 2004, and then was traded in 2005 to Detroit. With the Tigers, he pitched in 157 games,, with a record of 25 wins, 20 losses and one save, with an earned run average of 4.24. After having Tommy John Surgery on his shoulder, he later was signed by the Kansas City Royals.
~ Nicholas J. "Nick" Minerd of Trenton, New Jersey ~
Nicholas J. "Nick" Minerd (1842-1881) was born in Prussia and came to the United States in 1855, settling in Trenton, NJ. In 1874, he opened a tobacco company at 29 South Green Street in Trenton, named the "Bee-Hive Cigar Manufactory." He was profiled in the book, Industries of New Jersey, published in 1882 by Historical Publishing Company of New York, Newark and Philadelphia. He married Amelia (1844- ? ) and had at least two children -- Walter Minerd (born 1868) and Ida M. Minerd (born 1870). He died at the age of 41 on Feb. 12, 1881, with interment at Riverview Cemetery.
~ Bradford and Emma (Minerd) Harshman ~
Bradford Harshman (1850- ? ) of Fayette County, PA married Emma Minerd ( ? - ? ).They are listed on page 551 of the 1976 book, The Harshman, Hashman, Hershman, Hersman Family, authored by Charles William Harshman, C.C. Harshman and Mavourneen Harshman. In 1870, the Pennsylvania-born Bradford was single and a laborer in Iowa on a farm in Greencastle, Jasper County. He has not yet been found on the 1880 census.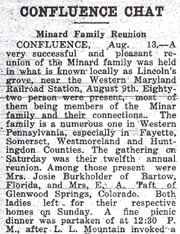 ~ Unknown Attendees of the 1924 Minerd-Miner Reunion ~
In August 1924, the Minerd-Miner family of Western Pennsylvania held its annual reunion in Confluence, Somerset County, PA, near the Western Maryland Railroad Station. The next week, an article about the reunion was published in the Meyersdale Republican, as the lead article in the "Turkeyfoot News" section of the newspaper. "Eighty-two persons were present, most of them being members of the Minar [sic] family and their connections," said the story. Listed in the article were a number of people not known to be connected to the family. Might you help us make that connection? They were:
Lloyd L. Mountain, Aaron Rugg, Mrs. C.M. Hutton, J.R. Nottingham, Mrs. E.A. Taft, Adam Nicolson, Mrs. Howard McClintock and Mrs. M.S. Tarney.
Aaron Rugg (1845-1932) was a Civil War veteran who was married to Caroline Linderman and resided in Maple Summit, Fayette County. Their granddaughter Rebecca J. Rugg married Raymond Miner.

Adam Nicolson ("Nicholson") (1840-1934) was a Civil War veteran who lived in Confluence.

Click here for a more detailed report.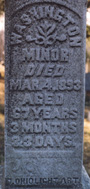 Hopwood, PA
~ Sons of Washington and Margaret (Nicely) Minor, also known
as "Provance": Daniel Z., William A. and John "Jack" Miner
Washington Minor (1826-1893) and three of his sons all served in the Civil War. He was born in either Pennsylvania or West Virginia, the son of a woman whose married name was "Nancy (Howard) Miner." Washington's father is believed to have died prior to 1830, meaning the boy likely had no memory of his natural father. Washington was raised by a step-father Simeon Provance, and used the Provance name until later in life. Circa 1850, when the census was taken, Washington's mother Nancy, step-father Simeon, and half brothers Josephus "Cephas" Provance (1834- ? ) and Denune Provance (1837- ? ) lived in Wood County, VA (now West Virginia).
In 1845, Washington married Margaret Nicely, also a native of West Virginia. The census of 1860 shows them in Olive Township, Meigs County, OH, with their children William, Daniel, John, Simeon, Nancy, Austin and Josephine, ranging in age from 13 to two. At the time of the Civil War, Washington left home in Meigs County at age 37, and enlisted in the 7th Independent Battery, OH Volunteer Light Artillery. When the census was taken in 1870, they made their home near Masontown in Monongahela Township, maintaining the "Provance" spelling. At some point in time, in an amazing gesture, Washington changed his name back to his birth father's name, "Miner," perhaps reflecting a disdain for his stepfather. This change appears to have been gradual, as alternate spellings were used over time. Tragically, Washington was killed in a railroad accident at Mt. Braddock, Fayette County, PA on March 4, 1893. He is buried at the Hopwood Cemetery near Uniontown, PA.
Their children, listed below, initially raised under the name Provance, and also changed their names, were William A. Miner, Daniel Zane Miner, John "Jack" Miner, Nancy Hawk, Astinashia Miner, Josephine Miner, Emily Rankin, Josephus Minor and Margaret "Maggie" Joliffe. Washington's younger half brothers naturally kept their Provance surnames -- Denune Provance and Josephus "Cephas" Provance.
John "Jack" Miner (1846-1909) - Born in Ohio. Married Louisa V. Smith. Also a Civil War veteran, he lived in Brownsville, Fayette County, PA. On Sept. 6, 1909, he mysteriously was found dead near the plant of the Brownsville Coke Company, of unknown causes. He was buried at Bridgeport Cemetery. His six children were John Miner Jr., Jessie Simpson, Washington Miner II, Elizabeth Miner, Arthur Miner and Evelyn Miner.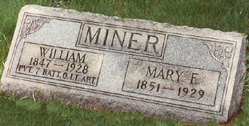 Hopwood, PA
William A. Miner (1847-1928) - Born in Meigs County, OH, and raised under the name of "Provance," though he actually was the son of Washington and Margaret (Nicely) Miner. He served in the same Civil War unit as his father. William later married Mary Elizabeth Smith (1851-1929). Their children were Margaret M. Dennis, Nancy E. Baker, Charles Marion Miner (who married Minerd step-cousin Jennie White), Elsworth "Elzie" Miner, Albert Miner, Daniel Z. Miner II, Josephine Dancier, Emily Pearl Wilson, Rebecca May Sayers Wooten and Millie Miner. Buried at Hopwood Cemetery near Uniontown, PA.
Elsworth "Elzie" Miner (1876-1960) was born on April 10, 1876 in Ohio. He married Zelia (Passavant) Rice (1874-1948), a daughter of Philip Passavant and granddaughter of Rev. William A. Passavant, founder of Pittsburgh's Passavant Hospital. She had been married once before and bought nine children to the marriage -- George Rice, Martha Sproul, Leona Leinwand, Ruth Rice, James R. Rice, Emma V. Hollar, Phillip Rice, Edward J. Rice, Frank P. Rice and Philip L. Rice. They resided in Ohio Pyle, Fayette County, and were members of the Hopwood Christian Church. Elzie was a longtime coal miner. Zelia suffered a cerebral hemorrhage and died on July 11, 1948. She was interred in Hopwood Cemetery. Elzie survived her by a dozen years. He had a heart attack and died suddenly on June 28, 1960, at the age of 84. Burial was in Sunset View Cemetery in Chalk Hill, Fayette County.

Josephine Miner married (?) Dancier (or "Dancer") and lived in Hopwood.

Pearl Miner wed (?) Wilson and resided in Brownfield, Fayette County.

Charles Marion Miner made his home in Carmichaels, Greene County, PA.

Hopwood, PA
Daniel Zane Miner (1848-1904) - Born in either Virginia or Greene County, PA, under the name of "Provance," the son of Washington and Margaret (Nicely) Miner (a.k.a. "Provance). Married Lucinda McClain (1851- ? ). Children were Caroline McGowan Ealy, George H. Miner, Daisy Weltner Varndell, Albert Miner (married to Elizabeth Minard), Josephus Miner and Maida Louise Milliron. Served in the 193rd Ohio Infantry during the Civil War. Daniel and Lucinda are buried together at Hopwood Cemetery near Uniontown, PA.
Simeon Miner (1853- ? )
Nancy Ann Minor (1854-1933) was born in West Virginia and married John Hawk (1849-1916). They had these children: Albert Hawk, Ada Bell Fuller, Minnie Hawk, Mary Ella Nibbi, Maggie Hawk, John Hawk, Jessie Hawk and Chester L. Hawk. John died in Vanderbilt, Fayette County in 1916, and Nancy passed away in McClellandtown on Jan. 17, 1933.
Josephine Miner (1858- ? ) disappears from history after 1870.
Astinashia Miner (1856- ? ), a daughter, is last known on the 1870 federal census.
Josephus "Joseph" or "Cephas" Minor (1863-1929) was born on Oct. 9, 1863. He married Sarah Dugan of Springhill Township, Greene County, and had four children. Josephus resided as an adult in Columbus, Franklin County, OH, where he worked as a stone cutter. As he neared the age of 66, he was involved in an automobile accident in Columbus, causing a hemorrhage of the brain which led to his death. He died on Oct. 27, 1929, at Grant Hospital in Columbus. His remains were returned to Pennsylvania for burial at the Point Marion Cemetery.
Emily Miner (1861-1925) married Albert Rankin and lived in Hopwood. They had one known son, Frank Rankin.
Margaret Miner (1867- ? ) married Morgan Jolliffe.

Mary Costolo
~ Mary Ellen (Luckey) Costolo
Mary Ellen Costolo (1865-1936), of near Lemont Furnace, Fayette County, PA has been a longtime mystery. Records differ as to the identity of her father. Her death certificate states that she was the daughter of a man named Minerd -- although other records shown she was the daughter of Joshua and Sarah (Abraham) Luckey. She grew up under the name 'Luckey' and married George Costolo. She also is said to have had a brother William Luckey. Who was her Minerd father, if true, and what was his first name?
Copyright © 2000-2010, 2014 Mark A. Miner