My Parents and My Childhood
A Memoir of Robert and Alma (Ream) Sands


Alma and Robert Sands
My father, Robert A. "Cricket" Sands, was born and raised in Confluence, PA, on Sterner Street. He was the oldest of five children, three boys and two girls. His father died of sugar diabetes when he was 16 years old, leaving my grandmother with five children to raise.
Being that my father was the oldest, he had to quit school and get a job to help out. He would give most of his paycheck to his mother to help raise his brothers and sisters.
My mother, Alma Leora Ream, was the daughter of Joseph and Sadie (Harbaugh) Ream and also was born and raised in the Confluence area.
My parents met and dated a short time and were married during the Depression, January 11, 1930. They set up housekeeping in a downstairs apartment at Jones Avenue in Morgantown, WV.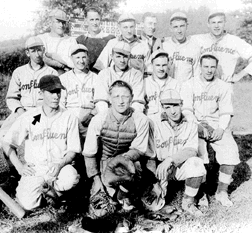 Cricket (lower left), Confluence baseball team
It was later discovered that my future husband, Jack Hawker, had later lived in the same house with his family. We were visiting my parents and looking at family pictures in an old album, when Jack recognized the house and asked my mother the address, they were the same.
My sister Virginia was born at Quataba, W.Va., which is where my parents lived later. Quataba was a small area just outside of Morgantown. They named her Virginia because they were living in West Virginia at the time. She was born February 24, 1931.
Due to the Depression of 1929, times were tough for a lot of years. As a result of the tough times my parents had to move back to Confluence. My grandfather Joseph Ream gave them a piece of property in which to build a house. My father built most of it by himself. It was a small story and a half house (seen here), and the only home I remember.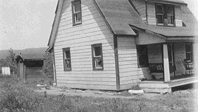 The Sands home
I was born Sept. 1, 1938. We did move to Connellsville, PA, for a short time when I was around five years old where Dad worked on the railroad. We left the house empty while in Connellsville, but returned later.
From that time on, most of Dad's jobs took him away from home, and he only returned on the weekends. My mother, sister and I stayed at home and took care of everything.
My parents had three children. There was a girl between Virginia and me, but she was miscarried. The little girl was a tubal pregnancy and was unable to be brought to term. Mother said it looked just like my Dad. My father had hoped with each pregnancy that he would get a little boy, but by the time I arrived he began to give up and made a tomboy of me.
Robert (front row, holding stick) with fellow railroad laborers
# # # #
~ Postscript ~
Cricket (1907-1988) was born on Aug. 18, 1907 in Ohiopyle, Fayette County, the son of John and Nora (Sterner) Sands.
He earned a living over the years working as a laborer in the railroad, mining and concrete form industries. He obtained his Bituminous Miner's Certificate of Competency and Qualification at Quecreek, Somerset County on March 26, 1945. He also was a member of the Carpenters Local Union No. 2274, joining in 1946 and completing 40 years of membership.
He died on April 10, 1988, at the age of 81. Rev. John R. Wilson led the funeral service at the Sands Cemetery.
Alma passed away at the age of 90 on June 9, 1999 in the Henry Clay Villa in Markleysburg, PA.
Interment was in the Sands Cemetery, with Rev. James Thompson officiating.

Ralph Ray Rederick
~ Daughter Virginia Elaine (Sands) Rederick Lemmon ~
Daughter Virginia Elaine Sands (1931-2002) was born in on Feb. 24, 1931 and was seven years older than her sister Doris.
In 1947, at the age of 16, she was united in marriage with 24-year-old Ralph Ray Rederick Jr. (1923-1987) of the family of Thomas and Barbara (Haines) Ream Sr. The couple produced one daughter, Mary Jane Black.
The couple divorced within a year of their marriage. On Aug. 24, 1954, she was wedded for a second time to James Martin (1932-living). The Martins produced two more daughters, Teresa Brewster and Roxann Rostical. Their marriage lasted until the late 1970s.
For a third time, Virginia married, this time to Marvin Lemmon ( ? - ? ). That marriage ended in divorce after a few months.
Virginia made her home in Perry, OH, until her death on Nov. 10, 2002, at the age of 71.
~ Daughter Doris Lucille (Sands) Hawker ~
Daughter Doris Lucille Sands (1938-living) was born on Sept. 1, 1938.
On June 4, 1966, she married Jack Hawker (1931-2005), a native of Gladesville, WV and a widower with three children -- Michael J. Hawker, Richard Walter Hawker and Connie Darlene Gibson.
They had one daughter of their own, Lisa Janoske.
Heartache shook this family on March 21, 1990 when son Michael died in Fairmont, WV at the age of 36.
Doris was elected treasurer of our national Minerd-Minard-Miner-Minor Reunion in 2001. Doris and her daughter Connie have helped with preparations and decorations on reunion day for several years. Sadly, Jack passed away on Aug. 8, 2005 at the age of 74.
In October 2009, Doris' daughter Lisa Janoske and granddaughter Jena Janoske joined 155 other participants in a performance of Michael Jackson's Thriller dance as a fundraiser for House of Hope in Garrett County, MD. In the process, they not only raised more than $30,000 but also coordinated their dance with 300 cities in 32 countries around the world to establish a record in the Guinness Book of World Records.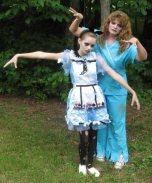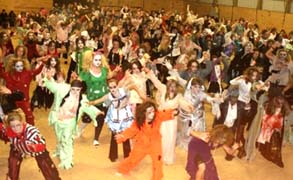 Lisa (Sands) Janoske and daughter Jena take part in worldwide Thriller dance at Halloween 2009 to set a record in the Guinness Book of World Records.
Click to read a memoir of Alma Sands' parents, Joseph and Sadie (Harbaugh) Ream. Click to read Doris Hawker's special memoir about "Unusual Experiences in Life." Click to visit her website featuring homemade quilts. Click to visit the website of her daughter and son in law, Lisa and Bill Janoske, country musicians performing in Maryland and West Virginia.
Copyright © 1999, 2016 Doris (Sands) Hawker and Mark A. Miner.
Republished with permission