Home

2019 National Reunion Photo Album
Our Reunion of Strangers "just plain gloriously wonderful and fun"
Click to view the two Facebook Live video broadcasts. Below: the 2019 reunion logo created by cousin Sharon (Sheldon) Kern of the Dorothy (Stoner) Sheldon branch.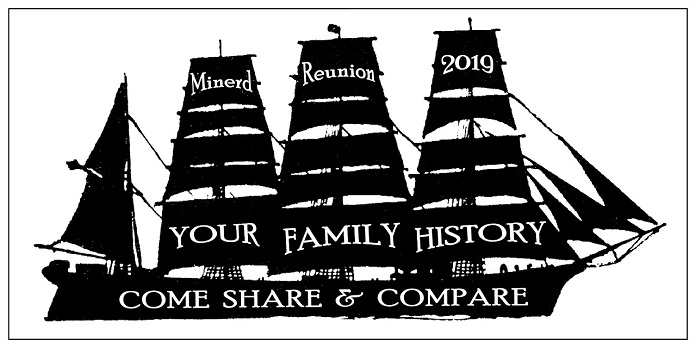 Our 2019 national reunion was a time to meet all-new cousins, make new friends, share some genealogy and marvel in the interconnectedness of it all. Some 66 cousins from 12 states and 18 Pennsylvania towns joined us for all or some of the weekend activities. One cousin said that the sun-splashed Saturday picnic was "just plain gloriously wonderful and fun."
Cousins came bearing all four primary spellings of the family surname -- Minerd - Minard- Miner - and Minor. One cousin and his wife from Allentown, PA were the first members of the Meinert/Gaumer branch to join us.
The extended family is massive, probably numbering 50,000 or more walking the planet today, or maybe 75,000 or even 100,000. Who knows? Thank goodness that not all attended. If they had, we would have had to rent Heinz Field in Pittsburgh, home of the Steelers. That would have broken our budget.
We'll meet again in 2021.
~ Friday Evening Dinner, June 21 ~
~ Traditional Saturday Picnic, June 22 ~
10 a.m. to 4 p.m.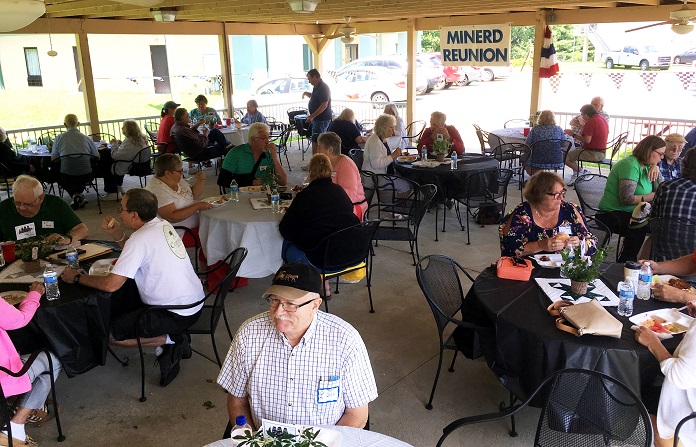 Picnic lunch in the Days Inn Hotel pavilion on Saturday. Some cousins chose to enjoy their lunch in the sunshine on the beautiful green grounds.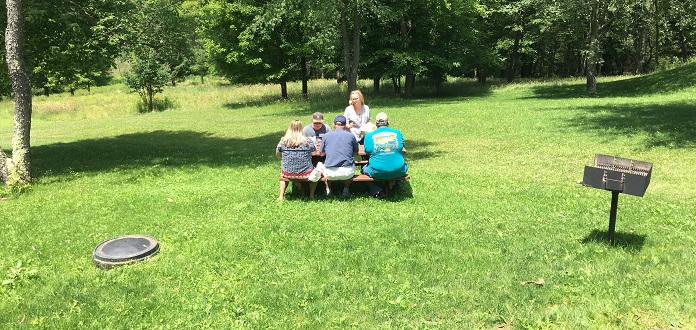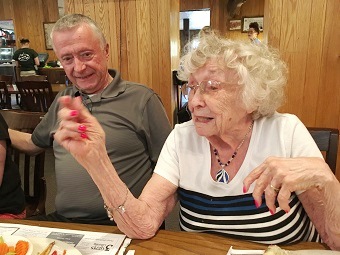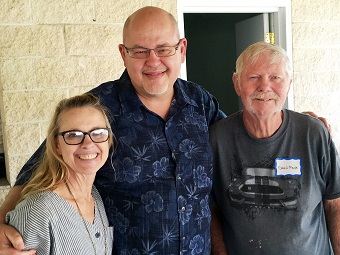 Above left: the oldest person in attendance, 95-year-old Dorothy (Bender) Krieg of Otsego, Michigan, with her son Robert, of the James "Jasper" Knight branch. Right: coming all the way from Oroville, CA, the furthest traveled, David Mayle (right) and his daughter Cindy (Mayle) Devine, of the Mary (Minard) Mayle branch, posing with reunion president Mark Miner, of the Odger Miner branch. Below: some of the cousin-made keepsake gifts for our fundraising drawing and the bounty of homemade food in our buffet line.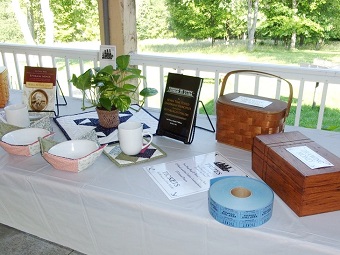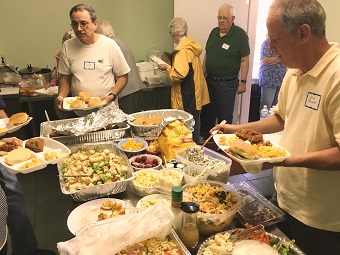 Above left: In the 1972 graduating class of Connellsville (PA) High School were at least seven cousins in the extended family. Three came for our reunion -- Peg (Grimm) Mansberry of the Jennie (Enos) Snyder branch, Joe McKnight of the William Stewart McKnight branch and Jill (Channing) Aird of the Agnes (Miner) Miller branch. Joe was elected to the position of reunion treasurer, succeeding Doris (Sands) Hawker, who had served in this role since 2001. As well, reunion co-founder and longtime reunion secretary Rosella (Resh) Miner, of the John Andrew Miner branch, retired from the position which she had held since 1986. Rosella has been part of the glue holding our reunion together. We'll be seeking a nominee to stand for election to replace her.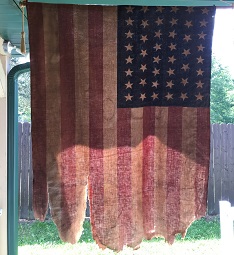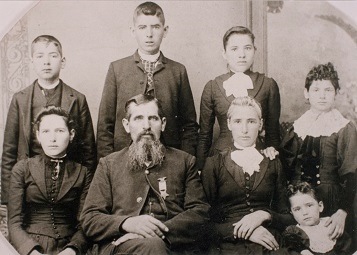 Above left: the old flag brought by Dorothy (Bender) Krieg which her great-grandfather, Daniel Harry Knight, had used as an old man during Civil War soldier reunions. Right: Daniel Harry Knight and his wife Caroline Elizabeth and their family of Gladwin, MI.
~ Sunday Morning, June 23 ~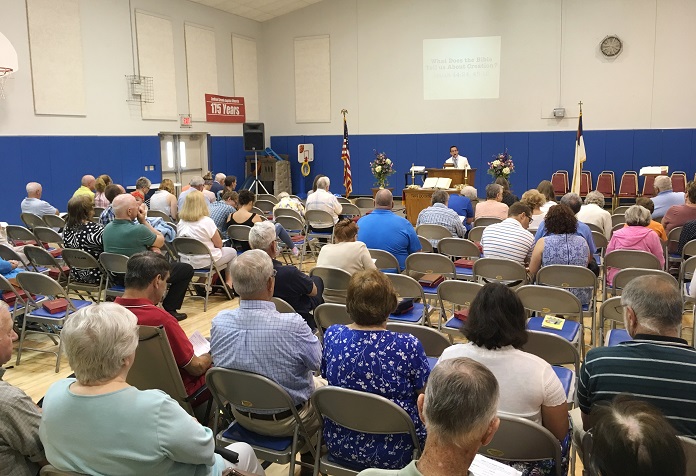 Above: As we have done off and on for many years, a group of cousins concluded the reunion weekend experience by attending Sunday morning worship services at the historic Indian Creek Baptist Church in Mill Run. In the adjacent cemetery, southwestern Pennsylvania pioneer Jacob Minerd Sr. rests for eternity, as do his daughter Martha (Minerd) Imel Harbaugh, many grandchildren and scores of great-grandchildren and beyond. Below left: cousin Donald Kuhns and his mother Nancy Jane of the Anna Belle (Trout) Hower branch. Below right: church aniversary banner.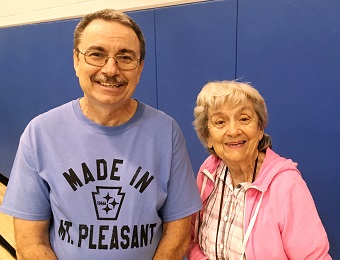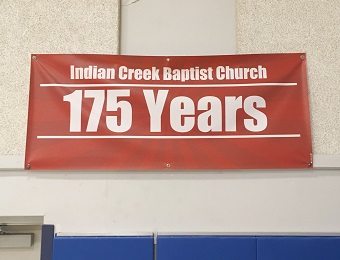 ~ Why the Pittsburgh Region? ~
Southwestern Pennsylvania and Pittsburgh are the epicenter of our clan's founding in the United States of America following the American Revolution. In 1791, patriot and war veteran Jacob and Maria (Nein) Minerd Sr. settled there near Maple Summit on the mountainous border of Fayette and Somerset Counties. They had a dozen children, who in turn spawned 87 grandchildren, 469 great-grandchildren and 1,344 great-great grandchildren, for a total of 1,912 lives, virtually all born before the year 1900. Today, their descendants and spouses number an estimated 50,000 or more, and are scattered all over the world -- but regardless of a cousin's homeplace today, their roots are here.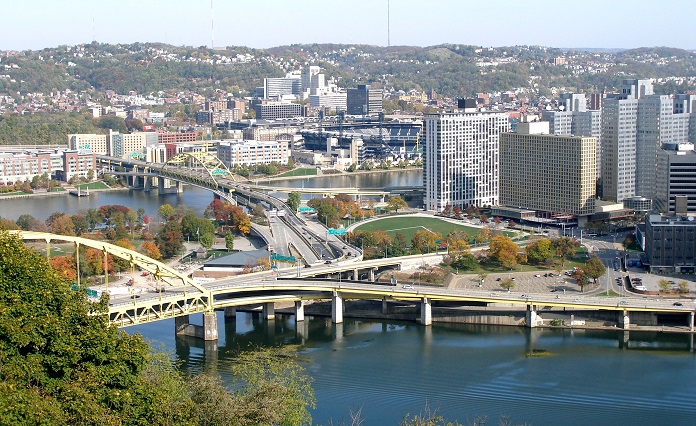 Above: beautiful view of downtown Pittsburgh and its rivers. Below: original Jacob and Maria (Nein) Minerd Sr. farm, straddling Springfield and Stewart Townships, on the mountaintop border of Fayette and Somerset Counties, PA, dating to 1791, from whence their dozen children scattered far and wide into Pennsylvania, Ohio and West Virginia. This historic site is about 60 miles from Pittsburgh as the crow flies.

Your Reunion Committee:
President: Mark A. Miner, Beaver, PA
Treasurer: Joe McKnight, Connellsville, PA
Secretary: [Open]
At Large: Rosella (Resh) Miner, Grantsville, MD
At Large: Sharon (Sheldon) Hershey Kern, Findlay, OH
At Large: Barbara (Holly) Minerd, Lemont Furnace, PA
At Large: Jill (Channing) Aird, Williamsburg, VA
At Large: Doris (Sands) Hawker, Morgantown, WV
At Large: Wendy (King) Zeller of Manchester, MD
At Large: Tracy (King) Sanner of Markleton, PA
Past Reunions:
See recaps of reunions in 2017 - 2015 - 2013 - 2011 - 2009 - 2008 - 2007 - 2006 - 2005 - 2004 - 2003 - 2002 - 2001 - 2000 - 1990s - 1980s - 1910s-1930s
Map Your Route Latest Weather in Donegal, PA
Burgh Nation: Pittsburgh's Enduring Legacy of Innovation
What to Do and See in Nearby Pittsburgh

VisitPittsburgh.com is the promotional sponsor of this page
Copyright © 2019 Mark A. Miner