Catherine (Bateson) Hite
(1862-1941)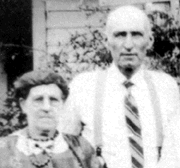 Catherine May "Kate" (Bateson) Hite was born on March 8, 1862, during the Civil War, near Millersport, Walnut Township, Fairfield County, OH, the daughter of Samuel and Emeline (Keller) Bateson.
Prior to marriage, Kate is said to have had a son, James Bateson.
Kate later married Eli Hite (1861-1933), the son of Abraham H. and Anna (Hempy) Hite, whose family had migrated to Fairfield County from Virginia in about 1805 or 1806.
Eli had six children from a previous marriage.
Catherine and Eli were farmers and resided near Thurston, Fairfield County, OH, but had no children of their own.
They enjoyed visiting and hosting visits with family. In mid-March 1936, the Lancaster (OH) Eagle Gazette reported in its Thurston section that "Mr. and Mrs. Fred Bateson and son, Frederick, of Shell Beach, spent Sunday with Mrs. Kate Hite." One September day, Kate and Eli and her son James attended a "Bateson and Hupp Reunion" at the home of her brother Fred Bateson. The reunion was covered by a local newspaper, and the torn and yellowed clipping reads:
On Sunday, September 6 ... the Bateson and Hupp families gathered at the home of Mr. and Mrs. Fred Bateson at Buckeye Lake.... After the dinner hour a boat was chartered and all enjoyed a boat ride to Buckeye Lake Park. At a late hour all departed to their homes saying they had enjoyed the day.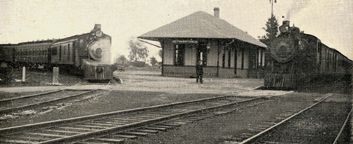 The railroad depot in Thurston, Ohio, circa 1910
Eli suffered for many years from hardening of the arteries and chronic myocarditis. At age 71, on March 15, 1933, he died of their affects. He was laid to rest at a cemetery in Thurston.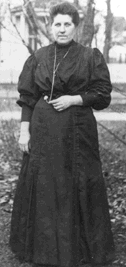 Shortly after Eli's death, Kate moved to the state capitol city of Columbus, Franklin County, OH. She may have resided with or near her son James, also known to have resided in Columbus.
Later in the year of Eli's death, Kate traveled to Arcola, Illinois in July 1933 to attend the funeral of her great-aunt, 95-year-old Nancy Jane (Bateson) Warner. Kate's name was mentioned in an Arcola Record-Herald article about the funeral, which said at the time that Kate lived in Columbus.
Kate is seen at right. She outlived her husband by eight years.
She passed away of a stroke on Nov. 20, 1941, at the age of 79, just a few weeks before the United States was plunged into World War II with the bombing of Pearl Harbor. Burial was in Thurston, and Kate's sister, Rebecca Hupp, signed her official Ohio death certificate.
Eli is mentioned, and his father profiled, in t
Son James Bateson ( ? - ? ) married Edith and lived at Columbus, OH. Their four daughters were Dorothy Bateson, Anna Katherine "Kay" Young, Rose Mary Bateson and Jane Bateson.
Copyright © 2000, 2005-2007, 2009-2010 Mark A. Miner