Nancy Jane (Bateson) Warner
(1838-1933)


Nancy Jane and Benjamin Warner
Nancy Jane (Bateson) Warner was born on March 23, 1838, at what is now Bateson Beach in Millersport, Fairfield County, OH, the daughter of William and Rebecca (Miner) Bateson.
She and her husband were early pioneer settlers of Illinois, and at her death in 1933 was the oldest resident of the town of Arcola, IL.
Nancy once told a journalist that living to be quite old is a characteristic of her mother's side of the family. She exaggerated a little for effect, but said:
My mother lacked a few days of reaching the century mark, and I well remember her last days. We all wanted to see her reach the century mark and all prayed for that but she was taken away just two days before she was 100 years old. My grandfather, however, lived to be 104 and nearly all of the family on my mother's side lived longer than the average span of life.
Arcola Township Cemetery
At the age of 19, in 1857, Nancy married 22-year-old Benjamin Griffin Warner (1835-1914), a native of Delaware County, OH, and the son of Samuel and Celia Warner.
The Warners had nine children -- Samuel V. Warner, Rebecca Catharine "Kate" Roberts, Linnus Vitorio "Lynn" Warner, Louise B. "Lulu" Warner, Ada M. Warner, twins Cordelia "Cordie" Roberts and Melsinia "Mellie" Payne, William Sitton Warner and Jessie Warner.
In 1869, after several of their children were born, the Warners left Ohio and ventured westward on an overland voyage to Illinois. On the trip, said the Arcola (IL) Record-Herald, "the family was fording a river in their wagon, when the couple's three-year-old daughter, Kate, who was sleeping [in] the rear of the wagon, rolled out and fell into the water. Her father rescued her from the water and laid the child on Mrs. Warner's lap, who succeeded in reviving her." The awful memory stayed with Nancy for the remaining three-quarters of a century of her life.
Upon arriving at their destination in Douglas County, IL, the Record-Herald said, the Warners "located on a farm near Filson after which they resided on farms in different parts of Arcola township. Retiring from the farm in 1897, they came to Arcola, purchasing the property in which Mrs. Warner now lives... After Mr. Warner's death [in 1914], Mrs. Warner continued to live in Arcola, through the children were married and had gone to homes of their own."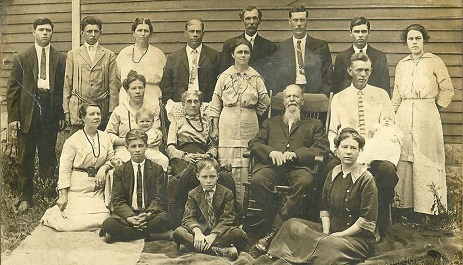 Nancy and Benjamin with their family, early 1900s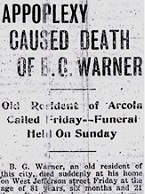 Arcola Arcolian, 1914
While in Arcola, she lived on West Jefferson Street, next door to her son Samuel, and loved to entertain "occasional visitors ... neighbors calling on her frequently."
Nancy enjoyed social gatherings and "was a good dancer," reported the Record-Herald. As an elderly woman, she enjoyed seeing her son and grandson dance a jig in her home, but told the newspaper that "they couldn't dance like we used to."

Record-Herald, 1929
Benjamin, who apparently was not religious during most of his life, "was converted and joined the Methodist Episcopal church at Filson during the pastorate of Rev. Durham," said the Arcola Arcolian newspaper. "Some years ago he united with the Baptist church of [Arcola]... Having been wonderfully blessed in the service of the Lord he did not hesitate to give positive convictions on the subject of religion. He had many friends among the churches of the town, but no friend like his Lord and Master."
Sadly, Benjamin died after a series of strokes at home at the age of 81 on Aug. 26, 1914. The Arcolian reported that:
... he rallied quickly and seemed to be making very satisfactory progress toward recovery. On the day preceding his death, his health had seemed to be particularly good and his daughter who had been here caring for him went to visit her brother in the country. Mr. Warner had retired early but was up before midnight and complained of feeling ill. He went down stairs and took a dose of medicine which relieved him. A short time later he arose again and Mrs. Warner got up to assist him. A few minutes later he was stricken and toppled dead.
The funeral was held at the Arcola Methodist Episcopal Church, led by Rev. C.M. Duncan. "A large number of the friends of the family attended the service and the remains were followed to the Arcadia cemetery by a long procession of carriages," said the Arcolian. At the time of his death, Benjamin and Nancy had 15 grandchildren and one great-grandchild.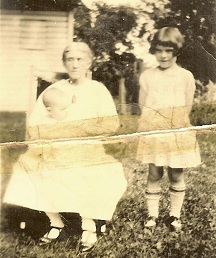 Nancy with great-granddaughters Nellie
and Martha Jane Warner, mid-1928
As fate befalls the elderly, Nancy actually outlived five of her eight children. She suffered the death of her adult son Lynn in Arcola in 1921 and married daughter Cordie Roberts in Idaho in 1926. The three alive at the time of her passing were Samuel, Kate Roberts and Nellie Payne.
In about 1929, at the age of 91, Nancy fell and dislocated her hip. Due to her age, said the Record-Herald:
... it was impossible to set the bone and this misfortune left her crippled so she is unable to walk without assistance. Although confined to her bed practically all of the time, she maintains a sunny, cheerful disposition, never complaining of the condition which has made her practically helpless. She does not read nor is her eyesight very good but she can see people passing by the house when she is lying in her bed. Her mind is clear and she recalls many interesting events of her childhood without much thought.
During the summer of 1932, Nancy's grand-nephew, Fred Bateson, who lived on the home farm in Ohio where she was born, traveled to visit her in Arcola.
On March 23, 1933, when Nancy reached her 95th birthday, the Record-Herald published her photograph and a lengthy feature article on the front page. This article has been a major source of information about the details of her pioneer life.
Nancy passed away at the age of 95 on June 27, 1933. She was laid to rest alongside her husband in Arcola Township Cemetery following a funeral at the Arcola Methodist Church, led by Rev. O.B. Hess. Daughter Kate Roberts had plans to travel to the funeral from her home in Texas, but became seriously ill just before leaving, and could not make the trip.
Among those attending the funeral from out of town were Nancy's niece, Kate (Bateson) Hite of Columbus, Ohio; daughter Nellie Payne, Bess Schneider, Charles Wallace; Mr. and Mrs. C. Weller; Mattie Cox, Earl Newman, and Pearl Newman.
~ Civil War Research Errors ~
At one time it was thought that Benjamin served in the Civil War, but this has proven to be incorrect. Another Ohioan named Benjamin Warner -- who married Catherine Haas -- was in fact a member of the 126th Ohio Infantry, Company E and was wounded in the Battle of the Wilderness on May 6, 1864. This other Benjamin was transferred to the 104th Company, 2nd Battalion of the Veterans Reserve Corps and later received a military pension as compensation for his wounds. He was named in the war book quoted above, Concise History of the 126th Regiment, Ohio Volunteer Infantry, compiled by J.G. Gilson (Salem, Ohio: Walton, 1883). The volume was reprinted and expanded in 2000 by Blue Acorn Press of Huntington, WV.
Copyright © 2006-2007, 2012, 2015 Mark A. Miner