Lucinda (Crosby) Kelly
(1888-1963)
Lucinda (Crosby) Kelly was born in December 1888 near Mt. Pleasant, Westmoreland County, PA, the daughter of Lewis and Marietta (Minerd) Crosby.
As the oldest sister, often taking the place of her sickly, dying mother, Lucinda took responsibility for her siblings, including the youngest, Francis. She taught the boy how to be self-sufficient by cooking, sewing, washing, ironing and other household chores. Though Lucinda dated (and later married) John Taylor Kelly, she put off marriage until after brother Francis was married.
"They took me when they went out anywhere," said Francis, who enjoyed riding in Kelly's Model T Ford.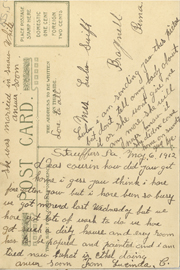 Lucinda's postcard to cousin Lula
Lucinda was close with her cousin, Lula (Swift) Stairs. Although they resided in different towns, they remained in contact by writing penny postcards to each other. The cards, preserved today in the Minerd.com Archives, and one of them is reproduced here, showing Lucinda's small, precise handwriting. Her notes to Lula provide a heartbreaking glimpse of the unending work that Lucinda faced in the household. Writing in June 1911, Lucinda confided:
Mama is sick to day. Her heart is so bad. Lulu you will have to excuse this dirty card. I am run out of cards. Will you and Bessie send James a card Sat June 10. He will be 14 year old.
On Feb. 1, 1911, Lucinda wrote wistfully: "May your joys be as deep as the ocean and your sorrow as light as the foam is my earnest wish you a Happy Birthday. Mama isn't any better."
In a card dated Sept. 18, 1910, she wrote: "Mattie is working in town again. I will have to get the kids ready for school." In another card, dated Feb. 2, 1912, Lucinda wrote: "We had a bad fire up here at 4 o'clock this morning. It was the drug store at Bridgeport. You know where that is." On March 7, 1912, she wrote: "Mama is better and so are the kids and I am glad of it. I am washing today and I haven't a very nice day for it."
On May 6, 1912, Lucinda wrote this to Lula:
How did you get home. I gess you think I have foregotten you bit I have been so busy. We got moved last Wednesday but we have got lots of work to do. We have such a dirty house and every room has to be papered and painted and I am tired.
Sadly, Lucinda's mother did not survive her illnesses, and passed away later that year, in August 1912. Overwhelmed, Lucinda may have stopped writing postcards as no more are found in the archive of cousin Lula, now in the Minerd.com Archives.

San Diego, California
After all of Lucinda's siblings had grown and left home, she finally married her beau, John Taylor Kelly (May 19, 1883-1941), son of John D. and Katherine (Taylor) Kelly of Scottdale. The nuptials were held on July 12, 1932, in the parsonage of the First Presbyterian Church of Greensburg. Rev. Henry Strock officiated, with the news printed in the Mount Pleasant Journal.
John was a longtime blacksmith. At the time of their marriage, John earned a living in the Frick car shops at Everson.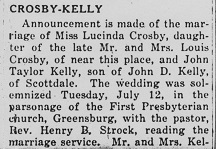 Mount Pleasant Journal, 1932
Ironically, she and John did not reproduce.
The federal census of 1940 shows Lucinda and John making a home in Buckeye, East Huntingdon Township near Greensburg, with John laboring as a coal miner. His employer as of 1941 was the Works Progress Administration (WPA). The WPA was one of the ways President Franklin D. Roosevelt and the federal government tried to overcome widespread unemployment during that era. The initiative is widely considered one of the Roosevelt's largest and most ambitious undertakings of his "New Deal" to get the nation back on sound economic footing. Over the years, the WPA hired millions of out-of-work individuals to build public works projects, such as roads, bridges, retaining walls and buildings.
Sadly, stricken with cancer of the intestine, John died in Frick Memorial Hospital in Mount Pleasant on April 2, 1941 after a six weeks' stay. Rev. Harry Rhome, of the Free Methodist Church of Bridgeport, officiated. Burial was in Scottdale Cemetery.
As a widow, Lucinda relocated to San Diego, San Diego County, CA.
Lucinda suffered a freak accident in January 1961 when she fell and broke her arm in two places, reported the Connellsville Daily Courier. She "has shown no improvement in her condition which includes arthritis and poor vision." The Courier encouraged readers to send get well card to her at Box 723, San Diego.
Lucinda died two days after Christmas in 1963. She was age 75. Interment of the remains was in Mount Hope Cemetery in San Diego. The news did not get back east to her family until the following spring.
Copyright © 2001, 2005, 2016, 2020 Mark A. Miner