Bessie Mae (Stairs) Hanson Brady Wierbacki
(1898-1985)
Bessie Mae (Stairs) Hanson Brady Wierbacki was born on New Year's Eve 1898 in Mount Pleasant, Westmoreland County, PA, the daughter of Lehman G. and Mattie (Minerd) Stairs.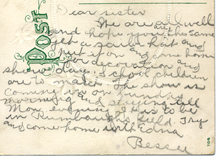 Bessie's postcard to her sister Lula, 1910
Circa May 1910, Bessie sent a postcard to her married sister Lula Swift, who was residing in the coal and coke patch town of Braznell (now known as Grindstone), Fayette County. The postcard today is seen here, and is preserved in the Minerd.com Archives. In the card, Bessie wrote:
Get a straw hat and come home for decoration and show day. School children are to march. The show is coming on Sunday morning and staying till Mon. evening. It is to be in Rumbaughs Field.
Bessie married Aner August Hanson ( ? - ? ), also spelled "Hence."
They produced a son, William Edward Hanson.
On Aug. 7, 1924, Aner deserted his wife and never returned to the marriage. In 1930, Bessie and son William resided with her parents in Mount Pleasant, and the following year, in 1931, when her mother died, Bessie was residing in Pittsburgh. The Hansons' divorce was not finalized until Oct. 5, 1944, as decreed by the Allegheny County Court of Common Pleas.
Bessie's address in the 1940s was 401 Roupe Street in Pittsburgh. There, she was employed as a sales clerk.
On Dec. 10, 1948, in a ceremony held in Bellefield Presbyterian Church in Pittsburgh, the 49-year-old Bessie was joined in marriage with her third husband, 58-year-old divorcee Huber Roth Brady (Dec. 14, 1889-1957). He was the son of William and Anna (Hoover) Brady and a native of Dayton, OH, but at the time of marriage was an engineer working in Pittsburgh. Rev. Dr. H. Gordon Harold officiated. Huber was a construction engineer and belonged to the Elks Lodge in Franklin, PA and to the Crescent Lodge of the Masons.
By 1951, when her brother Clarence died, Bessie was still in Pittsburgh. She and Huber divorced. After retiring, he relocated to Tucson, AZ in about 1955, and made his home at 4656 East Linden Street. He died in January 1957, with an obituary printed in the Arizona Daily Star.
In 1975, at the time of death of her brother Clyde, Bessie was using the name Wierbacki, and was residing in Akron, Ohio.
Bessie died in 1985. Her husbands' fates are unknown.
~ Son William Edward Hanson ~
Son William Edward Hanson (1919- ? ) was born in about 1919 and was a boy when his parents separated. As an 11-year-old, he lived with his mother and grandparents in Mount Pleasant, Westmoreland County.
Circa 1938-1948, he made his home with his mother and step-father in Akron, OH, but occasionally returned to Mount Pleasant for visits with his grandparents.
Nothing more about him is known.
Copyright © 2001, 2005, 2010, 2017 Mark A. Miner