Joseph Esch was born on Jan. 11, 1837 in Brush Valley, Indiana County, PA, the son of Joseph and Sarah (Younkin) Esch.
Joseph grew up learning the trade of carpentry.
During the Civil War, he served in the Union Army as a member of the 6th Pennsylvania Heavy Artillery, Company C or L.
In 1862, at the age of 25 or 26, he tied the knot with Laura Ann Shoupe (May 1845-1938), daughter of George and Elizabeth (Mattern) Shoupe.
Together, they produced a trio of children -- John "Edwin" Esch, Sarah Elizabeth "Lizzie" Esch and William Worthington Esch.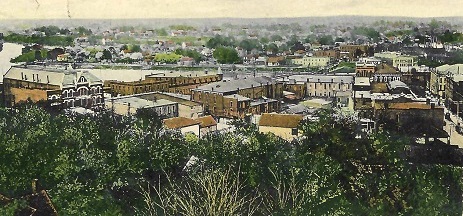 Bird's-eye view of Fremont, Ohio, looking east
When the United States Census was made in 1870, the Esches lived in Armagh, with Joseph earning a living as a carpenter.
The couple pulled up stakes during the 1870s and made a move to Elyria, Lorain County, OH. They are shown there in the 1880 U.S. Census, with Joseph now working as a telegraph repairer.
By 1890, when a special census was made of Civil War veterans, the family was in Fremont, Sandusky County, OH. He was awarded a military pension that year. [Invalid App. #952.374 - Cert. #948.099]
The pair remained in Fremont as of 1910. At that time, Joseph owned a feed store, located where the Hotel Fremont later stood. He was retired by 1913.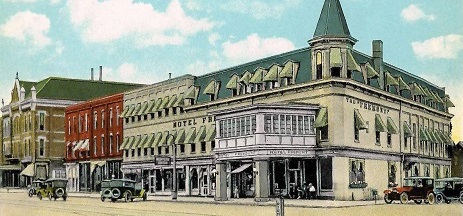 Hotel Fremont, the site where Joseph Esch once owned a feed store
On the fateful day of Aug. 9, 1913, Joseph was felled by heart failure and died in Fremont at the age of 76. His remains were laid to rest in Oakwood Cemetery.
The widowed Laura petitioned to receive his pension, and her request quickly was granted on Aug. 21, 1913. [Widow App. #1.013.120 - Cert. #768.742]
She survived her soldier-husband by more than two decades, and endured the deaths of her adult daughter Elizabeth and son William. Her final address in Fremont was 122 Elm.
Burdened with senility and cardio-vascular disease, she was swept away by the angel of death at age 92 on April 12, 1938. Her obituary in the Fremont News-Messenger said that she "would have been 93 in May."
~ Son John "Edwin" Esch ~
Son John "Edwin" Esch (1863- ? ) was born on May 28, 1863 in Indiana County, PA.
He relocated to Ohio with his parents in boyhood. As of 1880, in Elyria, Lorain County, OH, he clerked in a local store. Within a few years he relocated again and put down roots in Findlay, Hancock County, OH.
On March 15, 1888, Edwin entered into marriage with Emma J. Schneerer ( ? - ? ). In an article about the wedding, the Elyria Democrat said it had been held in the home of the bride's parents in Elyria, by the hand of Rev. E.O. Buxton, "in the presence of a large number of their young friends, who extended many good wishes to the couple... The occasion was an unusually happy one."
Together, the pair bore at least three children -- Laura "Katherine" Robinson, Glenn D. Esch and William "Worthington" Esch.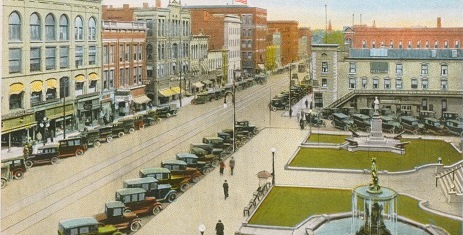 Main Street in Findlay, Ohio, where the Edwin Esches lived for decades
The Esches remained for decades in Findlay, with Edwin running a retail jewelry store. In 1920, the federal census enumeration shows Emma's widowed mother in their household.
He passed away on Aug. 11, 1949. Burial was in Clymer Cemetery in Mount Cory near Findlay.
Emma survived for another nine years. Death swept her away on July 7, 1958.
Daughter Laura "Katherine" Esch (1891-1928) was born on Nov. 21, 1891 in Fremont. She was joined in wedlock with Thomas T. Robinson ( ? - ? ). The Robinsons' address in 1928 was 200 Greenlawn in Findlay. The family was plunged into anxiety when Catherine was diagnosed with tuberculosis vertebrae, an illness which destroyed her spinal column. She also contracted kidney disease. She suffered for two years. Death plucked her away at age 36 on Jan. 31, 1928. The remains were placed into eternal repose in Maple Grove Cemetery.
Son Glenn Edwin Esch (1893-1976) was born in 1893. He served in the U.S. Army during World War I. Glenn wed Helen A. (1902-1980). Two one known son was Robert Esch. Glenn died in 1976.
Grandson Robert Esch (1924-2000) was born in 1924. He is believed to have wed Jean (1927-2009).
Son William "Worthington" Esch (1897-1971) was born in 1897.
~ Daughter Sarah Elizabeth "Lizzie" Esch ~
Daughter Sarah E. Esch (1866-1925) was born on April 3, 1866 in Armagh, Indiana County, PA.
She moved with her parents to Ohio and never married.
Single at the age of 32, in 1900, she lived under her parents' roof in Fremont, Sandusky County, and was employed as a bookkeeper. Then in 1910, still with her mother and father, she earned a living as a clerk in the county auditor's office. She remained a bookkeeper to the end of her life.
Reported the Fremont News-Messenger, she "was active in [Methodist] church and social affairs of the city and was a young woman well and favorably known and universally esteemed by all."
Cirtca 1914, she moved to Findlay, Hancock County, OH.
She was diagnosed with an enlarged thyroid gland, called a goiter. She succumbed to the spectre of death in Findlay at age 59, on May 22, 1925. Her remains were returned to Fremont to be laid into the sleep of ages in Oakwood Cemetery. In an obituary, the News-Messenger said "There was a short service at the grave, where a number of friends assembled for the ceremonies."
~ Son William Worthington "Will" Esch ~
Son William Worthington "Will" Esch (1870-1917) was born on June 4, 1870 in Indiana County, PA.
He was a boy when the family migrated to Ohio.
William went to law school. A bachelor at age 29, in 1900, he practiced law in Fremont and was in his parents' household.
On April 20, 1902, William was joined in wedlock with Louise M. Neiss (Aug. 15, 1870-1954). Officiating was Rev. John H. Fairlee of the St. Paul's Episcopal Church.
The couple did not reproduce.
Louise was an alumna of Fremont High School and Lake Erie College of Painesville, OH.
As of 1917, William was employed as deputy superintendent of an insurance business.
Grief blanketed the family when, at age 46, William was stricken by acute heart failure and died within five minutes on Feb. 2, 1917. Interment of the remains was in Oakwood Cemetery.
Louise outlived her husband by 37 years. She was very active in community affairs, including as secretary and treasurer of the Women's Relief Corps, charter member in 1895 of the Sorosis Club, the Fremont Federation of Women and the Matinee Musical Club. For four decades, she owned the Posey Shop on Croghan Street and was organist at her church.
Copyright © 2021-2022 Mark A. Miner
Minerd.com extends its gratitude to the late Donna (Younkin) Logan for her research contributions to this biography.